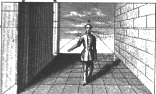 IMAGE
series 1
series 2
series 3
...........


.................




p e r f o r a t i o n s
EyeDrum 

Public Domain, Inc. 
"Space: what you damn well have to see. Through spaces smaller than red globules of man's blood they creepy-crawl after Blake's buttocks into eternity of which this vegetable world is but a shadow. Hold to the now, the here, through which all future plunges to the past."
James Joyce
---
"Nor could I ever after see the world as I had known it. Mixed with the present scene was always a little of the past and a little of the future, and every once-familiar object loomed alien in the new perspective brought by my widened sight. From then on I walked in a fantastic dream of unknown and half-known shapes; and with each new gateway crossed, the less plainly could I recognize the things of the narrow sphere to which I had so long been bound. What I saw about me, none else saw; and I grew doubly silent and aloof lest I be thought mad. Dogs had a fear of me, for they felt the outside shadow which never left my side. But still I read more -- in hidden, forgotten books and scrolls to which my new vision led me -- and pushed through fresh gateways of space and being and life patterns toward the core of the unknown cosmos."
H. P. Lovecraft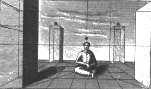 TEXT:
2004
2003
2002
2001
2000
1999