a 10 year affair: eyedrum anniversary bash!

October 11, 2008
8:00PM - 12:00AM
Price: $10

Eyedrum Celebrates 'A 10 Year Affair' on Oct. 11
Atlanta's longest-running all-volunteer nonprofit venue looks toward the future


ATLANTA — Eyedrum will celebrate its 10-year anniversary on Saturday, Oct. 11, with "A 10 Year Affair," featuring a cast of more than 30 musicians, performing artists, and a host of programming surprises. The night includes the first Eyedrum Awards presentation, and bands Judi Chicago, the Hotels, and No Face. The gallery will also debut the documentary "Eyedrum: The 10 Year Affair" commemorative DVD. In just 10 years, the organization has grown beyond its eight-member founding group and its storefront space on Trinity Avenue to a board of more than 20 members and a 6,000-square-feet space on Martin
Luther King Jr. Drive. There, the all-volunteer group built-out three gallery spaces and a performance space that features a professional-quality sound system with multi-track recording capability. The Eyedrum music archive, the gallery's greatest asset next to the people involved, features over 1,000 shows recorded live over the past 10 years.

Eyedrum has a lot to celebrate: a 10-year run as a Best of Atlanta winner in both music and art categories (Creative Loafing), and securing a $30,000 Warhol Foundation curatorial grant in 2006, all while operating debt-free for 10 years. "Eyedrum has grown to be cultural think tank. It's an arts incubator, as many new projects are born from the space in the form of new arts collectives, small businesses, bands, and new arts venues. This party is to celebrate the collective efforts of the community and to welcome the next generation," said Board President Nisa Asokan.

While the goal is to have fun at the anniversary bash, proceeds from ticket, DVD and limited-edition memorabilia sales will be an important part of the evening. "Eyedrum has been providing a stage for new bands, walls for emerging artists, and next year a classroom for the life-long learner, without a single employee, ever. Your support goes entirely into keeping our mission alive and lights on," said Alyson Laura, Co-Chair of the Arts Committee.

The awards program, "The Eddies," aims to recognize Atlanta's deserving but unheralded artists and venues. It is Eyedrum's first-ever awards program. The categories are lighthearted, but have the important goal of shining a light on contributors to Atlanta's arts community. WHAT: "A 10 Year Affair," Eyedrum's 10th anniversary party, with performances by Judi Chicago, No Face, Hotels, Matthew Proctor, DJs_Zano and Chris Daresta, sound installations, public art, and a large crew of performance artists.

WHEN: Saturday, Oct. 11, 2008, 8 p.m.-late

PRICE: $10 for non-members; members asked to make a donation. Friend-level memberships will be available for $25, a $10 discount.



Tickets available in advance through Criminal Records, Decatur CD, Ella Guru or online at here. Also you can charge by phone at 1-877-725-8849.

WHERE: Eyedrum, 290 MLK Drive, Suite 8, Atlanta 30312

GROUND NOISE AND STATIC

October 20, 2008
9:00PM - 10:00PM
Price: FREE

GROUND STATIC AND NOISE: FREE SPEECH UNDER ATTACK AT THE RNC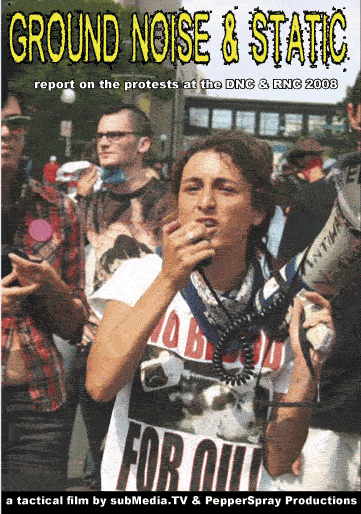 A community reportback on protests, police and arrested journalists at the Republican National Convention in Minneapolis/St. Paul

Featuring on-the-scene video coverage of protests and arrests from PepperSpray Productions (Seattle) and Submedia (Vancouver).

When PepperSpray reporters ran into Cindy Sheehan outside the Democratic National Convention they asked for her prediction of what will happen in November. Cindy said "One of the corporate candidates will win, and the question then, as always, will be what will the people do, not what will the politicians do."

It was exactly for this reason that Seattle's PepperSpray collective sent 2 reporters to the democratic and republican national conventions, not to gain access to the convention floors, but to cover the movement in the streets. We weren't there to document either party, nor the crimes they have committed. The list is so long and the crimes so bad even corporate media has been reporting that for some time now. What corporate media overlooks is the story hidden in plain sight, of the movement, larger, more diverse, and more creative than anything happening inside the conventions. The corporate media would ignore, sensationalize, or insult those gathered in the streets, but indymedia was there to cover the action, and to find out what motivates the movement and to give both strategic and tactical reports of the battle for the future of humanity. Meanwhile the two major parties spent millions on riot gear and more millions to buy "demonstration insurance" that would cover the lawsuits police might incur while doing whatever it took to keep the people down. Apparently in modern America the Bill of Rights applies unless somebody gives the cops insurance money.

PepperSpray reporters went bravely into the melee, collaborating
with Vancouver's Franklin Lopez to issue a daily video report from the streets. Both PepperSpray reporters were arrested, as were so many other media workers, but now they are back, with a terabyte of video clips. Continuing the collaboration with Submedia's Franklin Lopez, we have prepared a report-back from what Republican nominee McCain dismissed as the "Ground-noise and static."

**ALSO!!!**

Gary Cameron from Atlanta Indymedia joins us to share his personal experience as a member of the independent media at the Republican National Convention, as well as additional footage he shot. This includes St. Paul Collage - speakers, interviews, street theater, marches to the Xcel Center, police presence, and more.

Joeff Davis from Creative Loafing will be showing slides from his coverage of the conventions, from inside the conventions centers to the protests in the streets.

AND, as a tasty little bonus, Gary will be showing footage from FTA in Miami in 2002, which shows CNN's glossed over coverage of the event, along with his own footage showing the protest presence and police response as it actually happened...yeah, it has nothing to do with the conventions BUT it's always nice to have a reminder of how easy it is to be misinformed by a misinformed media...as always, if you wanna know, you gotta go.

submedia.tv
peppersprayproductions.org
atlanta.indymedia.org
joeff.com


Film meet up

October 29, 2008
8:00PM - - -

Film Industry Local Meetup - Atlanta
FILMAtlanta

"We make films. We have individual projects and FILMAtlanta group projects. We network to build crews and casts to get projects done. We have a set of scripts we plan to do this year. We hope you will join us in collaborating on films in the Atlanta area.

Check our MessageBoard for opportunities, and post there when you need someone for a project. There is a lot of talent in the group. We Make Films!"

More info at http://filmind.meetup.com/33/ ...

all art music film literature special


| | | | | | | |
| --- | --- | --- | --- | --- | --- | --- |
| Sun | Mon | Tue | Wed | Thur | Fri | Sat |
| | | | 1 | 2 | 3 | 4 |
| 5 | 6 | 7 | 8 | 9 | 10 | 11 |
| 12 | 13 | 14 | 15 | 16 | 17 | 18 |
| 19 | 20 | 21 | 22 | 23 | 24 | 25 |
| 26 | 27 | 28 | 29 | 30 | 31 | |