Cinerotic Film Festival -

August 19, 2010
8:00PM - 11:00PM
Price: $6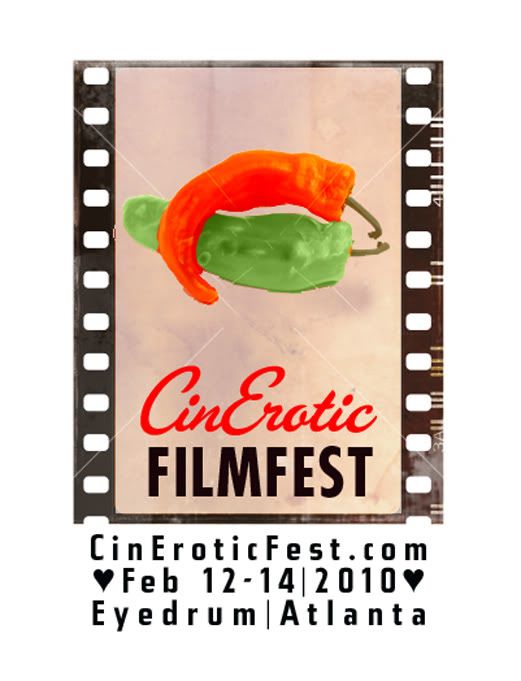 If you missed the first CinErotic Film Fest last Valentines' weekend, you definitely want to catch their "Best Of CinErotic 2010" film night, at Eyedrum on August 19th. It's part of the brand new Independent Film Month in Atlanta -- August -- sponsored by the Festival League.

The "Best of 2010" show includes "sexy, smart, artful erotic short films with a twist — or a kink, if you will," says co-founder Andi Rockz. "These are films about sexuality that colors outside the lines, and celebrates all that is polymorphously perverse!"


Showcasing a wide swath of outside-the-mainstream erotica, CinErotic seeks out films that include a diverse cast of actors: ethnicity, genders, sexuality, age, bodies, abilities, etc. Or as their official tagline reads, "CEFF celebrates sex-positive, diverse and empowering erotic cinema by amateurs and independent artists."

Co-founders Andi Rockz & Kiki Carr have culled the best films in a variety of categories, from romantic to kinky, amateur to artful, comedy to disturbing.

"Vocolotion" by Atlanta's beloved artist R. Land ("Loss Cat") is his unique take on sex ed videos from years past. Some of his more famous images make cameos in this film and wind up in, literally, sticky situations. "Married with Children," by award-winning filmmaker Erika Lust, is a peek into the suave S&M that keeps sex fresh. Her newest short, "Handcuffs" is a brief glimpse into a sleek nightclub of sideways glances and fantasies.

"The Erotic Couch" by Athens, Georiga artist Andrew Shearer shows what happens when a reluctant lesbian gets a magical velvet couch-cover.

"Headshot" and "Cocksucker," by two separate female directors, show the same act from opposite sides, in a breathless yet politically challenging take on, yes, the blowjob. Meanwhile, New York performance artist Narcissister engages a "Hot Dog" in unseemly acts, and gets a spanky workout in "Self-Gratifier."


Other shorts include "The Ginger," in which a sexy redhead seductively eats a turkey drumstick; "Want" proves that differently abled queers can get what they desire; and a handsome butch ranchhand takes home the cute femme lamb, in "The Sheep and The Ranchhand." Director Julie Simmon's "Dolls Fit," uses refrain of an odd abusive mother with her "daughter". Showing last – so queasy viewers will have a chance to exit – is 1000's of goatsies in the raunchy "Asspig," from San Francisco artist Anthony Viti.

2010 Atlanta Underground Film Festival

August 27, 2010
6:30PM - - -
Price: $8/40



2010 Atlanta Underground Film Festival
The 2010 Atlanta Underground Film Festival will feature every genre of cinema from across the world from August 27 - 29, 2010.

You are invited to experience this unique film festival! 100+ independent short and feature length films will be showcased, including our annual Animation Attack!

The AUFF is held during Atlanta's Independent Film Month - a month-long celebration of independent film held during August. Other events include Atlanta Shortsfest at the Plaza Theatre, Atlanta Horror Film Festival at Spring4th Center, DocuFest Atlanta at the Carter Center, and many more great events highlighting independent filmmakers and their craft.

tickets : $8 per screening at the door
AUFF All Access Passes: $40
Independent Film Month All Access Passes: $99 (good for entire month of August)

Click here for tickets

More info at auff.org

Friday, August 27, 2010
Doors at 6:30 pm

7:00 pm
Pass the Past: Narrative Shorts

8:30 pm
Disney Shot Kennedy

10:30 pm
Americatown

11:45 pm
Foreign Horror Shorts


---

This is a 3-day festival; please also check out the rundowns for Saturday August 28th and Sunday August 29th.


2010 Atlanta Underground Film Festival

August 28, 2010
3:00PM - - -
Price: $8/40



2010 Atlanta Underground Film Festival
The 2010 Atlanta Underground Film Festival will feature every genre of cinema from across the world from August 27 - 29, 2010.

You are invited to experience this unique film festival! 100+ independent short and feature length films will be showcased, including our annual Animation Attack!

The AUFF is held during Atlanta's Independent Film Month - a month-long celebration of independent film held during August. Other events include Atlanta Shortsfest at the Plaza Theatre, Atlanta Horror Film Festival at Spring4th Center, DocuFest Atlanta at the Carter Center, and many more great events highlighting independent filmmakers and their craft.

tickets : $8 per screening at the door
AUFF All Access Passes: $40
Independent Film Month All Access Passes: $99 (good for entire month of August)

Click here for tickets

More info at auff.org

Saturday, August 28, 2010
Doors at 3:00 pm

3:30 pm
Make it Right: DRAMA Shorts

5:00 pm
They Always Get You in the End Shorts

6:30 pm
It's Personal Shorts

8:00 pm
North American Horror Shorts

9:30 pm
I Heart Doomsday

11:00 pm
Comedy Shorts

2010 Atlanta Underground Film Festival

August 29, 2010
4:00PM - - -
Price: $8/40



2010 Atlanta Underground Film Festival
The 2010 Atlanta Underground Film Festival will feature every genre of cinema from across the world from August 27 - 29, 2010.

You are invited to experience this unique film festival! 100+ independent short and feature length films will be showcased, including our annual Animation Attack!

The AUFF is held during Atlanta's Independent Film Month - a month-long celebration of independent film held during August. Other events include Atlanta Shortsfest at the Plaza Theatre, Atlanta Horror Film Festival at Spring4th Center, DocuFest Atlanta at the Carter Center, and many more great events highlighting independent filmmakers and their craft.

tickets : $8 per screening at the door
AUFF All Access Passes: $40
Independent Film Month All Access Passes: $99 (good for entire month of August)

Click here for tickets

More info at auff.org

Sunday, August 29, 2010
Doors at 4:00 pm

4:00 pm
Animation Attack! Feature: Gangs of LA 1991

5:30 pm
Tic

7:20 pm
Mad World

9:00 pm
Dynamite Swine


all art music film literature special


| | | | | | | |
| --- | --- | --- | --- | --- | --- | --- |
| Sun | Mon | Tue | Wed | Thur | Fri | Sat |
| 1 | 2 | 3 | 4 | 5 | 6 | 7 |
| 8 | 9 | 10 | 11 | 12 | 13 | 14 |
| 15 | 16 | 17 | 18 | 19 | 20 | 21 |
| 22 | 23 | 24 | 25 | 26 | 27 | 28 |
| 29 | 30 | 31 | | | | |