No Age, Hollow Stars, Georges Bataille Battle Cry

September 2, 2013
8:30PM - - -
Price: 10

At the Arts Exchange
750 Kalb St.
Atlanta, 30312

Buy tickets here.


No Age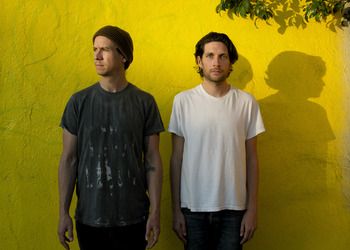 With An Object, their fourth full-length album, No Age has forgone the straight and narrow route, landing in a strange and unexpected place, feet planted in fresh, fertile soil. This new LP finds drummer/vocalist Dean Spunt exploding from behind his kit, landing percussive blows with amplified contact mics, 4-string bass guitars, and prepared speakers, as well as traditional forms of lumber and metal. Meanwhile, guitarist Randy Randall corrals his previously lush, spastic, sprawling arrangements into taught, refined, rats' nests. Lyrically Spunt challenges space, fracturing ideological forms and complacency, creating a striking new perspective that reveals thematic preoccupations with structural ruptures and temporal limits.

As the title An Object suggests, these eleven tracks, produced by No Age and their long-time collaborator Facundo Bermudez, who recorded tracks on their Weirdo Rippers LP (2007) and toured with the band in support of Everything In Between (2010), are meant to be grasped, not simply heard. Whether in the fine grit of Randall's sandpaper guitar scrapes on "Defector/ed," or Spunt's percussive stomp and crack on "Circling with Dizzy" and "An Impression," created largely through the direct manipulation of contact mics, these are songs that pivot on the sheer materiality of music-making. Spunt's creative deployment of bass guitar accented through a modified speaker on the beautifully catchy "I Won't Be Your Generator" is a case in point: even at its most lyrical An Object incorporates the process of its creation into the very backbone of the songs.

Still, this is hardly a work of avant garde noise music or l'art concret. These songs are hummable, political, and, on tracks like, "No Ground," "C'mon, Stimmung," and "Lock Box" (in which Spunt's vocals bear a passing resemblance to the Ramones), recognizably punk. Elsewhere, on tracks like "Commerce, Comment, Commence" and "A Ceiling Dreams of a Floor," No Age take this kernel and transform it, literally blurring the sound and bathing the album in a swirl of layered guitar and a bright haze of static alongside an ethereal, haunting vocal that conjures shoegaze as much as hardcore. What these two approaches share is an understanding of sound as a material, something to be shaped, handled, and worked over. It is an aesthetic in which the relationships between guitar, percussion, and vocals--as well as those between rhythm and melody--become relationships between things.

These relationships are diagrammed into An Object at every level. In Collaboration with close friend and Grammy-nominated designer Brian Roettinger ( 5 E.P.'s, Nouns_, L_osing Feeling, Everything In Between) the band has performed, recorded, produced, and prepared and assembled the entirety of the physical packaging of An Object, including jackets, inserts, and labels, taking on the roll of manufacturer, artist, and musician until the roles trip on themselves and individual parts lose their distinct meanings, demanding to be considered as a whole. It is this sense of the total work of art--call it the DIY gestamtkunstwerk-- that underlines An Object as the culmination of two years of touring, writing, and performing, finding No Age moving into new terrain at the height of their powers.

Mike Shiflet, Well.Wail.Whale

September 4, 2013
9:00PM - - -
Price: 3

Mike Shiflet


Mike Shiflet uses his musical prowess to describe the collision of worlds and tangled webs of memories. Noise, drones and musical elements combine in a futile effort to recreate a perfect moment in a perfect world that could not have possibly existed. The real and the imagined have blurred. The noise and the music have made peace.

simply beautiful, introspective, and sonically rich work from this guy. definitely recommended if you're into burning star core. check out the links:

http://www.michaelshiflet.com/

http://mikeshiflet.bandcamp.com/


Well.Wail.Whale

Well.Wail.Whale sounds like dissonant energy waves crashing irreverently on the shores of existence. an ensemble cacophony brewed in the wildwoods of athens. expect the unexpected.

Ahleuchatistas, tba and R.A.E

September 5, 2013
9:00PM - - -
Price: 5

Ahleuchatistas

I first saw this guitar and drums duo last month, in their home town of Asheville, N.C. during Moogfest. The festival is often thought of as just an electronic music festival and it does skew in that direction, but it primarily celebrates the creative souls in music and in doing so honors the spirit of electronic music pioneer Robert Moog. The sonic palette of guitarist Shane Perlowin and drummer Ryan Oslance certainly fits that description. I also hear these influences as I listen to Ahleuchatistas: the guitar inventions of Robert Fripp and even progressive rockers Gentle Giant, but also sounds that span the globe with styles that can feel North African or Asian.
-Bob Boilen All Songs Considered

Ahleuchatistas is guitarist Shane Perlowin and drummer Ryan Oslance on a musical odyssey of pure imagination, limitless in influences, combining tight-knit composition with improvisation, and delivering powerful live shows.
The project was founded in 2002 and has evolved organically in its near-decade long history as the muse leads through the creative
sonic continuum...

Here is a nice little write up on on:


NPR All Songs Considered






Resonances of an Ancient Earth
Tapping into the primal vibrations of our shared mother "Resonances Of An Ancient Earth" is an acoustic ensemble comprised of a rotating group of musicians including analog effects, bass, and percussion with a constant of mandolin and winds.




Pedestrian Deposit, Grant Evans

September 10, 2013
9:00PM - - -
Price: 5

Pedestrian Deposit


The music of Jonathan Borges and Shannon Kennedy of Pedestrian Deposit could best be described as highly composed, focused and dynamic, experimental music that draws on their widely varying music talents. From Borges's interest in such areas as electronics, tape loops, sampling, field recording, and feedback, to Shannon's use of classical instruments, contact mics and manipulated metal objects, the duo combine elements of musique concrete, ambient, drone, classical and harsh noise.

Jon Borges began Pedestrian Deposit in the Winter of 2000, with the concept of combining layers of electronic sound with no pre-determined relation to one another until mixed. The project slowly evolved to incorporate elements of harsh noise, tape collage, field recordings and glitch music, resulting in a prolific few years of rich and dynamic compositions on such labels as Hospital Productions, Hanson Records, and Jon's own label, Monorail Trespassing, to name a few.

After a few years hiatus, Pedestrian Deposit returned in the fall of 2008 with the addition of multi-instrumentalist and visual artist Shannon Kennedy, and her elements of cello, violin and amplified, bowed and manipulated objects.



Grant Evans



grant evans - "roman persuasion" from VAALD on Vimeo.


Grant Evans is one half of the duo Quiet Evenings and label Hooker Vision.

Eric Copeland, gatoMUERTO, Suffer Bomb Damage, HCs

September 19, 2013
9:00PM - - -
Price: 7

Part of Eyedrum's "NEWFANGLED for the experienced" Music Series

Eric Copeland of Black Dice has a new record coming out on DFA next month.

Eric Copeland is an experimental musician based in New York. He is a core member of Black Dice and forms half of the duo Terrestrial Tones with Animal Collective's Avey Tare.

Vibe Here:
- http://www.spin.com/articles/eric-copeland-black-dice-cheap-treat-dfa-joke-hole/
- http://vimeo.com/39915196
- http://www.youtube.com/watch?v=kGwEInwxzrE
- http://www.youtube.com/watch?v=AggHAgxnqx8
- http://www.youtube.com/watch?v=oYdMA75DAYA
- http://www.youtube.com/watch?v=PAeSpx_sH4E

(This is Copeland's first release on DFA since Black Dice's 2005 album Broken Ear Record.)

"When Eric Copeland isn't watching Japanese cult animation with Animal Collective or writing Spy Vs. Spy tributes with his bandmates in Black Dice, he can be found turning out darkly cartoonish approximations of dance music under his own name"
- SPIN

Also Performing:

gatoMUERTO: http://deadcat.bandcamp.com/
Suffer Bomb Damage: https://soundcloud.com/suffer-bomb-damage
Human Communists: http://m.soundcloud.com/roberthayeskee/thee-temple-of-dog

Alan Fey, Phil Sims

September 20, 2013
8:30PM - - -
Price: $7

Alan Fey


Alan Fey is a classically-trained percussionist who specializes in solo and chamber music. Based in Nashville, his primary focus is on the genre-defying category that is 'new music,' as he has been involved in the commissioning and world premieres of more than 10 works in just the last two years. Alan has performed in spaces ranging from churches to art galleries to concert halls, from the Zeitgeist Art Gallery to the Schermerhorn Symphony Center in Nashville, and from Millennium Park in Chicago to Carnegie Hall in New York.

The show will feature a wide range of music for marimba, from late 20th-Century Contemporary works, to music written specifically for Alan in the last 3 years, to arrangements of folk and 'popular' music. The show will also include the South Carolina premiere of a work by Atlanta-based composer and film director Alan O.W. Barnes - Malice of Inanimate Objects - for marimba, tape, and film.

alanfey.com


soundcloud.com/alanfey



Phil Sims


Phil Sims studied music at the undergraduate and graduate level at the Eastman School of Music in Rochester, NY.  He has held academic appointments to teach theory, musicianship, composition, and electronic music at the Eastman School of Music, the University of Rochester, Mercer University, and Emory University.  In recent years, Phil's creative work has mainly focused on the creation of albums and sound design scores using a mix of acoustic and virtual instruments.  His compositions have been performed and presented throughout the country and in Europe, in both academic and community venues, most recently at the Schwartz Center on the Emory University campus, the Ferst Center at Georgia Tech, the Atlanta Ballet's Centre for Dance Education, Eyedrum, during the 2010 Dodekapus Art Collective Carnival, the 2010 L5P Halloween Festival (in collaboration with gloATL lab), and more.  His intellectual and academic essays have focused on theoretical and pedagogical issues ranging from integrated and experiential instruction to sociopolitical topics like musical rhetoric, the politics of beauty, modes of listening, the apparent impact of art as commodity, and the practice of aesthetic apartheid within academic departments and curricula.

Phil will present the first of many chapters of The Beastiary for Audiophles

philsimsmusic.com


Invent Room Pop 29

September 20, 2013
9:00PM - - -

At Beep Beep Gallery
696 Charles Allen Dr.
Atlanta, GA 30308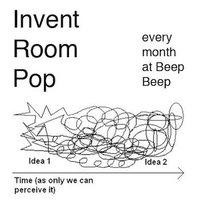 This is the 29th installment of Invent Room Pop. Six musicians are invited to play in duos and trios determined at random, with names drawn out of a hat. Featuring projections by Paige Adair.

Esar Tehrani - sytar
Evan Fillion - keyboards
Chris Childs - vibraphone
Jennifer Proctor - glass bowls
Kathleen Hairston - cello
Logan Shirah - percussion

Eyedrum Open Improv on the Beltline

September 22, 2013
6:30PM - 8:30PM
Price: free

A new BELTLINE sedition of Eyedrum Open Improv will be happening near the West End Metropolitan warehouses this Sunday evening. Bring your instruments and your gray matter to join us in
PLAYING THE NOISE
INSIDE YER HEAD

Note That Players should ARRIVE EARLY since we will have to be wrapped by 8:30pm.

Find us near the intersection of Allene Ave and Catherine St SW. A google Map is HERE

From the East taking I-20 West:
=> EXIT onto Lee Street and go LFT (south)
--- or ---
From the West taking I-20 East:
=> EXIT at Oak Street / Joseph Lowery Blvd.
=> stay east on Oak St. across Joseph Lowery Blvd.
=> turn RT onto Lee Street
--- then, in one block --
=> turn LFT onto Ralph David Abernathy Blvd (east)
=> go 2 blocks, past the Metropolitan Warehouses
=> turn RT onto Metropolitan Pkwy
=> go to the 8th street on the right (Catherine St.)
=> turn RT (west) onto Catherine St. and go 1 block
Catherine St. ends at the intersection with Allene Ave.
There's a yellow building with white trim. Park on the
street near there. The Beltline stage area is about 1/4
mile south down Allene Ave.


Save Yourself w/ Sioux City Sue, Thieves, Bad Fog

September 27, 2013
9:00PM - - -
Price: $5 (cheap!)






Sioux City Sue
is a little bit country, a little bit rock n' roll, with the fear of God in her soul. She's an auburn tressed dust storm, a raven haired tornado and a blonde river rising recklessly. She's a former Future Farmers of America gospel quartet member who sang competitively at livestock and forestry judging events, a high school choir drop-out and a Christian Catholic schoolgirl who preferred Skid Row over DC Talk.
Jennie Castillo (guitar, vocals) is a Greek Canadian raised stateside in New York, Alabama and Atlanta. She currently also plays synths and sings with Gothic punk band Black Lodge. Nikki Speake (guitar, vocals, accordion) cut her teeth in bands like country outfit Virgil Otis and Whistle Bait, an all girl rockabilly band whose songs revolved around punching boys. Kasey Price (drums, harmonica, vocals) kept time for a duo called Haunted Boots playing in the seedy underbelly of New York clubs before moving back to her hometown of Atlanta and joining forces with Castillo. Castillo and Speake, who met during their college years in Alabama, attempted to start a band upon Speake's pilgrimage back down South to Atlanta from Seattle, but instead got robbed outside of a Grant Park pizza joint. 10 years later, Castillo enlisted Speake to complete the Sioux City Sue triumvirate.
With Bible Belt anchored Southern roots that run as deep as an old-growth magnolia's, childhoods spent watching old Westerns, listening to country legends like Hank Williams and First Lady of Rockabilly Wanda Jackson and Phil Spector's girl groups on their parents' record players, and the company they keep in Atlanta's always burgeoning music scene, it's no surprise that their band is a haunting whirling dervish of gospel, solid gold country, doo-wop and garage rock.
"There ain't no gal as true as my sweet Sioux City Sue." – Dick Thomas





Bad Fog, from Asheville, NC, drive a whole couple of states over to enchant with swarmy goth-peppered punkish musings..molodic and harmony-laden girl racket, sometimes screamy and complicated, sometimes broody and coaxing..

Thieves, another local act, deliver solid song writing in a folk-ish tradition, again with the punchy drums accompanying delicate violin work, jangly guitars and super pretty vocalizations.