First Thursday Open Improv

September 3, 2009
9:00PM - - -
Price: free

---

Eyedrum's long-running Open Improv night occurs on the first Thursday of every month -- our monthly gathering for instrumentalists and improvisers of all stripes. Bring your instrument! Hosted by the indefatigable Robert Cheatham.

WPBA 30, Atlanta's PBS station, did a bit about Eyedrum's Improv Night a couple years ago for their "This Is Atlanta" show. Click for their description and the video itself (Windows Media, 2m40s).



Le Sexoflex Dragon*Con after-party

September 6, 2009
10:00PM - - -
Price: $5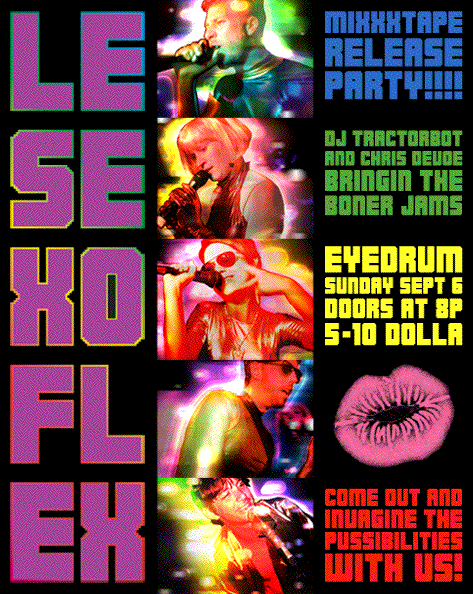 Dragon*Con after-party

with Le Sexoflex
www.myspace.com/lesexoflex

Mixxxtape release party!

DJ Tractorbot and Chris Devoe

doors at 8pm
5-10 dollars




Jack Rose + Magic Apron + Pony Bones

September 8, 2009
9:00PM - - -
Price: TBA



Since 2001 Jack Rose has pursued his own path in the solo acoustic guitar genre as invented by John Fahey. Like Fahey, Rose draws his inspiration from early rural American musicians like Charley Patton, Skip James and Blind Blake. In addition to those influences he gleans inspiration from Robbie Basho, Ry Cooder, Zia M. Dagar, La Monte Young, Terry Riley.

From 1995-2006 Rose was a member of the legendary drone / noise / folk group Pelt. Pelt—along with Tower Recordings, UN, Charalambides—was one of the early groups who forged a new sound that combined free improv, drone, traditional folk music in the early to mid nineties, later coined "weird new america" by The Wire's David Keenan in the early oughts.



Christabel and The Jons

September 10, 2009
8:30PM - - -
Price: $5.00



Christabel & the Jons are currently on tour promoting their new CD "Custom Made for You". This album beautifully illustrates their growth from a folky, honky-tonk band to an old-time swing band. The group saunters and sways together with ease. Their music blends multiple musical styles from gypsy jazz to country blues. Lead singer Christa DeCicco enchants audiences with her expressive lyrical style and laid back, sultry stage performance. Old suitcases and dressy vintage costumes from the 1920s-1950s give the performance a torch singer, speakeasy feel. They can often be found in thrift stores as they travel from town to town, hunting for clip-on ties and cocktail dresses.

CB&J has been performing their distinctive style of folky swing since the spring of 2005. They released their first full-length album, "Love and Circumstances" in November of 2006. Their second and most recent album, "Custom Made For You," was released on December 12th, 2008.

In addition to headlining many shows, Christabel and the Jons has also performed at numerous festivals in the US including Bonnaroo, Riverbend, Bele Chere, Blue Plum Festival, Shakori Hills Festival, Bristol Rhythm and Roots Reunion, and Sundown in the City. They've also opened for many national acts including The Brazilian Girls, The Be Good Tanyas, The Red Stick Ramblers, and Loudon Wainwright.

www.myspace.com/christabelmusic


Rock night at Eyedrum

September 11, 2009
9:00PM - - -
Price: $7


Shaking Ray Levi's present

September 12, 2009
9:00PM - - -
Price: $7


Georgia Students for Sustainability: Sustainamania

September 18, 2009
9:00PM - - -
Price: $8

A carbon-neutral (using solar power or renewable energy credits to negate energy use) event, part of a zero-waste concert series.  All proceeds will go to local environmental education initiatives organized by Georgia Students for Sustainability and its affiliates. Our focus is on supporting Green Peach; a convergence of Georgia youth meant help young people from our state learn more about sustainability and how to enact change in their region.

Featuring:




Big Fundamentals

The Big Fundamentals is a trio that consists of Andrei Mihailovic on guitar, James Goodhand on bass and Greg Callas on drums. They met at the University of Georgia and formed a band over their common love for jazz, classical music and Frank Zappa. They play mostly in jazz venues in Athens, as well as at house parties, and have had a few performances in Atlanta. The band says they are, "all about sustainabilty," and at least one identifies as an eco-terrorist. This is one of the best bands we've every seen so come out and hear them!




The Onset

Too often, when discussing music and particularly the creation thereof, preconceived rules not only hinder but cripple creative thought entirely. Ben Wetzelberger and Eric Guenther decided that to contrast the strict set of 'rules' we had set for themselves in their main project, progressive metal outfit From Exile, we would need another side of the coin, so to speak.
 
Onset was created to serve this purpose. The band will self-produce and release a recording in early 2010.




Vortex Park

Vortex Park was founded in 2005 when singer/songwriter, Alex Wolf, teamed up with double bassist, Justin Roberts, and began playing the Atlanta local scene. With Roberts' solid and thumping bass lines and Wolf's thoughtful lyrics and extremely eclectic writing styles, Vortex Park made an early impression on its audiences. Brad Stott and Rurik Nunan later joined, adding a dynamic rhythmic presence on percussion and a wailing and melodic violin giving Vortex Park depth and emotion that continue to attract new and diverse audiences.


Liturgy, Arms and Sleepers, Living Rooms

September 20, 2009
9:00PM - - -
Price: $7

Liturgy is a spazzed out metal band featuring members of Dan Deacons large touring ensemble.

Arms and Sleepers play electronic laced post rock epic-ness.

Living Rooms plays bouncy electronic pop songs with samplers and vocals.

THE BOOKS, LOTUS PLAZA

September 22, 2009

Price: $13 IN ADVANCE / $15 AT THE DOOR

AT EYEDRUM* TUESDAY SEPTEMBER 22
THE BOOKS
LOTUS PLAZA
Advance Tickets $13 -$15 at the door / Doors open at 9pm / All Ages
Advance tickets available here at this link
Or at the following Outlets:
www.ticketalternative.com * Decatur CD* Fantasyland Records

With a cut-and-paste musical aesthetic, The Books, a.k.a. Nick Zammuto and Paul de Jong, didn't invent the audio collage, but they have perfected the idea of incorporating found sound into their music. Not interested in repeating snippets of sound or vocals as in hip hop, The Books use whole sections of speech, where natural pauses and repetitions create an atmosphere all their own.


FOR MORE UPDATED INFO AND NEWS ON EVENT HAPPENINGS IN THE ATL.
visit TIGHTBROS.NET



24 hour dance party fundraiser spectacular

September 26, 2009
5:00PM - 5:00PM
Price: $5-$10



The 24 hour Eyedrum Dance-a-thon

Sat 9/26 - Sun 9/27

Bands + DJs + Dance Contests
Food + Drinks
Silent Auction
Bicycle Scavenger Hunt
+ more

$5 - $10 or buy an Eyedrum membership at the door

starts at 5pm Saturday and runs until 5pm Sunday

eyedrumdanceathon.com



ige*timer / colin bragg

September 27, 2009
9:00PM - - -
Price: $7.00

ige*timer: doublebass (Klaus Janek) meets hacked toys and lofi electronic (Simon Berz) from Berlin.

Drummer Simon Berz

discovered the arts of toy hacking a few years ago and found a deep interest in stretching the borders of the term of music far into the areas of sound and noise. The in-struments he uses are manipulated object, which he found on flea markets, in the trash or in nature. With the soldering iron he manipulates the objects in a way that they become music instruments and sound generators.

Doublebassplayer Klaus Janek

explored the edges of possibilities on his instrument, defining a new understanding of music for himself, building up dramaturgies and plots created with traditionalstyles of playing the doublebass as well as discovering new methodes and sounds by using traditional tools: arco and pizzicato. He doesn't use any kind of other sound manipulating props besides a machine which loops the doublebass instantly.

ige myspace


---


colin bragg: solo acoustic guitar set

Colin Bragg evokes spidery dreams on the acoustic guitar. He weaves together strands of Mali blues, the music of the kora (West African harp-lute), Egberto Gismonti's modernistic take on the traditional Brazilian choro, and a dash of dark Americana ala Blind Joe Death (e.g. John Fahey).