What Cheer? Brigade

August 2, 2009
9:00PM - - -
Price: $6



The WHAT CHEER? BRIGADE is a rowdy 19-piece brass band from Providence, RI. We play Luddite Hardcore, loud, mobile music requiring no electricity. We are a party band, and our sound incorporates elements of the following musical traditions: Bollywood, Balkan, New Orleans, Samba, and punk; thatís the short list.

What Cheer? myspace



Pro Bro Gold - Diamond Hymen- MORE!!!!!

August 3, 2009
9:00PM - - -



-RUSSIAN TSARLAG
from providence, RI


-PRO BRO GOLD
http://vimeo.com/3809047
from tampa, FL

-SKELETON WARRIOR
sarasota, FL

-SHV ("superior human vomit" from providence, RI)

-DIAMOND HYMEN


First Thursday Open Improv

August 6, 2009
9:00PM - - -
Price: free

theme:
"What Where":
when...
why?

dissolution of space/time momentarily bang aside,
bing,brang,brap settin' in yer mama's lap soothing
drone of canicular daze outside inside no signs se
em to work inoperative thump slap and giggle and
so forth and so on: arbitrary start time, finish up so
ectoplasmic distilloid-like waiting for it waiting for i

"I don't know what it means. Don't ask me what it means. It's an object."
s. beckett


============




---

Eyedrum's long-running Open Improv night occurs on the first Thursday of every month -- our monthly gathering for instrumentalists and improvisers of all stripes. Bring your instrument! Hosted by the indefatigable Robert Cheatham.

WPBA 30, Atlanta's PBS station, did a bit about Eyedrum's Improv Night a couple years ago for their "This Is Atlanta" show. Click for their description and the video itself (Windows Media, 2m40s).


ReComPas, Nomen Novum, Brainworlds, Tree Creature

August 7, 2009
9:00PM - - -

recompas - drum and synth driven band equal parts ambient soundscapes and kraut-ish propulsion




---


nomen novum - electronic duo who deconstruct poppy song structures with bleeps and blips aplenty




---


tree creature - heady synthesizer drones and epic melodic overtures riddled with squiggly occilllator racket and pulses




---


brainworlds - to the point drone band, ethereal mind-numbing galactic ramblings




Percussion Repertoire Group Atlanta

August 15, 2009
9:00PM - - -
Price: 7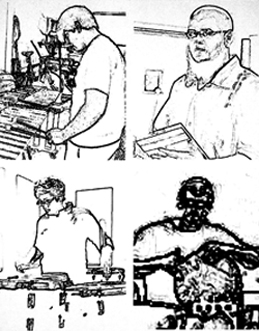 The Percussion Repertoire Group Atlanta is committed to performing the percussion music of 20th century avant garde composers John Cage and Lou Harrison. The group is composed of five percussionists who grew up in/live in Atlanta: Isaac Anderson, Olivia Kieffer, Mike Perdue, Austin Murphy, and Jennifer Torrence. This is a rare opportunity to hear a performance of a joint composition by Cage and Harrison, "Double Music." Also on the bill are "Third Construction" and "Canticle No. 3", plus a few suprises!

PeRGA
Olivia Kieffer
Isaac Anderson
Mike Perdue
Austin Murphy

Program:

"Fils des etoiles" John Zorn
"Third Construction" John Cage
"Double Music" John Cage/Lou Harrison
"Canticle No. 3" Lou Harrison
"Gri-gri" John Zorn


VieTNam, Silver Hand

August 21, 2009
9:15PM - - -
Price: $5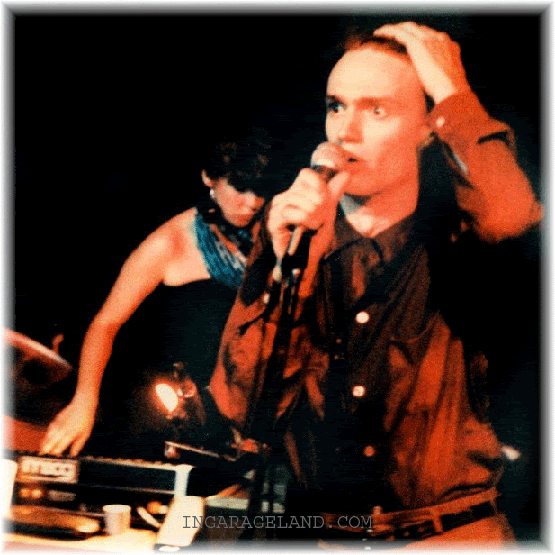 VieTNam formed at the dawn of the new decade---the 80's, and ushered in a fresh era of music to the Atlanta new wave scene. They wowed patrons of the legendary 688 club, 40 Watt club, and the Agora Ballroom, but unfortunately never released a record---until now.

VieTNam myspace




SILVER HAND is a provocative and energetic co-ed rock group based in Asheville, North Carolina. Heavy, high energy danceable songs, with memorable melodies and soft, textured, atmospheric pieces combine to create an original sound. Influences are Joy Division, Killing Joke, Siouxsie & The Banshees, PJ Harvey, Nick Cave, the Swans, Tones On Tail, The Rolling Stones, Pink Floyd, etc.

Silver Hand myspace


LONESOME cancelled.

Flickering Candle, Zentropy, Burgess Penquin

August 22, 2009
9:00PM - - -
Price: $7



The Flickering Candle

The Flickering Candle is an experimental jazz group formed in 2007 from
various members of the Five Spot Jam session. Performing improvised
music, the group takes not prisoners in their quest for musical
enlightenment by seeking the guidance of the eternal flickering candle.
Tonight's particular configuration consists of Eric Fontaine on tenor and
alto saxophone, Mark Raudabaugh on drums, and Bill Graham on keyboards.

myspace.com/theflickeringcandle




Zentropy

The name says it all. Sometimes the zen of the moment takes the sound into exciting directions, but often, the order and structure will break down and transform itself as entropy takes it's toll. Such is the nature of live improv, and such is the nature of Zentropy....†

Once upon a time, keyboardist Allen Welty-Green (Z-Axis) had an epiphany - music could be more than structured suites and crafty arrangements. Sometimes music that is created spontaneously can connect with a listener on a different level. Music doesn't have to play by the rules. It can border upon chaos, but as long as it had a solid foundation, it will still grounded and accessible.†

He soon teamed up with bassist Jim Cotton and drummer Davis Petterson (dp3 & The Ghosts Project), and in the waning weeks of 2007, Zentropy was born.†A series of local and house concerts have followed, as Zentropy found a collective voice and built and refined their musical vocabulary. In 2009, Jim moved on to different endeavors and Zentropy recruited bassist†Gabriel Monticello, M.A. (Guido's Hand).

It's improvised but is it jazz? It's spacey but is it jam? Listen and decide for yourself!

myspace.com/zentropy07




Burgess Penguin

Burgess Penguin was formed in 2009 by bassist Phil McKenna with the intent of creating vivid colorful soundscapes in the moment and off the cuff, and with a biting sense of humor more times than not, drawing on influences ranging from psychedelic rock to jazz, late 19th/early 20th century classical music, music from cartoons and 70ís cop shows to name but a few.. Phil was previously involved in a studio based Prog-Rock project known as The Owl Watches, but wanted to move in a whole different direction altogether after feeling that the whole prog-rock thing carried with it a set of frustrating pre-conceived notions about how music should sound, (or more accurately WHO it should sound like).
†
Jeff McGahren (Keyboards, Guitar and Trumpet) brings a widely varied sonic palette and a wicked sense of humor to the band. His wealth of musical experience ranges from jazz †to rock, film soundtracks. Musicals and more. He was picked for 2 odd reasons, his wealth of musical experience previously playing in cover bands, and his absolute disdain of doing so. †
†
Dean Foggan (Drums/Percussion) is a 3rd generation drummer from Long Island NY with a dizzying variety of musical experience including playing with folks like the late Cornelius Bumpus (Doobie Brothers Band), Drew Zing (Steely Dan) and Kevin Harris (Santana), Clarence and Jake Clemens (Bruce Springsteen), Dave Mason (Traffic), Joan Osbourne, Jim Manone, Nancy Atlas to name but a few. Dean is always up for a creative challenge and charges at it like a panther., and particularly loved the idea of continuously improvised music with no pre-conceptions.

burgesspenguin.net



Ensemble Pampelmousse

August 27, 2009
8:00PM - - -
Price: $8



Ensemble Pamplemousse

Founded in 2002 as a vehicle for musical exploration, Pamplemousse presents concerts of extraordinary focus and clarity. Comprised of virtuosic musicians trained in classical, electronic, and improvisational realms, the group consistently delivers fresh, exhilarating new concepts in sound.

The members' eagerness for aural discovery has allowed for ample experimentation processes, where boundaries are non-existent, and from which a strong dialogue has emerged. Among the group's vernacular resides formerly unfathomable sound landscapes formed by the acute relationships the performers have forged with each other, and with the composers who are an intrinsic part of the ensemble. The product, uncompromising and resolutely beautiful, is created by incredibly innovative, yet-to-be-named approaches to performance and composition.

Pamplemousse presents:

2 States of Super
1 Hall of Mirrors
1 Bowl of Cereal

and

An Interruptive Turtle

SUPER [soo-per](noun, adj., prefix): amplification and processing systems for Pamplemousse that cater specifically to quietly noisy crickle-crackle sounds.

Fricky Fry by Dave Broome: Pppraic leshd MA! beeslaicalWe erped rvsininlpumn VVV d e cro hiode VOCAL FRY! rote dnouo RUB nompct aollaaGRRRRtincsly amare tigg SSSSS syonourent apnchspersly mfep SAH! roed rm DAH! wutriamesciling optiasll Ppppp ls ralorsA tcc oatotall patplydifach useermmmm.

superShhss: Natachaís brand-new composition minimally employs the SUPERsystem, seeking solace from the endless sound spectrum through isolation and confused repetition, broken by screams of jealous noise.

JEKU (Andrew Greenwald) is an interplay of visual and auditory cues reversing inwards on each other to create an endless reflection at the brinkís edge of inaudible.

cereal by Jessie Marino : Red and Blue, but who is who?
Rama Gottfried interrupts.

Ensemble Pamplemousse:
Natacha Diels (flutes/electronics),
Kiku Enomoto (violin),
Jessie Marino (cello),
Andrew Greenwald (percussion),
David Broome (keys/voice).

ensemblepamplemousse.org