Richard Ramirez (Werewolf Jerusalem)

August 2, 2008
9:00PM - - -
Price: 6.00

Richard Ramirez of Houston's Black Leather Jesus!
Richard Ramirez is an American noise music artist from Houston, Texas, recording and performing both as a solo artist and as part of several groups
and Houston Noise Bands, including Black Leather Jesus, Priest in Shit, and the "static noise" solo project Werewolf Jerusalem. He is often noted for
being one of the earlier American noise artists to produce work in the Japanese "harsh noise" style. He has done collaborations and split releases with many figures in the noise field, including Merzbow, Emil Beaulieau, Skin Crime, and MSBR.


RU-486, Ze'rO-sum, Crawling Iris, and Graham Moore open...

ze'r0-sum is the project of Jovan Hernandez (Black Leather Jesus). Dark/neo-classical ambient works are his signature for this project.

RU-486 is a power electronics noise project from Mississippi.

CRAWLING IRIS is an experimental/noise project of Heidi Torrico from Houston,TX.

Graham Moore, of (To Live & Shave In LA) A collage, avant abstract of random
splash cuts and curious sounds.

monthly show on WREK 91.1 FM

August 3, 2008
7:00PM - 9:00PM


On the first Sunday of every month, at 7 p.m., Eyedrum does a show on WREK (91.1 FM / www.wrek.org) that features nuggets from Eyedrum's archive of live performances.




After the show airs "live", you can listen to it via WREK's 7-day archive if you forget to tune in. Here are the direct links to Sunday Special streams: lo-fi or hi-fi. These streaming links from WREK expire 7 days after the show airs on the radio. (Note: this month we got a late start, so fast-forward about 20 minutes to get to the beginning of the show.)

But wait, there's more! We now have a podcast
available, for those of you who have discovered podcasting. You can also just download the whole show (right click on "download") although be forewarned that the file is over 50 MB in size. These podcast and download links will NOT expire for months to come -- download and listen!

---

Great show this month! We started with Bangers and then Indigovox, two groups that will be playing at Eyedrum in the next month. Then we had a visit in the studio with the guys from the "Get Off The Road" / "Ride Or Die" bike-themed show happening at Eyedrum on August 15th. In between banter we played music by bands performing at that event, including Diamond Jackie, All The Saints, Zoroaster and Android Not Man. Then we played Parachutes, Psychedelic Horseshit, LaDonna Smith with Killick, an Open Improv excerpt, the Frode Gjerstad Trio (at ED again Aug 29th), Roger Ruzow and The 4th Ward Ensemble (Aug 30th), Marc Ribot and finally Francisco Lopez. During voice breaks you could also hear local electronic/noise artist Rajio playing in the background; with Chairlift, he's opening for Ariel Pink on Aug 4th.


LaDonna and Misha duo and TONGUES ON FIRE ...

August 3, 2008
8:30PM - - -
Price: 5

LaDonna Smith from Birmingham USA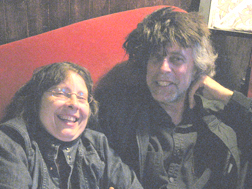 From Alabama, LaDonna is a "fire bucket" violist, and violinist, first generation pioneer on the American avant-garde improvisation front and keeper/editor/producer of the improvisor, a collective music journal of free improvisation now on the web at www.the-improvisor.com. Moscow born Misha Feigin brings the elements of poetry, vocals, the old-world romance and dynamic energy to the collaboration, improvising on guitar and balalaika.

TONGUES ON FIRE TENT REVIVAL AND PROPHETIC RE-ADJUSTMENT MUSIC SOCIETY from Atlanta USA

ARIEL PINK'S HAUNTED GRAFFITI, CHAIRLIFT

August 4, 2008
9:00PM - - -
Price: $8 in advance / $8 at the Door

THE DOOR TIME HAS CHANGED! DOORS OPEN AT 9PM!! SORRY FOR THE CONFUSION WE ARE VERY SORRY. GET HERE AT 9PM ON TIME AS MUSIC WILL START AT 9:30 WITH RAJIO THEN CHAIRLIFT AT 10PM. ARIEL PINK'S HAUNTED GRAFFITI WILL GO ON AT 10:45.

EYEDRUM Monday August 4
ARIEL PINK's HAUNTED GRAFFITI
CHAIRLIFT
RAJIO
All Ages/ 9pm / $8 advance / $8 at Door

Purchase advance tickets at the following outlets:
Criminal Records * Ella Guru * Decatur CD * www.ticketalternative.com

Brought to you by TIGHT BROS NETWORK

Ariel Pink (born Ariel Marcus Rosenberg on June 24, 1978) is an avant-garde/hauntology musician who is based in Los Angeles. He attended Beverly Hills High School in Beverly Hills, California. Later attending the School of Art at the California Institute of the Arts. Married to Alisa Daniels, July 2002 - still married. Pink has been recording his music on tape since 1996 but it wasn't until after he passed a CD-R to the New York-based band Animal Collective that his commercial musical career took off. He has since caught the attention of various media sources, especially in the Los Angeles area. As most of his albums are self-made, many of them have never been heard by fans.

Pink produces and plays almost all of his own music, and is noted for creating drum sounds using primarily his mouth, and sometimes his armpits. His home recording technique gives his music a very lo-fi sound, to the point where new listeners may mistake the era of his music.

Pink cites R. Stevie Moore--friend, mentor, and "father of home recording"--as one of his major influences. Pink boasts a cult following and endorsements from more widely known artists such as fellow Paw Tracks artists Animal Collective.

Aside from his music, Pink makes semi-abstract and surreal grotesque drawings, which can be purchased from his unofficial website, ARIEL PINK haunted house, for a hefty price. Pink is also an avid contributor to Steve Quayle's Genesis 6 project, which is considered the authority on giants; their origins, and their "unimaginable cruelty, sexual perversity, and cannibalism."[1]

Underground Releases can be purchased from Ariel and his friends' self made label called Human Ear Music: http://www.humanearmusic.com/

Ariel Pink Oddities&Soddomies




Grape Tree Collective

August 6, 2008
9:00PM - - -

Indie / experimental / folkrock

Featuring bands in the Grape Tree collective:
The Good Moods
The Hotels
The Vulpines

The Grape Tree collective has been around in Atlanta since 2004. Current bands include No Face, The Hotels, Good Moods, Goodnight Mush, MLK and any band with members of the collective in them. Extended family includes Supreeme, any project with Negashi, Shaka or Sam, Molotov Pipedream, Elia and his friends.

myspace

grapetreecollective.blogspot.com


open improv: Mysterious signals from beyond

August 7, 2008
9:00PM - - -
Price: free/donation

MYSTERIOUS SIGNALS FROM BEYOND

signals signals everywhere
within without
noisy louts form one step beyond within
cascading doubts laid waste
stomping on your ax dude
flayed spurting in the
frozen wastes beyond the atmosphere
ringing klanging
meeting buzz zizz
yr inchoate thoughts within

play it where it lays sam

"you don't need a weather vane
to know which way the wind blows"

Arms and Sleepers, Chris Devoe, Indigovox

August 13, 2008
9:00PM - - -

A diverse night brimming with lovely soundscapes...

Arms and Sleepers enchant with intense cinematic songs. Ambience, synth washes, and churning live drumming combine to create a special thing of sublime beauty.

DJ Chris Devoe from Atlanta cranks out warm and punchy hip hop inspired turntablism backed in this incarnation by electric piano and drums. so so great.

Indigovox is a one-woman synth pop machine, with thobbing beats and squiggly keyboard work...at once pretty and catchy.



Parachutes, Thank You, Gjerstad/Nilssen-Love duo

August 29, 2008
9:00PM - - -
Price: $10

Parachutes (Iceland) (11:30p)
Thank You (10:30p)
Frode Gjerstad/ Paal Nilssen-Love duo (9:15p)
All Ages / $10 / 8pm

Originally Alex Somers and Scott Alario, Parachutes is now a 7 piece Icelandic pop band. Their music creates a soundscape of flowing rhythms , beautifully fashioned drum thumps, and orchestrated harmonies. The songs "Your Stories" & "Tree Roots Turn to Forts" were mixed by Jonsi Birgisson of Sigur Ros and feature the strings of Amiina. They will be making their first U.S. appearance in Atlanta on Friday August 29 at Eyedrum gallery.

Parachutes myspace

Thank You is an athletic rhythm/action unit from Baltimore, made up of Jeffrey McGrath, Michael Bouyoucas, and Elke Wardlaw. They are three free individuals, subsumed into a collective form that spits out dank, skittering tracks filled with light and dark. Their new album, Terrible Two, was engineered by Baltimore's beloved J. Robbins (Yeasayer, Mary Timony, Jets to Brazil) at his studio in Baltimore and mixed by Chris Coady (Yeah Yeah Yeahs, Celebration, TV on the Radio) at his studio in New York City.

**BREAKING NEWS: Vice magazine (Italy) names Thank You - Terrible Two "Best Album of the Month"! **

thrill jockey

Paal Nilssen-Love is one of Norway's most active drummers and has established himself as a powerful and dynamic musician through regular groups with Mats Gustafsson (The Thing), Ken Vandermark (School Days) and Peter Brotzmann (Chicago 10tet) among others.

With over 20 recordings as a leader Frode Gjerstad has established himself as a major saxophonist on the international scene. His groups have included Johnny Dyani, Kent Carter, John Stevens, William Parker, and Hamid Drake, whom he toured the US with in 2000.

Paal website


Atlanta Sedition Orchestra + Atlanta 4th Ward Orch

August 30, 2008
8:00PM - - -

spearheaded by roger ruzow, musicians donate their efforts to help eyedrum.

The Atlanta Sedition Orchestra

and

Atlanta 4th Ward Afro-Klezmer Orchestra founded in 2008 by Roger Ruzow merges two styles of music not thought of as compatible in the traditional sense. The original compositions and arrangements blend traditional Klezmer influenced songs and styles with West and South African rhythms to create an exotic amalgamation of afro-beats, Eastern European stomps and American jazz.
The ten piece jazz-orchestra features an all star lineup of some of Atlanta's best musical talent.

4th Ward Afro-Klezmer Orchestra
feat:
Colin Bragg - guitar
Chris Case - keyboard
Ben Davis - sax
Jeff Crompton – sax/clarinet
Jonathan - trombone
Ben Gettys - bass
Keith Leslie - drums
Bill Nittler - sax/clarinet
Roger Ruzow - trumpet
Blake Williams - trombone



ADVENTURE (carpark records)

August 31, 2008
8:00PM - - -
Price: $5


EYEDRUM Sunday August 31
ADVENTURE
EAR PWR
CCIVORY(8-bit wonder rocks DJ SET w/ Gameboy)
WATERLOO
All Ages/ 8pm / $5 advance / $5 at Door
Brought to you by TIGHT BROS NETWORK



Purchase advance tickets at the following record stores:
Criminal Records * Ella Guru * Decatur CD * Ticket Alternative

Adventure is 24 year-old North Carolina native and recent Baltimore transplant Benny Boeldt. His ultra-melodic synth compositions pull from his earliest exposure to the 8-bit soundtracks of the Sega Genesis video game catalog. But it's not just retro video game music. Mix in the kitschy Moogy sound of Hot Butter's "Popcorn", the saturated disco-theatrics of late seventies electro-pop acts like Sparks and Yellow Magic Orchestra, and a penchant for Eastern European diminished scales and you've come pretty close to Adventure's accelerated baroque sound. Adventure is an advanced, dance-floor friendly take on the music of early video gaming. Let the epic quest for the master sword begin!

Tight Bros Network is proud to introduce you to Atlanta's hairtastic, Chris Calzone, AKA CCIVORY. This kid rocks a Gameboy while covering Daft Punk's "Harder, Better, Faster, Stronger" and Michael Sembello's "Shes' a Maniac" from the iconic eighties film Flashdance during his live sets. His performances are similar to that of a Girl Talk show but he sings on occasion and we are excited to have him booked at Eyedrum with new Carpark Records recording artist Adventure on Sunday August 31 beginning at 8pm with admission only $5. This event is all ages.

all art music film literature special


| | | | | | | |
| --- | --- | --- | --- | --- | --- | --- |
| Sun | Mon | Tue | Wed | Thur | Fri | Sat |
| | | | | | 1 | 2 |
| 3 | 4 | 5 | 6 | 7 | 8 | 9 |
| 10 | 11 | 12 | 13 | 14 | 15 | 16 |
| 17 | 18 | 19 | 20 | 21 | 22 | 23 |
| 24 | 25 | 26 | 27 | 28 | 29 | 30 |
| 31 | | | | | | |