Afterparty (Houston) / Khovicoobah/ Pretzel Logic

July 1, 2009
9:00PM - - -



Afterparty (www.myspace.com/afterpartyhouston) is a mess of a high-energy band that will be bringing it party style on this fine July evening. Fans of the Butthole Surfers, Flipper, Revolting Cocks etc. perk your ears up and stuff em' with earplugs on the way to the show. Rowdy naughty racket for fun summer times.


---


Khovicoobah (www.myspace.com/khovicoobah)will open the show with something assuredly unexpected ... a rambling and shifting outfit of rotating racketeers bent on rustling melodies, loping beats, and melancholy vocals. sure to incite a plague of mass head scratching and inner smiles in the aftermath of their set.


---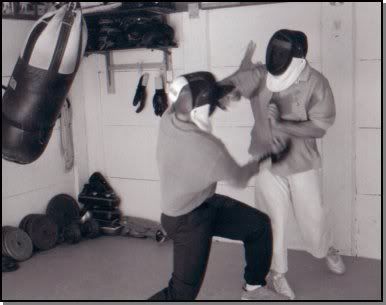 Pretzel Logic is also on the bill, kicking it true blue with suitcase bombardment, packing wallops great and small from the depths of jack the ripper's handbag. all warm and squirmy-like, you see ... noise you can grasp on to, cat, blips and bleeps you can cook BACON to.

check it out. this is a recommended, albeit last minute show. come hang out, have fun, and hear some cool stuff.


First Thursday Open Improv: Continuous Planetary L

July 2, 2009
9:00PM - - -
Price: free

Continuous Planetary Love Feast

Once we start
we don't stop
serrated waves spreading
out
all things enfolded
knives of love
bring it on home
heat it up
sweat it out



---

Eyedrum's long-running Open Improv night occurs on the first Thursday of every month -- our monthly gathering for instrumentalists and improvisers of all stripes. Bring your instrument! Hosted by the indefatigable Robert Cheatham.

WPBA 30, Atlanta's PBS station, did a bit about Eyedrum's Improv Night a couple years ago for their "This Is Atlanta" show. Click for their description and the video itself (Windows Media, 2m40s).



WRAS benefit

July 3, 2009
7:00PM - - -



WRASfest

with

ZOROASTER

and

Spooks

and

Thy Mighty Contract

and

Danger Woman and her 'Danger Force Band'


Michael Jackson Listening Party

July 4, 2009
9:00PM - 12:00AM
Price: free but donation requested



Michael Jackson, the self proclaimed King of Pop, leaves an unparalleled pop culture legacy… From his beginnings in Gary, Indiana and throughout his controversial life he was an innovator in music, dance, video, fashion, and beyond. He touched the lives of millions worldwide. On Thursday, June 25th, Michael Jackson died suddenly, at the age of 50.

On Saturday, July 4th, Eyedrum presents an opportunity to celebrate our nation's Independence while enjoying music and visuals from the career of one of America's favorite sons.

Free / Donations, costumes, and dancing are encouraged



Scarab, Bury Me Breathing, Vegan Coke

July 8, 2009
9:00PM - - -

Bury Me Breathing

Punishing, progressively-minded metal, infused with psychedelic textures. The unique and multi-faceted, art-metal style of this Atlanta quintet' command an integrated listening experience appealing to forward-thinkers open to new forms of extreme music. Their recently recorded EP, "Though Eyes Not Your Own," find BURY ME BREATHING utilizing an angular rhythmic assault along with groove driven explorations, dual guitar harmonies and counter melodies immersed in ambient colors to guide listeners through different states of mind spawning new realizations for metal.

www.myspace.com/burymebreathingmusic


---
Scarab

Brutal progressive metal that combines elements of hardcore, middle eastern surf rock, & improvised psychedelia. The group formed in 2007 & have infested the Atlanta scene with their own brand of uncompromising rhythmic chaos.

www.myspace.com/scarabdoom


---
Vegan Coke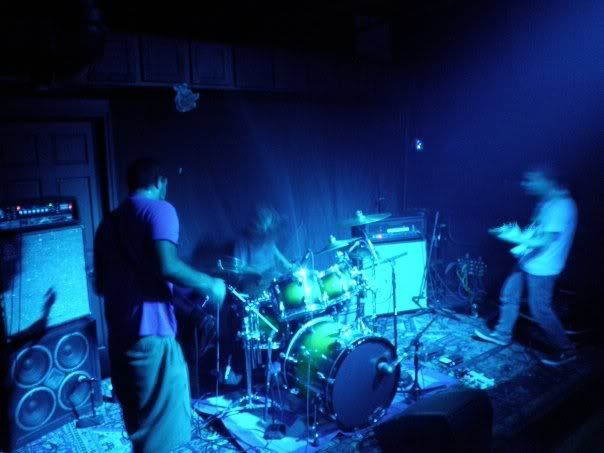 Nasty psychedelic rock and roll nonsense. brainmeltingly good.

www.myspace.com/vegancoke


Eli Keszler, Ashley Paul, Pocketful of Claptonite

July 12, 2009
9:15PM - 1:00AM
Price: $8



Eli Keszler

Using drums, along with crotales, bells, bowed metal, strings, Eli creates a unique whirlwind of sound that balances sparse droning harmonics with intense, fast, free rhythms. He has performed and/or recorded with artists such as Jandek, Phil Niblock (performed a new work of his for bowed crotales and saxophone), Roscoe Mitchell, & Loren Connors.

"It's hard to envisage that this music has been made by just one person .. especially on parts of Untitled, where the music slowly builds ... the slower more textural sections are particularly striking: bowed cymbals, bells and fender rhodes give track 2 a chamber music intimacy."
-Mike Barnes, WIRE magazine (August 2007)

Eli myspace


---




Ashley Paul

plays reeds, unique string instruments, electronics and sings. Her dream-like music juxtaposes aggressive, sustained high pitched blasts, floating vocals, clattering strings and bells, cry-like saxophones and is somehow tied together by oddly melodic songs.

"An entirely impressive collection of alvin lucier/ horatio radulescu-lineage difference tones, discordant euro-style free improv, and rattling, almost no-wave esque exercises ...a form destroyer if there ever was one; highly recommended !!!"
-Keith Fullerton Whitman

Ashley Paul myspace


---


plus 2 quick sets by Pocketful of Claptonite
and A Horse is a Sphere

Featuring Killick on guitar, Darrin Cook on bass, and Jamie DeRevere on drums

Pocketful of Claptonite pulls the power trio into a wide open stream of consciousness.




Nathaniel Bartlett

July 15, 2009
9:00PM - - -
Price: TBA



Nathaniel Bartlett's performances seamlessly meld his five-octave acoustic marimba with electronics, a powerful computer, and an eight-channel cube of loudspeakers. With the audience positioned in the center of the cuboid loudspeaker array, a three-dimensional soundfield can be projected into the audience space, totally immersing the audience in the music. In Bartlett's music, the spatialization and motion of sounds is a central musical parameter.

nathanielbartlett.com



GAYBOMB, Psychic Friends Hotline, Diamond Hymen

July 20, 2009
9:00PM - - -


gaybomb performing with to live and shave in l.a.


diamond hymen performing at philip k. dick tribute

Kenosha Kid-jazz/Silent Film: "Steamboat Bill, Jr.

July 24, 2009
9:00PM - - -
Price: $7


ABOUT THIS EVENT:

A live jazz & silent film event…

Bandleader/composer/guitarist Dan Nettles has woven a stunning sonic tapestry that fits alongside Buster Keaton's classic silent film "Steamboat Bill, Jr." Although well steeped in the American jazz tradition, the music manages to defy complete classification. Rather than focusing on long-winded soloing, the emphasis is always on the total band sound, melody, texture, and solid grooves. The event is designed to have something for everyone: It's a jazz concert… it's a film… it's a chamber ensemble… it's a comedy… it's a rock band… it's all these things rolled into one.

ABOUT THE MOVIE: 1928 black & white 73 minutes

Buster Keaton stars as Junior, a hapless college dandy forced to learn the ropes of river-boating from his cantankerous father. Set on the Mississippi River, "Steamboat Bill, Jr." is loaded with intricate sight-gags, acrobatic feats, and cinematic ingenuity all leading to a climatic storm sequence like none other.

ABOUT KENOSHA KID:

DAN NETTLES: GUITAR, NEAL FOUNTAIN: BASS, MARLON PATTON: DRUMS

What does the South have to offer the modern jazz scene? This brilliant configuration of Kenosha Kid is here to answer that question with its own fermented blend of NYC hipster-jazz soaked in the humid college-rock town of Athens, Georgia. With over ten years of experience performing together, Nettles, Fountain, and Patton weave their way from one song to another with an uncanny sense of telepathy. The melodies are haunting, the grooves are devastating, and the focus is always on instrumentation, song arrangement, and band sound over long-winded soloing.

More info, MP3's, and videos at:
Kenosha Kid




The Selmainaires w/ Social Studies & Hungry Flower

July 25, 2009
9:00PM - - -
Price: $7



on an autumn day in 2003, on selman street in atlanta georgia, a group of developers were bulldozing an old house. among broken hair dryers, kitchenware, and musty furniture they found a box containing a reel of magnetic tape. thinking nothing of it, the men discarded it in a pile and continued chewingchewingchewing. night came. an early evening sprinkle painted tree trunks dark with the earthy extract of fallen leaves. four wandering figures (our boys), rambling along after work, began to feel a peculiar sensation as they passed this strange pile. an organic unease. curious, the boys stepped closer (as they were predispositioned to mystery and old tape) and noticed a strange music murmuring from fragments of rotten wood and torn plastic bags. purplegreenblue vapors rose from the shivering heap, and it was crowned with a slim box labeled "for gutenberg's children". they opened it carefully with a stick, and before they could could reach inside to touch the reel it disintegrated in a flash of

telephonespaintedlipsnightlynewsleopardsglaciersdoorhandlesvolcanos

tiremarkstypeoceansarrowspowerlinescarhorncloudskneecapellipsis

gasolinenightclubbedsheetfingertips.

.............................................and thus the selmanaires were born.

Opening the evening will be SOCIAL STUDIES:



and THE HUNGRY FLOWER GAMELON:
Hungry Flower is a small orchestral ensemble that uses chromatic metallic percussion and global musical theory to create unique music. Hungry Flower is a gamelan.

Hungry Flower's essential instruments are the kechar, gongs, drums, flutes, gongs, cing cings and pepoungs.



moira smiley & VOCO

July 31, 2009
9:00PM - - -
Price: $8 - $48 sliding scale donation

moira smiley & VOCO in concert

With Andy Ditzler & Elise Witt

Listen to VOCO here.




"This is a truly phenomenal act, combining the energy of urban street singing with first-rate musicianship, folk roots and traditions from throughout the world. Their body percussion sets are a sight to behold" - Folkworks Magazine

"Not afraid to mix Bartok with street singing...EXPECT GOOSEBUMPS." - Seven Days

Voted #1 a cappella group in the U.S., 2007

VOCO is stompin' gorgeous vocals - lush, fierce vocal harmony and delicious vaudevillian combo of cello, accordion and banjo. Original songs, sweet hard-driving Americana, rompin' body percussion, emotional ballads of Eastern Europe. A visionary blend of four exquisite voices.

Moira Smiley - vocals, percussion, banjo, accordion
Jess Basta - vocals, body percussion
Jessica Catron - cello, vocals, body percussion
Christine Enns - vocals, body percussion