Profligate, Lolito, Nick Klein, Pyramid Club

June 7, 2015
7:00PM - - -

*doors at 7, show at 8*




PROFLIGATE (DKA, Not Not Fun Records)
Them Are Us Too (Dais Records)
Pyramid Club (DKA)
Drippy Inputs
Lolito (aka Outmode / MORE Records)
Nick Klein (Primitive Languages, Unknown Precept)

DKA is taking over Eyedrum with amazing acts from all over the country.

Institute, Slugga, Paradox, Uniform

June 11, 2015
8:00PM - - -

Institute (Austin, TX)


INSTITUTE: FFO MIMES WRITING THOUGHTFUL SONGS WITH GUNS POINTED AT THERE HEADS, BOBBY SOXX'S ILLEGITAMTE CHILDREN ON A WHOLE BOTTLE OF ADVIL WHILE BUMPING ONLY THEATRE OF PAIN UNDERWATER, LATER AFI (BUT MORE DIY), SICK JAZZ BASS LINES WITH CIVIL WAR ERA PUNK GUITAR ON TOP AND VOCALS OF OPERA SINGER GARGLING SPAGHETTIS DRIED OUT INTO CHEERIOS...


Slugga


SLUGGA: A RETURN TO STREET PUNK, CLOSET GOTHS NEED NOT APPLY, NOR UNDER THE BED GOTHS, THE SOUND OF CONCRETE, DIRT, STEEL, THE DOLE, DOLE BANANAS, CLOCKING IN, CLOCKING OUT, THE PARADOX OF CLEAN LAUNDRY VS APPLIED WORK UNIFORM, DROPKICK MURPHYS AS FILTERED THROUGH A SAND BLASTER MINUS IRELAND PLUS FLORIDA, OVERDOSING ON NUTMEG, AMPLIFIED SUSPENDERS, I MENA BRACES, DIY DENTISTRY, ANTI-MEME CULTURE, THE FUCKING PUB MATE!


Paradox


PARADOX: GETTING LOST DEEP IN A CRUSHED VELVET WALL ART OF ROZZ WHEN HE WAS ON STEROIDS AND IN THE ARMY, LIKE BERLIN WALL IN MARSHALL STACK AMPLIFIER, MICROWAVED CASUALTIES CDS, OVERDOSING ON SXE, A PUNK SOUNDTRACK TO THE RENNESANACE FESTIVAL, AMPLIFIED TURKEY LEG, GUITAR CENTER DIVIDED BY QUICK TRIP + THE ART INSTITUE DIVIDED BY ANTISECT, CRASS RECORDS BOSS AT THE FISH HATCHERY, ALASKA AND HAWAII AS A YIN YANG, POST-PROFANE EXISTANCE, GREAT HAIR-CORE, MOST LIKELY ATL BAND TO GET A CIRCLE PIT GOING, BUY THESE GUYS A COLORFUL TSHIRT JESUS CHRIST!


Uniform


UNIFORM: POST SHAQUILLE ONEAL, INTO VINTAGE ALIEN METAL FOR GUITAR STRINGS, JG BALLARDS DIET, POLARIZING ARTERIES AND VEINS, SOUTHERN RAP, SPIT COLLECTIONS, AMPLIFIED SKELETON OF MOLLUSK, DEEP SEA INSTITUIONS, ANIMAL BANDS, SPIRITUALITY OF GHOST BUSTING, WIMPY NYHC, CLOSET GOTHS, UNDER THE BED GOTHS, UK82 PART 2, BLINKO AS CHRIST, BLINKO AS BOZO, POGO BOZO, INDIE ROCK IN DISGUISE

Open Improv: Mississippi Burning

June 12, 2015

Price: free


Clibber Jones Ensemble and A/B Duo

June 14, 2015
8:00PM - - -
Price: 10

The A/B Duo presents a set of flute and percussion duets, including the premiere of Clibber's piece written for them!
http://abduo.net/

Then, CJE!
http://clibberjonesensemble.com/


Jamison Williams, Edgewood Sax Trio

June 16, 2015
8:00PM - - -
Price: 7


Invent Room Pop 50

June 19, 2015
10:00PM - - -
Price: free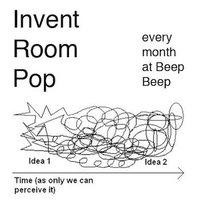 This is the 50th installment of Invent Room Pop. Six musicians are invited to play in duos and trios determined at random, with names drawn out of a hat. Inspect the archives at inventroompop.bandcamp.com.

Grace Thornton - performance
Omar Khalid - sax
Ben Shirley - cello
Jon Ciliberto - keys

C10, Comeback Ranch, Salsa Chest

June 21, 2015
8:00PM - - -
Price: 7

C10
Comeback Ranch
Salsa Chest

| | | |
| --- | --- | --- |
| Hold | | June 25, 2015 |