monthly show on WREK 91.1 FM

June 1, 2008
7:00PM - 9:00PM


On the first Sunday of every month, at 7 p.m., Eyedrum does a show on WREK (91.1 FM / www.wrek.org) that features nuggets from Eyedrum's archive of live performances.




After the show airs "live", you can listen to it via WREK's 7-day archive if you forget to tune in. Here are the direct links to Sunday Special streams: lo-fi or hi-fi. These streaming links from WREK expire 7 days after the show airs on the radio.

But wait, there's more! We now have a podcast
available, for those of you who have discovered podcasting. You can also just download the whole show (right click on "download") although be forewarned that the file is over 50 MB in size. These podcast and download links will NOT expire for months to come -- download and listen!

---

Whoops, we got preempted by Georgia Tech sports coverage this month.


open improv

June 5, 2008
9:00PM - - -
Price: free


Batter Recharger / Pacific before Tiger / Fashion

June 6, 2008
9:00PM - - -
Price: $7



BATTER RECHARGER

Batter Recharger is a high-energy band from Brooklyn. Jamie Matson plays keyboards and Forrest Gray plays electric guitar. They take turns playing the drum set. Both of them sing and rhyme with a wide pallet of influences.

You can hear glimpses of Laurie Anderson, Vialka, Roy Orbison, and Jon Spencer in their songs. They sound like a mixed tape.

Batter Recharger makes tape loops. They create a loop from their quarter inch reel-to-reel, and manipulate the tape. The process is performed live and each memeber has a microphone. Their words morph into one another; sounds speed up, stop, and change. Batter Recharger's tape loops are lyrical, dream-like and contain warped aspects of the dream-world.

Improvisation is a large part of the Batter Recharger sound and each song breathes and changes from night to night depending on that day's energy. Their music is energetic, raw, emotive.

www.batcharge.blogspot.com


---


PACIFIC BEFORE TIGER

Pacific Before Tiger is minimalist / ambient / electroacoustic artist Andrew Weathers from Greensboro, NC.

More info and music samples at:
http://www.myspace.com/pacificbeforetiger


---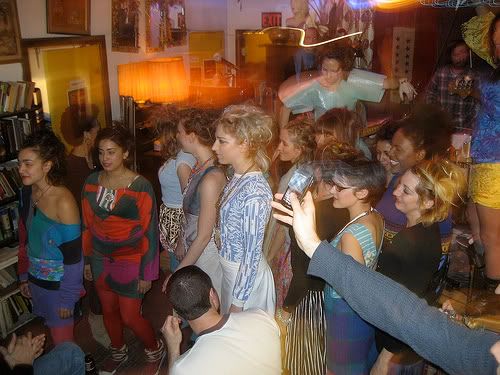 After the performances, stick around for the:

LUNCHEON LADIES FASHION SHOW

Luncheon Ladies is a one-lady-run unique clothing company operated by Jamie Matson. Luncheon Ladies specializes in re-organizing recycled womens clothing, mainly turning out dresses. The dresses are mostly slip ons without buttons or zippers, with comfort, flattery and breeziness being the main ingredients, achieved with a little stretch, a little bunch, a little ruffle and a little lunch. Dresses $40, skirts and shirts $20.

www.myspace.com/luncheonladies


Domm,Shimomitzu,Tyger Beat, Zano

June 10, 2008
10:00PM - - -

this is a last minute show, but we wanted to do it due to the most awesome nature of the acts that will ensue. so come out and see this shit.
it will be so so good!


"Somewhere between the confessions of Oberst (or perhaps Xiu Xiu) and confrontations of Venetian Snares lies Dommm's hectaring siren spasms and crimped synths, and those calm melodic vignettes struggle with issues of ugly-beautiful vulnerability. Dommm places emphasis on having a center of gravity within the diffusion, a la Fennesz". - XLR8R 108 June/July

www.domm.com

this will be a night of lovely electronic madness.

Corima, Mothguts, Tenth to the Moon

June 13, 2008
9:00PM - - -
Price: $7



Corima

"Very wild mix of neo-zeuhl, with a Japanese touch and with a really GREAT vocal performance. The made-up language brings us some weird words, which sound like an occult ritual to me."
- Patrik Steinhauser, Prog Archives collaborator.

RIYL: Magma, Koenjihyakkei, Present

With only one album under their belt, and considering they've only been together for around 2 years Corima has already consolidated itself as a band that will undoubtfully have a lot to offer to the world of progressive rock music.

Corima is the kind of band that after losing two important members, having very few support while living in one of the most close-minded culturally-dead towns which is El Paso and having the hardest time in just finding a place to practice, never gives up and on the contrary always get their job done. They were touched by the love of MAGMA, and any obstacle that comes around they surpass it because that love is greater that anything else. It was a revelation, an illumination, and a huge spiritual discovery that made them realize how beautiful music can really be.

The members are: Sergio Sanchez-Drums/Vocals, Francisco Casanova-Keyboards/Vocals, and Juan Tarin-Bass.

They released their self-titled debut full length in late 2007. Their album is a 65-minute wild roller coaster of Zeuhl music with operatic vocals sung in a made-up language, odd time signatures, bombastic super heavy bass lines and insane keyboard work-outs all combined in a way that calls for a never ending explosion.
Their influences: Magma, Koenjihyakkei, Present, Univers Zero, Area, Weidorje, Eskaton, Guapo, Bondage Fruit, Happy Family, Dun, Stravinsky, Orff, Bartok, and Coltrane.

In addition, Corima hopes to give a message to the listener that there are still people that believe in underground innovative music that puts up music quality before commercial interests and that this fight has not died and we will keep on fighting it.

More info on MySpace - click here



Mothguts:

Birthed on Halloween night 2005, Mothguts is a band. And said band creates music in the style of what one might call "free-grind." "Free," as in "free jazz," and "Grind," as in "grindcore." The members: Ben Ross – drums, Chris Welcome – guitar, Mike Noordzy – fretless bass, Anthony Ware – alto sax and (the fifth beatle as it were) Chris "sparkplug" Carratello – compositions. The music is a combination of jazz, metal, hardcore, and noise with a great deal of improvisation. It's influences would include bands and artists like Painkiller, Last Exit, Anal Cunt, Dillinger Escape Plan, Pantera, Black Sabbath, Naked City, Anthony Braxton, and Arnold Schoenberg to name but a few. Mothguts have self-released three CD's (2 of original material and a Christmas record.), a live record (Live from Atlanta) and have a split 12' vinyl on Kitchen Dweller records (U.K.) In addition to that they're in the process of making 2 more albums this year, including one with avant-garde trumpet legend Herb Robertson. They're toured much of the east coast and continue to do so. They've been known to do silly things like making every CD and t-shirt by hand and playing whole sets of instrumental Sabbath covers.

Mike Noordzy - bass
Ben Ross - drums
Anthony Ware - saxophone
Chris Welcome - guitar

Mothguts is a death metal, free jazz, just plain noisy quartet from Brooklyn.
http://www.myspace.com/mothguts

[note after the fact: these guys rocked. we feaatured a lot of this performance on our monthly radio show / podcast the following Sunday; check it out!]

--------------

Opening is the no-wave fury of Atlanta's own Tenth to the Moon

Tenth myspace





Yellow Crystal Star, Dickhearse....

June 16, 2008
9:00PM - - -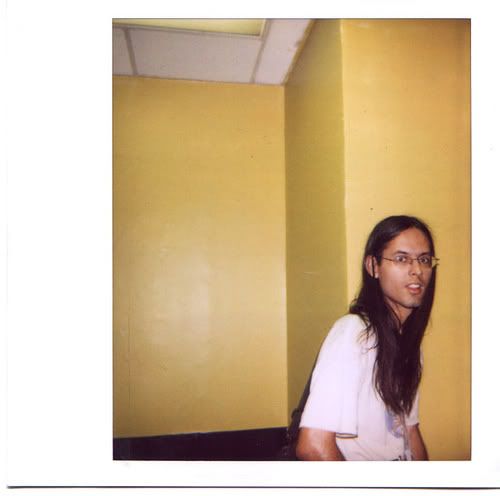 Yello Crystal Star

extreme examples of existential drone, layers, alternate realities...yellow crystal star imparting blissful blessings to any whose ears might hunger for a sonic glimpse into the ether, Dickhearse a Discourse on Dickhorse bucking madly from the other side of the nearest wormhole in the most rocking erotic equestrian sort of way.
go listen to it and then come to eyedrum and give yourself a real treat.

Dickhearse: a Discourse on Dickhorse



Club of Rome, X-nuns + others (retard dance party)

June 18, 2008
9:45PM - - -
Price: $7


Club of Rome
X-Nuns
So So Death
Sister Circuit




The cracked out dance music of Club of Rome is often compared to Suicide though you probably could toss in Big Black and Butthole Surfers as a reference points.

COR myspace


Party with your pants off!

P.S. *MELTED MEN CANCELED*


Teahouse Benefit Concert & Teacup Auction

June 19, 2008
9:00PM - - -
Price: $7

Please join us in helping to raise money as our friends at the 11:11 Teahouse fight for their right to party*!!

Featuring the delicious musical stylings of...


-Adron

-Hubcap City

-Molotov Pipedream

-Trappers Cabin

-Gary Eddy & the rest of it



ALSO! a silent auction of hand-painted, super awesome and magical TEACUPS!!

(please join us at the 11:11 Teahouse on Sunday, June 15th if you want to paint a teacup to put up for auction!)


*by "party", we mean "drink tea and garden".

Psychedelic Horseshit,Fabulous Diamonds,Suitcases

June 25, 2008
9:00PM - - -
Price: $8

Psychedelic Horseshit (Siltbreeze Records)

Fabulous Diamonds (Siltbreeze Records)

Suitcases (Sleepaway Records)

Sun City Girls (at the EARL)

June 27, 2008
9:00PM - - -

There's nothing happening at Eyedrum tonight. Go to the EARL and see the Bishop brothers doing their Sun City Girls tribute in their last tour ever.

Rising Appalachia's Concrete Pandemonium

June 29, 2008
9:00PM - - -
Price: Suggested donation $5 - $25



Rising Appalachia headlines third annual
CONCRETE PANDEMONIUM III
with Guest Artists and Non-Profits

UPDATE: pictures of this event have been posted to Creative Loafing's blog: click here

Continuing their musical and social evolution, sisters Leah and Chloe Smith of the group Rising Appalachia have just announced they will host and headline their THIRD ANNUAL CONCRETE PANDEMONIUM.

The group describes the event as " ..an evening of genre bending art and activism from the south with a focus on spoken word, roots and rhythm music, community non-profits, healing arts, and other eclectic forms of performance and artistry.."

nvited guest artists and non profit that are scheduled to appear include spoken word masters Theresa Davis and Stefen Miko of Art Amuk, Rising Appalachia ( R.I.S.E.), members of the Atlanta Circus Art Community, Earthshaking Samba, members of Asheville based Unifire Theater, The Feminist Outlawz, Alternate Roots, the Good n' Plenty Burlesque, inspirational fashion by Kaile Inc., contemporary hip hop choreography by Brookes Emanuel, the new media non-profit WonderRoot, Saddi Khali, and a warehouse full of other amazing artists.

Performer Chloe Smith further informs that " at the height of the evening, there will be dancing, spoken word, painting, and fire spinning happening all at once, filling the scene as some sort of underground gala of creative chaos (which is how we like it!) Costumes are also always encouraged. "

Rising Appalachia's other sister, Leah Smith also comments " Really, its all about the mission of bringing southern art and activism together under one roof in Atlanta. We are open to new suggestions in order to keep Concrete Pandemonium collaboratively produced by local artists and community organizers...and as a righteous project for art to remain the powerful tool for social awareness, change, and unity that is can be... We hope to bring in -short films, poets, hip hop (live, djs, dance), massage, a photo booth, local tabling from community organizations, circus performance, live painting, speakers, workshops, and anything else people are feelin' drawn to."

CONCRETE PANDEMONIUM is a highly unusual urban throw down - complete with spoken word artists, fire spinning, visual art installations, roving fiddle players, a recycled fabric fashion show, burlesque dancers, live music and other surprises..

Headliner RISING APPALACHIA, which received the Creative Loafing 2007 Reader's Choice Award as BEST Local FOLK ACT will return to the city for this event to perform some of their new material created during their recent travels across Europe and America as well as performing tracks from their first two CDs.
With the added talent of acoustic stand-up bass player John Branigan and percussionist /m' bala Imhotep, the RA sound now also adds a global beat and fuses into a mix of world music, poetry, and soul sounds as well. According to Leah Smith, " Rising Appalachia is part of a community with percussive rhythms, bass undertones and powerful harmonics steeped in the human journey. "

In closing, Leah Smith reminds potential members of the Concrete Pandemonium III crowd, that music will be the bonus because both community and connecting will be key on this night...even offering an open door to final further input.."If you have any projects you feel might cater to this evening send me your thoughts... Lets get this thang rolling.... !

all art music film literature special


| | | | | | | |
| --- | --- | --- | --- | --- | --- | --- |
| Sun | Mon | Tue | Wed | Thur | Fri | Sat |
| 1 | 2 | 3 | 4 | 5 | 6 | 7 |
| 8 | 9 | 10 | 11 | 12 | 13 | 14 |
| 15 | 16 | 17 | 18 | 19 | 20 | 21 |
| 22 | 23 | 24 | 25 | 26 | 27 | 28 |
| 29 | 30 | | | | | |