Rodger Stella, Popol Gluant, Silver Reich

May 4, 2013
9:00PM - - -
Price: 6

At the Big House
368 Ponce de Leon Ave.
Atlanta, GA 30308


Rodger Stella

Rodger Stella is an American noise artist who is most well known for his work with the Pennsylvania noise groups Macronympha and O.V.M.N. (both groups existing as collaborations with Pittsburgh noise impresario Joseph Roemer), as well as the more recent Birmingham, Alabama duo Hollow Bush. He also has a concise and excellent body of solo work that both underlines his immense contribution to all of those groups as well as explores many unknown and strange new directions in sound. Named for a colonial moniker for a part of the clitoris of female members of the Hottentot tribe, Macronympha is known for making antisocial Industrial noise with wide-ranging themes that greatly pushed the thresholds of tolerability in terms of imagery and sound content in the 1990′s American and international noise scene. Sonically the group is similar in construction to Texas' Black Leather Jesus, making noise from radios, metal junk, tape manipulations, and pure electronic sound. Inspired by the Japanese free noise wave of extreme acts like C.C.C.C. (the legendary cosmic wall noise group with whom Macro did a short tour of the United States in the mid-90s), the group sought to make loud and ugly noise that was as loud as it was aesthetically provocative. Stella's contribution to this group was immense, and he is the source of much of their trademark cut-up and multitracked sound (with sounds of all different types coming from the speakers in a ferocity akin to the most violent free jazz music).

Stella actually attended film school somewhere around this time, where he learned many tape editing techniques that define the Macronympha sound. There are countless releases by the group, but the finest of them have the unmistakable stamp of Stella's hand, with layers of rhythmic sound flowing in and out of the crushing walls of noise. Stella himself has for the past several years been releasing many of these original Macronympha releases as cassettes on his own Mother Savage imprint (aka Mutter Wild) alongside the related side-projects of that ensemble.


Popol Gluant

Popol Gluant is the obscene creature of Hendrik Hegray, the guy with moustache behind the observatory for contemporary outsider drawings called Nazi Knife. Pretty infamous for his own intense live performances, Hendrik collected a lot of tapes during the years but he relly can't edit so he decided to send a selection of some crappy cassettes with some notes to ST at Hundebiss Records. The result is a fluorescent creeping lava, moving from schizoid collage to droney obsession for coming back in a burlesque avant-garde parody.


Silver Reich

Members of Macronympha, Guardian Alien and Them Natives come together to push the Kraut sound further out.


Penthotal and Sobak Mazouzoute are both on tour from Paris.

Nakatani & Doneda, Victor Pons, Bradley Bailey

May 10, 2013
8:00PM - - -
Price: 7

At the First Existentialist Congregation
470 Candler Park Dr, NE
Atlanta, GA 30307


Tatsuya Nakatani

Tatsuya Nakatani is a creative percussionist originally from Osaka, Japan. He has been residing in the USA since 1994 and is currently based in Easton, PA. Since the late 1990s, Mr. Nakatani has released over sixty recordings in the USA and Europe and has performed countless solo percussion concerts through intensive touring. He has also collaborated with hundreds of other artists internationally and presented masterclasses, workshops and lectures across the USA and around the world.

Nakatani's approach to music is visceral, non-linear and intuitively primitive, expressing an unusually strong spirit while avoiding any categorization. He creates sound via both traditional and extended percussion techniques, utilizing drums, bowed gongs, cymbals, singing bowls, metal objects and bells, as well as various sticks, kitchen tools and homemade bows, all of which manifest in anintense and organic music that represents a very personal sonic world. His approach is steeped in the sensibilities of free improvisation, experimental music, jazz, rock, and noise, and yet retains the sense of space and quiet beauty found in traditional Japanese folk music. His percussion instruments can imitate the sounds of a trumpet, a stringed instrumentor an electronic device to the extent that it becomes difficult to recognize the source of the sound. He has devoted himself to a musical aesthetic where rhythm gives way to pulse, often in a way that is not always audible or visible, in currents that incorporate silence and texture.Nakatani's primary music activities include solo percussion performance, N.G.O. (Nakatani Gong Orchestra) and collaborations with musicians and dancers both in live performance and recordings.


Michel Doneda

Michel Doneda has been involved with music since he was 15 years old in the Harmonie Municipale and through playing in several dance bands; his first instrument was the alto saxophone. In 1980, in Toulouse, he created the reeds trio 'Hic et Nunc' with Steve Robbins and Didier Masmalet and, in collaboration with Théâtre de l'Acte, began l'Institut de Recherches et d'Echanges Artistiques (I.R.E.A.) comprising actors, poets, and musicians all interested in the possibilities of improvisation. At the same time, he played with the musicians of the collective G.R.I.M. in Marseille as well as the 'Tour de France' organised by Louis Sclavis. There, he met the singer Beñat Achiary with whom he has continued his musical relationship to the present day. Exchanges and meetings increased via the festival of Chantenay-Villedieu and the nato label: meetings with Fred Van Hove, Raymond Boni, Steve Beresford, Tony Hymas, Lol Coxhill, Joêlle Léandre, Phil Wachsman, John Zorn and Ravi Prasad, among others.


Victor Pons

Atlanta-based percussionist Victor Pons is "Amongst the radicals reshaping musical parameters" - Goat Farm Arts Center.

Although his repertoire is diverse he has a particular interest performing new works that involve vibraphone with live electronics. He is a former member of the McCormick Percussion Group and can be heard on numerous recordings including: Music of Gui Sook Lee and Concerti For Strings with Percussion Orchestra on Ravello records distributed by Naxos. Also, he can be heard on the next record released by the McCormick Percussion Group, which is currently in production. Aside from extensive solo performances he also performs with Atlanta based new music chamber ensemble Chamber Cartel and chamber rock group the Clibber Jones Ensemble.


Bradley Bailey

"Truly avant garde in his approach to guitar playing and noise making but also able to write the most beautiful and raw melodies and lyrics ever to touch your soul. He recently moved out west but he's been back in Atlanta for a minute." - Rabbits Full of Magic

Invent Room Pop 25

May 17, 2013
9:00PM - - -
Price: FREE

At Wonderroot this month!!!
982 Memorial Dr SE Atlanta, GA 30316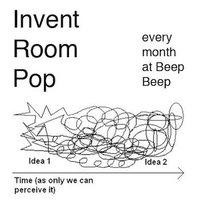 This is the 25th installment of Invent Room Pop. Six musicians are invited to play in duos and trios determined at random, with names drawn out of a hat. Featuring projections by Paige Adair.

Ryan P. Taylor (bass & electronics)
Chris White (electronics)
Scott Burland (theremin)
Danny Bailey (drums)
Erin Santini (drums)
Jennie Castillo (accordion)

INC Tour w the Laundry Room Squelchers

May 23, 2013
9:00PM - - -
Price: Donations

at 529
529 Flat Shoals Rd.
Atlanta, GA 30316




The first International Noise Conferene American tour in 5 years!

9:40 Tyler Keen
10:00 Magicicada
10:20 Yakuza Dance Mob
10:40 Hopi Torvald
11:00 Suffer Bomb Damage
11:20 Rin Larping
11:40 Cursory
12:00 AOLGBTK
12:20 Heavy Light
12:40 downers
1:00 Laundry Room Squelchers