Collapss & Chamber Cartel

April 2, 2014
8:00PM - - -
Price: 7

Collapss
Collapss (Collective for Happy Sounds) is a group of musicians and composers from Greensboro, NC interested in the collaborative potential of new music with other art forms and media and its presentation in nontraditional spaces. They have performed the music of Philip Glass, Tom Johnson, John Cage and Steve Reich.
Chamber Cartel
Chamber Cartel is an adventurous band of musicians seeking to propagate the avant-garde, experimental and New Music in and around the South east. At this concert, they will perform a graphic score, Notes for 8X6 or Why is 14.28 better than 14$, composed by the Cartel's own Caleb Herron.

John Wiese/Steve Jansen

April 10, 2014
9:00PM - 12:00AM
Price: $5



In the late 1990s, Wiese moved from St. Louis, Missouri to the West Coast to study graphic design at the California Institute of the Arts, and soon became a notable contributor to Bastard Noise.

His ongoing projects include LHD and Sissy Spacek, with plenty of freelance work with many artists as diverse as GX Jupitter-Larsen, Sunn O))), Wolf Eyes, Merzbow, Evan Parker, Smegma, Kevin Drumm, Yellow Swans, Cattle Decapitation, No Age, C. Spencer Yeh (Burning Star Core) and Kommissar Hjuler und Frau.

Wiese toured extensively, covering Europe, Scandinavia and Australia as a member of Sunn O))). He toured the UK as part of the Free Noise tour (a tentet including Evan Parker, C. Spencer Yeh, Yellow Swans, etc.). He also toured the United States alongside Wolf Eyes and recently performed in the 52nd Venice Biennale with artist Nico Vascellari.


******************************************

steve jansen

Originally from Phoenix, Arizona, Steve Jansen is a Texas-based experimentalist whose musical pursuits focus on alto saxophone, tape-manipulation, extended guitar loops, and contact mic-aided soundscapes.

Jansen has played with improvisors from around the world, including: Ingebrigt Haker Flaten, Tim Daisy, Parham Daghighi, James Fella, Chris Cogburn, Damon Smith, Sandy Ewen, and Whoopi Pupi. He has shared the stage with such musical luminaries as Frank Rosaly, Dave Rempis, Retox, Christina Carter, Richard Ramirez, and The Home of Easy Credit. Heís also toured throughout the American west and southwest, adding sounds to folk and punk acts ranging from Whitman and Stellaluna to JJCnV and Nicole Kidman.

Jansen has traveled extensively throughout Africa, Latin America, Europe and across the USA to unearth sound. These recordings and found sounds from around the world play a significant role in his unique sonic constructions. He is currently a member of various live and recorded projects that range from left-of-field free jazz and harsh noise to no-wave and funeral doom. Projects include: Green eater, Plumbing, Posture, Holy Ghost Trio, Randall Cunningham Dance Company, Wingnut, Probably, Mom Jeans, Kid Rock Paper Scissors and Friendship Cemetery.

Apart from performing, Jansen is an award-winning, long-form investigative journalist as well as a visual artist and radio DJ. He has published a feature story and recorded reviews in Signal To Noise and runs the label Thatís Cool Records. His recorded output is comprised of releases on Gilgongo, Subjazz, and onewordlong, and his music has been featured on WFMU (NYC), KTRU (Houston), and the Tabs Out cassette podcast.





Invent Room Pop 36

April 18, 2014
10:00PM - - -
Price: Free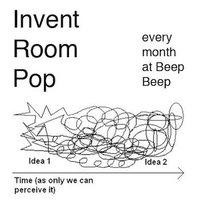 This is the 36th installment of Invent Room Pop. Six musicians are invited to play in duos and trios determined at random, with names drawn out of a hat.

This is the 3-year anniversary. So we're featuring all new people.


Grace Bellury - keyboards
Majid Ariam - reeds
Ben Davis - sax
Mike Morgan - bass
Lee Gunselman - keyboards
Meghan Zedlav - found objects / electronics