First Thursday Open Improv

April 2, 2009
9:00PM - - -

---

Eyedrum's long-running Open Improv night occurs on the first Thursday of every month -- our monthly gathering for instrumentalists and improvisers of all stripes. Bring your instrument! Hosted by the indefatigable Robert Cheatham.

WPBA 30, Atlanta's PBS station, did a bit about Eyedrum's Improv Night a couple years ago for their "This Is Atlanta" show. Click for their description and the video itself (Windows Media, 2m40s).


Yellow Crystal Star, Amir Coyle,TreeCreature, more

April 3, 2009
9:00PM - - -
Price: $5


My Education, Night Moves, Cassavetes

April 4, 2009
9:00PM - - -
Price: $7

My Education


NPR.org, June 16, 2008 - The Austin-based instrumental quintet My Education composes wordless songs through vast, gorgeously orchestrated soundscapes. From squealing electric guitar wails to screeching viola yelps, the band's music has all the vocals it needs, drawing its narrative tension from ambient dischord.

Each track on the group's new album, Bad Vibrations, offers a buildup and release that's equally commanding and cathartic. But with all the musical strife, much of the album proves tranquil and soothing in its atmospheric nature, as the band paints a beautiful musical picture with layers of brooding instrumentation.

The album's title track places a simple, rhythmically strummed and picked acoustic guitar against a rich orchestra of floating strings and ambient keyboard dips and swells. The composition creates a vivid aural landscape, lending the song an ethereal feel. This lush tapestry of sound proves mesmerizing for its eight-minute entirety.

Night Moves


from their myspace:
Featuring members of Masters of the Hemisphere, Elfpower, Je Suis France, The Mike Douglas, Summer Hymns, Dipstick and Eggnog, Calf, and a host of other bands from Athens, Ga including Army of Gog, Bronco II, Stud Total, Nightmares, Shazam, and many many more, these Experienced Men now continue their eternal quest for ecstasy in song, like Sex Bees on an unhurried forage into the Garden of the Five Moons, sipping nectar from Flowers of Confusion

Cassavetes


from Headphone Treats: With their dark, off-kilter pop whir, Cassavetes hit the southeast music scene in 2005 producing a dreamy and seductive blend of impulsive rock songs that are as murky as they are innovative and beautiful. Mining a deep, cerebral landscape they expose raw nerves to slow-burning and psychedelic panoramas. Their debut album, Funny Story, is slotted for release in July of 2006 on Headphone Treats

Dan Deacon show has been moved to the Masquerade!

April 10, 2009
9:00PM - - -
Price: $10 in advance

This show has been moved to the Masquerade! All tickets purchased for Eyedrum will be honored at the Masquerade. The Masquerade is located at 695 North Ave Atlanta, GA. 30308.
AT MASQUERADE* FRIDAY APRIL 10
DAN DEACON & Ensemble
FUTURE ISLANDS
TEETH MOUNTAIN
$10 in advance / $10 at the door / 9pm / All Ages
Advance tickets available online here
Or at the following Outlets:
www.ticketalternative.com * Decatur CD* Fantasyland Records

Dan Deacon has garnered a reputation in the underground as an intense performer and classic showman. The table top full of pedals, sine wave generator, vocoder and casio blasting through the PA, joined by a makeshift light board with various bulbs and green skull strobe light, make his all out dance-til-you-drop performance a complete experience. The shows he performs in his native Baltimore, namely those at Wham City, (the live-in artists collective and DIY venue/theater that he calls home), are especially notorious for its frenzied crowds.

This is the tour to support Dan Deacon's new record, 'Bromst,' which will be out in March on Carpark Records. The show will feature a 13-piece ensemble.

Future Islands and Teeth Mountain open the show.

FOR MORE UPDATED INFO AND NEWS ON EVENT HAPPENINGS IN THE ATL.
visit TIGHTBROS.NET


Ribbons (NYC), Dead Dog, Scaffolds

April 11, 2009
9:00PM - - -
Price: $5

Ribbons
www.myspace.com/ribbonsnyc

"Ribbons are a duo of Brooklyn transplants from California who come forth with one of the most promising rock debuts I've heard in a long while. Consisting of vocalist/guitarist/bassist Jenny Logan and drummer/backing vocalist Sam Roudman, they deliver the raw, stripped intensity of early Factory Records stalwarts like the Durutti Column and Joy Division while harnessing the propulsion, angularity, and energy of a group like Josef K. Though this sound has most certainly been reexamined by plenty of bands, it's refreshing to hear Logan's distinctly female take on what has always been a male-dominated style, both vocally and instrumentally. Roudman ends up being the secret weapon, though, keeping things interesting with his wild, propulsive, Keith Moon-meets-Stephen Morris style, while his roots playing in metal bands definitely shine through in his double-time bass drum attacks and odd, wailing vocal harmonies."


Dead Dog
www.myspace.com/deaddawgz

From Athens, GA, Dead Dog play a solid angular rock and roll set sure to impress and nostalgate (is this even a word..make it so!) anyone for a penchant for 90's Dischord era punk aesthetics. so good.

Atlanta's Scaffolds will close the night out with some kind of wonderful shuffling ambience. Comprised of the members of Nigredo, this alter ego outfit utilizes a rotating cast of guest musicians and an anything goes instrument policy to create a soothing sweet texture that will make your ears write thank you notes to your feet for bringing you to the show.

Ab Baars Trio with Ken Vandermark

April 15, 2009
8:00PM - - -
Price: $15

Ab Baars is a major figure in the Dutch jazz scene, having played with Misha Mengelberg and Han Bennink in their Instant Composers Pool for more than 25 years. Ken Vandermark has been the driving organizational force behind the fertile jazz community of Chicago for the better part of the last two decades, leading any number of bands and bringing together improvisers in the City of Wind with like-minded players throughout Europe and Scandinavia.

So in spite of Baars being ten years older than his American partner, this pairing is as comfortable as a reunion of grade school classmates. Recorded live at Amsterdam's Bimhuis at tour's end, Goofy June Bug finds both men splitting their time between tenor saxophone and clarinet (backed by Baars' regular rhythm section of Wilbert de Joode and Martin van Duynhoven) and both honor each other's musical traditions: Baars' compositions are as likely to carry a '60s free jazz influence as Vandermark's are to contain European classical elements.
-from All About Jazz

>>>>NOTE SPECIAL START TIME 8PM<<<<<

Ab Baars





Contact josephguy@bellsouth.net for more info.


Listening Machines

April 17, 2009
8:00PM - - -
Price: $10 or FREE with Georgia Tech ID



Listening Machines

Georgia Tech Center for Music Technology

Listening Machines is an annual concert series organized by the Georgia Tech Center for Music Technology. The event showcases music and art projects that explore the creative space of human-machine interaction.

Performances by:
Guy Hoffman
Trishul Mallikarjuna
Ryan Nikkolaidis, Sriram Viswanathan, Xiang Cao
Akito Van Troyer, Oliver Jan
Brian Blosser, Giberto Gaxiola
B.D. Vamsi, Andrew Willingham, Jessica Sherwood
Andrew Beck, Meghashyam Adoni, Merica Mae
Meghashyam Adoni, Jagadeeswaran Jayaprakash, Oliver Jan

Installations:
"Puzzle Table"
"Sound Pool"

click for more info from the Listening Machines website


Abiku, El Fossil, Gray Young

April 21, 2009
9:00PM - - -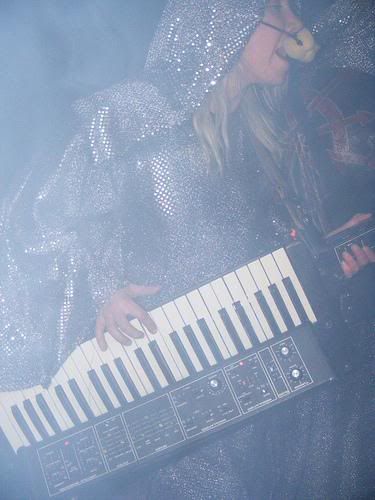 Abiku

www.myspace.com/abiku

Abiku are a very Schizophrenic musical proposition mixing together hard house/ techno, pop, punk, noise elements and ambience.

Taking their unusually name Abiku from West African Yoruba mythology meaning 'A type of evil spirit that preys on children'. The project is made of just two people Josh who handles keyboards, programming and guitar and Jane who handles often manic female vocals and keyboards.

The music jumps and hurls all over the place going from melodic synth ambient simmer up to pumping off-kilter techno meets avant prime evil electronics, to speedy grind-core guitar attacks and pained female screams / rants and warbling and manic female vocals over new wave synth pop edginess.


---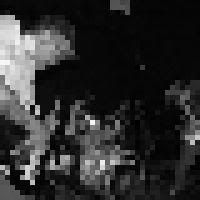 El Fossil

www.myspace.com/elfossil

a high decibel throw-back to classic surf with heavy influences in thrash metal, featuring members of noisy local bands Club of Rome, Devil Worshiper, Recapitator, Swamp Ape and Safe Word


---


Gray Young

www.myspace.com/grayyoung

Riding riffs that soar gracefully to the sky and simple, insistent rhythms, the music of Gray Young's debut full-length makes its mark by recreating this feeling. It's a simple formula but one that the Chapel Hill trio turn into subtle magic...

| | | |
| --- | --- | --- |
| Tera Melos, Cinemechanica, Tree Creature | | April 28, 2009 |
AT EYEDRUM * TUESDAY APRIL 28
TERA MELOS
CINEMECHANICA
TREE CREATURE
$7 / 9pm / All Ages
Advance tickets available online here
Or at the following outlets:
www.ticketalternative.com * Decatur CD * Fantasyland Records

The history of Tera Melos , like the life of Dostoevsky, treads between transcendence and complete breakdown. In the early quartet years, live performances were as much about gymnastics and daredevilry as they were about actual performance. Bursts of hyper-musicianship sprouted between larger expanses of equipment-trashing, mid-measure cartwheeling, and death-defying rafter-swinging. The evolution from a
four-piece to a trio saw the visual chaos reigned in and the aural chaos blossom. Destruction is no longer measured in terms of kicked over amps, bloody fingers, and broken bones. Instead, the deconstructive edge is embodied in Dada-ist pop appropriations, pedal wankery, noise squalls, and frenetic tempos.

Mutation is key. Tera Melos now is not Tera Melos four years ago. Or six months ago. A song isn't played in a dingy club the same way it was played in the recording studio. Nor is it played the same way it was the night before. Things evolve. Wrong is right. The glitches,improvisations, and general tomfuckery are part of the art and charm. You want clarity? Perfection? Easy hooks? You'll have to work a little harder than that. This is not casual listening.

A new phase of Tera Melos is born with the addition of John Clardy to the drum throne. Flanked by the cumulative ten strings of Nathan Latona and Nick Reinhart, one can only wonder what new amalgam of sonic confusion, modernist anxiety, and cosmic celebration is brewing in those hills outside of Sacramento.



Cinemechanica is an American, four-piece rock band from Athens, GA. They blend aspects of post-rock, punk rock, and math rock in order to produce their own energetic and intricate brand of rock. Cinemechanica has played shows with Deerhoof, 400 Blows, We Versus the Shark, Maserati, The Plot to Blow Up the Eiffel Tower, So Many Dynamos, and A. Armada.

They formed Hello Sir Records which houses and promotes a few other like-minded, young bands located in Georgia who incorporate various styles and sounds.

FOR MORE UPDATED INFO AND NEWS ON EVENT HAPPENINGS IN THE ATL.
visit TIGHTBROS.NET

Kevin 'KalimbaMan' Spears

April 30, 2009
8:00PM - - -
Price: $7

Kevin Spears plays a funky mix of world beat, jazz and rock on the exotic instrument called the kalimba. He began studying the tuned percussion device, also known as the sanza or thumb piano, at age 11. Today he designs and creates his own instruments, and he has performed with and/or opened for artists including Victor Wooten, J.D. Blair, Col. Bruce Hampton, and Arrested Development. He is an acknowledged master of the instrument, as reflected by his nickname: "KalimbaMan."

Kevin Spears





Spears' recordings include a 2008 DVD, "Kevin Spears Live @ Electro-Music Festival," and two CDs, "Natural Elements" and "Ancient Sounds of Kalimba." To see this unique artist take one instrument and create the sounds of a five-piece band live on stage is to see a creator hand-in-hand with his destiny.

Atlantan Jim Combs will open with a solo keyboard set of ambient music.


all art music film literature special


| | | | | | | |
| --- | --- | --- | --- | --- | --- | --- |
| Sun | Mon | Tue | Wed | Thur | Fri | Sat |
| | | | 1 | 2 | 3 | 4 |
| 5 | 6 | 7 | 8 | 9 | 10 | 11 |
| 12 | 13 | 14 | 15 | 16 | 17 | 18 |
| 19 | 20 | 21 | 22 | 23 | 24 | 25 |
| 26 | 27 | 28 | 29 | 30 | | |