monthly show on WREK 91.1 FM

April 1, 2007
7:00PM - 9:00PM


On the first Sunday of every month, at 7 p.m., Eyedrum does a show on WREK (91.1 FM / www.wrek.org) that features nuggets from Eyedrum's archive of live performances.




After the show airs "live", you can listen to it via WREK's 7-day archive if you forget to tune in (direct links to Sunday Special streams: lo-fi or hi-fi).

But wait, there's more! We now have a podcast
available, for those of you who have discovered podcasting. You can also just download the whole show (right click on "download") although be forewarned that the file is over 50 MB in size.

---

We had quite the genre-defying show this month. We started with a couple pieces by Steve Reich, due to the upcoming April 8th event. Then we shifted gears into the folk punk of This Bike Is A Pipe Bomb, Anna Kramer and Why Are We Building Such A Big Ship, all playing at the Bike Spectacle fundraiser on April 21st. Then we went into a noise set, playing Black Meat and Tree Creature, both recorded live at Eyedrum. Peter Brotzmann was up next; he'll be appearing at Eyedrum on April 16th. Lid Emba screwed around with an Asa-Chang and Junray recording, Isia Cooper performed a song, Duet For Theremin and Lap Steel got their drone on, and we finished a quick bit of Guru Guru. Studio guests included Nisa Asokan, Robbie Kee, Mary Richardson, Nathan Brown, Travis Thatcher and Ben Coleman. Hosted by Chris Campbell, who apologizes for the poor segues -- it was a bit chaotic but a good show!

Saxophone + Film + electronics

April 1, 2007
8:00PM - - -
Price: 8

Saxophonist Michael Straus' abilities and dedication to the performance of new music have led to solo and chamber music performances across the country and abroad. His varied performance career includes appearances at meetings of the North American Saxophone Alliance, High Zero Festival of Experimental Improvised Music, Prospect Dance Group Studio Show, LSU Festival of Contemporary Music, Washington D.C.'s Kennedy Center and the Festival Internazionale del Sassofono in Faenza, Italy. His close work with composers across the country and abroad have resulted in over twenty new compositions for saxophone ranging from interdisciplinary and new media compositions to acoustic chamber music. Straus is co-founder of quux and director of the multimedia performance project What are you looking at? Upcoming events this spring include solo performances at the University of North Carolina at Greensboro, New England Conservatory of Music as part of the Boston Cyberarts Festival, Batimore's Red Room, Ann Arbor's Kerrytown Concert House, Cambridge's Lilypad and Atlanta's Eyedrum Art & Music. Straus is currently pursuing graduate degrees in saxophone performance and computer music at the Peabody Conservatory of the Johns Hopkins University in Baltimore, Maryland. His teachers, whom he would like to thank, include Ed Fraedrich, Gary Louie, Griffin Campbell, McGregor Boyle and Brian McWhorter. Please visit www.mstraus.net or www.myspace.com/mastraus for more information on upcoming events.

open improv / film score

April 5, 2007
9:00PM - - -
Price: free/donation

yeah..bring yr video stuff and musicanns wii whack uo a score...make it shrot though!

Music + Art: Listening Machines 2007

April 6, 2007
8:00PM - - -
Price: 10


In its third year, the Listening Machines series expands its scope to present music as well as art projects by Georgia Tech's students and faculty. A collaboration between the Music Technology and the Digital Media programs at Tech, the concert and exhibition will explore creativity and expression of humans and machines who listen to and interact with each other.

www.music.gatech.edu/mtg/lm/


Project Apollo Atlanta: Manned Space Exploration 1

April 7, 2007
8:00PM - - -

PROJECT APOLLO ATLANTA PRESENTS 'MANNED SPACE EXPLORATION NO.1






An evening of improvised performances, in which ANYONE can take part.

Featuring:

-Live Spontaneous Space Music: All are Welcome and Encouraged to Take the Stage!

-Mission Control Djs playing all things Kosmische, from Space-Rock to Futurist Electro-Funk.

-All night Film from the NASA Archives.

WE WANT YOU TO PLAY!
Go to www.myspace.com/spaceprogramme

or email projectatlanta@gmail.com
to get involved and get your questions answered!

...Project Apollo's ongoing objective is to reconnect the people of Earth with space. We hope to realise this through musical (and other media) events that look to the stars for inspiration, and celebrate space-music of all
forms.



Steve Reich: early works

April 8, 2007
8:00PM - - -
Price: $7

From his early compositions featuring audio tape loops and electronics to his merging of African rhythms with downtown New York, Steve Reich is one of the most influential living composers, admired from concert halls to the pop world. As part of a series of Atlanta concerts celebrating Reich's 70th birthday, musicians from Atlanta's Bent Frequency ensemble present a special concert of rare and early Reich works.

Featured is a special live performance of Reich's 1968 "Pendulum Music" – recently made famous in a recording by Sonic Youth, along with early tape works and selected films.

The Steve Reich Festival continues through April 11, with two concerts at Atlanta's Rialto Center for the Performing Arts.


Wilbert de Joode + guests

April 11, 2007
9:00PM - - -

Wilbert de Joode is currently one of the most active bass players on the Dutch improvised music circuit. His individual style and musicality transforms the double bass into an equal partner in the most varied ensembles. A personal tone colour, exploration of the outer registers, idiosyncratic improvisations and the use of gut strings contribute to an instantly recognisable and intriguing sound.

Beside the Ab Baars Trio de Joode is active in the following groups: Ig Henneman (string quartet), Eric Boeren 4tet (with Han Bennink and Michael Moore), Michiel Braam (Bik Bent Braam, Trio with Michael Vatcher, Bentje Braam), Trio Fuhler/Bennink/DeJoode, the Chris Abelen Quintet (including Corrie van Binsbergen) and the extravagant INTERMISSION. He plays in various groups with Joost Buis and together with bass saxophonist Klaas Hekman has set up a bass group which features three double bass players – William Parker (USA), Hideji Taninaka (Japan) and de Joode himself. New developments include solo concerts, a duo with Tobias Delius and work with dance improvisers such as David Zambrano en Eileen Standley.



Brotzmann / Pliakas / Wertmuller trio

April 16, 2007
8:45PM - - -
Price: $10

SOUTHEAST DEBUT OF GERMAN LEGEND PETER BROTZMANN'S NEW TRIO!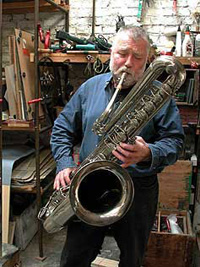 For 40 years German saxophone legend Peter Brotzmann has exemplified European improvised music. His work includes collaborations and recordings with Last Exit (with Bill Laswell, Sonny Sharrock and Ronald Shannon Jackson), Evan Parker, Han Bennink, Misha Mengelberg, and the Die Like a Dog project (with William Parker, Hamid Drake and Toshinori Kondo), his homage to Albert Ayler. On this occasion his associates will be bassist Marino Pliakas (Switzerland) and drummer Michael Wertmueller (Switzerland/Germany) who have previously played together in KK Null's band as well as with bassist William Parker.

"Brotzmann lays down sloping mountains of the post-Ayler blowisms you'd never mistake for anything else, while Wertmuller adds the kind of frantic/restrained combo drumming one might expect to hear in a band like Ruins. Pliakas is the blue blood coursing through the veins of the unit, steering the band in every direction from speed-reading through and on to molasses lullabyes (but usually only for a brief instant). Brotzmann's upper-register gasps sound like a chihuahua with severed vocal chords and double up at rapid pace as the first track comes to a close, only to segue perfectly into a tense bass rumble from Pliakas to open untitled number two. Pliakas' dizzying rhythms remind me of Meshuggah's Fredrik Thordendal which is especially bizarre considering Thordendal plays guitar. But I find this whole disc to have a very "metal"-like atmosphere throughout...then again Brotzmann's always been more metal than half the jokers in the genre anyway."
--outerspacegamelan


Bloodyminded and guests, Withered

April 19, 2007
9:00PM - - -

BLOODYMINDED

BLOODYMINDED is a heavy electronics band that was formed in New York, in 1995, after the disbanding of the group Intrinsic Action (founded in 1984, in Chicago). Their live shows are extremely energetic, and layers of screeching analog synthesizer,
aggressively delivered vocals, and a copious amount of feedback,characterize their sound. While BLOODYMINDED operate within a small, established subgenre of the noise scene, their sound is broadly informed by bands such as their industrial forbearers (SPK, Throbbing Gristle, Einsturzende Neubauten,Whitehouse, Mauthausen Orchestra, Sutcliffe Jugend, M.B., etc.); New York Pre + Post-Punk and Noise Rock (Suicide, Swans, Missing Foundation, etc.); and British hardcore and grindcore(Discharge, Rudimentary Peni, Napalm Death, Extreme Noise Terror, Head of David, etc.).

Charlie Draheim

In the forest of Michigan Sound Haterz/Builderz/Destroyerz/ there is only ONE from the true UP Norff…it's the rising death beam star of Charlie Draheim. In a isolated state where seemly everyone have a Value Village Suitcase full of gadgetry/ progression is a tuff scene... but axe anyone GROUP UNIT/ YOUTH CREW fan in a basement stealing brews from crews, and they'll tell/ CD has GOT IT…the short dude just gets better and better and worse and worser in the Michigan Style Death Noise Idiom.

Climax Denial

Desperate feedback. Walls of crumbling security. Kneeling at the foot of the fawn. Harsh industrial dread, Milwaukee style.

Silvum

Silvum has been lurking around the edges of the international avant garde for about 8 years with very few available releases, and performances so obscure they border on private. Silvum is a focusing of the personal to a microscopic level in an attempt to obliterate it into a static environment where personal meaning loses all worth. Silvum inhabits the audio spectrum of what you'd experience noticing how much more ominous your air conditioner sounds after an M.B. LP ends. This will be the first time Silvum goes on tour and it will promise to be an experience in manipulation and atmospheric violation.

SPECIAL GUEST

WITHERED - Blackened Grind Killers From Atlanta GA

Bike party/ fundraiser

April 21, 2007
9:00PM - 1:00AM
Price: $12

BIKE SPECTACLE II
"THE PETROLEUM FUNERAL"

SAT. APRIL 21ST
EYEDRUM
9PM
$12 (cyclists $10)




BANDS:
THIS BIKE IS A PIPE BOMB
ANNA KRAEMER
WHY ARE WE BUILDING SUCH A BIG SHIP?
THE SPOOKS

SIDESHOWS:
PUPPETRY
BURLESQUE
DIY FACEPAINT
ANTI-PETRO & ACTIVIST INFO

+ BIKE SPECTACLE PARADE: PETROLEUM FUNERAL PROCESSION

[a CAPITAL 8 SOCIETY production]

Leslie and the Ly's

April 22, 2007
6:00PM - - -
Price: tba


6 PM START!
Leslie Hall initally caught the hearts & eyes of America's children when she began posting images of her world famous gem sweater collection on the interweb. Word of mouth quickly grew and within a month Leslie recieved over 2 million unique hits to her website, which left her with a $800 bill for exceeding her bandwidth.

In order to raise money to pay back her mother, Leslie did what any 200 lb. plus girl from Iowa would do. She became a rapper. Leslie's star has risen quickly with such viral video music hits as GOLD PANTS, BEATDAZZLER, & ZOMBIE KILLER.

Her stage show is like nothing you have seen before. Complete with video projection & 3-6 costume changes (all lovingly hand sewn by her mother), you can expect to be "beat"dazzled. Leslie's laserbeam dance moves have been known to cause near blindness in the fans who gather at her shows. You can be sure that gay men will squeal with delight when she tumbles and triumphs never before seen dance moves. If you are lucky, it is possible that a bead of perspiration may ripple down her brow and upon your flesh.

-recent shows include 2 sold out nights supporting the Scissor Sisters at New York City's Bowrey Ballroom.

-owns over 300 gemmed sweaters, over 30,000 Myspace friends
-Find out why every venue she plays, asks her back....

Influences : Tracy Turnblad, Elvira - Mistress of the Dark, Ginger Spice
Likes: Dill Pickle Potato Chips, Sierra Mist, Zombie Movies, Lifetime
Television for Women, Hobby Lobby Craft Department

$2 off admission price if you show up in a Gem Sweater
All kids under the age of 12 allowed free entry!

SUNDAY APRIL 22
EYEDRUM ART/MUSIC GALLERY
DOORS OPEN AT 6PM
ADMISSION TBD

GOLD PANTS LULLABY VIDEO


FIRST TELEVISION APPEARANCE


BROUGHT TO YOU BY TIGHT BROS NETWORK

Movement

April 26, 2007
9:00PM - - -
Price: $5

music, spoken word and burlesque!

featuring:



Bad Kat - politically charged hip-hop

Athens Boy's Choir's Catz - performing stirring and entertaining multimedia spoken word

Redbone - violin loops and tape manipulations give way to atmospheric brainbending equal parts melancholic and beautiful.

The Good and Plenty Burlesque Troop

also representing will be the Feminist Outlawz.




A to Z Birthday Bash/Public Buildings reunion tour

April 27, 2007
9:00PM - - -
Price: 7

The A to Z Project

Trumpeter Andrew Boring and Freestyle Wordsmith Zano come together for a one-time performance as "The A to Z Project". This duo combines their individual signature sounds (improvised freestyle rhymes and electronic trumpet effects) with electronic samples and improvised synthesizers to bring you a one-time sonic treat.

http://www.myspace.com/atozproject

Public Buildings

Public Buildings is the spontaneous compositional trio comprised of nat slaughter (contrabass or guitar), bryan fielden (drumset), and brian parks (piano or harpsichord). founded in january 2003, the group operates by one unifying principle: that the laws of conservation of energy and matter apply to ideas and conscious thought and that all things elemental to sonic organization, realization, and performance are at all times present and merely brought into relief by the senses noticing them.

Brian Parks is a composer, piano teacher, and j.s. bach piano specialist who has performed large-scale, seminal works of j.s. bach in atlanta, kiawah island (south carolina), houston (the rothko chapel) and wurzurg, germany. he is most known as a contributing participant with 'performances in near-inaccessible environs, private and public spaces,' a collective of performers and minor trespassers whose membership, because of the obscurity of this website, are listed here: jamie shepard, andy ditzler, karen tauches, janet simone parks, nat slaughter iv, daniel clay, ben davis, blake williams, elia eidelman, ben rous, erin wigger (witnesses and accomplices include: pierre ruhe, ronnog seaberg, steve seaberg, angus guberman, bert parks, david brodeur, michael diamond, evan levy, sagor levy, ivy diamond, et al.) brian will be pursuing a graduate master's degree in composition at wesleyan university in connecticut come september. he weighs 10 and one-half stone.

Nat Slaughter, a native atlantan, expatriated from a-town in the fall of 2005 for reasons inexplicable. but his credentials don't lie: this man's work has changed the lives and public spaces of such disparate locales as beijing, guilin, shanghai (china), ulan bator (mongolia) (recordings and speakers for cyclists and chinese natives (2002)), and baltimore, maryland (amplified urination after ingesting large quantities of asparagus (2005)). he is now under the employ of the top architectural firm in manhattan and has bought and sold you ten times over, without your knowledge, consent, or sentence-finishing noun.

Bryan Fielden has mostly recently performed in chicago with people, who if i dropped their names, would set off a wave of public shock that would resonate from independent record store to independent record store until calm was restored. fielden is a founding member of the seminal trio san agustin, a group whose catalog of recordings is available on the table of elements, a label run by a very prominent jeff whose fans include of-age women.
fielden has performed in every major city in europe. nuff. said.
his fluid drumming technique and "incomparable, abyssinian touch" (gramophone, critical plagiarist monthly) have inspired artwork by damien hirsch, matthew barney, richard serra, and donald judd (dead), because we are all inextricably connected.

Public Buildings are herein presented with thanks to a grant from the 'only capitalize the first couple words or so of a paragraph' foundation.

Suffering Bastard, White Mice, Tree Creature, Mato

April 29, 2007
9:00PM - - -

good ol' fashioned racket for fans of all things noisey and metal (aka Lightning Bolt, Brainbombs, Noxagt etc.)

Suffering Bastard and White Mice (Load Records) provide thick dirgy landscapes smacking of metal and noise. audience members are encouraged to bring spatulas and scouring pads specifically for scraping thier faces from the floor once the sonic riot dies down.

Tree Creature will soothe the pallete in your ears before the chaos ensues with thier sensitive and atmospheric keyboard stylings which somehow invoke both peaceful forest enclaves and treacherous water features.

Mato opens with a jazz filtered freakout set meant to put tacks in any semblence of "jazz" or "freakout" that the listener may be able dream up.

a great show indeed.

all art music film literature special


| | | | | | | |
| --- | --- | --- | --- | --- | --- | --- |
| Sun | Mon | Tue | Wed | Thur | Fri | Sat |
| 1 | 2 | 3 | 4 | 5 | 6 | 7 |
| 8 | 9 | 10 | 11 | 12 | 13 | 14 |
| 15 | 16 | 17 | 18 | 19 | 20 | 21 |
| 22 | 23 | 24 | 25 | 26 | 27 | 28 |
| 29 | 30 | | | | | |