First Thursday Improv: Revolution Songs

March 4, 2010
9:00PM - 12:00PM


Sissy Spacek, John Wiese, Gerritt, Free Bass,more

March 9, 2010
9:00PM - - -

noise





John Wiese is an artist and composer from Los Angeles, California. His ongoing projects include LHD and Sissy Spacek, with plenty of freelance work with many artists as diverse as GX Jupitter-Larsen, Sunn O))), Wolf Eyes, Merzbow, Evan Parker, Smegma, Kevin Drumm, Cattle Decapitation, and C. Spencer Yeh (Burning Star Core). He has toured extensively throughout the world, covering Europe, Scandinavia and Australia as a member of Sunn O))), the UK as part of the Free Noise tour (a tentet including Evan Parker, C. Spencer Yeh, Yellow Swans, etc.), the United States alongside Wolf Eyes, and recently performed in the 52nd Venice Biennale with artist Nico Vascellari.

http://www.myspace.com/8672513

sissy spacek is not coming to do lorretta lynn covers. they are coming to melt faces...

http://www.myspace.com/ssississpssk

Gerritt

Harsh noise artist based in Oakland, CA. He also operates the record label Misanthropic Agenda.

Mike Ryon opens with some local bred sonic debauchery!!!

Ryat, Cristian Subira, Zentropy

March 11, 2010
9:00PM - - -
Price: $7



Ryat

Ryat is a producer/singer/multi-instrumentalist, who communicates her studio compositions and improvisations through a live looping set-up featuring composer/multi-instrumentalist Tim Conley. She has performed and collaborated with many including King Britt, Mark Guilliana, DJ Logic, Jniero Jarel, Taylor McFerrin, The Disco Biscuits, Calvin Weston, Billy Martin and many more. She has opened for many including, The Wailers, Flaming Lips, Ursula Rucker, and MEW. When not in a typical venue setting, Ryat will collaborate with multi-media/performance artists, film makers, as well as experimental electronic festivals.

Recent Press:

"Ryat unravels her light-as-air, personal narratives rather effortlessly over the instrumental sonic wash" -AllAboutJazz.com

"Artist to Watch!" -Straight No Chaser(UK)
"Philly's mistress of experimental soul and ambient jazz...with this city's best voice and most expressive lyrics" -AD AMOROSI, Philadelphia City Paper

"Ryat...took the stage and adjusted her headband as she began to toy with dials and knobs on fun little gadgets that affected and sustained' even looped' her vocal output. In an instant' the echoes of what I thought was a sound check melted into a colorful cacophony of jazz-infused rock -- or rock-infused jazz -- when wildly moving bass lines and thoughtful scribbles from Conley's lead joined the crescendo of Ryat's sweetly haunting vocal layers. Perfect syncopation complements the use of pedals and effects to tune feedback into tone' allowing As Human to splash around in the barely charted waters of a techno age for improvisational indie rock." -State of Mind Magazine

"When vocalist Ryat takes the stage, you don't know what form she's wearing to the show. It could be the dreamy female singer on her song "Formula" or the dark spacey voice on the track "Level." The use of vocal manipulating devices allows her to push the boundaries of live voice performance. While sustaining a high pitch, she uses effects to give her voice an eerie wavy sound. She's not all smoke and mirrors though. Her unrefined voice is powerful, and at times touches the dark pop realm achieved by musicians like Tori Amos and Bjork. " -Phrequency.com

Ryat.info




Cristian Subirà

Cristian Subirà (aka Summer Recreation Camp) is an active member of Barcelona's underground music scene. He started his musical adventures as a member of the free-rock-performers Dead Man on Campus in 2004. After 2 years of learning how to make noise with instruments becomes part of the weird trio Coconot (with Pablo "El Guincho" Díaz and Jens Neumaier from 12twelve and Guilia y los Tellarini). During the long hiatus the band is taking he has focus on his solo project and in making music with his buddie Simon Williams (Jahbitat) as Narwhal. Apart from all this he has colllaborated and collaborates live with other locals acts such as Les Aus, Albaialeix, Espaya o La Orquesta del Caballo Ganador.

www.myspace.com/summerrecreationcamp




Zentropy

The name says it all. Sometimes the zen of the moment takes the sound into exciting directions, but order and structure can break down as entropy ensues. Such is the nature of improv, and such is the nature of Zentropy....
Keyboardist Allen Welty-Green, percussionist Davis Petterson & bassist Gabriel Monticello create spontaneous music. It's improvised but is it jazz? It's spacey but is it jam?

ZentropyMusic.com

The Shortwave Society with Shathouse Rats

March 13, 2010
8:30PM - - -
Price: $8



Shortwave Society fuses elements from orchestral and electronic soundscapes to create a unique accompaniment to their off-kilter pop songs. Violin, cello, and a sea of vocals weave intricate tapestries while guitar and pianos pulse, and electronic bleeps and blips fill every nook and cranny of your subconscious. These ladies and gents host a post-modern sojourn through jazz, pop, and chamber music traditions; equally at home in the dance club or the concert hall.

The band is a musical collaboration of five Knoxville, Tennessee-based musicians. It began as a series of experiments in the laboratory of a local musical commune, intent on bridging gaps between musical genres. The project was spearheaded by brothers Grant and Curtis Geren and Jason Day, but took its final form with the addition of string divas Alexia Pantanizopoulos and Sarah Hurd. With Shortwave Society, the musical Mission Statement is simple, "to unearth and perform the common thread between all that is musical." Execution of this goal is another matter, at times virtuosic, at times technological, but always heartfelt and human at its core.

At the heart of Shortwave Society's musical landscape lies songwriter, guitarist, and lead vocalist, Grant Geren. His willingness to delve into unconventional song structures, coupled with his knack for surreal lyricism, gives the band's music its unique emotional identity. Pianist and arranger Jason Day augments these contributions. Day's extensive jazz background floats subliminally behind his arrangements, drawing equally from classical, pop, and music from around the world. The project is advanced by Curtis Geren; a perpetual student of percussion instruments and electronic music. Cellist Alexia Pantanizopoulos and violinist Sarah Hurd complete the circle, adding the essential chamber music element.

Having completed their first self-titled EP in Spring 2009, the group is currently putting the finishing touches on their first LP, Voyeur, which is slated for release in January 2010. They plan to tour extensively following this release.


Shathouse Rats
The soul punk music emanating from this duo is best described as garage rock soul birthed from a gnarly stew of Sun, Stax, and Goner records that was brewed by the spring reverb gods.

Matt Shat is on lead vocals, guitar, harp, foot drums and jangles. Byronius Junk plays Hammond M3 kickin bass on the pedals, Fender Rhodes, melodica, vocals, & thunder tom.

The debut EP, Blood On Yer Shoes, is thick minimalism replete with small amps making monster sounds, vintage keys, and howling vocals awash in fuzzy reverb. The songs have been described as slurf-bop, soul-twang, trash, barberslop, and soul grease - also known as psychaholic-twang-stomp-stew. Whether you're hanging in the air or dancing in a hula skirt with a coconut brassiere, come on through and get your slice of Shathouse Rats.

Kirkwood Ballers Club

March 15, 2010
9:00PM - - -

Kirkwood Ballers Club

Established in 2004, Kirkwood Ballers Club has long been a weekly staple for Atlanta's more adventurous musicians. Over the course of approximately 5 years KBC has been housed at 6 locations: a private residence in Kirkwood, the old Lenny's Bar, 11:11 Teahouse, the Highland Inn Ballroom Lounge, the new Lenny's Bar, and now at Eyedrum.

Kirkwood Ballers Club's mission is to moderate monthly free-form musical exchanges, ideas and performances between an evolving cast of experimentally-minded Atlanta area artists in an effort to encourage creative live performances and to foster a greater artistic community.

Just come with your instrument/project/performance and sign up at the door for a 15 minute slot. the lineup is first come/first serve. Also, there will be tables available for local artisans to display their crafts for sell, trade or exhibition...

This event is free to everyone. Doors open at 8pm for artists to sign up to perform. The program will get started promptly at 9pm and end at 12am.

Visit www.kirkwoodballersclub.org for further details, guidelines, etc...

Fun!

Teeth Mountain, Gold Ghost, Roman Photos, Drawing

March 29, 2010
9:00PM - - -
Price: $7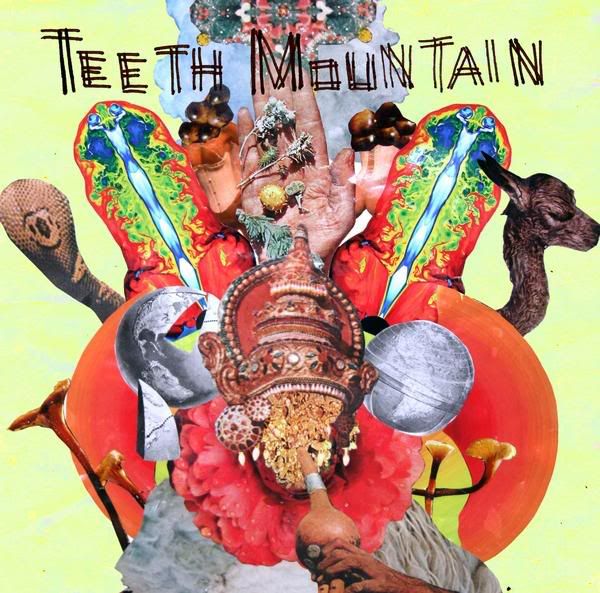 Three bands / and one drawing event during the show!

TEETH MOUNTAIN:
Ever screw around on MySpace, following friend links and listening to bands you've never heard of . . . and suddenly get your brain split open? Yeah, hardly ever, I know. But this unsigned Baltimore outfit, which I ran across just that way, works an astonishingly heavy and bouncy drone-dance style, thick with grainy bowed cello and indebted to Indian and north African trance music—plus they use an organ in a way that ought to get them arrested for indecent exposure. Granted, my soft spot for bands that do the Theatre of Eternal Music thing is amply documented, but that just means I know how rare it is for one to get so much mileage out of it—I think it's the way the drums and percussion drag the songs out of the lotus position and onto the dance floor."--Chicago Reader

http://www.myspace.com/teethmountain


---


GOLD GHOST:
gold ghost surely rock the hazy side of rock and roll. the songs, while breaching melancholic territory, ring loud and true with catchy pop influenced punk-in-spirit voracity. thick guitar, spaced out vocals and high energy drumming...so much fun...

http://www.myspace.com/goldghostatl


---


ROMAN PHOTOS:
Atlanta disco/postpunk band Roman Photos formed in the Summer of 2009. Utilizing rave-able synth textures instead of the traditional guitars and a solid disco drum and bass, Roman Photos have played a dozen shows with all kinds of Atlanta bands. Roman Photos attempts to bridge the gap between current live disco bands and the various electronic only house cultures.
"We gave the audience shakers and cow bells, so no matter what, we could never re-record that song the way it sounds because it was a spur of the moment thing to do an all percussion song like that, and get some of our friends to play with us — friends that had no idea that they were going to even play"

http://romanphotosmusic.blogspot.com/


---


COLLABORATIVE DRAWING EVENT:
"Collabodoodle is back ya'll! Started by Em! in the summer of 2007, local hangout kids would gather round weekly on a coffee house patio and doodle in to the night. Large table top boards, paintmarkers, paint, and brushes will be provided courtesy of the Back Pocket Famile.Gather round and doodle for the sheer sake of doodling while soaking in the magical jams of travelling band Teeth Mt. and A-town's very own, Gold Ghost. Completed doodle boards will potentially be placed along Atlanta's Beltline for public display."

http://www.notaglumlot.blogspot.com/


Konk Pack with Hassler/Butcher

March 31, 2010
9:00PM - - -
Price: $7



Konk Pack

Konk Pack is a hardcore trio made up of world class improvisers Tim Hodgkinson (Henry Cow, The Work, God, etc.), Thomas Lehn,and Roger Turner.
The sensitivity of British Improvised Music, represented via the crackling and snapping of the electronics (Lehn), the howling and roaring of reed and a table top guitar (Hodgkinson) and the rattling and rustling of the percussion (Turner) are melded with a trashy, overloaded attitude. Nasty! A heavy rocking swing echoes out of loose noise conglomerations. And when we say rock, we mean it.
Konk Pack is a working band that herewith presents their debut album, Big Deep.

www.myspace.com/konkpack




Hassler/Butcher

Hassler/Butcher is the electronic music collaborations between Don Hassler and Jason Butcher. Their sound is often chaotic and complex, yet tightly controlled. Both musicians use only synthesizers, which they control through a network of buttons, sliders, faders, and a rainbow web of patch cables. The duo works mostly with Buchla synthesizers (a 200e and a Maxi Easel respectively), although Hassler has recently incorporated an EMS Synthi A. They have performed at Eyedrum, Le Flash, Kavarna, and Railroad Earth with experiments in long-form installation, improvisation, automation and volume.


hasslerbutcher.blogspot.com



all art music film literature special


| | | | | | | |
| --- | --- | --- | --- | --- | --- | --- |
| Sun | Mon | Tue | Wed | Thur | Fri | Sat |
| | 1 | 2 | 3 | 4 | 5 | 6 |
| 7 | 8 | 9 | 10 | 11 | 12 | 13 |
| 14 | 15 | 16 | 17 | 18 | 19 | 20 |
| 21 | 22 | 23 | 24 | 25 | 26 | 27 |
| 28 | 29 | 30 | 31 | | | |