monthly show on WREK 91.1 FM

December 2, 2007
7:00PM - 9:00PM


On the first Sunday of every month, at 7 p.m., Eyedrum does a show on WREK (91.1 FM / www.wrek.org) that features nuggets from Eyedrum's archive of live performances.




After the show airs "live", you can listen to it via WREK's 7-day archive if you forget to tune in. Here are the direct links to Sunday Special streams: lo-fi or hi-fi. These streaming links from WREK expire 7 days after the show airs on the radio.

But wait, there's more! We now have a podcast
available, for those of you who have discovered podcasting. You can also just download the whole show (right click on "download") although be forewarned that the file is over 50 MB in size. These podcast and download links will NOT expire for months to come -- download and listen!

---

Lots of long jazz pieces in this month's show. We opened with Victor B. Bicycle and Colin Bragg recordings from Nov 2nd's Film Love Festival; followed with several live performances by Roger Ruzow and the Atlanta Fourth Ward Improv Ensemble. We played some really great free jazz by Wick / Radding / Greenwald and then some atmospheric electronics by Duet for Theremin and Lap Steel; both ensembles will be playing at Eyedrum on Tue Dec 4th. You'll also hear the Plastic People Of The Universe (played Sep 19th), the Vandermark 5 (most members of which are appearing at Eyedrum as The Engines on Dec 15th), Kevin Dunn and King Rat. We finished off with an excerpt from the most recent monthly Open Improv.


Pink Reason / Psychedelic Horseshit / Pony Bones

December 2, 2007
9:00PM - - -
Price: $8

From Siltbreeze Records, the prolific independent label that brought you such aural debauchary as the Dead C, Times New Viking, Harry Pussy and more, comes Pink Reason and Psychedelic Horseshit. Anyone schooled in the label's roughly consistant aesthetic should be comfortable with the sonic wares both bands bring to the table.
Rough and raucous, often pretty, always gritty guitar fueled songcraft as opressive as it is heartfelt. Folk tinged ditties as heard from the inside of a cement truck...sad rock and roll to listen to while wrapping sandpaper around your brain...A great lineup indeed.....
You have to check out these bands, you see...

Pink Reason

Psychedelic Horseshit


Pony Bones opens with songs smacking of despair and agony...beautiful music to kick aligators to.




Club of Rome will also play.............

Wick/Radding/Greewald trio, Duet for T & LS

December 4, 2007
9:00PM - - -
Price: $7

Jacob Wick on trumpet, Reuben Radding on bass, and Andrew Greenwald on drums. It's an improvising group, generally dealing with sound and texture more than rhythm and harmony - somewhere in the realm of nmperign, Evan Parker's Electroacoustic ensemble or Konk Pack. They've all performed with a wide variety of improvisors including Dave Douglas, Han Bennink, & John Zorn.

"Radding has one of the thickest tones on the double bass to be heard in jazz today."
--Jeff Stockton, All About Jazz

"He (Radding) just burns--forget other bass players."
--The Improvisor




Radding music

J.W. myspace page

-------------

Also, Duet for Theremin and Lap Steel




Duet For Theremin and Lap Steel, whose name describes its instrumentation in exactly the way it does not give you the full spectrum of what sonic sundries they impart, open with rich textures, swooning collages, and hypnotic pulses, like a warm bath in the aural abyss.

Duet is Scott Burland (theremin) and Frank Schultz (lap steel).

Duet Online

Duet on myspace


RRIICCEE featuring Vincent Gallo & Eric Erlandson

December 5, 2007
8:00PM - - -
Price: $12.50 IN ADVANCE / $15 AT DOOR

Vincent Gallo and Eric Erlandson have formed a new musical project, RRIICCEE. Gallo, a movie actor, filmmaker and musician, is the critically acclaimed writer and director of such films like Buffalo 66 and The Brown Bunny. He has released two solo albums on the British recording label, Warp Records and also collaborated with the artist Jean-Michel Basquiat in the New York no-wave musical group Gray. Erlandson is the former guitarist and founding member of the rock band Hole, along with Courtney Love. The band released three albums including their 1994 commercial breakthrough, Live Through This. RRIICCEE will perform live at Eyedrum Gallery on Dec. 5.

PURCHASE ADVANCE TICKETS AT CRIMINAL RECORDS OR WWW.TICKETALTERNATIVE.COM


open improv: 'The Bellowing Miracle'

December 6, 2007
9:00PM - - -
Price: price less


The Bellowing Miracle

You, whether of the sullen Modernist generation, Or the joyous po-mo Nihil generation, have considered Miraculations to be a thing of more sodden middle ages,
now only a thing of faces on potato chips,
or etchings on silicon chips…

but … LO !!

At eyedrum attend to the
Miracle of the whisper'd Open; the
Miracle of the Crashing Close; the
Miracle of Transfiguration of Sight to Sound and the
Miracle of Vice Versa; the
Miracle of Making Do in Choral Formation; the
Miracle of Voluptuous All-At-Oneness Quivering In Air; the
Miracle of Noise Becoming Signal and the
Miracle of Vice Versa; the
Miracle of the All-Encompassing Vibration and yet the
Miracle of Living Sound In Transformation

Come toss your sullen nihilism and stand Revealed, Naked For the Miraculous Shards We Are.

Your Very Own Personal 'Bellowing Miracle' will be revealed to you!!!

Added Attraction Miracle, One Night Only: Projected Media by Some Georgia State folks!!

[This Miraculous Event sponsored in part by He Whose Time Has Come, Judge Daniel Paul Schreber: "Here come de judge, here come de judge!"]


Half Normal /Self Inflict/ Mr. Natural/Don Hassler

December 11, 2007
9:00PM - - -
Price: $5



Bob Bellerue (Half Normal)
+
Self Inflict
+
Mr. Natural
+
Don Hassler

www.halfnormal.com

Bob Bellerue :: halfnormal is a noise artist, theater designer, writer, composer and curator. My work utilizes electronics and custom programming for live performance, sound installation, and prepared ambient (public & private) field recordings. With a background in punk / acid rock, Balinese and Javanese gamelan, and Tibetan Buddhism, I'm interested in the various ways that extreme sonic experiences affect awareness and identity, and the supple techniques used to focus and modulate energy. Over the last 20 years I've played in various percussion / rock / improvised projects, created original sound scores for many performance art, dance, theater and film pieces, and released dozens of recordings. I have collaborated with many powerful members of the west-coast noise / improvisation community, including Smegma (as an ongoing participant), Raven Chacon (as KILT), Albert Ortega (as Feed the Dragon), David Kendall (as Improvisatyrs), Mitchell Brown, Joseph Hammer, Circuit Wound, and Jarrett Silberman. My work has been presented in Indonesia, across Europe, and throughout the United States, including the Yogyakarta Gamelan Festival, Centre de Cultura Contemporànea de Barcelona, Beyond Music Sound Festival, CEAIT Festival, SASSAS, NorCal Noise Festival, Olympia Experimental Music Festival, PDX Noise Festival, Highways Performance Space, Boulder Museum of Contemporary Art, Living Arts of Tulsa New Genre Festival, Dairy Center for the Arts, Machine Project, 7Hz, the Il Corral, the Smell, KXLU, KFJC, Kill Radio, Stanford University, UC San Diego, UC Los Angeles, Naropa University (BA 1995), and the California Institute of the Arts (MFA 2003). Visit halfnormal.com for more salience.

Local noise artist Self Inflict opens along with Don Hassler and Mr. Natural!

Doors open at 9 ... show at 10.


WRAS Benefit

December 14, 2007
7:00PM - 2:00AM
Price: $8


Chopper
Click here for info…

Main Stage 7:00PM

Former members of Deerhunter The Blame Game, and Devastator unite to form a CVLT (the V is like the U ancien rome pronounced Cult.) This 3 piece is the kind of band you love to hate. Not congruent with the scene experts who proclaim "quiet is the new loud". Living the manifesto conceived in twilight horizon observation sessions. Have you ever seen a wizard riding a motorcycle? Eagles with tusks clutching giant squid in their talons? An elephant fighting a pack of wolves? Currently training at 100 times earth's gravity, our astronomical decibel levels being honed to avoid serious damage to earthly conquerors. Total combat noise you can sing along to.



Madclout
Click here for info…

Side Stage 7:45PM

Madclout is a network of break dancers, visual artists and like minded music appreciators known throughout the US. They have sponsored many events here in Atlanta from painted vintage boombox expos to Art of Writing exhibits to B-Boy crew battles. For the WrasBenifit, Madclout will be doing a breakdance demonstration with a backdrop of funky 70's & 80's breakbeats.



Noot D' Noot
Click here for info…

Main Stage 8:15PM

Atlanta natives Dream Sanitation (Eye of Noot) and Bimbi "Smoofus" Thomas have playing together since the late 90's in bands such as the drug cabal masked as a psychedelic rock band Good Friday Experiment as well as fusion-experimentalists Seventy Spacebird. The two have many other studio and live credits to their names including Dream Sanitation's keyboard work with Phife Dawg, and Bimbi's percussion concussion with Atlanta dancehall kings, The Selmanaires. While most wouldn't equate these two artists prior work as "dance music", the two have always entertained the idea of putting together a project such as Noot d' Noot. The duo ventured into the realms of electronic music some forgotten Friday evening, and emerged with a killer hangover and 2006's self-released "Goofer Dust Mixtape". The reaction to "Goofer Dust" from friends, fellow musicians, and local indie record stores and labels led to the first of many Noot d' Noot live performances. Assembling the collaborators on the mixtape for the first time, including saxophonist Ben "Dr. Kinje" Davis, Afro-Cuban master drummer David Lougee, multi-instrumentalist James Joyce (Formerly of Car vs. Driver), knob-twiddlin', rythym ace Crab Louie, and master of ceremonies MC Eboli, Noot d' Noot quickly solidified a formidable live group. With a full line-up of talented musicians, a deal with Atlanta based International Hits Records, and plenty of material ready to drop, Noot d' Noot seem ready to bridge the gap between Atlanta's well-known party crunk scene, and the psychedelic rock acts rapidly making noise on the national radar.



Clan Destined
Click here for info…

Side Stage 9:00PM

Clan Destined (or, Clan D for short), a funk-fest of rolling, rumbling, revolving, relentlessly soulful beats with an electronic sensibility. The vibes can range from loungey and chilled-out to all out trunk-rattle. You might catch Dex singing on a chorus on "Read The Signs", or both of them scratching in their own vocals over live keys in "The Language". The Yin and Yang aspect holds strong, with DT being the more outspoken on the mic. You get the feeling he's just a raw channel of verbal energy in a constant state of explosion, while AmDex weaves a cool, thoughtful spell that's never short on a clever word. The youngest members of The VJC are poised to make their debut excursion with their album ABBRACADAMN!!!, set for a January 16, 2007 release on Domination Records/VJC Recordings. With an arsenal of visionary beat-craft and an uncanny physics at their fingertips, Clan D is on the brink of giving Atlanta yet another claim to one of the landmark pair-offs of this generation and raising the bar for the hip-hop duo. From now on, alchemy must be part of the equation.



Cadillac Jones
Click here for info…

Main Stage 9:30PM

Crate-diggers and vintage record fanatics of the 21st century, listen up! A never-released soundtrack album from an ill-fated 1970s action flick, rediscovered earlier this year. A spokesperson for media-shy jazz-funk outfit Cadillac Jones announced at a weekend press conference that the non-malicious mislabeling of the original tapes led to the soundtrack's estimated twenty seven year disappearance. Feature film The Big Takedown was reportedly shelved by an unnamed major studio when producers exceeded their budget by twice the originally allotted amount and were, by all reports, nowhere near done with the picture. The album, over an hour of instrumental tracks whose funk bass lines and percussion, balls-out brass progressions, and far-out keys and synth, take the listener back to the era of films like Shaft, The Mack, and Super Fly and groundbreaking jazz-funk acts like of Herbie Hancock, The Crusaders, and Deodato.



Kids With Codenames
Click here for info…

Side Stage 10:15PM

Musicians and friends since 1996, Jason Choate and Stephen Thomas are the Gemini-twins and twisted minds behind Kids with Codenames. Genres do not stick well to these shapeshifting artists. Throughout their decade-long career, Kw/C have dabbled in every form of musical expression from acoustic folk and gangsta rap to drum&bass and ambient electronica. With roots as promoters in the twilight of the Atlanta rave scene, Kids with Codenames quickly made a name for themselves as iconoclasts. They were the first in the ATL to take Ableton's "Live" software to the dancefloor, dropping wildly executed house and tribal mashups in crowded clubs and afterhours parties. Now they've returned to their earliest form as singer-songwriters, fusing pop sensibilities and futuristic stylings along with a production ethos of "anything and everything in between." The result of this full-circle journey through art and time is a collection of funky, soulful, and sincere tunes that burrow out a place to live inside your head. Forever. Fresh off the road from a pair of gigs at New York City's famed CMJ Festival, the Codename Kids will play their homecoming show at the WRAS Benefit.



Janelle Monae
Click here for info…

Main Stage 10:45
Within eight months of arriving in Atlanta, Janelle Monáe had met Nate "Rocket" Wonder and Chuck Lightning of Wondaland Productions and begun work on her masterful debut album Metropolis. "Metropolis is the place I've been dreaming about all these years. A city inside your head. It's an adventure the music brings alive." Like a daring epic film, the album concerns a cybergirl's struggle to love in the futuristic city of Metropolis. With such innovative subject matter, it is no surprise that Metropolis doesn't sound like your average R & B record.
In fact, many of the songs sound simply otherworldly: "Violet Stars Happy Hunting" sounds like a frantic Disney song played by the Sex Pistols; the achingly beautiful, string-laden "Cindi" sounds like a moving Broadway classic crafted by Rodgers and Hammerstein; "My Favorite Nothing" mixes doo-wop sass with swirling new-wave synths, electrifying handclaps and urgent rhythm guitars; "Lettin Go" moonwalks on a bed of bubbling synthbass, Philly soul strings, and hypersoul vocals; while "Metropolis" is a soulful blue waltz through a Bladerunner-like world where cyborgs fall in love with humans at their own peril.
In the summer of 2005, Janelle Monáe performed "Dear Mr. President," a soulful, Curtis-Mafyfield-like political burner, complete with strutting bass and blaring horns, for an audience of one: the hip hop legend and musical innovator known as Big Boi. After hearing this single song, Big Boi was an ecstatic believer. Positive that he had found the leading lady of his new Purple Ribbon label, he quickly gave the emerging talent a starring role in his new enterprise: two song placements on his compilation record Big Boi Presents…Got Purp Vol. 2, as well as the opportunity to write and record on several songs on the forthcoming Outkast album.
However, after coming from a closed studio session with Andre 3000, Janelle Monáe is surprisingly grounded and clear-eyed about the future: "I feel so blessed. I have so many people I look up too: Bjork, Outkast, Fiona Apple, Janet Jackson, Madonna…I want to take the things they've taught me to the stars…."



Random Rabbit
Click here for info…

Main Stage 11:30PM

Random Rabbit is a musical organism created by Andrew Provine, Adam Herbert, and Charles Pazinets. Based heavily in improv, the music is influenced by everything we have ever heard or experienced. The music often comes to life from one sound or note gradually building up to a tapestry of organic and electronic beauty. The music adheres to no formula or one single idea. We assume shapelessness and adapt only to change.



the engines

December 15, 2007
9:00PM - - -
Price: $8.00

The Engines are a new band featuring four of Chicago's best-known and busiest improvising musicians (L to R below): trombonist Jeb Bishop, saxophonist Dave Rempis, bassist Nate McBride, and drummer Tim Daisy.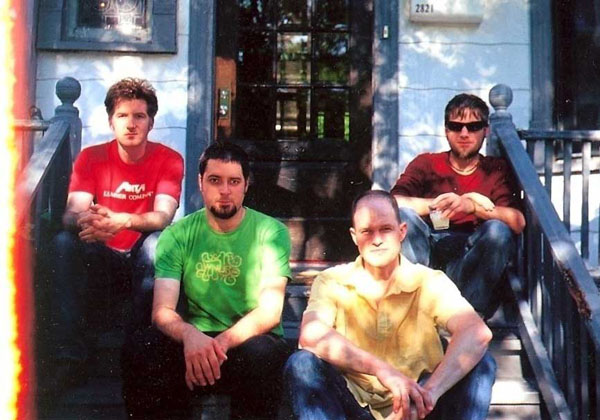 engine music

The Seventh Ring of Saturn

December 21, 2007
9:00PM - - -
Price: $6



The Seventh Ring of Saturn
Rev Rebel
Mog Rocket

9pm $6 All Ages

"The Seventh Ring of Saturn crafts deep psych rock and pop grooves that could have easily been culled from a long-forgotten cache of outtakes from Lenny Kaye's Nuggets comp., swimming in improv noise and freak-out."
-- Chad Radford , Creative Loafing

http://www.tsros.com
http://www.myspace.com/revrebelandthesoundsupreme


Denim on Denim/ Alexis Boling,Another unknown time

December 22, 2007
9:00PM - - -
Price: tba

From NYC
Denim on Denim and Alexis Boling in:
"They're Speaking Our Language"

Audio/electronics: Denim on Denim
Video: Alexis Boling

Also, Another Unknown Time (from Athens)


Another Unknown Time

all art music film literature special


| | | | | | | |
| --- | --- | --- | --- | --- | --- | --- |
| Sun | Mon | Tue | Wed | Thur | Fri | Sat |
| | | | | | | 1 |
| 2 | 3 | 4 | 5 | 6 | 7 | 8 |
| 9 | 10 | 11 | 12 | 13 | 14 | 15 |
| 16 | 17 | 18 | 19 | 20 | 21 | 22 |
| 23 | 24 | 25 | 26 | 27 | 28 | 29 |
| 30 | 31 | | | | | |