Cellular Chaos, Georges Bataille Battle Cry, Hello

November 3, 2013
9:00PM - - -
Price: 5

CELLULAR CHAOS
GEORGES BATAILLE BATTLE CRY
HELLO COBRA

Cellular Chaos - www.facebook.com/CellularChaos

Georges Bataille Battle Cry - www.facebook.com/pages/Georges-Bataille-Battle-Cry/549503158436566

Hello Cobra - https://www.facebook.com/HelloCobra

View the Blog post for additional information about the performers:

http://pfhproductions.blogspot.com/2013/10/cellular-chaos-sunday-november-3rd-2013.html

Week of Wonders ( Intelligence members!)/Glen Iris

November 4, 2013
9:00PM - - -
Price: $5



WEEK OF WONDERS

FEATURING MEMBERS OF THE INTELLIGENCE AND ORCA TEAM!!

"Like Orca Team, WoW is driven by the rhythm section and Anders' nimble bassline...but the early '60s pop influences have been replaced with an almost Caribbean vibe and you could almost imagine the guitars being replaced by steel drums." - The Brooklyn Vegan

"Featuring ex–Orca Team and Torn ACLs members, Week of Wonders spill reverbed-out vocals and glittery guitar over a constant conga-line beat—you could swish your hips in a grass skirt to this, no problem." - The Seattle Stranger

"Week of wonders takes the surfy, 50′s driven Orca Team sound and takes it to a secret island in the Bermuda Triangle, spices it up and gives it a mojito." - The Finest Kiss

"Week of Wonders threw me, I spent hours picking apart their sound, only to reorganize it and admit that Tropical Punk is such a deliciously perfect way of describing their sound." - Secretly Important






GLEN IRIS

nice and dirty local atlanta rawk. check it:



Eugene Chadborne & Tatsuya Nakatani

November 14, 2013
8:00PM - - -
Price: 10

Eugene Chadbourne

Eugene Chadbourne (born January 4, 1954 in Mount Vernon, New York) is an American improvisor, guitarist and banjoist. Highly eclectic and unconventional, Chadbourne's most formative influence is free jazz. He has also been a reviewer for Allmusic and a contributor to Maximum RocknRoll.

Chadbourne started out playing rock and roll guitar, but quickly grew bored[citation needed] with the form's conventions. He then studied other genres, including blues, country, bluegrass, free jazz, and noise—eventually synthesizing all those heterogeneous influences into a unique style of his own.[citation needed] He was also influenced early on by the experimental stylings of Captain Beefheart and the Mothers of Invention. A notable solo album, Songs (Intakt 026: 1993), features politically oriented originals, such as "Knock on the Door" and "Hello Ceausescu", and covers, such as Nick Drake's "Thoughts of Mary Jane", and Floyd Tillman's "This Cold War With You".

Chadbourne invented an instrument known as the electric rake, made by attaching an electric guitar pickup to an ordinary lawn rake.[2] He plays a duet of electric rake and classical piano with Bob Wiseman on Wiseman's 1991 Presented By Lake Michigan Soda.

Chadbourne has worked with numerous artists including John Zorn, Fred Frith, Derek Bailey, Han Bennink, Carla Bley Band, Paul Lovens, René Lussier, Toshinori Kondo, Kommissar Hjuler und Frau, Camper Van Beethoven, Jello Biafra, Turbonegro, They Might Be Giants, Sun City Girls, Violent Femmes, Aki Takase, Walter Daniels, Kevin Blechdom, Biff Blumfumgagnge, Zu and Jimmy Carl Black.


Tatsuya Nakatani

Tatsuya Nakatani is a creative percussionist originally from Osaka, Japan.

He has been residing in the USA since 1994 and is currently based in Easton, PA.Since the late 1990s, Mr. Nakatani has released over sixty recordings in the USA and Europe and has performed countless solo percussion concerts through intensive touring. He has also collaborated with hundreds of other artists internationally and presented masterclasses, workshops and lectures across the USA and around the world.

Nakatani's approach to music is visceral, non-linear and intuitively primitive, expressing an unusually strong spirit while avoiding any categorization. He creates sound via both traditional and extended percussion techniques, utilizing drums, bowed gongs, cymbals, singing bowls, metal objects and bells, as well as various sticks, kitchen tools and homemade bows, all of which manifest in anintense and organic music that represents a very personal sonic world. His approach is steeped in the sensibilities of free improvisation, experimental music, jazz, rock, and noise, and yet retains the sense of space and quiet beauty found in traditional Japanese folk music. His percussion instruments can imitate the sounds of a trumpet, a stringed instrumentor an electronic device to the extent that it becomes difficult to recognize the source of the sound. He has devoted himself to a musical aesthetic where rhythm gives way to pulse, often in a way that is not always audible or visible, in currents that incorporate silence and texture.Nakatani's primary music activities include
solo percussion performance, N.G.O. (Nakatani Gong Orchestra) and collaborations with musicians and dancers both in live performance and recordings.

Tatsuya Nakatani has spent the past several years traveling and performing extensively throughout the United States and beyond. His constant touring fosters the raw and fresh quality in his music, which can only survive through an open willingness to share energy, culture, music and self on a global human scale. He has toured and performed in Japan, China, Canada, Mexico, France, Germany, England, Scotland, Belgium, Netherlands, Portugal, Poland,Ukraine, Denmark, Sweden, Norway, Argentina, Chile, Israel and across the USA, coast to coast. While touring, he also conducts master classes and workshops at schools and universities, emphasizing his unique musical approach and philosophy.

Tatsuya collaborates and performs with a wide range of artists, from internationally renowned musicians to students of all ages, occupations and musical skill levels.

Nakatani has performed in all sorts of venues worldwide, from international musicfestivals to local community centers, artist lofts to university concert halls, including a recent performance at the Kennedy Center in Washington, D.C. He values and appreciatesgrass-roots organized shows set up and promoted by local musicians and promoters in all types of settings - independent artist organizations, clubs and bars, private lofts, squat houses, coffee shops and even packed houseshows run by enthusiastic college kids.

Nakatani also works as a sound designer for film and television and heads his own H&H Production, an independent record label and recording studio based in Easton, Pennsylvania.
He was selected as a performing artist for the Pennsylvania Performing Artist on Tour (PennPat) roster and was also awarded a Bronx Arts Council Individual Artist grant.


4th Ward Afro Klezmer Orchestra

Like almost every other wacky idea that eventually alters the cultural trajectory of the human species, the origin of the 4th Ward Afro-Klezmer Orchestra can be traced back to a sketch on a cocktail napkin. Five years ago, trumpeter and composer Roger Ruzow was sitting at a table in the basement bar at the Highland Inn, drinking a beer and mulling over an idea that had been whirling around his head for several months.
"I was thinking about an ensemble that would play music in an Afrobeat style, influenced by western African melodies and rhythms, especially the music of Ghana and Nigeria," Ruzow said in a 2009 interview. "Then I thought about how much I liked klezmer music. I'm Jewish, so maybe it's genetics, but using those scales and modes comes naturally to me."
Klezmer and Afrobeat?..."I don't hear a huge disparity between styles, between Afropop and klezmer, between klezmer and jazz, between rai and rock, or funk and rock, or rock and klezmer, and on into chamber music," Ruzow says. "To me, it's all just music."
- Doug DeLoach, Stomp & Stammer

Invent Room Pop 31

November 15, 2013
9:00PM - - -

At Beep Beep Gallery
696 Charles Allen Dr.
Atlanta, GA 30308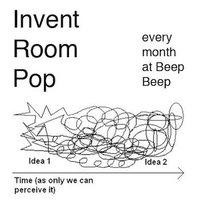 This is the 30th installment of Invent Room Pop. Six musicians are invited to play in duos and trios determined at random, with names drawn out of a hat.

Danny Bailey - bass
Nicolette Emanuel - cello
Stephany Lorena - guitar
Karl Kendrick - synth
Matthew Proctor - banjo
Jenny Tucker - saxophone

Synaesthesia

November 17, 2013
9:00PM - - -

Synaesthesia is a minimal guitar composition which uses multiple colored lights in place of sheet music to cue an orchestra of guitarists. When a color is projected, each player will be prompted to play a note indicated by the color. Adding colors together will generate chords and harmonies that will change over time according to the composition. Using this system, a large number of musicians with a wide range of skill can perform a minimal composition together with little or no rehearsal. The purpose of a large number of guitars is not for volume, but to create a blending effect in which the listener shall not necessarily be able to distinguish any one particular player, but a collective tone. Although the orchestra, dubbed the Color-Tone Drone Band, may be periodically prompted to improvise (which in turn will create a chaotic effect), harmony is most important here, and the dissonance will only be used to emphasize consonance. In addition to the colored lights cueing the players, the same colors will be projected together onto a screen or other object. This is to give a visual representation of the relationship between musical harmony and color harmony to the viewer, and in turn provide a simple way of visualizing the building blocks of music for the listener.

Kevin Spears, Tony Gerber, Zentropy

November 23, 2013
9:00PM - - -
Price: $7



Kevin "Kalimba Man" Spears

Considered by many as one of the best kalimba players alive today, Kevin Spears gift on electric kalimba/sanza has astounded audiences around the world. He is a world-class performer of exceptional virtuosity and creativity who balances the ethereal acoustic sound of kalimba while advancing sonic possibilities of this exotic musical instrument through the use of modern electronics. 

Spears' performs internationally including a recent tour of Japan and was recently featured in the international music magazine/radio program "AfroPop Worldwide". Also Spears' has teamed up with Grammy winning percussionist Count M'Butu of the Derek Trucks Band to form a dynamic world fusion duo called Rhythm Nomadic. 

In addition to being an Inventor and Mixed Media Artist, Spears' has worked with and/or opened for artists such as: India.Arie, Arrested Development, Victor Wooten, Eric Benet, Col. Bruce Hampton, Toubab Krewe, De La Soul/POS, Tony Royster Jr, Bill Summers (of Herbie Hancock band), Vinx, Mamadou Doumbia (of Salif Keita band), Rick Walker, Epizo Bangoura, Jhelisa Anderson, Moziak (Fela Kuti), Lil John Roberts and Divinity (Beyonce).

Kevin Spears on Reverbnation<

http://www.ampmusic.org">www.ampmusic.org




Tony Gerber

A space music artist with over 30 recordings, music scores for films, and planetarium shows, like "Nine Planets and Counting", also the soundtrack to an SL science exhibit on "Nanotubes", and most recently video games. His internationally recognized live space music group, Spacecraft, has music for films including Paramount's "Vanilla Sky". He has performed live concerts in planetariums, museums, galleries and festivals around the US.
A pioneer of live space and ambient music, he has performed over 1500 concerts of his unique music on the virtual world grid in the past 7 years.

tonygerber.com




Zentropy

The name says it all. Sometimes the Zen of the moment takes the sound into exciting directions, but order and structure can break down as entropy ensues. Such is the nature of improvised music, and such is the nature of Zentropy....
Atlanta-based Zentropy is keyboardist Allen Welty-Green, bassist Kevin Andrews, & drummer James Dunn - sometimes as a trio and sometimes with various guests and collaborators. Together they create spontaneous music out of little more than their collective vision and talents. It's improvised but is it jazz? It's spacey but is it jam? It grooves, but is it funk? You'll have to listen for yourself and decide.

zentropymusic.com




all art music film literature special


| | | | | | | |
| --- | --- | --- | --- | --- | --- | --- |
| Sun | Mon | Tue | Wed | Thur | Fri | Sat |
| | | | | | 1 | 2 |
| 3 | 4 | 5 | 6 | 7 | 8 | 9 |
| 10 | 11 | 12 | 13 | 14 | 15 | 16 |
| 17 | 18 | 19 | 20 | 21 | 22 | 23 |
| 24 | 25 | 26 | 27 | 28 | 29 | 30 |