First Thursday Open Improv

November 5, 2009
8:00PM - - -
Price: free

---

Eyedrum's long-running Open Improv night occurs on the first Thursday of every month -- our monthly gathering for instrumentalists and improvisers of all stripes. Bring your instrument! Hosted by the indefatigable Robert Cheatham.

WPBA 30, Atlanta's PBS station, did a bit about Eyedrum's Improv Night a couple years ago for their "This Is Atlanta" show. Click for their description and the video itself (Windows Media, 2m40s).


Back Pockets, Br'er, Nomen Novum, Christ Lord

November 12, 2009
9:00PM - - -
Price: $8


BACK POCKETS
"The Back Pockets are an extremely hard band to introduce. If I had to label them, I'd say "interactive gypsy punk-folk." They're like the Merry Pranksters but more eclectic. They have the power to adapt to context, forming their performances in real time and pulling it off with a cheerful cheekiness that sucks the crowd into their trippy world of wide-eyed wonderment. Basically, The Merry Pranksters wish they were The Back Pockets. They play songs that make everyone want to bounce, stomp and carpe diem. They make you think anything can happen in an almost manic sort of way. It's probably dangerous. " -Performer Magazine

myspace.com/thebackpockets



BR'ER
"the throbbing gristle and einstruzende neubuaten played the soundtrack to edward scissorhands, while listening to pretentious world music at a peking opera while mao played roy orbison at a level that would blow your ears out and beating off on the side of your ex girlfriend's house burning your wrists with cigarettes while dressed in drag and watching degrassi"

myspace.com/brrer



NOMEN NOVUM
"I skipped out on Eddie's Attic last night in favor of the Rainbow Arabia/Gang Gang Dance show. Openers Nomen Novum were almost alarmingly nerdy, and not in a pleasant way. Lauren and I stuck it out through a few songs, but eventually retired to the front of the house, where we sat and drank water (much to our waitress's annoyance)."

nomennovum.net
myspace.com/nomennovum



CHRIST, LORD
How long, how long, in infinite Pursuit
Of This and That endeavour and dispute
Better be merry with the fruitful Grape
Than sadden after none, or bitter, Fruit.

myspace.com/christcommalord

Susannah Masarie CD Release

November 13, 2009
8:00PM - - -
Price: 10



Susannah Masarie
with Danny Simmons

"My parents are both professional musicians and I grew up listening to them play classical music and opera. I like all types of different music including bluegrass, Irish music, old-time, jazz, blues, rock, folk, reggae, music from different parts of the world and other styles as well. I am influenced by the music I grew up with , the music I listen to, the teachers I have had, and the friends I have played with.I like to listen to college radio stations because I am exposed to different types of music I have not heard before."
myspace.com/creatureoftheroot




Upright and Breathin
featuring Billy Constable

It all began in a secret, late night downtown basement. Many talented, well known pickers from all over the region have jammed with the boys in that room. After a while, the fellas realized they were on to something...they found they were having so much fun together that it would be a shame not to bring it out of the basement and out to the area's music lovers. Steeped in Old Time Mountain Music and "traditional" bluegrass they aren't afraid to go out on a limb and show some of their rock-n-roll roots or jazz influences."
myspace.com/uprightbreathin39


Also - members of Deep Blue Sun will be playing an acoustic set
www.deepbluesun.com

1st Annual Eyedrum Ear Ball

November 14, 2009
12:00PM - 2:00AM
Price: 5-20. Pay what you can



Eyedrum to host its First Annual Ear Ball
All-day music and sound-art event to showcase the diversity of Eyedrum's programming.

ATLANTA — On November 14th, Eyedrum will host an all-day extravaganza on two stages, and at site specific locations throughout the building. The First Annual Ear Ball was originally conceived as a fundraiser for Eyedrum Art & Music Gallery, the 11 year old Atlanta arts organization that narrowly averted closing this past summer. The event has since grown into "a celebration of the diversity of music and sound art that Eyedrum has presented to Atlanta audiences over the years," says Allen Welty-Green, the chair of Eyedrum's Board of Directors, and organizer of the Ear Ball.

The tentative line up (subject to change) for the staged events is:

Liquid Marble (free improv)
Schwarzkommando (rock-based improv)
Electric Crayon Immediate (jazz quartet)
Falcon Lords (crime fighting rock trio)
Tree Creature (electronic soundscapes)
Kevin Spears "Kalimba Man" (virtuoso kalimba player)
Zentropy (space-jazz trio)
Brad Jones (singer-songwriter)
Daniel Clay (vocal ensemble performsnce)
Killick (Athens improviser)
Dan Hole Pond (sound and video textures)
Envie (harp-based songs)
Howl Ye (rustic folk psychobilly)
Kevin Dunn & the Common Article III (veteran Atlanta producer's current project)
Earthshaking Samba (wall of drums!)
The 4th Ward Afro Klezmer Orchestra (high energy jazz/klemer hybrid led by Roger Ruzow)
Vietnam (reborn Atlanta punk act)
The Robert Cheatham Quartet (free jazz)
The Eyedrum Improv Orchestra (massive multi-player improv ensemble conducted by Robert Cheatham)
Matt Kurz One (one-man alt-punk band from Athens)

Additionally, the hallway of the Eyedrum building will be transformed into the "Theremin Gantlet" - organized by Scott Burland of "Duet for Theremin and Lap Steel", and featuring a number of Atlanta area Theremin players and ambient electronic artists including The Subliminator, Klimchak, Neil Fried, and Monomania.

And finally, site-specific and "unplugged" performances will happen throughout the faciity including appearances by The Back Pockets, Tom Ferguson, Charlie Smith and The Burning Artist Sale.


---


UPDATE: Thanks to all who came out, and a BIG shout-out to Earthshaking Music for the loaner sound system we used on the second stage at the Ear Ball.

While supplies last, get an Ear Ball T-shirt! See graphic below.
S/M/L/XL/2XL short-sleeve Ts are $10+$5 s&h
2XL short-sleeve Ts are $15+$5 s&h
very limited number of XL longsleeve T's remain at $20+$5 s&h
Contact us at eyedrum.earball@gmail.com if you want one!



Pygmy Shrews + Neon Blud + Gold Standard

November 16, 2009
9:00PM - - -
Price: $5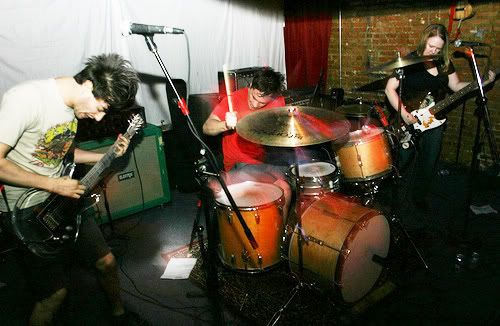 Pygmy Shrews

from impose magazine: "Pygmy Shrews (Sorex hoyi) are the smallest of mammals, but noted for their ferocity and vigor. Pygmy Shrews, similarly, may blast through a song in only a minute or two and a single chorus, but, likewise with notable aggressive frenzy.

Hardcore, long more the jurisdiction of growing up in Long Island (or my own small town Maine for that matter), seems to be undergoing a minor Brooklyn revival at the moment. Minor, but loud and desperate, and with a distinctly New York zeal for experimentation. Combining the vicious, pounding vitriol of Drunkdriver (via shared drummer Jeremy Villalobos) with the harsh, precision dissonance of Zs (via shared guitarist Ben Greenberg) with the lashing, frantic bass chops of Tia Vincent, Pygmy Shrews produce brief, violent outbursts that balance out their pitch-black fury and atonality-flirting sludge with sudden, focused leaps of anthemic melody. It's almost like a glimpse of an alternate history where early grunge managed to keep its fist-pumping universality, but dodged celebrity and nu metal back into the underground and further innovation.

The band rises out of the ashes of Cutter (itself a reformed version of the Fugue), with that band's instrumental core seemingly suddenly realizing they no longer have any need for outside vocals (previously Joe Somer, then Kevin Barry), Greenberg and Vincent stepping easily in to fill that role. What's amazing is how much this seems to have tightened the band -- now darting from tumultuous metal flurries to syncopated slow grind to surprising passionately swelling guitar -- and how good of a vocalist Vincent turns out to be, sliding directly from strident punk shout into clear, strong melodies that pierce the guitar muck."

for fans of white mice, brainbombs, drunkdriver, etc...

www.myspace.com/pygmyshrews


---


Neon Blud hails from Tampa. The inside word is that they rock it pretty damn good.


---


Gold Standard is an Atlanta based spazzy rock outfit, skillfully weaving plodding basslines with noodley guitar freakouts and pummeling drums....really really good.

www.myspace.com/goldstandardatlanta

cheap show. this will be fun!


all art music film literature special


| | | | | | | |
| --- | --- | --- | --- | --- | --- | --- |
| Sun | Mon | Tue | Wed | Thur | Fri | Sat |
| 1 | 2 | 3 | 4 | 5 | 6 | 7 |
| 8 | 9 | 10 | 11 | 12 | 13 | 14 |
| 15 | 16 | 17 | 18 | 19 | 20 | 21 |
| 22 | 23 | 24 | 25 | 26 | 27 | 28 |
| 29 | 30 | | | | | |