Bent Frequency

October 2, 2007
8:00PM - - -
Price: $10

Bent Frequency's first concert of the 2007-2008 season will feature the winners of BF's Third Annual International Call for Scores Competition: Jacob Cooper's [untitled] Massimo Lauricella's Eco di un tempo perduto and Jeff Roberts' Fading Drift. This concert will also include the world premiere of Dorothy Hindman's Tapping the Furnace for solo percussion, Andrew Rindfleisch's Tears for solo flute, Postscript by Atlanta's own Nickitas J. Demos and Passacagliaby by the Estonian composer Arvo Pärt.

For more information visit
http://www.bentfrequency.com


The Music of Dead Things:: open improv

October 4, 2007
9:00PM - - -



Yes, the future is where we all want to be but the fact of the matter is that the past is where we will spend the vast amount of time not-left to us...so we better get the dead flowers ready and tune up the bone orchestra.

maybe this would be a good night for all you melancholic and/or depressives.

Behold! The music of eternity awaits you!
You have nothing to lose but your cairns.

monthly radio show (cancelled)

October 7, 2007
7:00PM - 9:00PM


Roger Ruzow Presents:Shakin' rays/Smith/Williams

October 14, 2007
8:00PM - 10:30PM
Price: 7

Start of a new 3 month series of jazz improv, curated by Roger Ruzow.
this month :

Together Again!:
Shakin' Ray Levis , LaDonna Smith, Davey Williams

The SHAKING RAY LEVIS (founded in 1986) is an ongoing collaboration of musicians with a common interest in improvisation. The project was conceived and led by the Chattanooga-based team of DENNIS PALMER and BOB STAGNER. They use synthesizers, MoogerFoogers, samplers, vocals and percussion to achieve their Ole' Timey Avant-Garde sound.

http://www.myspace.com/theshakingraylevis

They are the first American group to have recorded for INCUS RECORDS, the record label of British guitarist DEREK BAILEY. Additionally, they have performed and recorded with REVEREND HOWARD FINSTER, MIN TANAKA, DAVID GREENBERGER, FRED FRITH, AMY DENIO, JOHN ZORN, BORBETOMAGUS, TOM CORA, STEVE BERESFORD, J.D. PARRAN, FRANK PAHL, LADONNA SMITH, DAVEY WILLIAMS, GINO ROBAIR, ROGER TURNER, EUGENE CHADBOURNE, TONY OXLEY and Derek Bailey, as well as with many other critically acclaimed artists.

The Shaking Ray Levis have performed internationally on the BBC, at Quebec's International Festival de Musique Actuelle, Newfoundland's Sound Symposium, London's Company Week, and Denver's ReThink Conference. Dennis Palmer has the distinction of being invited to play at Company Week in 1988 and the final one

LaDonna Smith

As Violinist and violist, LaDonna Smith has been on the international new music scene for well over 20 years. She is an active performer, as well as an educator and native of Birmingham, Alabama. By networking with organizers and musicians from other cities, and through her work with the improvisor, she has been responsible for keeping improvised music alive in the South Eastern United States. In1996, she organized the first Birmingham International Improvisation Festival, which featured performers from Sweden, Russia, and Ukraine in concert and workshop, as well as a host of regional and national participants in music, theatre, and dance.

LaDonna has created a style of improvisation on violin and viola that is uniquely her own. Alternating classical and extended techniques, she explores her instrument, painting scenarios and sound pictures as she plays. She has performed at practically every major improvisation festival and many of the New Music Festivals. She has toured Europe on numerous occasions, playing solo and in collaboration with local musicians. Her travels have taken her to the former USSR, Siberia, and Japan. In addition, she and guitarist, Davey Williams, have toured North America and Europe many times as Trans Duo. As musical partners, they maintain their own recording label, TransMuseq, and also co-edit the improvisor, the international journal of free improvisation, printed eleven editions, and now under construction in its revised world- wide-web edition. She was participant in the UCSD 1999 Symposium on Improvisation in LaJolla, CA.

As a teacher, not only has she given many workshops on free improvisation throughout the U.S. and Canada to schoolchildren and college students, but for 15 years, she has taught violin to hundreds of children in Birmingham, Alabama, and is the Director of the Birmingham Suzuki Violin Association. This year, she took 24 students and 14 adults to Japan to participate in the 42nd National Suzuki Concert in Tokyo. The Suzuki Violinists also performed their own concerts in Nagano, and a Sister City International Friendship Concert in Hitachi. She is on the violin faculty of the Central Pennsylvania Suzuki Institute, and there she also teaches "improvisation."

LaDonna Smith has been doing improv for almost 30 years. A virtuoso violinist, teacher, and co-founder of The Improvisor ("the international journal of free improvisation"), she is the image of feminine empowerment, the female criminal in pursuit of the ecstatic, potent, subversive and transcendent. LaDonna has done about as much as any of the improvising pioneers Stateside to raise the bar, to obliterate expectations/preconceptions and, in the end, form new vocabularies in music. Never mind that she did this in a scene dominated by men or that she did it from Tuscaloosa and eventually Birmingham, AL., solo and along side her performing partner Davey Williams. The freakin' odds were stacked not against her, but on top of her. But anyone who has had the singular pleasure of being in her presence will attest to the fact that if anyone might prevail against said odds, it'd be her. She's incredibly pleasant. She always seems to be aware of everything going on around her. But at the same time, sitting across the table from her can imbue you with a sense of power and belonging rarely felt. And even though I have my suspicions she realizes this she never holds it over your head. She just drops the sonic block on you while she plays. Her eye is your storm.

Davey Williams

Davey Williams, guitarist
Biographical Information

Recent Musical Activities (1996-99):

Performances with LaDonna Smith (New York City, Atlanta, Miami, Chicago, Milwaukee & Birmingham),composers Anne Lebaron (Merkin Concert Hall, New York City & Univ. of Pittsburg) and Gustavo Matamoros (Merkin Concert Hall, NYC & Florida, the Brazil Festival, Miami), Curlew (New York, Boston, Washington & Pittsburg), Jim Staley & Ikue Mori (New York, London, Amsterdam & Switzerland), Phoebe Legere (New York), Phil Gelb & Joe McPhee, and Luc Houtkamp (the Salvador Dali Museum, St. Petersburg, the SubTropics Festival, Miami and other cities in Florida), the Say What! trio (Water Rats Club, London), with Marcus Eichenberger (Switzerland), numerous ad hoc improvisational performances including duos and various larger ensembles with Eugene Chadbourne, Ned Mudd (Birmingham/Chattanooga), with Toshi Makihari at the High Wire Gallery (Philadelphia), with Ikue Mori at CBGBs (New York), with Wally Shoup (Seattle/Olympia), solo concerts (Memphis, St. Louis, Birmingham, New Orleans, Seattle). Recordings and concert tour with Curlew, recordings with Oteil Burbrage, Jim Staley/Ikue Mori, Michael Zerang/LaDonna Smith/Fred Lonberg-Holm, Ned Mudd; solo guitar CD, Eugene Chadbourne. See also Davey's discography.



DAMO SUZUKI / SAN AGUSTIN

October 18, 2007
9:00PM - - -
Price: $10


Suffering Bastard / Mugu Guymen / Fistful Of Crows

October 23, 2007
9:00PM - - -
Price: 7 DOLLARS 7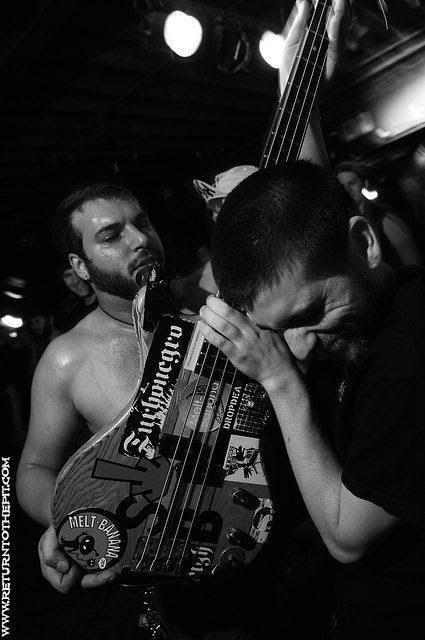 SUFFERING BASTARD
uh. whoa. watts. heavy heavy from up north, Rhode Island Grind core, loudest band ever heard.
))))))))))))))))))))
MUGU GUYMEN
spirit of Nigerian Hardcore, ponied up ethno-cash, 419 scams called forth w/ effected drums+synth/kalimba/strings. always freestyle/improv/realjungle
- The band's first single, "Show You Fire", has been #1 on Clear Channel's Unsigned Top 10 for the last month earning spins on major Top 40 radio. The band was featured on over 450 Clear Channel radio stations' websites for over 4 months as an artist to watch. wow. what a couple of liars.
+_+_+_+_+_+_+_+_+_+_+_+_+_+++
FISTFUL OF CROWS
Will Fist's band.... he runs Whisk-Hutzel Records which releases fine gems in obscure formats such as quarter inch reel tape (Knoxville/Atlanta)
+_+_+_+_+_+_+_+__+_+_+_+_++++
SELF INFLICT opens!

Wiese+Yeh, Giffoni+Tree Creature+Richard Devine

October 24, 2007
9:00PM - - -
Price: $8

Killer noise/soundscape showcase with Spencer Yeh from Burning Star Core (BSC) and John Wiese (Wiese). Also, guitar manipulator Carlos Giffoni (Carlos), founder of the infamous No Fun noise festival in Brooklyn.

Cincinnati native C. Spencer Yeh has been releasing records under the Burning Star Core moniker since 1993. A classically trained violinist, Yeh is the center of the amorphous free noise group whose past collaborators have included: Comets on Fire, Hototogisu, Chris Corsano and Thurston Moore. (Forced Exposure)

"The sounds almost trying to suck you into the speakers head first, but like all quality noise in time your ears become accustomed and you start to pick out more more details. Wiese really has the ability to build up such complex layers of sound."
-excerpt from review of Wiese's Black Magic Pond in musiquemachine.com

Among the 3 of them they've played or recorded with Evan Parker, Merzbow, Sonic Youth, Wolf Eyes, Sunn O))), & many others.



Doyle/Wilcox/Harrar, Projexorcism, 9J

October 25, 2007
9:00PM - - -
Price: $7

Tenor saxophonist / howler Arthur Doyle, percussionist Ed Wilcox, and multimedia artist James Harrar.

"Arthur Doyle has the roughest, bawlin'est sound of any artist currently working in the milieu of so-called 'jazz.' His work has all the air-rendering/leather-lunged urgency of Albert Ayler's albums for ESP or Joe McPhee's CJR recordings. His horn forces his way into your head with an evasive power that's both beautiful and brutal. And his time is NOW."
-- Byron Coley, The WIRE




------------------------
Opening:
the mysterious 9 Jah pummels you into the corner with their wrap around sunglasses, walkers, and evil teeth gnashing giddiness.

+ Projexorcism

MV + EE & The Golden Road

October 27, 2007
9:00PM - 12:00PM
Price: $7

SATURDAY OCTOBER 27
EYEDRUM GALLERY
MV + EE WITH THE GOLDEN ROAD
DQE
1thousand Holy Shards
all ages / 9pm / $7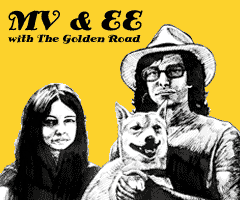 Still riding high on the glorious steed that was Green Blues (heads are still processing its smoked grooves and wild-at-heart paeans to love and kosmiche carnality), Matt Valentine and Erika Elder entered a Western Mass studio armed with enough fresh material to choke a whole team of horses. You may ask, "how can this be?" Well, since recording their Ecstatic Peace debut the duo has toured extensively, all the while writing tunes, scavenging esoteric guitar equipment & revamping their backing band to suit the environment of Gettin' Gone . A new sound has organically evolved that will most certainly astonish listeners new & old, but still find a special place on the formidable shelf of their back catalog. So rejoice in this disc, which boasts some of MV & EE's most finely-crafted songs to date and along with The Golden Road present a feast of tones & riffs that will stick to your ribs for a long time.

Like its predecessor, Gettin' Gone is a family affair of like-minded freak and friendly hair waves. Most fascinating is the Ecstatic Peace soundboard premier of Zuma, one of the coolest dog minds north of New York City. Also the one part golden addition of Doc Dunn and the harmonium magic of Luisa, she of Mascis child. Oh and J his self blams some mountain heavy drumming on a few of these tracks. Matt and Erika's devotional dharma is open to all true vibes of rock n' roll and folk n' roots ramble both tender and tuff.

1. Susquehanna (sole art trample) 5:08
2. The Burden 4:42
3. Hammer 7:49
4. I Got Caves in There 3:53
5. Mama My 5:19
6. Day & Night 5:37
7. Easy Livin' 4:41
8. Colaed Out 2:07
9. Speed Queen 6:56
10. Motorin' 2:02
11. Country Fried 8:50
12. Home Comfort 4:54
13. Sweet People 4:54

MV:Acoustic and Electric Guitars, Harmonica, Bantar (modified banjo>sitar), Swarsangam, Bass, Octave Divider Bass, Mellotron, Vox

EE:Cocola Firebird, Lap Steel, Bowed Dulcimer, Mandolin, Vox

all art music film literature special


| | | | | | | |
| --- | --- | --- | --- | --- | --- | --- |
| Sun | Mon | Tue | Wed | Thur | Fri | Sat |
| | 1 | 2 | 3 | 4 | 5 | 6 |
| 7 | 8 | 9 | 10 | 11 | 12 | 13 |
| 14 | 15 | 16 | 17 | 18 | 19 | 20 |
| 21 | 22 | 23 | 24 | 25 | 26 | 27 |
| 28 | 29 | 30 | 31 | | | |