music
wesleyan composers' residency
8:00PM - - -
Price: $4 + a roll of the die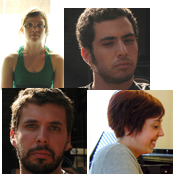 Composition and performative designs by Katherine Young, Phillip Schulze, Sally Norris, and Brian Parks realized by each other and colleagues from Atlanta

including
Solo Variations (Norris),
Archery Instead of Bowling (Deluxe Edition) for typewriter and electronics (Young),
premiere of an octet for 3 duos and two soloists (Young),
Activated Progressions nos. 1 and 3 for piano or keyboard (Parks),
All Cinema is Documentary (Parks),
Cause Proceed Unfold (Schulze),
and two live episodes of TV's
"The German and the Jew" (Schulze/Parks, stage design by Schulze)

The 29th and 30th, two of the last three nights in July, provide the time spatial parameters for Atlanta's hosting of a laterally continental contingency of Eyedrum Gallery Residencies by Katherine Young, Sally Norris, Phillip Schulze, and Brian Parks. What interests me is the nature of their compositional and performative agenda hereabouts. There is no rota of so-called contemporary interpreters that Brian, the Atlantan among them, felt able to purposefully engage; these four composers, though, are no strangers to desperate camaraderie. Says Katie Young (bassoonist and experimental composer now based in New York City): "We have no plan besides having no plan." Adds Sally Norris, Canadian pianist and outspoken writer of extreme parametric sonic studies, "I have been to Atlanta through the anticipation of my future memories. I will do what it takes to most efficiently serve the city and its denizens."

Norris' music has been performed by quartets of men and women, many of whom she has never met, in places where she was not present. She holds awards and degrees from the Canadian Arts Council, Universityof Alberta (Edmonton) and Wilfrid Laurier University.

Katherine Young's Master's thesis concert at Crowell Concert Hall at Wesleyan University was recently described in the Journal of New
Moments thusly: "at most spheres, atmosphere is above us; Kate [sic] Young, however, has crafted a music that we breathe through as it breathes through us." (Journal of New Moments, June 2008,
Yorkshire). Her autobio is below.

While Norris and Young, both returning from a European tour with the prolific composer and avant-garde music luminary Anthony Braxton,are women in their twenties, Brian Parks and Phillip Schulze are men in their twenties. Schulze the tall Düsseldorfer, with beard and manner that can only be described as cockily innocent, is a reluctant genius, a virtuosic computer musician who resents the words 'computer' and 'musician,' as well as their employed combination. He takes great joy in releasing and controlling loud bursts of power which manifest vibrationally in the air and in our bodies; he generally couples this sensual sensationalism with routine signifiers
derived from the American spectacle industry. Collaborations include 'El Dorado Roundup' with the Middletown High School Marching Band, and 'Module (Chamber 01) Combination III' with the mascot from the Decatur Fist. He plays "the German" in TV's "The German and the Jew" with Brian Parks. Schulze received his Master's in experimental music and composition from Wesleyan in May, under the advisorship of Ron Kuivila.

Brian Parks lives in Middletown Connecticut with his project co-designer and wife Janet Simone Parks and their dachshund Guiness of five human years. He writes creative descriptions of events that have not yet occurred with humorous and informative intention. He is the potential founder of the Atlanta Conservatory for the Creative Arts, a university and preschool with locations in Atlanta, North Georgia (summer mountain campus), and Accra, Ghana. Along with longtime collaborator Nat Slaughter, Brian is
Designer of Sports and Games in the artists' group Public and Private (with Mr. Slaughter and Daniel Clay). Mr. Parks plays Bechstein, Kawai, Steinway, and August Forster pianos, period instruments by Adam Decker, and Ram Irons.



Independent Self Biographies

Katherine Young composes and plays bassoon.

As a performer she works as an interpreter of new music, improvises, and plays with bands. She performs regularly in Architeuthis Walks on
Land, her duo with violist Amy Cimini. Katherine is a founding member of the contemporary chamber music collective Till by Turning. With the trio Civil War, she released two recordings on the Longbox label. Her playing with Civil War has been described as full of "undulating notes on the verge of exhaustion [that] explore impressive multiphonics and stomach-gripping glissandos." For several years she played with the piratical crew The William Young and with Chicago-based Roommate. She has a new project with bassist / artist Nat Slaughter, and they will be playing some shows around the south east this summer. She collaborates with improvisers such as Fred Lonberg-Holm, Jessica Pavone, Carol Genetti, Guillermo Gregorio, and Jason Ajemian.

She recently recorded in a quartet with Anthony Braxton and will be touring with him in small ensemble formations this summer. A solo bassoon record is in the works for Porter Records - she hopes to finish it in the fall.

As a composer, Katherine writes acoustic and electro-acoustic music, often using open forms and expressive, non-traditional notations.
She's composed for a wide range of ensembles - from solo violin to mixed ensembles to a piece for carrillon bells. She recently premiered Things Suspended Converge and Fall, a piece for 16 players which was comprised, in part, by smaller ensemble compositions: a duo for typewriter / piano and electronics; a percussion trio; a flute, viola, and piano trio; and a duet for tuba and wurlitzer. The FLUX Quartet performed her string quartet in the fall, and responding to a commission from Anne Rhodes, Katherine recently wrote a piece for soprano, contrabass, and electronics. Katherine also works collaboratively: With Adam Sonderberg, she creates droning computer-based sound assemblages. And she and Jonathan Zorn are working to develop pieces for bass, bassoon, and interactive electronics.

Katherine just finished a Master's in composition at Wesleyan University, working with Anthony Braxton, Ron Kuivila, and Alvin Lucier. She graduated with bassoon performance and comparative
literature degrees from Oberlin College and Conservatory in 2003.
She's moving to Brooklyn in August.

www.tillbyturning.com/
www.myspace.com/oneyoungbassoon//katherineyoung.blogspot.com


Phillip Schulze (b. 1979, Germany) is working in the field of composition and media art, currently living in New York City, USA and Düsseldorf, Germany. In October Schulze will move to Singapore where he will work as a media art researcher at the Nanyang Technological University.

His work spans a mixture of electronic music, compositions for classical instruments, light and video elements, as well as performance art practices, usually written for specific environments in both indoor and outdoor situations. He is also active as a collaborative improviser playing electro acoustic instruments and alto clarinet.

Having developed much of his work in a visual art context, Schulze creates sound environments, installations, and extended concert situations with an aim at finding intersection points between visual and auditory experience, frequently employing strategies regarding performer and spectator relationships – tactics investigating integration and disintegrations, connections and disconnections within and consistent with the given site.

Schulze studied media art and stage design at the Center for Art and Media (ZKM/HfG) in Karlsruhe, Germany, with Anna Jermolaewa, Paul Modler, Siegfried Mauser, Michael Saup, and Penelope Werli, followed by Masters studies at Wesleyan University in Connecticut, USA, with Anthony Braxton, Ron Kuivila, and Alvin Lucier.

His work has been performed or installed in Germany, France, Switzerland, Korea, China, Poland, and the USA at locations including the Düsseldorfer Kunstverein, Kunst Akademie Düsseldorf, Badischer Kunstverein, Art Institute Chicago, EyeBeam NYC, Musterraum, Kunst Museum Bonn, Kumho Museum of Art, Transmediale Berlin, Moers Festival, Kunst Film Biennale Köln, and Viper Basel.

As a improviser Phillip Schulze has performed with (among others): Rees Archibald, Tatsu Aoki, Matt Bauder, Anthony Braxton, Taylor Ho Bynum, Jonathan Chen, Andrew Raffo Dewar, Bill Dixon, Bryan Eubanks, Elmar Faschmin, Chingo Inao, Institut für Feinmotorik, Guillermo Gregorio, Christian Jendreiko, Andrew Lafkas, Paul Modler, Virgil Moorfield, Marina Peterson, Brian Parks, Jessica Pavone, Michael Pestel, Michael Saup, Aaron Siegel, Keiko Uenishi, Rie Watanabe, Stefan Werni, Jack Wright, and Katherine Young.



all art music film literature special


| | | | | | | |
| --- | --- | --- | --- | --- | --- | --- |
| Sun | Mon | Tue | Wed | Thur | Fri | Sat |
| | | 1 | 2 | 3 | 4 | 5 |
| 6 | 7 | 8 | 9 | 10 | 11 | 12 |
| 13 | 14 | 15 | 16 | 17 | 18 | 19 |
| 20 | 21 | 22 | 23 | 24 | 25 | 26 |
| 27 | 28 | 29 | 30 | 31 | | |