music
cowboys international/Club Awesome
9:00PM - - -
Price: $8

Cowboys International

Cowboys International was always a vehicle for writer Ken Lockie's work.† His most widely known recordings were as writer with Public Image Limited (Second Edition, Metal Box), vocals with Simple Minds (Sons and Fascination), producer and writer with Dominatrix (Sleeps Tonight) and Death Comet Crew (At the Marble Bar).†
†
During the explosion of punk music in the late 1970's, Cowboys International was one of Virgin Records favorite bands.† Amid the chaos of that time, their music was an advance copy of what was to come in the following years.† Their emphasis on sound and structure gave their records a distinctive sound and illuminated a new path away from the epicenter of blues based rock.† A synthesis of sound, rhythm, melody and lyrical content; occassionally brilliant pop music subverted, in the manner of Brel toward a different dose of reality bathed in lush textures and tones!
†
Not everything in the pop world was smooth for Cowboys International, having gone through personnel and label changes, the current line up of the band includes Steve McCaffrey, guitars, Lang Murphy, drums, Laura Lockie, guitar and vocals and Ken Lockie, lead vocals and harmonica.†


Club Awesome
Errol (Gemini) aka "Moonrunner" has a keen eye for beauty in his job managing
a downtown art gallery. Blair (Sagittarius) aka "Solar Flare" really
knows
how to work his hands training as a massage therapist. Rick (Libra) aka
"The Comet" practices his signature pout and scruffy "'tude"
behind the
counter at a local coffeeshop. And fresh-faced freshman Lance (Gemini),
aka "Starchild," the youngest of the group, trains his brain at university
studying history and philosophy.

Put them all together, and you just might have "The Perfect Boyfriend."
These dudes wear all the right clothes - and know all the right moves!
Hold on to your hearts, girls and boys, cause this delicious foursome is
about to "blow you away" on a honey-tinged wind of "aural" pleasure!
Sounds
as sweet as the squirrels' playful lovemaking in the first kiss of spring
... as magickal as dewdrops glinting on rosepetals in the full-moon-light
... as intoxicating as the heady draught of morning-breath on the lips of
a Brazilian underwear model. Your life will never be the same. (You can
thank us in the mor

art
regular gallery hours
12:00PM - 5:00PM


art
Jeff Rackley small gallery opening
6:00PM - 9:00PM

Opening reception Runs through Feb. 26th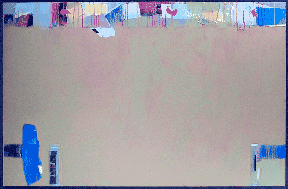 Jeff Rackley

The inspiration and motivation to work in the idiom of collage has captivated me for many years now. Whether itís the tactile qualities of the materials that I use, the color, shape, or the unusual nature of the thing, it seems that the possibilities are limitless. I am compelled and inspired by the idea of recycling discarded materials, like pieces of junk mail, old notes, doodles, ticket stubs, receipts and various ephemera, materials that normally are not considered good candidates for constructing a collage. For instance, lately Iíve been moved to work directly on large pieces of sized cardboard, instead of using the more traditional canvas or board. Iím also drawn to certain types of packaging, like large envelopes with interesting labels, packing slips, or even plain envelopes. The notion of Ďmaking something from nothingí so to speak, juxtaposing the materials, and seeing these elements transform from their original context into a new one within a composition has motivated me to continue working in this manner. I marvel at the discoveries through the process of experimenting, reconstituting, and working with the materials that I choose to incorporate into an image. Another interesting discovery is how the act of collecting materials, and their eventual use in a collage, seems to bring about the idea of time and place in each piece for me, since I am incorporating real things that I have collected, or that have entered my life, either by mail or by collecting things. This has become an important part of the process for me. In doing this, I may be revealing bits of my own history, or creating a new history, a memory, perhaps revealing the fragmented nature of time. Also, the notion of recycling comes to mind, and this may say something about life in a commodity driven society. It is my goal to transform these unlikely elements into a composition, something relevant and vital in my on-going development as an artist.

Biography

Jeff Rackley was born in Rocky Mount, North Carolina in 1960. He briefly studied art and music in the public school system, and studied painting and art history at The Savannah College of Art & Design from 1986 to 1990, receiving his BFA in painting. From 1997 to 1998, he attended the University of Georgia in Athens, receiving his K-12 teacherís certification.
He has exhibited his work in various group and solo shows in Savannah and Atlanta.
In 2001 and 2002, he collaborated with a variety of artists, mainly in the field of video, sound, and mixed media. In December 2001, he collaborated with Atlanta artist Deborah Kasovitzí art installation at Eyedrum Art & Music Space, by creating a soundscape based on field recordings collected from the Cabbagetown area of Atlanta by Ms. Kasovitz. From June 9 to August 9, 2002, Jeff collaborated with artist Robert Cheatham on an installation entitled APOCATASTASIS or "the doctrine of reconciliation thru the retrieval of all things" as part of New Media for a New Century: the 2002 Columbus Museum Regional Invitational Exhibition, which featured artists working in Georgia, North Carolina and Florida. This exhibition was the first to be showcased at both the Wynnton Road and uptown locations of the Museum. From September 11 to November 9, 2002, Jeff collaborated with artist Hormuz Minina on an outdoor installation incorporating video and sound housed within two sea containers, as part of the Spruill Gallery's Like Lions Raging: Commemorative Exhibition Presenting Responses to War and Terrorism. Since April 1999, Jeff has been involved with Eyedrum Art & Music Space in Atlanta, as a volunteer and board member, his main role being sound and recording engineer, and music archivist. He also co-hosts "Live at Eyedrum-WREK Sunday Special" radio show the first Sunday of each month on WREK 91.1 FM. In 2003, he returned his focus to collage, and his latest work opens a new chapter in his development as a visual artist.