regular gallery hours

February 2, 2005
12:00PM - 5:00PM


regular gallery hours

February 4, 2005
12:00PM - 5:00PM


regular gallery hours

February 5, 2005
12:00PM - 5:00PM


Small Gallery CHANGED TO FEB 11 - Jeff Rackley

February 5, 2005
6:00PM - 8:00PM
Price: free

Please note that the small gallery opening scheduled for feb 5 has been changed to friday feb 11


CANCELLED!!--Terminal City / performance art night

February 5, 2005
9:00PM - - -

will be rescheduled

House Hunting and Match-Making in Terminal City. . .


regular gallery hours

February 9, 2005
12:00PM - 5:00PM


regular gallery hours

February 11, 2005
12:00PM - 5:00PM


Jeff Rackley small gallery opening

February 11, 2005
6:00PM - 9:00PM

Opening reception Runs through Feb. 26th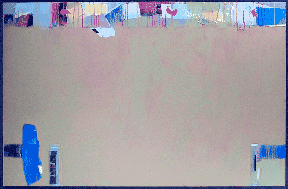 Jeff Rackley

The inspiration and motivation to work in the idiom of collage has captivated me for many years now. Whether itís the tactile qualities of the materials that I use, the color, shape, or the unusual nature of the thing, it seems that the possibilities are limitless. I am compelled and inspired by the idea of recycling discarded materials, like pieces of junk mail, old notes, doodles, ticket stubs, receipts and various ephemera, materials that normally are not considered good candidates for constructing a collage. For instance, lately Iíve been moved to work directly on large pieces of sized cardboard, instead of using the more traditional canvas or board. Iím also drawn to certain types of packaging, like large envelopes with interesting labels, packing slips, or even plain envelopes. The notion of Ďmaking something from nothingí so to speak, juxtaposing the materials, and seeing these elements transform from their original context into a new one within a composition has motivated me to continue working in this manner. I marvel at the discoveries through the process of experimenting, reconstituting, and working with the materials that I choose to incorporate into an image. Another interesting discovery is how the act of collecting materials, and their eventual use in a collage, seems to bring about the idea of time and place in each piece for me, since I am incorporating real things that I have collected, or that have entered my life, either by mail or by collecting things. This has become an important part of the process for me. In doing this, I may be revealing bits of my own history, or creating a new history, a memory, perhaps revealing the fragmented nature of time. Also, the notion of recycling comes to mind, and this may say something about life in a commodity driven society. It is my goal to transform these unlikely elements into a composition, something relevant and vital in my on-going development as an artist.

Biography

Jeff Rackley was born in Rocky Mount, North Carolina in 1960. He briefly studied art and music in the public school system, and studied painting and art history at The Savannah College of Art & Design from 1986 to 1990, receiving his BFA in painting. From 1997 to 1998, he attended the University of Georgia in Athens, receiving his K-12 teacherís certification.
He has exhibited his work in various group and solo shows in Savannah and Atlanta.
In 2001 and 2002, he collaborated with a variety of artists, mainly in the field of video, sound, and mixed media. In December 2001, he collaborated with Atlanta artist Deborah Kasovitzí art installation at Eyedrum Art & Music Space, by creating a soundscape based on field recordings collected from the Cabbagetown area of Atlanta by Ms. Kasovitz. From June 9 to August 9, 2002, Jeff collaborated with artist Robert Cheatham on an installation entitled APOCATASTASIS or "the doctrine of reconciliation thru the retrieval of all things" as part of New Media for a New Century: the 2002 Columbus Museum Regional Invitational Exhibition, which featured artists working in Georgia, North Carolina and Florida. This exhibition was the first to be showcased at both the Wynnton Road and uptown locations of the Museum. From September 11 to November 9, 2002, Jeff collaborated with artist Hormuz Minina on an outdoor installation incorporating video and sound housed within two sea containers, as part of the Spruill Gallery's Like Lions Raging: Commemorative Exhibition Presenting Responses to War and Terrorism. Since April 1999, Jeff has been involved with Eyedrum Art & Music Space in Atlanta, as a volunteer and board member, his main role being sound and recording engineer, and music archivist. He also co-hosts "Live at Eyedrum-WREK Sunday Special" radio show the first Sunday of each month on WREK 91.1 FM. In 2003, he returned his focus to collage, and his latest work opens a new chapter in his development as a visual artist.


regular gallery hours

February 12, 2005
12:00PM - 5:00PM


JITTER!!

February 12, 2005
8:30PM - - -

February 12, 8:30 pm: A collaborative performance by Aaron Miller; Monica Duncan, ACA Visiting Artist and Video Department faculty member; Neil Fried, Video Department†faculty member; and Aimee Rydarowski, ACA Digital Video†major.

Using the programs MAX/MSP/Jitter, the performers will create a feedback system to explore the mechanisms that map the creation and evolution of memory over time. The piece will combine projected image, sound, music, text, gesture and voice. The performance is sponsored by The Atlanta College of Art Video Department and EyeDrum.

___________________________________________________________________________

Aaron M. Miller is an artist and technical producer of interactive multimedia performances and installations. He has performed and exhibited his work internationally, including a recent tour of Poland and the Czech Republic with Gary Hill and others. He also worked as Technical Producer and Software Designer for Gary Hill's recent installations at the Pompidou and the Louvre in Paris, France. Miller was the Technical Producer for a recent performance by Hill at the Louvre, a collaboration between Hill, Miller, and Paulina Wallenberg-Olsen. A specialist in Max/MSP and Jitter, Aaron has worked as research assistant, instructor, and lecturer at many institutions including Alfred University in Alfred, New York, the Experimental Television Center in Owego, New York, and Le Fresnoy in Roubaix, France. In 2003 Miller was invited to perform in two international digital art conferences: one in Havana, Cuba as part of Encuentro Digital en La Habana and in Morgantown, West Virginia, as part of E-Poetry 2003: An International Digital Poetry Festival. Miller's career started early. As an undergraduate he met with Tetsu Inoue and Stephen Vitiello which led to an invitation to present his work in the 9th Biennial of Moving Images in Geneva, Switzerland as part of Stephen Vitiello's "Return to Psychadelavison". The next year he performed with Tetsu Inoue and Miller's CD "Modularia" was produced by Inoue's label Otodisc. Recently, he was selected to be a part of the Albright-Knox Art Gallery's Biennial, "Beyond/In Western New York". Miller received his B.A. in Fine Arts from Alfred University in Alfred, New York and the M.A. in Media Studies and Computer Music from the University at Buffalo, in New York. He is also the Assistant Director of the Experimental Television Center's International Student Residency program. This spring, Miller will be assisting Gary Hill with a large-scale installation at the Coliseum in Rome.


regular gallery hours

February 16, 2005
12:00PM - 5:00PM


Gas, Food and Lodging - Progressive Dinner

February 17, 2005
6:00PM - 8:00PM

also includes GSU School of Art and Design gallery, and Agnes Scott College art gallery

eyedrum's portion of lteh evening will be a soup ktchen and...cupcakes!

desert adn appetizers at the Georgia State gallery and Agnes Scott/Dalton gallery...
also drop in and check out the one night only West Georgia University show in the back.

regular gallery hours

February 18, 2005
12:00PM - 5:00PM


regular gallery hours

February 19, 2005
12:00PM - 5:00PM


regular gallery hours

February 23, 2005
12:00PM - 5:00PM


regular gallery hours

February 25, 2005
12:00PM - 5:00PM


regular gallery hours

February 26, 2005
12:00PM - 5:00PM