Lukas Ligeti, Klimchak

October 1, 2008
9:00AM - - -
Price: $8



L U K A S L I G E T I

Free energetic, polyrhythmic concert featuring post-minimalist artist Lukas Ligeti. Performing live solo electronic music mainly on the innovative Marimba Lumina, Lukas brings elements of African music, electronica, jazz, and indie pop. Program includes new works off of Lukas' latest album Afrikan Machinery (Tzadik).

Described as "one of the most interesting compositional voices working today," Lukas Ligeti is known for combining his talents as a composer with his improvisational fantasy, and highly diverse African-tinged soundscapes. Steeped in the musical traditions of his father György Ligeti, Lukas embodies reinvention by making his contemporary music crackle with energy. As a composer, he has been commissioned by Bang on a Can, the Vienna Festwochen, Ensemble Modern, Kronos Quartet, Radio France, and many others. As a drummer, he has played and/or recorded with artists such as John Zorn, Gary Lucas, Eugene Chadbourne, Henry Kaiser, Raoul Björkenheim, Michael Manring, Daniel Carter, Eyal Maoz, John Tchicai, Benoît Delbecq, Pyrolator, Jim O'Rourke, Borah Bergman, Robert Dick, and Rupert Huber. As band leader, he co-leads Burkina Electric, the first electronica band of the West African country of Burkina Faso.

myspace.com/lukasligeti




K L I M C H A K

Klimchak loves opposites. That may explain why he's played with bands as diverse as disco diva RuPaul and avant hipster Bruce Hampton. "I think of music as a crazy-quilt of different styles and patterns. I'm the thread that holds the whole mess together," says the Atlanta-based composer and percussionist. "I love the clash of colors and opposing patterns. That's where the music comes alive."

On his solo CD, The Beat and The Buzz, he works the difference between electronic and acoustic music styles. Electrobeat buzzes clash with soulful hand drumming. An urban funk groove explodes into a hoedown of jaw harp and handclaps. Tuvan throat singing provides a sound bed for a flowering samba ensemble featuring the pig-like grunting of the Brazilian Cuica. This could be the loops of sample-hungry turntable collagists and laptop-toting poindexters. But it's not. One of the important qualities of Klimchak's music is that he plays it all himself. "I don't have anything against buying and using samples and loops of other people's music. For what I'm doing it's easier and quicker just to record myself playing the instrument."

Of course that is easy for Klimchak to say, since he owns and plays literally hundreds of instruments. "I've been collecting sound-makers since the late 1970's. When I have some free time, I usually sit down and learn to play a new flute or percussion instrument." It could be an early electronic instrument like the sci-fi staple, the theremin or a low-tech rawhide frame drum from the Middle East. It's all grist for the sound-mill. "In the modern world of Ebay and the internet, locating exotic instruments for cheap and getting instructions on playing them is a lot easier than it used to be."

Klimchak has been working exclusively in this style since the mid-eighties. Between stints with RuPaul, Hampton, and his two bass-vocal-percussion band, Fab Area, he began working on solo works for modern dance and theater. He uses his knowledge of exotic instruments and the sounds they make to provide a live underscore theater productions. Many of his recent works have been at the Georgia Shakespeare Festival. He has written and performed scores for the plays: Othello, Henry IV, Hamlet, Tartuffe, A Midsummer Night's Dream and Cymbeline. In addition, he's done scores for Shakespeare's Coriolanus at Shakespeare Santa Cruz, a live score for No Exit at Le Neon Theater in Washington, DC (nominated for a Helen Hayes Award for best sound design), and a live score for Malinche performed at the Bovenzaal Stadsschouwburg in Amsterdam. His latest score was for the Center for Puppetry Art's version of The Ugly Duckling for which he composed taped music & live music composed for the puppeteer, using instruments Klimchak designed as part of the set. Next up is the remount of Klimchak's rock & roll musical Weather Rocks opening in January at the Puppetry Center.

Klimchak's dance work is equally important to his style. His recent work includes scores for Jane Comfort ("Three Bagatelles for the Righteous, excerpt (Election Update 2004)", performed in NYC at the Joyce Theater by Jane Comfort and Co in September) and Jawole Willa Jo Zollar of Urban Bush Women ("Are We Democracy?", performed at Emory University's Schwartz Center for the Performing Arts). He regularly composes for faculty and guest choreographers at Emory University.

myspace.com/klimchak


open improv: New Romantic

October 2, 2008
9:00PM - - -
Price: free


Theme: "The New Romantic'
...or maybe it could be the 'neuro-mantic',
shaman of the nervous system,
master of the rattled gourd, maybe the old romanticism
never left us moderns,
but for one night let's entertain a different possibility,
a different yearning.
What could be more forward/'avant'/out-there??!

come out and rattle your gourd
**********

ro·man·ti·cism
Pronunciation:
rō-ˈman-tə-ˌsi-zəm, rə-

1often capitalized a (1): a literary, artistic, and
philosophical movement originating in the 18th century,
chiefly by a reaction against neoclassicism and an emphasis
on the imagination and emotions, and marked especially in
English literature by sensibility and the use of
autobiographical material, an exaltation of the
primitive and the common man, an appreciation of
external nature, an interest in the remote,
a predilection for melancholy





regular gallery hours

October 3, 2008
3:00PM - 8:00PM
Price: free


Ruth Stanford exhibit ends

October 4, 2008
1:00PM - 6:00PM


regular gallery hours

October 4, 2008
1:00PM - 6:00PM
Price: free


regular gallery hours

October 5, 2008
1:00PM - 6:00PM
Price: free


monthly show on WREK 91.1 FM

October 5, 2008
7:00PM - 9:00PM


On the first Sunday of every month, at 7 p.m., Eyedrum does a show on WREK (91.1 FM / www.wrek.org) that features nuggets from Eyedrum's archive of live performances.




After the show airs "live", you can listen to it via WREK's 7-day archive if you forget to tune in. Here are the direct links to Sunday Special streams: lo-fi or hi-fi. These streaming links from WREK expire 7 days after the show airs on the radio.

But wait, there's more! We now have a podcast
available, for those of you who have discovered podcasting. You can also just download the whole show (right click on "download") although be forewarned that the file is over 50 MB in size. These podcast and download links will NOT expire for months to come -- download and listen!

---

Our last show! We started with the catchy jazz rawk of Mothguts, continued with Roger Ruzow and Bryan Fieldin and a couple other guys, Duet for Theremin and Lap Steel, The Vandermark 5, the Atlanta Fourth Ward Improv Ensemble and finally The Engines. In the middle of the show, Ed Hall and Colin Kelley came by to talk about the Atlanta Queer Literary Festival, happening Oct 15-19 at various places around town and concluding at Eyedrum on the 19th. Thanks for listening, and don't miss the 10-year anniversary event at Eyedrum on Saturday October 11th!


Climax Denial,Stillbirth,Peter J. Woods,Self Inf.

October 6, 2008
9:00PM - - -
Price: $5

the word "noise" has such stigma attached to it. the behavioralist model of communication defines it as anything that interrupts an attempted communicated signal between a set encoder and a decoder. when two people are talking and a dog barks in the background, the word "fat" can be misheard as "shat", for example...often leading to bizarre and wonderful misinterpretations and lending to a whole world of seemingly irresponsible rhetoric.

to some, noise music is the "new punk rock", in place to act in rebellion against the tired conventions of contemporary music.

and yet to others, it can be a cleansing element, something to help clear your head after hearing so much bullsh*t rock and roll that you just think you might implode after hearing just one more note....

This night at eyedrum, there will be some noise, rest assured gentle reader...Climax Denial, Stillbirth,Peter J. Woods (all 3 touring bands), Self Inflict and a special appearance by Sublimichop....do you need links, mp3, descriptions? look em up if so inclined, go ahead, but in the end, your sh*tty computer speakers will not do justice to what a full-on wall assault of sonic brutality will do to you in a live setting...

yes, atlanta is a very rock and roll town. all well and good, though so much else drizzles through the cracks, forever chalked up to fringe abnormalities in the broader mainstream cross section...no so good...like tim burton's joker said, "this town needs an enema!" and it starts with all of the delicious bouts of belligerant racket mustered in these echoey chambers...

so come cleanse your pallete, get your ears cleared out, open your body and mind to wanton aural mayham and thank your lucky f*ckin' stars that you don't HAVE to listen only to the sounds of rock and roll if you don't want to.

it will be fun...and it's cheap, too!



Small Gallery closing reception

October 8, 2008
6:00PM - 8:00PM
Price: Free

Closing reception for Jonathan Bouknight

NO REGULAR GALLERY HOURS today

October 10, 2008
12:00PM - 12:00PM

no regular gallery hours today -- we're getting ready for Eyedrum's 10th Anniversary part tomorrow!

NO REGULAR GALLERY HOURS today

October 11, 2008
12:00PM - 12:00PM
Price: free

no regular gallery hours today---it's time for Eyedrum's 10th Anniversary!

a 10 year affair: eyedrum anniversary bash!

October 11, 2008
8:00PM - 12:00AM
Price: $10

Eyedrum Celebrates 'A 10 Year Affair' on Oct. 11
Atlanta's longest-running all-volunteer nonprofit venue looks toward the future


ATLANTA — Eyedrum will celebrate its 10-year anniversary on Saturday, Oct. 11, with "A 10 Year Affair," featuring a cast of more than 30 musicians, performing artists, and a host of programming surprises. The night includes the first Eyedrum Awards presentation, and bands Judi Chicago, the Hotels, and No Face. The gallery will also debut the documentary "Eyedrum: The 10 Year Affair" commemorative DVD. In just 10 years, the organization has grown beyond its eight-member founding group and its storefront space on Trinity Avenue to a board of more than 20 members and a 6,000-square-feet space on Martin
Luther King Jr. Drive. There, the all-volunteer group built-out three gallery spaces and a performance space that features a professional-quality sound system with multi-track recording capability. The Eyedrum music archive, the gallery's greatest asset next to the people involved, features over 1,000 shows recorded live over the past 10 years.

Eyedrum has a lot to celebrate: a 10-year run as a Best of Atlanta winner in both music and art categories (Creative Loafing), and securing a $30,000 Warhol Foundation curatorial grant in 2006, all while operating debt-free for 10 years. "Eyedrum has grown to be cultural think tank. It's an arts incubator, as many new projects are born from the space in the form of new arts collectives, small businesses, bands, and new arts venues. This party is to celebrate the collective efforts of the community and to welcome the next generation," said Board President Nisa Asokan.

While the goal is to have fun at the anniversary bash, proceeds from ticket, DVD and limited-edition memorabilia sales will be an important part of the evening. "Eyedrum has been providing a stage for new bands, walls for emerging artists, and next year a classroom for the life-long learner, without a single employee, ever. Your support goes entirely into keeping our mission alive and lights on," said Alyson Laura, Co-Chair of the Arts Committee.

The awards program, "The Eddies," aims to recognize Atlanta's deserving but unheralded artists and venues. It is Eyedrum's first-ever awards program. The categories are lighthearted, but have the important goal of shining a light on contributors to Atlanta's arts community. WHAT: "A 10 Year Affair," Eyedrum's 10th anniversary party, with performances by Judi Chicago, No Face, Hotels, Matthew Proctor, DJs_Zano and Chris Daresta, sound installations, public art, and a large crew of performance artists.

WHEN: Saturday, Oct. 11, 2008, 8 p.m.-late

PRICE: $10 for non-members; members asked to make a donation. Friend-level memberships will be available for $25, a $10 discount.



Tickets available in advance through Criminal Records, Decatur CD, Ella Guru or online at here. Also you can charge by phone at 1-877-725-8849.

WHERE: Eyedrum, 290 MLK Drive, Suite 8, Atlanta 30312

| | | |
| --- | --- | --- |
| NO GALLERY HOURS today | | October 12, 2008 |
Please join us Saturday, October 18, from 7-11PM for the opening receptions of Psychic Fare in Gallery 1 and Crop Circles & Sacred Geometry in Gallery 2, as well as a Small Gallery opening.

Art Committee meeting

October 14, 2008
7:30PM - 9:00PM


Bob Drake Cabinet of Curiosities, Ascended Masters

October 14, 2008
9:00PM - - -
Price: $7



Bob Drake's Cabinet of Curiosities

Bob Drake has been making strange sounds since he was a kid in the 60s and 70s. His website details portable tape deck recordings "featuring a lot of arrhythmic drumming and shrieking," which is oddly close to how someone might describe his relentlessly creative 2002 solo disc, Skull Mailbox (and Other Horrors) and this year's 13 Songs & A Thing. 

Drake lived in Denver, Colorado for most of the 1980's, working as a sound engineer on low budget horror movies, performing with many of that city's experimental rock bands ("innumerable"), and forming a the first version of out-rockers Thinking Plague. He relocated to Los Angeles at the close of the '80's, and worked as a recording engineer on stuff ranging from Ice Cube's AmeriKKKa's Most Wanted to a Charo album. And, while a daily regiment of knobs and "vibe" worthy of the Mixerman saga might turn your everyday engineer into California mush, it seemed only to have been a catalyst for Drake's artistic development – in addition to providing him access to the best studios in the world to record his own music.

Despite a 1994 self-pressed solo album, Drake made his biggest splash as a member of the avant-prog outfit 5uus, via 1994's Hunger's Teeth. For many prog diehards, their brand of complex, aggressive music was a godsend in an era before bands like Ruins and the army of post-rockers gave the sound a good name in hip circles. Throughout the '90's, Drake's music with 5uus, Thinking Plague and other projects like the Science Group (with Chris Cutler and Fred Frith) provided sustenance for a legion of Internet-informed prog fans, but his solo records revealed still another wrinkle. Where many experimental musicians are damned for emphasizing "elitist" tendencies, Drake's music is inviting, and not easily associated with any particular style of music (unless avant-hillbilly is a genre).

myspace.com/bobdrakebob




Ascended Masters

Ascended Masters assembled in early 2008 in the halls of the Georgia State University School of Music around a shared love for 70's progressive rock and fusion. The various members' interests in other music such as jazz, shoegaze, pop, metal, bossa nova, and romantic and contemporary classical help to add new shades and colors to the group's core sound. Ascended Masters are currently working on their first album, a 45-minute continuous piece of music consisting of three movements which are subdivided into three subsections each. Aside from this, composers/band leaders Bill Graham and Micah Martin have already theorized and written multiple other albums worth of music and hope to be playing some local shows in the near future.

myspace.com/ascendedmastersga


| | | |
| --- | --- | --- |
| art installation | | October 14, 2008 |

Film Love: Nathaniel Dorsky

October 15, 2008
8:00PM - - -

Frequent Small Meals and Atlanta Celebrates Photography present

Film Love #61
SONGS OF DEVOTION: Films by Nathaniel Dorsky

"a collection of fleeting images so beautiful you want to take them home and live with them"
- the New York Times

"Old School doesn't describe it...[Dorsky's] world is a sublime mystery measured by patience and unmatched visual insight" - Film Comment

Part two of FILM AND SPIRIT, the Atlanta Celebrates Photography 2008 film series



Nathaniel Dorsky's Alaya

Since the early 1960s, Nathaniel Dorsky has been one of the great practitioners of meditative cinema. Projected at the non-standard rate of eighteen frames per second (which he refers to as "sacred speed"), Dorsky's films are an explicit invitation to increase our awareness of moment-to-moment existence and experience a sense of reverence for the visual world.

Alaya is an exquisitely photographed film on the beauty of sand, in which grains of sand and the grain of different film stocks merge into a unique visual texture. Triste and Variations continue Dorsky's intense engagement with the images of everyday life, skillfully edited to highlight their interrelatedness, and by extension our own.

Program:
Alaya (1987), 28 minutes, 18fps, color/silent
Triste (1996), 19 minutes, 18fps, color/silent
Variations (1998), 24 minutes, 18fps, color/silent
program subject to change



Nathaniel Dorsky's Variations

SONGS OF DEVOTION is a Film Love event. The Film Love series provides access to rare but important films, and seeks to increase awareness of the rich history of experimental and avant-garde film. The series is curated and hosted by Andy Ditzler for Frequent Small Meals. Film Love was voted Best Film Series in Atlanta by the critics of Creative Loafing in 2006.

| | | |
| --- | --- | --- |
| art installation | | October 15, 2008 |

| | | |
| --- | --- | --- |
| art installation | | October 16, 2008 |

| | | |
| --- | --- | --- |
| NO GALLERY HOURS today | | October 17, 2008 |
Please join us Saturday, October 18, from 7-11PM for the opening receptions of Psychic Fare in Gallery 1 and Crop Circles & Sacred Geometry in Gallery 2, as well as a Small Gallery opening.

| | | |
| --- | --- | --- |
| art installation | | October 17, 2008 |

Small Gallery opening: Art of Democracy

October 18, 2008
6:00PM - 9:00PM
Price: free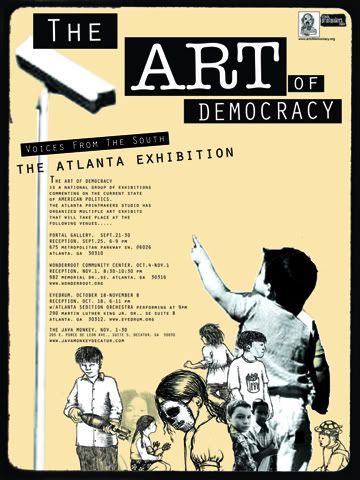 The ART OF DEMOCRACY is a national group of exhibitions commenting on the current state of American politics. In addition to the exhibit at Eyedrum, the Atlanta Printmakers Studio has organized multiple shows that will take place at other venues around Atlanta.

Click here for more information about these and other national Art of Democracy events.

but more importantly, come to this one! because we're going to have ATLANTA SEDITION ORCHESTRA and I WANT WHISKEY performing, starting at 9PM! yes!

curated by joe tsambiras and jonathan fisher

Appearing in Eyedrum's Small Gallery from October 18th to November 8th

UPDATE: click here for photos of opening


Opening:Crop Circles, Cosmograms, Psychogeography

October 18, 2008
7:00PM - 11:00PM
Price: free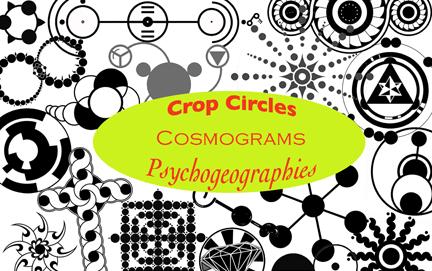 Curtis Ames, Nigel Ayers, Nicholas O'neal Blume,
Sean Beeching, Brother Boko, Marc Brotherton,
Caroline Bullock-Lambert, Anne Cox, Ed Hall,
Vandorn Hinnant, Brian Hitselberger, Karen Hennessee, Jennifer Kornder, Daniel Osborne, Katy Malone, Fehta Murghana,Tom Zarilli, David Lynch, Roxanne Lowery


Also:
Music by Duet for Theremin and Lap Steel

| | | |
| --- | --- | --- |
| NO REGULAR GALLERY HOURS today | | October 18, 2008 |
Please join us tonight from 7-11PM for the opening receptions of Psychic Fare in Gallery 1 and Crop Circles & Sacred Geometry in Gallery 2, as well as a Small Gallery opening.

regular gallery hours

October 19, 2008
1:00PM - 6:00PM
Price: free


Atlanta Queer Literary Festival

October 19, 2008
8:00PM - 10:00PM
Price: free



Atlanta Queer Literary Festival's closing night featuring emcee Theresa Davis.

Featuring music by:
Anye Elite
Andy Ditzler
Ken J.
Melanie Hammet
Sonia Tetlow
Robert W. Cabell

www.atlqueerlitfest.com

8—10 p.m. Oct. 19 at Eyedrum. Free. 290 Martin Luther King Jr. Drive, Atlanta, Georgia 30312. 404-522-0655

GROUND NOISE AND STATIC

October 20, 2008
9:00PM - 10:00PM
Price: FREE

GROUND STATIC AND NOISE: FREE SPEECH UNDER ATTACK AT THE RNC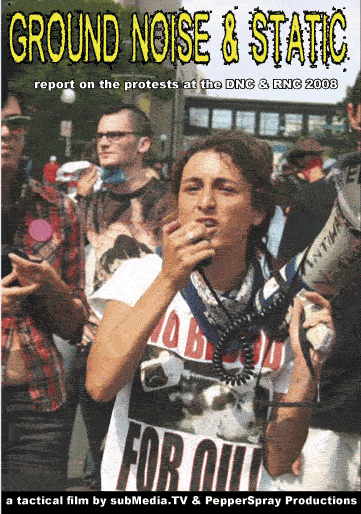 A community reportback on protests, police and arrested journalists at the Republican National Convention in Minneapolis/St. Paul

Featuring on-the-scene video coverage of protests and arrests from PepperSpray Productions (Seattle) and Submedia (Vancouver).

When PepperSpray reporters ran into Cindy Sheehan outside the Democratic National Convention they asked for her prediction of what will happen in November. Cindy said "One of the corporate candidates will win, and the question then, as always, will be what will the people do, not what will the politicians do."

It was exactly for this reason that Seattle's PepperSpray collective sent 2 reporters to the democratic and republican national conventions, not to gain access to the convention floors, but to cover the movement in the streets. We weren't there to document either party, nor the crimes they have committed. The list is so long and the crimes so bad even corporate media has been reporting that for some time now. What corporate media overlooks is the story hidden in plain sight, of the movement, larger, more diverse, and more creative than anything happening inside the conventions. The corporate media would ignore, sensationalize, or insult those gathered in the streets, but indymedia was there to cover the action, and to find out what motivates the movement and to give both strategic and tactical reports of the battle for the future of humanity. Meanwhile the two major parties spent millions on riot gear and more millions to buy "demonstration insurance" that would cover the lawsuits police might incur while doing whatever it took to keep the people down. Apparently in modern America the Bill of Rights applies unless somebody gives the cops insurance money.

PepperSpray reporters went bravely into the melee, collaborating
with Vancouver's Franklin Lopez to issue a daily video report from the streets. Both PepperSpray reporters were arrested, as were so many other media workers, but now they are back, with a terabyte of video clips. Continuing the collaboration with Submedia's Franklin Lopez, we have prepared a report-back from what Republican nominee McCain dismissed as the "Ground-noise and static."

**ALSO!!!**

Gary Cameron from Atlanta Indymedia joins us to share his personal experience as a member of the independent media at the Republican National Convention, as well as additional footage he shot. This includes St. Paul Collage - speakers, interviews, street theater, marches to the Xcel Center, police presence, and more.

Joeff Davis from Creative Loafing will be showing slides from his coverage of the conventions, from inside the conventions centers to the protests in the streets.

AND, as a tasty little bonus, Gary will be showing footage from FTA in Miami in 2002, which shows CNN's glossed over coverage of the event, along with his own footage showing the protest presence and police response as it actually happened...yeah, it has nothing to do with the conventions BUT it's always nice to have a reminder of how easy it is to be misinformed by a misinformed media...as always, if you wanna know, you gotta go.

submedia.tv
peppersprayproductions.org
atlanta.indymedia.org
joeff.com


Film Love: Forest of Bliss

October 22, 2008
8:00PM - - -

Frequent Small Meals and Atlanta Celebrates Photography present

Film Love #62
Forest of Bliss

Part three of FILM AND SPIRIT, the Atlanta Celebrates Photography 2008 film series



from Robert Gardner'sForest of Bliss

Varanasi, India. City of Light, home of Lord Shiva, the Forest of Bliss. Situated on the sacred Ganges River, Varanasi is the site of a daily drama of ritual and devotion: Hindus from all over the country make pilgrimages to worship in the city's temples; devotees bathe in the sacred waters; and the sick and aged make their last journey here so they may die in this holiest of places. Yet all around, life goes on as normal. In Forest of Bliss, the legendary filmmaker Robert Gardner captures the human drama and daily life of a place like no other on earth. Both personal and universal, the film is as stunning for its sound design as its extraordinary imagery. Accompanied by Jonathan Schwartz's Den of Tigers, a short film which invites us to observe the sights and sounds of West Bengal through the eyes of a visitor.

Program:
Robert Gardner, Forest of Bliss (1986), 90 minutes, 16mm, color/sound
Jonathan Schwartz, Den of Tigers (2002), 18 minutes, 16mm, color/sound



Varanasi seen from the Ganges River, in Forest of Bliss

FOREST OF BLISS is a Film Love event. The Film Love series provides access to rare but important films, and seeks to increase awareness of the rich history of experimental and avant-garde film. The series is curated and hosted by Andy Ditzler for Frequent Small Meals. Film Love was voted Best Film Series in Atlanta by the critics of Creative Loafing in 2006.

Ominous Castle,The Balkans,Beerhunter& Plaque Lips

October 23, 2008
9:00PM - - -
Price: $7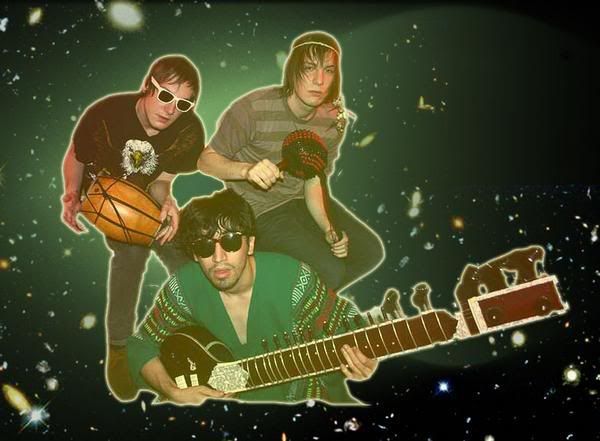 Ominous Castle! So Freaking Ominous young Atlanta rock n' roll crazy party times!

and the BALKANS!! yes!!!

PLUS, HOLY SHIT!
the WORLD FAMOUS!

Beerhunter & The Plaque Lips!!


regular gallery hours

October 24, 2008
3:00PM - 8:00PM
Price: free


Baby Dee w/Arianna-Found Objects of Desire

October 24, 2008
9:00PM - - -
Price: 10



Baby Dee

Performance artist, songwriter, classically trained harpist, circus sideshow veteran, and transgender street legend Baby Dee was born in 1953 in Cleveland, OH. She spent ten years as music director and organist for a Catholic church in the Bronx before joining the circus as the bilateral hermaphrodite at Coney Island. This landed her a gig as the bandleader for performance art group the Bindlestiff Family Circus and a tour with the Kamikaze Freak Show in Europe. After moving back to New York City, she became a fixture in lower Manhattan with a street act on a high-rise tricycle with a concert harp. She recorded her first record, Little Window, on the Durtro label in 2000, a four-track EP in 2001, and her second full-length, the double-disc Love's Small Song, in 2002. Dee returned to Ohio during the latter record's recording, taking vows as a novitiate of the Little Sisters of Crabby Doom (a Cleveland-based order dedicated to the care of smelly old men), vows that she has since forsaken. For her third full-length recording, Dee recruited a typically eclectic army of fellow musicians, including Will Oldham, Andrew W.K., Robbie Lee, Max Moston (Antony and the Johnsons), Bill Breeze (Psychic TV), John Contreras (Current 93), James Lo (Chavez), and Lia Kessel. The resulting Safe Inside the Day arrived in January 2008 on Drag City Records.

"A SHORT AUTOBIOGRAPHICAL SOMETHING WRITTEN ON THE OCCASION OF THE
COMPLETION OF THE ALBUM SAFE INSIDE THE DAY FOR DRAG CITY.
I was born in Cleveland Ohio. This album is very much about the street I grew up
on. Where The Earlie King ruled without mercy. And Bobby Slot and Freddy Weiss
invented the Dance of Diminishing Possibilities.
I left for New York in 1972 and eventually became a musician. I was good at the
sacred and I was good at the profane but I could never get the hang of anything
in between and I went from the street to the church to the street again and then
I stopped.
I found myself back in Cleveland and began to write songs.
And then I stopped writing songs. I thought I had said everything I had to say and
there was nothing left to say so I simply stopped.
And then I remembered Bobby Slot and Freddy Weiss and my own father and all
the little ghosts that lived with us and I realized that there was something left to
say after all.
The inside is bigger than the outside, more important, and less destructible.
" Many mansions" and all that.
Kingdom of god.
I love everybody"
— Dee

www.babydee.org
allmusic guide
brainwashed
myspace.com/theonlybabydee
queenmother




Arianna-Found Objects of Desire

Arianna Sykes, originally from NC, played mostly keyboard-driven music in parks and produced experimental/ritual theatre in the late 1990's. Upon buying a Kay acoustic/electric guitar and moving to Atlanta, she performed as Teravioles with vocalist Adeeba Lodhi from 2000-2003, and solo with bands assembled on the spot after that. Her current "Found Objects of Desire" are earthy, watery, bluesy, and percussive open story songs, with multi-instrumentalist/producer Melissa Lonely, cellist Becca B, and varying local musicians. Bring your sailors, sirens, masks, and percussion to play along.

regular gallery hours

October 25, 2008
1:00PM - 6:00PM
Price: free


regular gallery hours

October 26, 2008
1:00PM - 6:00PM
Price: free


Aunt Dracula, Johnny Buffalo, Carnivores

October 27, 2008
9:00PM - - -



Aunt Dracula

sort of fucked up hazy uber-melodic pop caught in a tropical cyclone...read what others are saying...and check this band out. pretty, wonderful, outrageous...

"Operatic, comic book-esque, story-based songwriting, featuring oddball characters, scale-sliding vocal arrangements and schizophrenic tempo changes...the band incorporates a strange "tropical" vibe, one that makes the song sound like it belongs on the soundtrack to some perverted, campy horror flick set on an uncharted island." -- The Walrus Blog

"Shoegazers in a sewer tunnel, Philly noiseboys Aunt Dracula sing in itinerant voices that wander from unhinged hollers to demented croons. On their debut album, Face Peel, echoing guitars creep up in a sickly cloud that clings like a sweet hot fart and wilt out of tune in the middle of their own phrases" -- The Chicago Reader

"Aunt Dracula crosses frenetic, goofy, and intense vocals (think xiu xiu) with spacey effects and wild but tight instrumentation." -- The Baltimore Examiner

"...I'm not entirely sure Aunt Dracula are definable. Whatever they are, they're a far leap away from the post-punk bands that immediately spring to mind. With more and more creative indie types coming out of Northern America and Canada, it's getting harder to mold modern influences into something new, but Aunt Dracula do it with style." -- Drunkenwerewolf

"With a sound that conjures up a way-too-stoned evening on an almost-tropical beach, quirky psych-rock band Aunt Dracula probably feel more at home here in Miami than in their hometown of Philly." -- Flavorpill Miami

"Fortunately, Aunt Dracula rise above the norm, and not the undead, and have a sound not unlike what a vampire would feel like locked in a closet full of blood and garlic" -- Blackbook Magazine, San Fransisco

Aunt Dracula will be supported by local bizarro crooners Johnny Buffalo and quirky rocksters Carnivores.

This will be a fun show.

www.myspace.com/auntdracula
www.myspace.com/thejohnnybuffalo
www.myspace.com/carnivoresatl

Film meet up

October 29, 2008
8:00PM - - -

Film Industry Local Meetup - Atlanta
FILMAtlanta

"We make films. We have individual projects and FILMAtlanta group projects. We network to build crews and casts to get projects done. We have a set of scripts we plan to do this year. We hope you will join us in collaborating on films in the Atlanta area.

Check our MessageBoard for opportunities, and post there when you need someone for a project. There is a lot of talent in the group. We Make Films!"

More info at http://filmind.meetup.com/33/ ...

regular gallery hours

October 31, 2008
3:00PM - 8:00PM
Price: free


Krewe of the Grateful Gluttons' Halloween Ball!!

October 31, 2008
8:00PM - 2:00AM
Price: $10, or your everlasting soul.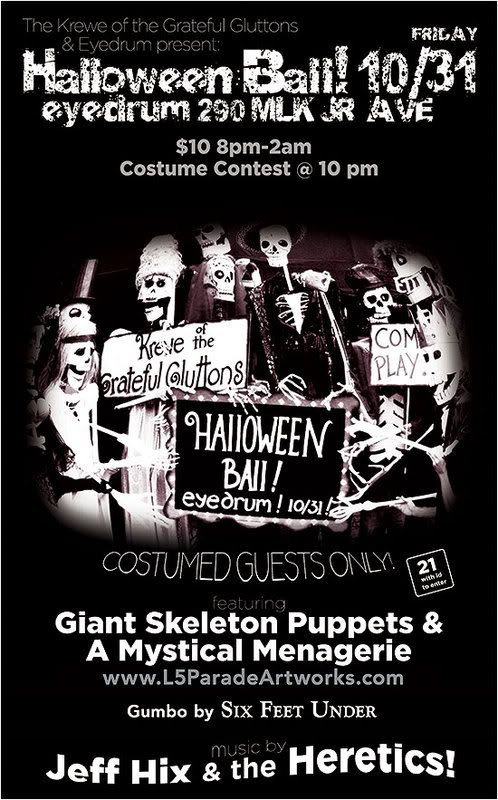 Hosted by The Krewe of the Grateful Gluttons and
Featuring the Giant Skeleton Puppets and Mystical Menagerie created by L5ParadeArtworks!
Jeff Hix and the Heretics!
Costume Contest at 10!
Categories for People and Puppets!!!
Celebrity Judges! Eyedrum and Krewe crafted trophies!

Come play Halloween with us! www.L5paradeArtworks.com


all art music film literature special


| | | | | | | |
| --- | --- | --- | --- | --- | --- | --- |
| Sun | Mon | Tue | Wed | Thur | Fri | Sat |
| | | | 1 | 2 | 3 | 4 |
| 5 | 6 | 7 | 8 | 9 | 10 | 11 |
| 12 | 13 | 14 | 15 | 16 | 17 | 18 |
| 19 | 20 | 21 | 22 | 23 | 24 | 25 |
| 26 | 27 | 28 | 29 | 30 | 31 | |