First Thursday Open Improv

September 3, 2009
9:00PM - - -
Price: free

---

Eyedrum's long-running Open Improv night occurs on the first Thursday of every month -- our monthly gathering for instrumentalists and improvisers of all stripes. Bring your instrument! Hosted by the indefatigable Robert Cheatham.

WPBA 30, Atlanta's PBS station, did a bit about Eyedrum's Improv Night a couple years ago for their "This Is Atlanta" show. Click for their description and the video itself (Windows Media, 2m40s).



regular gallery hours

September 4, 2009
3:00PM - 8:00PM
Price: free


Small Gallery show ends

September 5, 2009
1:00PM - 6:00PM


regular gallery hours

September 5, 2009
1:00PM - 6:00PM
Price: free


Film Love: Roger Beebe

September 5, 2009
8:00PM - - -
Price: $6

Film Love presents
ROGER BEEBE IN PERSON
FILMS FOR ONE TO EIGHT PROJECTORS



Images from Roger Beebe's eight-projector piece Last Light of a Dying Star

Florida filmmaker Roger Beebe has shown work in such unlikely venues as McMurdo Station in Antarctica and the CBS Jumbotron in Times Square – as well as the Museum of Modern Art, Sundance Film Festival, and many other traditional spaces. Returning to Eyedrum after an acclaimed 2005 appearance, Beebe presents an evening of short films which use multiple simultaneously running projectors to immerse the audience in imagery. These works draw on the long tradition of multi-screen cinema, from Abel Gance's Napoléon to the "expanded cinema" of Andy Warhol's Exploding Plastic Inevitable.

Among other films, Beebe will present a retooled two-projector version of his well-known Strip Mall Trilogy; Money Changes Everything, an elaborate three-projector meditation on Las Vegas; and the eight-projector magnum opus Last Light of a Dying Star. Made and projected in a variety of formats (video, 16mm, and super-8mm), the films combine found footage and Beebe's own striking imagery of American landscapes, seen through the prism of technological change. But they also exist as "performance films" – since as Mr. Beebe says, "they can only be screened with [the filmmaker] actually running the projectors – and running from projector to projector."

As part of its ongoing series of visiting artists, Film Love is proud to host Roger Beebe, whose engaging in-person appearances often result in lively post-screening discussions.

PROGRAM
The program will include the following works, plus selections to be chosen. Notes on the films below were written by Roger Beebe.

Last Light of a Dying Star (2008, 4 X 16mm, 3 X video, 1 X super-8mm, 30 minutes)
Originally made for an installation/performance in a planetarium at the Museum of Arts and Sciences in Macon, GA, the film attempts to recapture some of the excitement of the early days of space exploration and the utopian aspirations of expanded cinema. Made as an orchestration of a number of different elements, made and found: handmade cameraless film loops by Beebe and Jodie Mack; striking sequences of digital stills by Cassandra C. Jones; 16mm educational films about eclipses, asteroids, comets, and meteorites; and a super-8 print of an East German animated film.

Money Changes Everything (2009, 3 X 16mm, 5 minutes)
Three days in Las Vegas, Nevada, and three different versions of the discarded past and the constantly renewed future. A three-part portrait of a town in transformation: a suburban utopia in the desert, a cancerous sprawl of unplanned development, a destination for suicides.

TB TX Dance (2006, 2 X 16mm, 3 minutes)
A cameraless film made on a black & white laser printer with an optical soundtrack made of dots of varying sizes provides the backdrop for revisiting Toni Basil's appearance in Bruce Conner's 1966 film Breakaway. Commissioned as part of Mike Plante's Lunchfilm series, where filmmakers are asked to make films for less than the price of the lunch they've just been treated to. (This film's budget was $32.37 worth of pulled pork sandwiches and peach cobbler.)

The Strip Mall Trilogy (2001, 1 X super-8mm, 1 X video, 9 minutes)
A look straight into the heart of the most postmodern of architectural forms, the strip mall, shot in a mile-long parking lot that could be Anywhere, USA.

ROGER BEEBE is a professor of Film and Media Studies at the University of Florida. He has screened in many venues around the United States, winning numerous awards and grants, including Best Experimental Film at the 2006 Chicago Underground Film Festival. In addition to his work as a filmmaker, he ran Flicker, a festival of small gauge film in Chapel Hill, NC, from 1997-2000 and is currently artistic director of FLEX, the Florida Experimental Film Festival. He owns Video Rodeo, an independent video store in Gainesville, FL.

ROGER BEEBE IN PERSON is a Film Love event. The Film Love series provides access to rare but important films, and seeks to increase awareness of the rich history of experimental and avant-garde film. The series is curated and hosted by Andy Ditzler for Frequent Small Meals. Film Love was voted Best Film Series in Atlanta by the critics of Creative Loafing in 2006.

regular gallery hours

September 6, 2009
1:00PM - 6:00PM
Price: free


Le Sexoflex Dragon*Con after-party

September 6, 2009
10:00PM - - -
Price: $5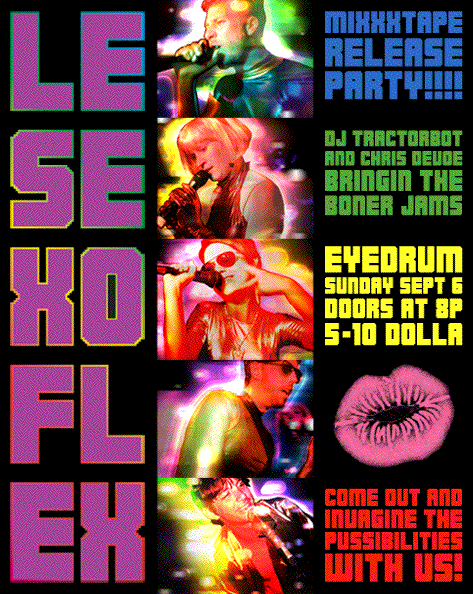 Dragon*Con after-party

with Le Sexoflex
www.myspace.com/lesexoflex

Mixxxtape release party!

DJ Tractorbot and Chris Devoe

doors at 8pm
5-10 dollars




Jack Rose + Magic Apron + Pony Bones

September 8, 2009
9:00PM - - -
Price: TBA



Since 2001 Jack Rose has pursued his own path in the solo acoustic guitar genre as invented by John Fahey. Like Fahey, Rose draws his inspiration from early rural American musicians like Charley Patton, Skip James and Blind Blake. In addition to those influences he gleans inspiration from Robbie Basho, Ry Cooder, Zia M. Dagar, La Monte Young, Terry Riley.

From 1995-2006 Rose was a member of the legendary drone / noise / folk group Pelt. Pelt—along with Tower Recordings, UN, Charalambides—was one of the early groups who forged a new sound that combined free improv, drone, traditional folk music in the early to mid nineties, later coined "weird new america" by The Wire's David Keenan in the early oughts.



Christabel and The Jons

September 10, 2009
8:30PM - - -
Price: $5.00



Christabel & the Jons are currently on tour promoting their new CD "Custom Made for You". This album beautifully illustrates their growth from a folky, honky-tonk band to an old-time swing band. The group saunters and sways together with ease. Their music blends multiple musical styles from gypsy jazz to country blues. Lead singer Christa DeCicco enchants audiences with her expressive lyrical style and laid back, sultry stage performance. Old suitcases and dressy vintage costumes from the 1920s-1950s give the performance a torch singer, speakeasy feel. They can often be found in thrift stores as they travel from town to town, hunting for clip-on ties and cocktail dresses.

CB&J has been performing their distinctive style of folky swing since the spring of 2005. They released their first full-length album, "Love and Circumstances" in November of 2006. Their second and most recent album, "Custom Made For You," was released on December 12th, 2008.

In addition to headlining many shows, Christabel and the Jons has also performed at numerous festivals in the US including Bonnaroo, Riverbend, Bele Chere, Blue Plum Festival, Shakori Hills Festival, Bristol Rhythm and Roots Reunion, and Sundown in the City. They've also opened for many national acts including The Brazilian Girls, The Be Good Tanyas, The Red Stick Ramblers, and Loudon Wainwright.

www.myspace.com/christabelmusic


regular gallery hours

September 11, 2009
3:00PM - 8:00PM
Price: free


Rock night at Eyedrum

September 11, 2009
9:00PM - - -
Price: $7


regular gallery hours

September 12, 2009
1:00PM - 6:00PM
Price: free


small gallery: Christian Bradley West

September 12, 2009
6:30PM - 8:00PM
Price: Free.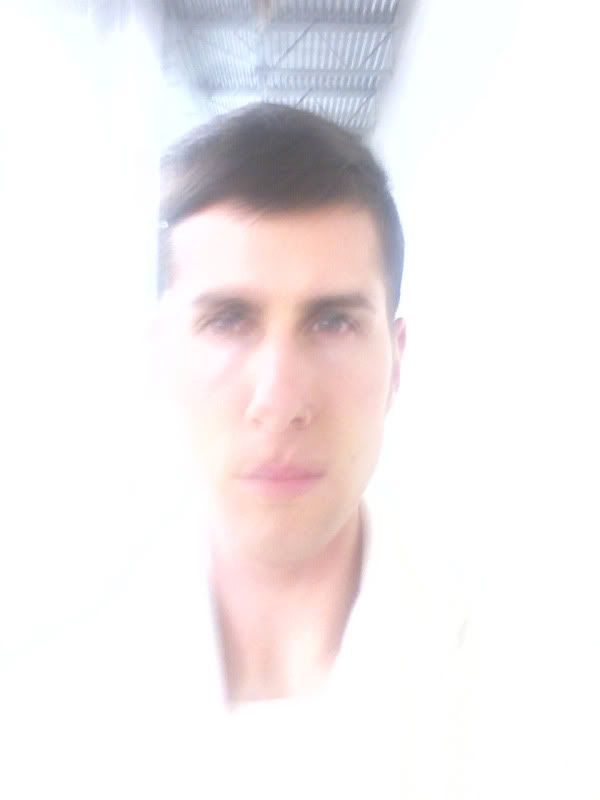 in our small gallery:

Christian Bradley West

CellphPortrait

I began taking self-portraits about 10 years ago using my film camera. It was primarily out of necessity instead of some self obsession. I love taking portraits and there were times when there was no one to photograph except myself. This then morphed into a new animal when I acquired my first digital camera in 2005. I continued to use film as I do with all of my fine art but that year I descended into the real world where the loss of my innocence was a daily occurrence and my ability to cope with the constant changes of my life was next to unbearable at certain moments. In those moments I picked up my digital camera and began to photograph. Less than a year later the camera broke and I was still processing a lot of heavy information and I discovered that photographing was and has always been a way for me to understand myself and my world. So I picked up the next digital camera I had: the one on my phone. I never considered this exploration of my layers as produced in cell phone imagery to ever make its way anywhere beyond my computer. As I continued to photograph I realized that I had something that was unique. The photographs I was taking were different than a regular digital camera and very different than my film work considering all my film work is black and white and generally printed in a turn of the century process. It is overall a much looser method. No processing other than a download. I have left each photo as it is and was photographed in the moment it happened.

This show is in conjunction with "What's Happening Now: A Cell Phone Photography Project" that I have coproduced with Susan Todd-Raque for Atlanta Celebrates Photography.

www.cellphportrait.com

www.christianbwest.com/cellphoneproject

opening reception Saturday September 12th 6:30pm-8pm

runs through October 10th


Shaking Ray Levi's present

September 12, 2009
9:00PM - - -
Price: $7


regular gallery hours

September 13, 2009
1:00PM - 6:00PM
Price: free


regular gallery hours

September 18, 2009
3:00PM - 8:00PM
Price: free


Georgia Students for Sustainability: Sustainamania

September 18, 2009
9:00PM - - -
Price: $8

A carbon-neutral (using solar power or renewable energy credits to negate energy use) event, part of a zero-waste concert series.  All proceeds will go to local environmental education initiatives organized by Georgia Students for Sustainability and its affiliates. Our focus is on supporting Green Peach; a convergence of Georgia youth meant help young people from our state learn more about sustainability and how to enact change in their region.

Featuring:




Big Fundamentals

The Big Fundamentals is a trio that consists of Andrei Mihailovic on guitar, James Goodhand on bass and Greg Callas on drums. They met at the University of Georgia and formed a band over their common love for jazz, classical music and Frank Zappa. They play mostly in jazz venues in Athens, as well as at house parties, and have had a few performances in Atlanta. The band says they are, "all about sustainabilty," and at least one identifies as an eco-terrorist. This is one of the best bands we've every seen so come out and hear them!




The Onset

Too often, when discussing music and particularly the creation thereof, preconceived rules not only hinder but cripple creative thought entirely. Ben Wetzelberger and Eric Guenther decided that to contrast the strict set of 'rules' we had set for themselves in their main project, progressive metal outfit From Exile, we would need another side of the coin, so to speak.
 
Onset was created to serve this purpose. The band will self-produce and release a recording in early 2010.




Vortex Park

Vortex Park was founded in 2005 when singer/songwriter, Alex Wolf, teamed up with double bassist, Justin Roberts, and began playing the Atlanta local scene. With Roberts' solid and thumping bass lines and Wolf's thoughtful lyrics and extremely eclectic writing styles, Vortex Park made an early impression on its audiences. Brad Stott and Rurik Nunan later joined, adding a dynamic rhythmic presence on percussion and a wailing and melodic violin giving Vortex Park depth and emotion that continue to attract new and diverse audiences.


regular gallery hours

September 19, 2009
1:00PM - 6:00PM
Price: free


Attention all Tunts! 'Visioneers' Public Screening

September 19, 2009
8:00PM - - -
Price: donations appreciated



Visioneers

Public Screening

www.visioneersthemovie.com
www.myspace.com/visioneersthemovie
www.imdb.com/title/tt0833557/

Attention all Tunts!

The Jeffers Corporation is the largest business in the history of mankind, and they got that way thanks to their strict philosophy of happiness through mindless productivity. But when people begin literally exploding due to unhappiness, Jeffers Corporation Level Three TUNT George Washington Winsterhammerman begins to fear that his time will come sooner rather than later.

George lives a comfortable yet completely uneventful life, and when he starts having dreams in which he's the first president of the United States, his doctor informs him that they could be signs of impending explosion. Later, as the dreams become more frequent and his co-workers continue to detonate, George is prompted to reevaluate his mundane existence.

STARRING
Zach Galifianakis, Judy Greer, Mia Maestro, James Le Gros, and Missi Pyle.




regular gallery hours

September 20, 2009
1:00PM - 6:00PM
Price: free


Liturgy, Arms and Sleepers, Living Rooms

September 20, 2009
9:00PM - - -
Price: $7

Liturgy is a spazzed out metal band featuring members of Dan Deacons large touring ensemble.

Arms and Sleepers play electronic laced post rock epic-ness.

Living Rooms plays bouncy electronic pop songs with samplers and vocals.

Grant Park Neighbors Association Dinner

September 21, 2009
6:00PM - 8:30PM


THE BOOKS, LOTUS PLAZA

September 22, 2009

Price: $13 IN ADVANCE / $15 AT THE DOOR

AT EYEDRUM* TUESDAY SEPTEMBER 22
THE BOOKS
LOTUS PLAZA
Advance Tickets $13 -$15 at the door / Doors open at 9pm / All Ages
Advance tickets available here at this link
Or at the following Outlets:
www.ticketalternative.com * Decatur CD* Fantasyland Records

With a cut-and-paste musical aesthetic, The Books, a.k.a. Nick Zammuto and Paul de Jong, didn't invent the audio collage, but they have perfected the idea of incorporating found sound into their music. Not interested in repeating snippets of sound or vocals as in hip hop, The Books use whole sections of speech, where natural pauses and repetitions create an atmosphere all their own.


FOR MORE UPDATED INFO AND NEWS ON EVENT HAPPENINGS IN THE ATL.
visit TIGHTBROS.NET



LANGUAGE HARM

September 23, 2009
8:00PM - - -
Price: $5 (free for members)


EQUAL CITIZENS OF TASTE: It's time for "Really Bad Feelings: The Return. Reference your memories(or someone else's.) Based on the now-legendary show of the same name, The Atlanta Poets Group will LIFT your spirits with their spritely & sardonic take on Repression of all stripes: emotional. political. social. cultural.sexual. scattered. smothered. crucified. dead. covered. uncovered. eaten.

so. LOOSEN neckties and corsets for an evening of blindly chasing lost objects and plumbing the lexical depths of denial, disavowal, existential lost-ness. and other states.



regular gallery hours

September 25, 2009
3:00PM - 8:00PM
Price: free


WE Design Networking Mixer/barbecue

September 25, 2009
8:00PM - 10:30PM
Price: FREE

WE Design Atlanta is hosting a Networking Mixer at Eyedrum Gallery to introduce the organization and its mission to the public.

WE Design Atlanta's aim is to support Atlanta-area nonprofit organizations via a wide range of pro bono design services.

The organization is looking for new members and volunteers to join, and invites anyone interested in learning more to come out on Sept. 25. Admission is free and refreshments live music will be provided.



regular gallery hours

September 26, 2009
1:00PM - 6:00PM
Price: free


24 hour dance party fundraiser spectacular

September 26, 2009
5:00PM - 5:00PM
Price: $5-$10



The 24 hour Eyedrum Dance-a-thon

Sat 9/26 - Sun 9/27

Bands + DJs + Dance Contests
Food + Drinks
Silent Auction
Bicycle Scavenger Hunt
+ more

$5 - $10 or buy an Eyedrum membership at the door

starts at 5pm Saturday and runs until 5pm Sunday

eyedrumdanceathon.com



regular gallery hours

September 27, 2009
1:00PM - 6:00PM
Price: free


ige*timer / colin bragg

September 27, 2009
9:00PM - - -
Price: $7.00

ige*timer: doublebass (Klaus Janek) meets hacked toys and lofi electronic (Simon Berz) from Berlin.

Drummer Simon Berz

discovered the arts of toy hacking a few years ago and found a deep interest in stretching the borders of the term of music far into the areas of sound and noise. The in-struments he uses are manipulated object, which he found on flea markets, in the trash or in nature. With the soldering iron he manipulates the objects in a way that they become music instruments and sound generators.

Doublebassplayer Klaus Janek

explored the edges of possibilities on his instrument, defining a new understanding of music for himself, building up dramaturgies and plots created with traditionalstyles of playing the doublebass as well as discovering new methodes and sounds by using traditional tools: arco and pizzicato. He doesn't use any kind of other sound manipulating props besides a machine which loops the doublebass instantly.

ige myspace


---


colin bragg: solo acoustic guitar set

Colin Bragg evokes spidery dreams on the acoustic guitar. He weaves together strands of Mali blues, the music of the kora (West African harp-lute), Egberto Gismonti's modernistic take on the traditional Brazilian choro, and a dash of dark Americana ala Blind Joe Death (e.g. John Fahey).