Chinese Coffee

September 1, 2008
8:00PM - - -
Price: $12/$10 for valid students

Chinese Coffee

a play written by Ira Lewis

directed by Dikran Tulaine

featuring Patrick Wood and Steven Westdahl

www.chinesecoffeetheplay.com

Mon August 25th 8pm (preview)
Tue August 26th 8pm
Wed August 27th 8pm
Thu August 28th 8pm
Mon September 1st 8pm
Tue September 2nd 8pm
Wed September 3rd 8pm

'Chinese Coffee' is about what every artist truly fears: A direct confrontation in mid-life with the failure of their youthful ambitions and the truth about who and what they really are & have allowed themselves to become. Two life-long 'friends' – Jake, a photographer, and Harry, a novelist – begin the play in desperation and squalor & manage to raise those stakes by dissecting the painful truth about themselves and their relationship with the darkly funny vigor of two skilled boxers beating each other to a slow death in a worn-out ring with no hope of a bell to call rest.

The script is 54 pages long, which means the show will run straight through -– no intermission -– for about 70-80 minutes. The play is set in one place -– Jake's apartment -- and takes place over the course of one evening.

'Scrabble' is a polite word game for children and adults ... This Is War.


Chinese Coffee

September 2, 2008
8:00PM - - -
Price: $15/$10 students


Chinese Coffee

September 3, 2008
8:00PM - - -
Price: $15/$10 for students


private

September 4, 2008
6:30PM - 7:30PM


open improv

September 4, 2008
9:00PM - - -
Price: free

special guest host this month:
Kevin Haller
AKA Burning Artist(s) Sale
AKA Killer Haven

regular gallery hours

September 5, 2008
3:00PM - 8:00PM
Price: free


Puppet Workshop

September 6, 2008
10:00AM - 1:00PM
Price: $10 for one/$25 for whole series



Ninja Puppet Productions and Mint Gallery present a series of workshop on the art of puppetry.

Saturday September 6th 10am-1pm
Saturday September 13th 10am-1pm
Saturday September 20th 10am-1pm

These workshops are designed to give the participates an academic and hands on overview of both the performance and building aspects of the puppet. We will be covering on several different styles of puppetry that are the basic backbone of all forms. These workshops will be broken up into a 3 session set that will take a hands on approach to some of the endless avenues that puppetry can take. Each participate will have the opportunity to create and design their own puppet in class that will evolved throughout the sessions.

Some of the topics that the workshops will cover will include:

Writing for Puppetry (visual vs verbal)
Basic building (what a puppet needs to move)
Basic Performance skills (Capturing the illusion of life)
Puppetry for Video (exploring the option of digital media)
Life of a Puppeteer (practical options for a professional puppeteer)
Putting a show together (bringing it all together and performance options in Atlanta)

Ninja Puppet Productions has been on the cutting edge of adult oriented performance art puppetry for over 7 years now. Each workshop will be hosted by Raymond Carr, Artistic Director of Ninja Puppet Productions. Raymond has been a puppeteer for over 15 years and has traveled all over the country and to Europe performing at teaching workshops. Some of Raymond's credits include: Puppeteer for Nick Jr's Lazytown, first American Puppeteer voodoo operator for BBC's Walking with Dinosaurs The Live Experience, 6 time writer director for the Center for Puppetry art's Xperimental Puppetry Theater, Writer/Director for The Center for Puppetry Art's Family Series show A Sunday Morning Puppet Show, puppeteer for Dad's Garage Puppet Slam, and Late Night Creepy Horror Theater, and Workshop leader and performer for One Way Street Inc of Denver CO.

Those who participate in the workshops will then be given the opportunity to perform their pieces at the The Ninja Puppet Extravaganza November 3-5 at Eyedrum.

For more information about the workshops or to preregister please contact us at puppetninja@gmail.com. Space is limited so sign up today!

regular gallery hours

September 6, 2008
1:00PM - 6:00PM
Price: free


regular gallery hours

September 7, 2008
1:00PM - 6:00PM
Price: free


monthly show on WREK 91.1 FM

September 7, 2008
7:00PM - 9:00PM


On the first Sunday of every month, at 7 p.m., Eyedrum does a show on WREK (91.1 FM / www.wrek.org) that features nuggets from Eyedrum's archive of live performances.




After the show airs "live", you can listen to it via WREK's 7-day archive if you forget to tune in. Here are the direct links to Sunday Special streams: lo-fi or hi-fi. These streaming links from WREK expire 7 days after the show airs on the radio.

But wait, there's more! We now have a podcast
available, for those of you who have discovered podcasting. You can also just download the whole show (right click on "download") although be forewarned that the file is over 50 MB in size. These podcast and download links will NOT expire for months to come -- download and listen!

---

In our penultimate show, we played just a few artists/bands, but long sets from each. First up was Lukas Ligeti, who is playing Oct 1st with Klimchak; his Don Buchla Marimba Lumina features prominently in his recordings and you'll get a good intro to that intrument at the upcoming show since Klimchak plays one too. Then we placed a long set by Parachutes, a large electronic/rock ensemble from Iceland, followed by an excerpt of the set by Paal Nilssen-Love and Frode Gjerstad, and finally Thank You, a band from Baltimore, wrapped up the show. Believe it or not, these three groups all played the same night at Eyedrum. Be sure to mark two dates on your calendar: on Oct 5th we'll have our last radio show, and on Oct 11th we'll have our big 10th anniversary party at Eyedrum. Ten freaking years, can you believe it?


HAWNAY TROOF (feat Vice Cooler of XbXrX)

September 7, 2008
8:00PM - - -
Price: $5


EYEDRUM Sunday September 7
HAWNAY TROOF
BATTLECAT
VERA FANG
All Ages/ 8pm /$5
Purchase advance tickets at the following outlets:
Criminal Records * Ella Guru * Decatur CD * www.ticketalternative.com
Brought to you by TIGHT BROS NETWORK

Hawnay Troof is the electronic pop solo project of Vice Cooler. Since forming in the late nineties the band has built a long list of collaborators including Soft Pink Truth, BARR, Mika Miko, Allison Wolfe, Gravy Train!!!!, and Stereo Total. The debut full length Get Up: Resolution: Love! (Retard Disco, 2003) put the band on a successful worldwide tour including its first shows in Iceland, Australia, and New Zealand.

In 2005 Hawnay Troof released the critically acclaimed Community followed by the Double LP and photobook Dollar and Deed (Retard Disco/ Southern, June 2006). The album was followed by a twenty month world tour playing such places as Egypt, United States, China, and the festival circuit in Europe. The tour ended in November 2007 with a month's worth of dates in Europe with Stereo Total.

* He is currently finished his new lp which is set for a August/ September 2008 release.

* Hawnay Troof has been invited to play such countries as Iceland, Egypt, New Zealand and Australia.

* Vice Cooler was a guest speaker at the Peaches and John Waters 2005 Christmas show at UCLA.

* His 2006- 2007 Rhinestone Suit was made by the L.A. design team Boho.

* In 2007 Henry Rollins said on his radio show, Harmony In My Head, that "I have always admired people who are all the way into their work to the point where the separation between the art and the artist disappears. Most never even get close..." when talking about Vice Cooler and Hawnay Troof.





Conncet 9, Jerkagram, Qur'anosaurus Hex

September 8, 2008
9:00PM - - -
Price: $5

CONNCET 9, JERKAGRAM, QUR'ANOSAURUS HEX The droning and mysterious ensemble Conncet 9 revels in the dark resonance of real-world sounds and textures but manipulates them to take on a much more cluttered and haunting hue than their naturally occurring order. Jerkagram is a noisy and reactionary improv/psych-rock outfit from Connecticut that bashes out aggressive and ramshackle art-rock clusters of rhythm and dirge. Qur'anosaurus Hex is a new electro-acoustic duo residing in a black castle just outside the perimeter.

CONNCET 9
http://www.myspace.com/conncet9

JERKAGRAM
http://www.myspace.com/jerkagram

QUR'ANOSAURUS HEX

awesome stuff here. featuring people youve probably never heard of



Art Committee meeting

September 9, 2008
7:30PM - 9:00PM


Cedro Denado's Athens Singles Extravaganza

September 10, 2008
9:00PM - - -
Price: $5



A whole slew of amazing one-person bands from Athens. A diverse night, from guitar/singers to fancy racketeers to happy dronesters. in an effort to create a better dialogue with our talented neighbors, eyedrum, in conjuction with Cedro Denado, is proud to present this unique showcase:

Cedro Danado: Diluvial violins, analects, scaling of stone face caterwaul, uneven thresholds, jumping over the absence of thorns, abeyance like scrub jay that created fire. Topeka IS Capital.

Necklaces: tape-player improvisational piano with minimal percussion and modified female vocals. or minimal guitar and straight up singing. or grandma's keyboard jungle dance time.

magic apron is responsible for soothing lullabies with spidery guitar work and ghostly harmonies. pretty vocals, intricate structures...a special gift for conveying secret wonders of the universe lie within.

Owlbear: singer/songwriter from georgia. new ep out titled "white white"- on tape cassette with only 30 printed so far. there is one available for each person.

badland bad boy: music for underwater welders
folk rant

better people makes black noise: black noise is a fusion between the elements of noise music and black metal...it carries the banners of nihilism and misanthropy in both the sonic aesthetic and the intended philosophy (which gives purpose to the sounds)...

dan hole pond creates beautiful textures which weave found sounds, field recordings, drones and sublime keyboard melodies. the result is a full on head trip, resulting in a rare glimpse into the infinite ... so so nice.


regular gallery hours

September 12, 2008
3:00PM - 8:00PM
Price: free


Trappers Cabin, Molotov Pipedream

September 12, 2008
9:00PM - - -
Price: $7


Puppet Workshop

September 13, 2008
10:00AM - 1:00PM
Price: $10 for one/$25 for whole series


regular gallery hours

September 13, 2008
1:00PM - 6:00PM
Price: free


| | | |
| --- | --- | --- |
| Small Gallery show ends | | September 13, 2008 |

regular gallery hours

September 14, 2008
1:00PM - 6:00PM
Price: free


Voices & Organs, Mom, Ghosts Project

September 17, 2008
9:00PM - - -
Price: $7



V O I C E S A N D O R G A N S
Writing music in the unstable climate of Sweden, recorded on Japanese machines through the English language, V & O try to bring about music balanced between warm as warmth gets and cloudy as a rainy morning on the Swedish westcoast.

The Voices and Organs project is headed by Per Lindmark. Per and friends craft sonic textures and dramatic melodies reminiscent of Sigur Ros or Müm, but more intimate and more focused on songwriting. Many of their tracks consist of several distinct parts seamlessly sewn together, as the group very consciously tells their stories sonically, melodically, and lyrically.

"We are trying to sound like (or rather give you the sensation of) those memories that you can´t describe in terms of good/bad, pleasant/unpleasant, soothing/chilling. The memories that simply fill your guts in the same ambivalent manner a new love affair that just maybe, maybe is going a little too well does. A slightly naive attempt to capture the feeling of losing the grip and still wanting to go on and on." - Per Lindmark

pitchfork review
myspace
western vinyl records




M O M
Resembling a handmade quilt, the music of Mom is filled with collected scraps of material, various patterns and meticulous crafting. The possibilities for a quilt and the music are many, but the implicit purpose is to keep one warm. Joel North and Bruce Blay play instruments and compose the music of mom. Each member contributes a variety of instruments and recording styles on their first release Little Brite. The duo shares an appreciation and fluency in guitars, drums and sampling Little Brite has a diverse sound palette comprising mostly of acoustic guitars, violin, and cello. Scattered throughout, one can find clips of music boxes, shortwave radios, tape machines, and water amongst other sounds.

The band's live show has become a growing spectacle within the last year, most often involving enchanting video projection. Clean, quiet acoustic guitars playing pretty notes fading in and out throughout the songs, allowing bits of noise, feedback and glitchy blips to build up, break down, and destroy themselves without ever getting too far away from where they started. Such live shows have shared stages with Dan Deacon, The Dodos, Lymbyc Systym, The Album Leaf, Beach House, Menomena, and others.

dallas observer article
best electronic/expiremental act 2008 (dallas observer)
myspace
western vinyl records




G H O S T S P R O J E C T
The Ghosts Project is an improvised music ensemble featuring opera singer Minka Wiltz, composer/violinist Paul Mercer (of The Changelings, Brass Knuckle Surfer, Dp3 and The Sweet Meat Love and Holy Cult,) percussionist Davis Petterson (of Dp3, Strezo, Khat and Smoking Section) and bassist and programmer Matt Mansfield (of KingRat, Piper St Sound and Dp3). It is an effort to evoke emotional atmospheres through improvisation on a wide variety of instruments. The style of music is an assimilation of the trio's performing experience, combining elements of western classical music, hindustani, various folk styles, dub and other influences. The debut recording, a live radio broadcast recorded June 30, 2006, is available for purchase, along with an EP of dub and electronic re-constructions of The Ghosts Project music entitled "Ghosts Dub," produced by Matt. Their new album, "Flaming Golden Boar" (excerpts featured above) is also soon to be available on i tunes and many other places online. Check out the tracks above!

myspace.com/theghostsproject


Radiant Kids w/Tendaberry/Small Eyez/Spree Wilson

September 18, 2008
9:00PM - - -
Price: $5


THE RADIANT KIDS

SMALL EYEZ - www.myspace.com/smalleyezopen

SPREE WILSON - www.myspace.com/spreewilsonexperience

TENDABERRY - www.myspace.com/tendaberry

A HIP-HOP/POST-PUNK/SOUL/EXPERIMENTAL EXPERIENCE

regular gallery hours

September 19, 2008
3:00PM - 8:00PM
Price: free


| | | |
| --- | --- | --- |
| Saintuary | | September 19, 2008 |

Puppet Workshop

September 20, 2008
10:00AM - 1:00PM
Price: $10 for one/$25 for whole series


regular gallery hours

September 20, 2008
1:00PM - 6:00PM
Price: free


Small Gallery opening: Jonathan Bouknight

September 20, 2008
6:00PM - 9:00PM
Price: free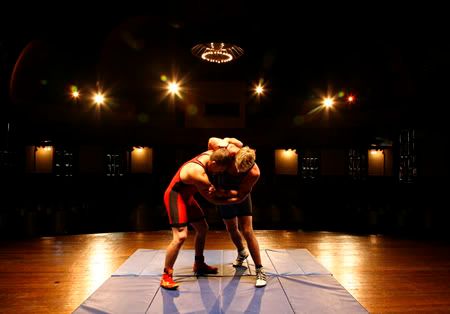 "Catch-As-Catch-Can", an installation involving a video projection of stop motion photographs, explores the allure of physical domination, the contradictions inherent to the sport of masculinity, and the rule set championed by the spectator.

Through Oct 8th


Zepubicle Pinball w/ Lazy Magnet

September 20, 2008
9:00PM - - -
Price: 7





An expanded version of Zepubicle playing musical tribute to the beloved pasttime of pinball. The Zepubicle Players present: Easy In The Water, A Pinball Fête. (A friend named Christy used to say, when tempers flared, "Easy in the water, Flipper!" She was talking about the dolphin, though it's applicable to pinball as well, and has a nice 1970's ring.)

The evening will feature graphic scores guiding the musicans through a playfield of sound inspired by the fantastic acoustic video
games known simply as "pinball." Plungers, tilts, buzzers, bumpers, and 70's style collide and recombine wildly. The performance features
the Southeastern debut of Id M Theft Able from Portland, Maine.

The players:

Colin Bragg: guitar, electronics
Killick: H'arpeggione
Marshall Marrotte: bass
Jeff McLeod: guitar, electronics
Id M Theft Able Skot: voice, etc.
with additional sounds by Kyle Dawkins

ALSO!!!

LAZY MAGNET




regular gallery hours

September 21, 2008
1:00PM - 6:00PM
Price: free


THESE ARE POWERS * COATHANGERS *JANA HUNTER

September 21, 2008
6:00PM - - -
Price: tba


EYEDRUM Sunday September 21
THE COATHANGERS
THESE ARE POWERS
JANA HUNTER
LESSER GONZALAZ ALVAREZ (carpark records) All Ages/Doors 6pm
$5 advance-$5 @ door until 7pm/$8 after

Purchase advance tickets at the following outlets:
Criminal Records * Ella Guru * Decatur CD * www.ticketalternative.com

Tight Bros Network and Triple D's have an excellent all ages show for the kids featuring experimental punks from Brooklyn, These Are Powers and local Atlanta garage rock band The Coathangers who will be headlining this grand affair at the venerable Eyedrum gallery. Also on the roster will be psych-folkster Jana Hunter who will have a full band with her at this show and Baltimore's new Carpark artist Lesser Gonzalez Alvarez will open the event beginning at 6:45pm. Tight Bros and Triple D's are fully aware that you guys need some relief at the pump so we are offering a special deal at the door with $5 admission before 7pm while the cover will then be raised to $8 there-after. So get over to Eyedrum early so you can save a three dollars! Tickets for this event are available at the following Ticket Alternative outlets: Criminal Records, Decatur CD, Ella Guru or online at www.ticketalternative.com. Also you can charge by phone at 1-877-725-8849.


FOR MORE UPDATED INFO AND NEWS ON EVENT HAPPENINGS IN THE ATL.
visit TIGHTBROS.NET

The Suite Unraveling, Pussy Pirates, Untied States

September 23, 2008
9:00PM - - -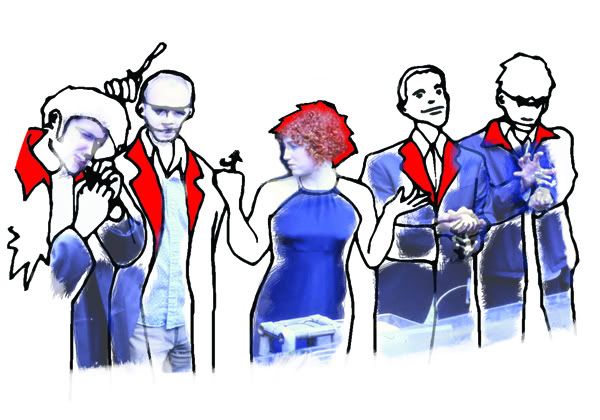 Suite Unraveling

www.myspace.com/suiteunraveling

It's Saturday night in Brooklyn. Far beyond the reach of the club scene, a crowd of tattooed artists, jazzheads, and DIY scenesters gather on the rooftop of an old factory out in Bushwick. It's the home base for the Suite Unraveling, a band that even in the wilds of this artists' neighborhood is entirely unique. Saxophones battle the driving drums, videos play across an old water tower, and fiery redhead Lily Maase shoulders her guitar and begins to play.
The Suite Unraveling is a band that doesn't quite know what to call itself, which suits Maase just fine; "let them show up at our shows and tell us what it is," she says. She's focused on her music, taking her experiences – of growing up in the Southwest, of going to art school in rural Texas, of living in the belly of the urban elephant – and folding them together into fractured, impressionistic, narrative songs.

Though Maase may write the music, the band brings it to life, and her stories takes shape through close collaboration with her bandmates—saxophonists Evan Smith and Peter Van Huffel, bassist Matt Wigton and drummer Fred Kennedy. The resulting music is lively and danceable, raw yet intimate, and leaps easily from jazz to indie rock to the avant garde without losing its own sense of style


---


The Pussy Pirates

www.myspace.com/thepussypirates

awesome gritty punk-in-spirit rock and roll with a deliciously upbeat horn section...so good and so danceable....


---


Untied States

www.myspace.com/untiedstates

epic, broody, and always fantastic ... just listen ... hard to describe, you know?


---


Bangers
www.myspace.com/lebangers

noodly yet punchy rock format, something ever so slightly familiar yet possesses that magic synergy that transcends conventional genres ... good and loud!


Indian Jewelry, Tenth To The Moon

September 24, 2008
8:00PM - 12:00AM


regular gallery hours

September 26, 2008
3:00PM - 8:00PM
Price: free


| | | |
| --- | --- | --- |
| Silver Jew Documentary Film | | September 26, 2008 |

AT THE EYEDRUM
FRIDAY SEPTEMBER 26
SILVER JEW
Atlanta documentary film debut
ALL AGES / 9pm /$5

Next Friday night (Sept. 26th) Eyedrum hosts the Atlanta premiere of Michael Tully and Matthew Robison's (We Fun: ATL Inside Out) documentary film Silver Jew. The film follows Silver Jews main man David Berman on a spiritual quest to the Western Wall (A.K.A. the Wailing Wall) in the Old City of Jerusalem to embrace his Jewish roots… And play a few shows.Doors at Eyedrum open at 9 p.m. and the film starts at 10 p.m. Admission is $5. available now at all Ticket Alternative outlets which are as follows: Criminal Records, Decatur CD, Ella Guru or online at www.ticketalternative.com. Also you can charge by phone at 1-877-725-8849.


FOR MORE UPDATED INFO AND NEWS ON EVENT HAPPENINGS IN THE ATL.
visit TIGHTBROS.NET


---

regular gallery hours

September 27, 2008
1:00PM - 6:00PM
Price: free


Bosetti, Westbrook,Kahn, Muller

September 27, 2008
9:00PM - - -
Price: $7



Alessandro Bosetti - Mask Mirror

"A few months ago I wrote a note to myself :
'Try to create a mask that that doesn't have anything to do with anything.' and kept wondering what that could mean until i started to imagine Mask/Mirror..."

"It is difficult not to treat Mask Mirror, with its randomized garble of words, as a willfully cryptic Oracle of Delphi reincarnated as an Apple laptop. While Bosetti had described the project as "about the aboutness of being about" what Noise got out all of this is that it's devilishly hard not to seek meaning even where it's clear none is forthcoming. Not until the program, in a moment of absurd hilarity, spit forth the word "hamburgers" did it all click: Mask Mirror is a tool for shearing all meaning from language. It's a liberation, of sorts, like the sound version of Rorschach tests: The mind is encouraged to wander freely and delight in words purely for their sound. In the information overload of contemporary times, Mask Mirror's playful rupturing of sense--its nonsense, in other words--is a welcome respite." Raven Baker - Noise/Citypaper

Alessandro Bosetti, composer and sound artist, was born in Milan, Italy in 1973. He works on the musicality of spoken words and unusual aspects of spoken communication and produced text-sound compositions featured in live performances, radio broadcastings and published recordings. In his work he moves on the line between sound anthropology and composition often including translation and misunderstanding in the creative process. Field research and interviews often build the basis for his abstract compositions along with electro-acoustic and acoustic collages, relational strategies,trained and untrained instrumental practices, vocal explorations and digital manipulations. Since he's curious about differences he travels. Just in 2006 he's been living and working in West Africa, China, Taiwan, Holland, Scandinavia, United States , Germany and Italy. For the future he plans to be living and working between Berlin (D), Milano (I) and Baltimore (USA).

www.melgun.net
myspace.com/alessandrobosetti  




Byron Westbrook - Corridors

Byron Westbrook is a sound/intermedia artist living in
Brooklyn, NY. His audio/video performances as CORRIDORS involve the
distribution of processed instrumental and environmental recordings
through a multi-channel environment with a focus on energy distilled
from sound and light.   He has shared bills with Sawako, Tony Conrad,
Stefan Tcherepnin, Lichens, James Blackshaw, Anette Krebs, Soft
Circle, and Mountains, among many others, and collaborated with Paris-based composer and former Kitchen curator Rhys
Chatham in the drone metal group Essentialist (Table of the Elements),
as well as performed in the ensembles of Phill Niblock, Rhys Chatham,
Glenn Branca and Jonathan Kane.

CORRIDORS is a multi-channel audio/video environment that uses video
projections, amplifiers and speakers strategically placed within a
performance space. It was originally developed as a distribution
system for improvised guitar feedback and has evolved over the last
three years into composed works using varied sound sources through the
system, which is also customized for the individual works.  The
project emphasizes how redistributed energy of sound and light in
space to alter perception.

"To call Byron Westbrook a composer of breathtakingly beautiful ambient pieces and drone works is reasonably accurate but painfully
reductive..."  
-TimeOut New York

byronwestbrook.com




Jason Kahn & Jon Mueller

Jason Kahn's work includes sound installation, performance and composition. He was born in New York in 1960, grew up in Los Angeles and relocated to Europe in 1990. He currently lives in Zürich. Kahn performs both solo and in collaborations, using percussion, analog synthesizer or computer in different combinations. He composes for electronics, acoustic instruments and environmental recordings and creates his sound installations for specific spaces. The focus of these primarily non-visual works lies in the perception of a space through sound.
 
Whether utilizing bombastic minimalism, dense interplay, or electroacoustic practices, Jon Mueller's approach focuses on a physical dialog between situation and material. He has performed/recorded with: Aranos, Keith Berry, Jarboe, Jason Kahn, Asmus Tietchens, Jack Wright, Carol Genetti, Collections of Colonies of Bees, Pele, Hal Rammel, Tetuzi Akiyama, Jim Schoenecker, Bhob Rainey, Martijn Tellinga, Glenn Kotche, Werner Moebius, Steve Nelson-Raney, Lionel Marchetti, Tatsuya Nakatani, Adam Sonderberg, Thomas Gaudynski, Tim Catlin, Rhys Chatham, Matt Turner, Achim Wollscheid, Fred Lonberg-Holm's Lightbox Orchestra, and many others.

jasonkahn.net
jonmueller.net
myspace.com/resonatingface

regular gallery hours

September 28, 2008
1:00PM - 6:00PM
Price: free


marty renee's Lucky Stray Band-Madhousers benefit

September 28, 2008
7:00PM - 11:00PM
Price: 5



Kindhuman presents
GIMMIE SHELTER
benefitting the MADHOUSERS
builders of shelter for the homeless
and EYEDRUM

Performing:
- Liquid Marble
- Steve Seaberg & Friends
- Lucky Stray
- Big City Burlesque
- We are all Nothing and Something

+ a silent art auction in the performance space
"SHELTER" featuring art from CECELIA KANE, ROSE M BARRON, SKIP WILLIAMSON, MARIE M MATTHEWS, BEN SMITH, RAHIM CARLOCK, JOHN TEMPLES, mr, FENTON THOMPSON, SAM RENNAISANCE, JONESY ... more artists tba.

www.madhousers.org


all art music film literature special


| | | | | | | |
| --- | --- | --- | --- | --- | --- | --- |
| Sun | Mon | Tue | Wed | Thur | Fri | Sat |
| | 1 | 2 | 3 | 4 | 5 | 6 |
| 7 | 8 | 9 | 10 | 11 | 12 | 13 |
| 14 | 15 | 16 | 17 | 18 | 19 | 20 |
| 21 | 22 | 23 | 24 | 25 | 26 | 27 |
| 28 | 29 | 30 | | | | |