NO regular gallery hours

September 1, 2007
1:00PM - 6:00PM

We're installing the next big exhibit: Un-built Atlanta

Athens Boys Choir, Team Gina, Katastrophe

September 1, 2007
9:00PM - - -
Price: $5



Ok, so the name Athens Boys Choir can be a bit deceiving but you can't blame a Transsexual man living in the Deep South for having a sense of humor about the whole ordeal. So Katz, the Choir's now solo member, travels the country speaking "the good word" throwing down hard hitting spoken-word that deals with issues of Gender, Politics, Love, Sex, and everything in-between. Katz's spoken-word is raw, unapologetic, witty, and soulful. As Out Magazine wrote in 2006, "Katz avoids falling into the common spoken-word trap... and instead uses engaging wordplay, razor-sharp wit, and hip-hop rhythms.




GINA BLING and GINA GENIUS, two hyper fly ladies with verbal dexterity and excellent taste in shoes. TEAM GINA has synchronized dance routines that will blow your mind. TEAM GINA has phat beats and hype rhymes for days. TEAM GINA has matching outfits that will make you cry. TEAM GINA has taken over their hometown of SEATTLE, WASHINGTON with a monthly 80s/electro/hiphop night at which they are resident performers, which some degenerates have described as "the best party Seattle has ever seen.




Katastrophe is an up-and-coming, genre-busting emo-hop MC whose stunning lyrical skills merge with beats that slide from slick to raw to solid to eccentric, creating a sonic otherworld that snags you in a dance-trance while teasing your head with rhymes that snap, pop and educate.


NO regular gallery hours

September 2, 2007
1:00PM - 6:00PM

We're geeting ready for the next big opening on Saturday, September 8th.

monthly show on WREK 91.1 FM

September 2, 2007
7:00PM - 9:00PM


On the first Sunday of every month, at 7 p.m., Eyedrum does a show on WREK (91.1 FM / www.wrek.org) that features nuggets from Eyedrum's archive of live performances.




After the show airs "live", you can listen to it via WREK's 7-day archive if you forget to tune in. Here are the direct links to Sunday Special streams: lo-fi or hi-fi. These streaming links from WREK expire 7 days after the show airs on the radio.

But wait, there's more! We now have a podcast
available, for those of you who have discovered podcasting. You can also just download the whole show (right click on "download") although be forewarned that the file is over 50 MB in size. These podcast and download links will NOT expire for months to come -- download and listen!

---

This month's show centered on the Unbuilt Atlanta art show that opens at Eyedrum on Sept 8th and continues for about a month. In-studio guests Karen Tauches, Tom Zarilli, Kemp Mooney, David Hamilton and Nat Slaughter talked about architecture, development, design and all matters related to the theme of Atlanta's constructed environment. We also played plenty of music, generally in the jazz / freeform / ambient / modern veins, including music by Plastic People Of The Universe, Keenan Lawler, Tony Conrad, Konk Pack, Bent Frequency and GFE.


| | | |
| --- | --- | --- |
| exhibit installation | | September 2, 2007 |

Brady Sharp w/ GFE (cancelled)

September 3, 2007
9:00PM - - -


open improv: Minimal

September 6, 2007
9:00PM - - -
Price: donation

let's be like Bartok, and not rock.
let's be cool but jagged and almost not there,
unlike the day, more like the night
let's play it where it lays, and not pick it up
gradually.
almost,
but not quite there.

hold back
hold it
hold it

be quiet
be a little different
be not quite there


NO regular gallery hours

September 7, 2007
3:00PM - 8:00PM

Please join us for the opening reception of Un-built Atlanta on Saturday

ARTperforms

September 7, 2007
8:00PM - - -
Price: $5 suggested donation


still from Dining Room, video performance by Andy Ditzler, camera by Blake Williams

This show will feature work from Andy Ditzler, Allen Welty-Green and Jeff Dahlgren.

NO regular gallery hours today

September 8, 2007
1:00PM - 6:00PM

Please join us this evening for the opening reception of Un-built Atlanta 7-11PM

UNBUILT Atlanta - ART OPENING

September 8, 2007
7:00PM - 11:00PM
Price: free

Unbuilt Atlanta
September 8-30, 2007
OPENING: SAT SEPT 8




here

curated by: k.tauches

official and unofficial architects:
ed akins, joe amisano (in collaboration with the reynoldstown revitalization Corp.), frank andre, peter bahouth, ryan blakey, mary clare de reuil, mehmet dogu, ben fain, gamble and gamble architects, julia kubica, alyson Laura, kemp mooney, john powell, katie ridley, vikram sami, mack scogin merrill elam architects, tom zarrilli

empty lot film animation
curated by: shana wood animators: steve dixey, katie ridley, & kelly teasley

Inspired by the book, "Unbuilt America,"* Unbuilt Atlanta is a take off artshow of drawings and models for Atlanta-specific sites curated by Karen Tauches. Presented are a few architectural proposals from the past that were never accomplished. But, to call the rest of the proposals in this show "unbuilt" is a self-fullfilling prophesy that reflects our perception of atlanta's built future.

Shana Wood curates a video projection which attempts to animate the future of empty lots and Alyson Laura designs a scroll of related clippings (in collaboration with the main curator).

Atlanta in 2007 is a city that ambitiously manufactures itself anew for the 21st century. The crane is our city mascot, positive progress our dictum. Long-time citizens find themselves lost in their own city, as our built environment changes radically every week, nostalgia mounts as the newly built too often disappoints . . .this deeply felt change is largely at the hands of business-minded developers and is considerably outside the reach of visionary citizens, artists, city planners, landscape designers and architects. . .so, it seems that now is a very good time to consider progressive, futuristic, playful, environmentally sustaining, imaginative or secularly spiritual ideas about space and building, both private and public for the place where we live.

The medium for this show is imagination, a rather cost-effective medium (and you need not have any particular authority to use it). The purpose is to publicly exhibit visions that artists have for our future city, unconstrained by the practicalities of business, politics and construction. . .and if it's only a fantasy, then we'll have an amusing and poignant record of how potentially different our city could have been.

* The book, "Unbuilt America: Forgotten Architecture in the United States from Thomas Jefferson to the Space Age," by Alison Sky & Michelle Stone, (New York, McGraw-Hill Book Co., 1976) is a publication of collected drawings, plans and proposals for architectural projects (dating back to the Nineteenth century) which were never actually built in America. They are radical, ahead of their time, culture-changing, victim to fashion, sometimes even downright goofy. . .these documentations inspire the present and acknowledge that the imagination and potential for such an America indeed existed.




regular gallery hours

September 9, 2007
1:00PM - 6:00PM
Price: free


reserved

September 11, 2007
7:00PM - 9:00PM


Tour of the UNBUILT

September 12, 2007
7:00PM - - -
Price: FREE

curator karen tauches and unbuilt artists give a tour of the show.


Info Demo 3.0

September 13, 2007
9:00PM - - -


regular gallery hours

September 14, 2007
3:00PM - 8:00PM
Price: free


regular gallery hours

September 15, 2007
1:00PM - 6:00PM
Price: free


Jennifer Manzella opening reception

September 15, 2007
6:00PM - 8:00PM
Price: free



Time Spent Sleeping; Time Spent Awake…

An installation of fabric by Jennifer Manzella with collaborative help from Laura Manzella.

Within this room, salvaged bed sheets are connected, sewn, and organized into the space. These used sheets reflect patterns: patterns of stillness, patterns energy. You were born on sheets. Sheets are slept on, fucked on, pissed on. You toss, turn, twist, sort, launder, and fold. You are sick, sad, serene, awake and will most likely die on them. Such intimate possessions, easily discarded. Here they are re-imagined, dyed with coffee and tea, inhabiting a space reminiscent of time spent, time spent asleep, time spent awake.

Through October 6th.

regular gallery hours

September 16, 2007
1:00PM - 6:00PM
Price: free


Language Harm: the poetical is the political

September 18, 2007
8:00PM - - -
Price: $5

The Atlanta Poets Group presents Language Harm: the poetical is the political

Plastic People Of The Universe w/ Hubcap City

September 19, 2007
9:00PM - - -
Price: 10 dollars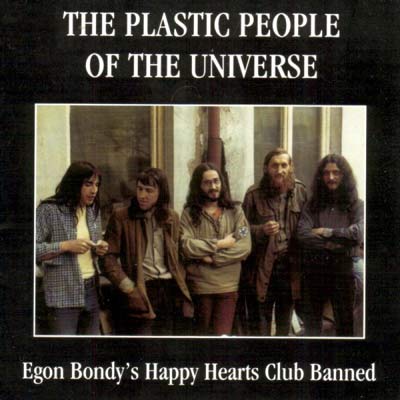 http://www.plasticpeople.cz

http://www.myspace.com/theplasticpeopleoftheuniverseofficialpage

The Plastic People of the Universe was the name of perhaps the greatest obscure rock band of all time and their incredible story ranks as one of the truest examples of artistic perseverance and art imitating life in the entire history of Rock and Roll. Formed in 1968 following the Soviet invasion of their beloved Czechoslovakia, the Plastic People of the Universe suffered immeasurably for their simple desire to make their own music. read all about it here.

Hubcap City starts the show at 9pm.


ITALIAN dinner & performance fundraiser

September 20, 2007
8:00PM - 1:00AM
Price: $5-$20 donation

help raise money for kiki blood and k.tauches to represent atlanta in Trento & Venice, Italy.

regular gallery hours

September 21, 2007
3:00PM - 8:00PM
Price: free


Vietnam, Random Violets, Subliminator

September 21, 2007
9:00PM - - -



Local legends Vietnam procede to rock out with their brand of punchy hypnotic rock and roll...check out www.scaredrecords.com for details.

Random Violets open along with space rock spoken word wizard the Subliminator and droney synthesizer seamsters Tree Creature!

This will be a very fun show.

regular gallery hours

September 22, 2007
1:00PM - 6:00PM
Price: free


Gimme Shelter: Mad Housers / eyedrum fundraiser

September 22, 2007
8:00PM - - -
Price: $7

Help support this anonymous group which provides shelter for the homeless ... and at the same time help keep eyedrum going!

performers include:
Lucky Stray
The 5TH Sundays
Amazing Lizardos Collaborative Spectacle
Lori Guarisco
Cecelia Kane
steve seaberg & the atlanta naked people


also silent auction in the performance space + raffle


www.madhousers.org



regular gallery hours

September 23, 2007
1:00PM - 6:00PM
Price: free


Top Dog Underdog (CANCELLED)

September 24, 2007
8:00PM - - -

CANCELLED!



New Dates TBA






TopDog UnderDog was written by Suzan Lori-Parks and published in 2001. It is the story of two brothers, Lincoln and Booth, who, after being abandoned by their parents, have had to rely upon one another for survival since they were teenagers. Having made it to their thirties, the brothers grapple with how to build a new life, one that will lift them out of their impoverished conditions. Lincoln, a former three-card monte hustler, has abnegated his criminal life for a more respectable, though menial, job impersonating Abraham Lincoln at an arcade. Booth, the younger brother, lives as a petty thief, hoping to follow his older brother's footsteps by learning how to "throw cards." As the play progresses, the brothers compete against each other, vying for control while facing personal demons. At any point, one may yield power to the other, only to regain it a moment later....


Presented by The Urban Multicultural Arts Group


Top Dog Underdog (CANCELLED)

September 25, 2007
8:00PM - - -


Top Dog Underdog (CANCELLED)

September 26, 2007
8:00PM - - -


DocuFest

September 27, 2007
6:00PM - 12:00PM
Price: $5 per film / $10 per day



See
www.docufest.com
for full descriptions


Thursday, 9/27/07
6:00 pm - Other People's Children (playing with Uncle Hyman Cleans Up)
7:00 pm - The World of Vija Vetra (playing with Sylvia Hyman: Eternal Wonder)
8:30 pm - 1910: La Revolucion Espirita (playing with Dick-George, Tenn-Tom)
10:00 pm - Rent a Rasta (playing with Chatham Co. Jail)
11:00 pm - Downtown Locals (playing with The Cole Nobody Knows)



regular gallery hours

September 28, 2007
3:00PM - 8:00PM
Price: free


DocuFest

September 28, 2007
6:00PM - 12:00PM
Price: 5/10

go to
www.docufest.com
for full descriptions

Friday, 9/28/07
6:00 pm -   MIssissippi Son  (playing with Surviving Rita)
8:00 pm -   Arid Lands
9:45 pm -   Off the Grid: Life on the Mesa
11:00 pm - The Ballad of AJ Weberman


regular gallery hours

September 29, 2007
1:00PM - 6:00PM
Price: free


DocuFest

September 29, 2007
6:00PM - 12:00PM
Price: 5 per event / 10 per day

go to
www.docufest.com
for full descriptions



Saturday, 9/29/07
6:00 pm -   Michela's Story  (playing with Traces)
7:30 pm -   Puetare Mashin!
8:45 pm -   Lost and Found in Mexico
9:45 pm -   Crossing Arizona
11:00 pm - A Balancing Act



Last chance to view Unbuilt Atlanta exhibit

September 30, 2007
1:00PM - 6:00PM
Price: free


regular gallery hours

September 30, 2007
1:00PM - 6:00PM
Price: free


Konk Pack, GFE, Don Hassler

September 30, 2007
9:00PM - - -
Price: $8

Tim Hodgkinson (London) flat guitar, electronics, clarinet and alto saxophone;
Thomas Lehn (Cologne) analogue synthesizer;
Roger Turner (London) drumsets and percussion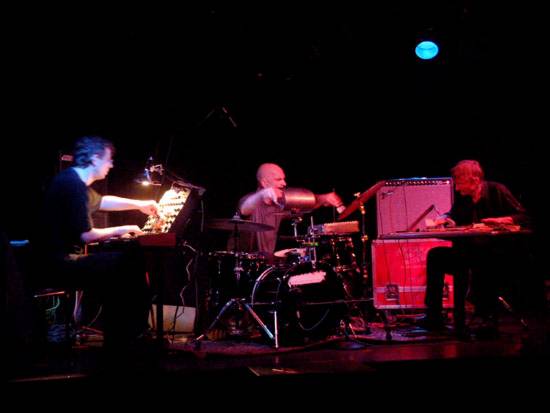 konk pack is a hardcore trio made up of world class improvisers tim hodgkinson (henry cow, the work, god, etc.), thomas lehn (music in movement electronic orchestra, and has also worked with eugene chadbourne, the klangräumer, paul lovens, shabotinski, radu malfatti, gerry hemingway, günter christmann, evan parker, etc. - "probably the world's best synthesizer player", jim o'rourke) and roger turner (who has worked with john russell, hugh davies, alan silva, phil minton, john butcher, comforts of madness, steve beresford, evan parker, derek bailey, cecil taylor)

"The accelerated, interactive electronica of Roger Turner (percussion), Tim Hodgkinson (deconstructed tabletop guitar) and Thomas Lehn (analogue synth) arises from a scintillating heap of sonic detritus the way an artificial intelligence manifests itself in a Manga movie: a writhing mass of automobiles, arcade consoles, street furniture and mobile phones. Hodgkinson attacks his amplified strings with plectrum and bow, his specs glinting as he waits for the right awkward moment to kloodge a sonic shard on the side of one of Turner's amazingly vocalised motifs (at times you swear you hear collaborator Phil Minton's musical snorts). Lehn restricts his pianism on analogue synth to pinched blurts, but still manages to resemble a switched-on Liszt. Although we itched to interrupt with applause, Konk Pack played an unbroken 45 minute set: fun debris, rollicking freakouts ... and one magical section of scrape and pling where the music seemed to play itself."
- Ben Watson The Wire, UK (April 2001)


all art music film literature special


| | | | | | | |
| --- | --- | --- | --- | --- | --- | --- |
| Sun | Mon | Tue | Wed | Thur | Fri | Sat |
| | | | | | | 1 |
| 2 | 3 | 4 | 5 | 6 | 7 | 8 |
| 9 | 10 | 11 | 12 | 13 | 14 | 15 |
| 16 | 17 | 18 | 19 | 20 | 21 | 22 |
| 23 | 24 | 25 | 26 | 27 | 28 | 29 |
| 30 | | | | | | |