Paige Adair - The Feather Bird

August 9, 2013
6:00PM - 9:30PM

At Eyedrum Downtown
115 MLK Jr. Dr. SE
Ste. 225
Atlanta, 30303




Paige Adair is an artist living and working in Atlanta, GA. This is her first solo show in Atlanta and the first solo show presented by Eyedrum at the new location.

-------------------------------------------------

Her Artist Statement:
I am interested in the structure of narratives. Narratives have the power to transform any character, setting or action. I gravitate towards this act of transformation in storytelling. The moment when the damsel is transformed into an animal, when the protagonist is on a quest, or when the antagonist harms another are points of departure for my work. I like to isolate and examine these moments and the way the spread and alter received wisdoms. Illustrated animals, taxidermy specimens, and renaissance paintings are all source material used to build my fragmented narratives. The worlds I develop tend to be a dark, complex but humorous place.

This body of work is based on three Grimm's fairy tales with a common theme of transformation and supernatural acts of birds. Bits and pieces of the tales are pulled apart as if they were artifacts from the tales. A set of interiors explore the role of the femininity in relation to ownership and spaces. I compare the regulatory masculinity of architecture with the welcoming femininity of interiors. Dark undertones are laced with feathers and girly details to create a portal to view fantasy worlds that parallel our own.

More at www.paigeadairartist.com.

-------------------------------------------------

Gallery hours are 9:30 - 5:30 Monday through Friday and 1-5 on Saturday and Sunday. An artist talk will be held on Sunday August 25th, 2013 at 2 pm, and The Feather Bird closing will be a film screening on September 6th 2013 at 8pm.

Landing, Twins, Magicicada, Brainworlds

August 9, 2013
9:00PM - - -
Price: 7

Eyedrum Downtown
@Fuse Arts Center
115 MLK Jr. Dr.
ATL, 30303
between Pryor and Peachtree St.
-----------------------------------------------------
Landing


Landing was started in 1998 and includes Aaron Snow, Adrienne Snow and Daron Gardner. They have released eight critically acclaimed full lengths and a slew of EP's and 7" singles on labels including K Records, Geographic North, Strange Attractors Audio House, Ba Da Bing!, Music Fellowship, and These Are Not Records. Landing's music has been described as "inhabiting that amorphous space where time itself expands and contracts according to a delay pedal setting, and dream pop blurs into dream proper"- 8.0 Pitchfork. Inspired by first wave shoegaze, space rock, psych, krautrock, post-punk, post-rock, ambient, drone, and experimental musics, Landing forges these influences into "some of the best avant-prog and lo-fi space rock around" - 5 star review Mojo.
Landing has toured extensively across the USA, playing with bands including Windy & Carl, Kinski, Dirty Projectors, White Rainbow, Hood, A Place to Bury Strangers, The Twilight Sad, Bardo Pond, Sonic Boom, Paik, and many more. As veterans of the space-rock, shoegaze, psychedelic music scene, Landing has been played two Terrastocks and the Brainwaves festival.



Landing Website
Video 1
Video 2
Pitchfork Review
Tinymix Tapes Review

Twins



An unknown future lies on the Other Side of time. Action is your power, the vehicle through which you can arrive there. If the present seems hopeless you must explore this otherway, the only way out. No one else can help you, you will find it yourself. The out of time way is the way of peace of mind. Pave the present with a pass-way to a better future, the different future, the future that is out of time. In this zone you are another side of yourself. This is not to be feared. Engage all sides of yourself to succeed on the other side: the future is the only " time to move on."



twins soundcloud


Magicicada : brood Ⅱ w.Ryan Gregory on Violin & Daniel Bailey on bass clarinet



As many people as possible should experience his single-mindedly self-willed experimental-ambient sounds." - laut.de (Germany)

"..a variegated, brisk and well crafted, a teapot of deviated psychedelia, rancid electronica and sounds coming from forgotten offshoots of Ed Wood's "Plan 9 from outer space", all of the above floating in a broth of Biota and Zoviet France with exhausted batteries.." - Touching Extremes (Italy)

"The field recordings, otherworldy sounds and drones, and cinematic terrain take this into a kind of Sun City Girls meets Sunroof! territory. Quite dreamy and beautiful." –-Crucialblast.net

"Strange, unsettling, but oddly optimistic, it's the musical equivalent of a Bruce Conner sculpture." -Pop Matters

"With an organic approach to creation, these eastern and folk influenced experimental works rival some of the strangest electronic ambient out there - from drifting soundscapes to meditative trances." -Just Add Noise



magicicada soundcloud

magicicada home

Brainworlds



From Aquarius Records:
"Here's a nice pairing, featuring Expo 70, who needs no introduction to the aQ readership, and Brainworlds, an Atlanta based guitarist whose work at least here rivals that of Expo 70. Both of these long tracks are recordings from a night of cosmic meditation in 2010 at the seminal performance space Eyedrum in Atlanta. Brainworlds' deep guitar tones float weightlessly in a shimmering expanse from his hypnotic loops and evocative cosmic solo work outs that come across like some lost Ash Ra Tempel jam getting remixed by Troum at their most stratospheric. Really stunning work, and this would have been great to see live given the reverberant acoustics of Eyedrum. ... Classic drugged-out space drone bliss from both Brainworlds and Expo 70. We're pretty sure this is a 60 minute tape; it's damn long regardless... but it's limited too, just 100 copies released from the Hooker Vision imprint run in part by Rachel Evans of Motion Sickness of Time Travel"

Listen to Brainworlds Here !!



Nequam Sonitus, Shitty Bedford

August 15, 2013
9:00PM - - -
Price: 5

At Eyedrum Downtown
115 MLK Jr. Dr. SE
Ste. 225
Atlanta, 30303

Shitty Bedford

Bedford is a member of Omelet and Goons of the Waxing Gibbous, where plays saxophone, percussion and instruments he makes on his own, such as the frank sax. He is also a involved member of Atlanta's theatre scene. He has worked with Dad's Garage for several years and presents his own series of plays Oh! Fearsome Head!


Invent Room Pop 28

August 16, 2013
10:00PM - - -
Price: Free

At Beep Beep Gallery
696 Charles Allen Dr.
Atlanta, GA 30308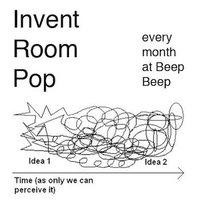 This is the 28th installment of Invent Room Pop. Six musicians are invited to play in duos and trios determined at random, with names drawn out of a hat. Featuring projections by Paige Adair.

Caleb Herron - percussion
Ian Brown - cello
Ian Deaton - guitar
Ben Shirley - cello
Cecilia Trode - viola
Maddie Davis - vibraphone

Duane Pitre, Tree Creature

August 18, 2013
9:00PM - - -
Price: 7

At the Goat Farm
1200 Foster St.
Atlanta, GA 30318

Part of Eyedrum's "NEWFANGLED for the experienced" Music Series at the Goat Farm


Duane Pitre

Duane Pitre is an American avant-garde composer, performer, and sound artist. His work often focuses on the interaction between electronic sound and acoustic instrumentation, chaos and discipline, as well as site-specificity. The composer also utilizes alternate tuning schemes that focus on microtonality, enabling him to explore unaccustomed intervallic relationships. He has created works for various instrumentation configurations such as string orchestra, his own bowed harmonic-guitar ensemble, string/wind ensembles, as well as solo works (including for himself).

Pitre's 2012 album, Feel Free, received critical acclaim and was included on several 'best of' lists, including being named #37 on The Wire's '2012 Rewind' (out of their top 50 releases); #34 on The Wire's 'Subscribers' Releases of the Year' list; and #8 on Uncut Magazine's 'Wild Mercury Sound Top 112 of 2012' list. In addition, "The Out Door," Pitchfork's experimental-minded column included Feel Free on its 'Best of 2012: The Big Four' list. The album was also included in several year-end lists for Dusted Magazine and many other blogs.

Duane used to...
Play guitar in The Camera Obscura (of San Diego).
Skateboard professionally for Alien Workshop.




Tree Creature

Originality is hard to come by with electronic music, particularly in these laptop times. Tree Creature plays a fluid, organic blend of largely electronic sounds, by hand, augmented with occasional chanting and singing. It's a heady mix, and intensely psychedelic.

During the set, I heard the occasional glimpse of possible influences, and refractions of artists I love: Klaus Schulze, Terry Riley, Plone… But the way in which they approach arrangement and performance was definitely their own. Everything seems to be suspended in the air around you: static, but always changing (I'm aware that's an oxymoron… you have to be there).

They certainly defied my expectations: I had anticipated a worthy, 'experimental' set of low drones and furrowed brows, and was very pleasantly surprised by how playful and fun it was. At times I felt like I was watching 'The Last Unicorn', or riding a racing snail with Giorgio Moroder in the Never Ending Story.
- Judi Chicago



Writers Exchange

August 20, 2013
8:00PM - 11:00PM
Price: free

This event occurs in the Warhorse Cafe at The Goat Farm Arts Center, 1200 Foster Street, Atlanta 30318. From Howell Mill Road, take Huff Road west (away from downtown Atlanta), then take the first left, which is Foster Street. Entrances to the Goat Farm are on the right, after the driveway for the Howard School.

Come share your literary output aloud for 10 minutes and get feedback for 5 minutes. Lost? Call 678-642-0612 or 404-578-4430.

TJ Borden & Caleb Herron

August 24, 2013
9:00PM - - -
Price: 5

At Eyedrum Downtown
115 MLK Jr. Dr. SE
Ste. 225
Atlanta, 30303


TJ Borden

"Buffalo, New York experimental cellist and composer T.J. Borden has worked with artists such as Tony Conrad, Steven Mackey, Jack Wright, Thomas Helton, Evan Lipson, and DJ Spooky. He's also a member of Wooden Cities, a Buffalo-based new music collective of musicians dedicated to performing the work of emerging and underrepresented composers."
- Theatre Intangible




Caleb Herron

Caleb Herron is chiefly a percussionist, but he is also a composer, improvisor and organizer. He focuses on new music and has a developed interest in Morton Feldman, Iannix Xenakis and John Luther Adams. Caleb is the director of the Chamber Cartel, an Atlanta-based new music ensemble.



Paige Adair's Artist Talk

August 25, 2013
2:00PM - 4:00PM
Price: Free

At Eyedrum Downtown
115 MLK Jr. Dr. SE
Ste. 225
Atlanta, 30303

Paige Adair will talk about her new body of work, The Feather Bird, and its themes. She will also discuss influences on the work, such as Grimm's Fairy Tales, interior design photo books and Jacques Demy's film Donkey Skin.

A Noisy Delivery: a film by GX Jupitter-Larsen

August 30, 2013
9:00PM - 12:00AM
Price: 3

At Eyedrum Downtown
115 MLK Jr. Dr. SE
Ste. 225
Atlanta, 30303

A Noisy Delivery


A NOISY DELIVERY is the kind of thing that happens when people go to the post office for philosophy instead of postage. A new film by GX Jupitter-Larsen...!!!

Learn About It
IMDB Trailer

website & more information

--

Also Featuring Elegantly Arranged 20 Minute Sets of Sounds & Music for your Listening Pleasure :


Suffer Bomb Damage


Saw these dudes play at Bighaus awhile back. Was an amazing mix of pulsing strobe lights pushing an optical theremin into rhythmically structured submission - with pleasant acid washes of shortwave radio garble & whistlers + contact miced metal chair and other real world objects over over amped and quite present - firmly joined together by a distorted bubbling bass creating the oozy bottom for it all to stew in. Quite Lovely.

Stephen Fenton - shortwave radio
Ian Cone - optical theremin
Tony Gordon - bass guitar
Curtis Stephens - objects




Listen

--

cursory


Raw electric modular synth tunneling through space-time with a sound that defines the room. You will believe.

Check it out
more information to come...

Mr. Natural

michael payne

XWA-eXperimental Writer Asylum-Decatur Book Fest

August 30, 2013
10:00PM - 12:00AM
Price: free

This event occurs at the Seen Gallery, 415 Church St., Decatur, 30030.

XWA 4 opens with a first-ever mix of two regular Eyedrum forums open to (almost) everyone, Writers Exchange (aka WrEx) and Open Improv. This event will alternate between readings of erotica and ad hoc acoustic performances of bawdy songs, so the event is suggested for adults only. Participants should bring unamped instruments, singing voices, and smutty ideas.



XWA-eXperimental Writer Asylum-Decatur Book Fest

August 31, 2013
12:00PM - 10:00PM
Price: free

These events occur at the Seen Gallery, 415 Church St., Decatur, 30030.

1–2 pm: Greely Myatt, a sculptor and professor of art at the University of Memphis, talks about ways that comics and the grammar of comics inform his work.

2–3 pm: Poets Colleen Payton and Hester L. Furey engage in a panel discussion with artist and illustrator Michael Rovinsky, who has collaborated on separate projects with each of them.

3–4 pm: Allison Rentz and publisher Nisa Asokan present a workshop on the artist book putAtoring.

4–5 pm: Children's book creator Jacquitta McManus, artist/set designer James Eugene, and author/filmmaker Balogun discuss race and representation in such mediums as comics and cinema.

7-10 pm: Reception for XWA participants and all others; this party will overlap with the art|DBF street festival occurring across Church Street on and around the Decatur MARTA plaza.

Throughout the Saturday and Sunday daylight hours of XWA 4, passersby can again enjoy the free verse stylings (and, often, the free-verse stylings) of Jimmy Lo and company with Free Poems on Demand outside the gallery. Also on hand will be Nisa Asokan of Fifth Planet Press, overseeing a showcase of indy publishers' recent books.