First Friday Open Improv: AGITATION

August 3, 2012
9:00PM - 12:00AM
Price: FREE

Eyedrum Open Improv is back on track with a frothing First Friday sonic disturbance
at the Last Exit Studios of Railroad Earth - 1467 Oxford Rd. NE, Atlanta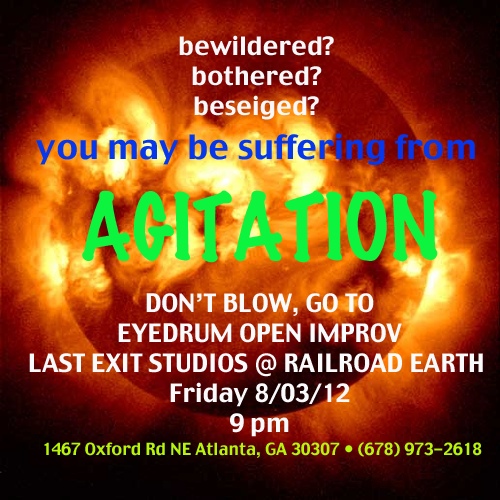 AGITATION:
# The act of agitating, or the state of being agitated; the state of being moved with violence, or with irregular action; commotion.
# A stirring up or arousing; disturbance of tranquillity; disturbance of mind which shows itself by physical excitement; perturbation.
# Excitement of public feeling by discussion, appeals, etc.
# Examination or consideration of a subject in controversy, or of a plan proposed for adoption; earnest discussion; debate.

Questions? Contact Aaron at 404.315.0406


Andrew Weathers Ensemble, D4TLS, Alembic Circle

August 5, 2012
9:00PM - - -
Price: 5

At Beep Beep Gallery
696 Charles Allen
Atl, GA 30308

Andrew Weathers Ensemble

Andrew Weathers is a young American composer and improviser originally from Chapel Hill, NC currently based in Oakland, CA. His music exists in a space between improvisation and composition - equally influenced by the 20th century American minimalists and underground noise. He has a BM in Music Composition from the University of North Carolina - Greensboro, and is currently pursuing an MFA in Electronic Music at Mills College.

Andrew performs rigorously in a variety of contexts, both composed and improvised. In addition to solo performances, he heads up the Andrew Weathers Ensemble. He also performs and records regularly with Kirtan Choir, Weathers/Glover, Tethers, and Parties. In the past, he has performed with Acid of All Ruins, Bicameral Mind, Northern Valentine, Tatsuya Nakatani, Laurent Estoppey, and Hal McGee, among others.

In addition to his busy performing schedule, Weathers helps run Full Spectrum Records, a label dedicated to releasing works by young musicians in unique forms and limited editions.



Duet for Theremin and Lap Steel

Duet for Theremin and Lap Steel is Scott Burland (theremin) and Frank Schultz (steel).
Together they create a combination of sounds from two non-fixed-pitch instruments and laptops
in an improv environment with a disregard for traditional styles, creating rich textures,
swooning collages, and hypnotic pulses.


Alembic Circle

At the core of Alembic Circle are musicians Brett Carson and Eric Brown, exploring creative sound structures through composed, improvised, graphic, hermetic-surrealist approaches. We are helping to forge a musical path into the new millennium, in investigating the dynamics of socio-musical space and trans-idiomatic expression.


Rin Larping

Rin Larping is the solo project of Lindsay Smith. She focuses on percussion and bass clarinet. Her past collaborators include Lance Higdon, Andrew Weathers, David Kirby and the collective HTA.

Ellery Trafford: Bookends

August 16, 2012
9:00PM - - -
Price: Donations

At the Goat Farm
1200 Foster St.
ATL, GA 30318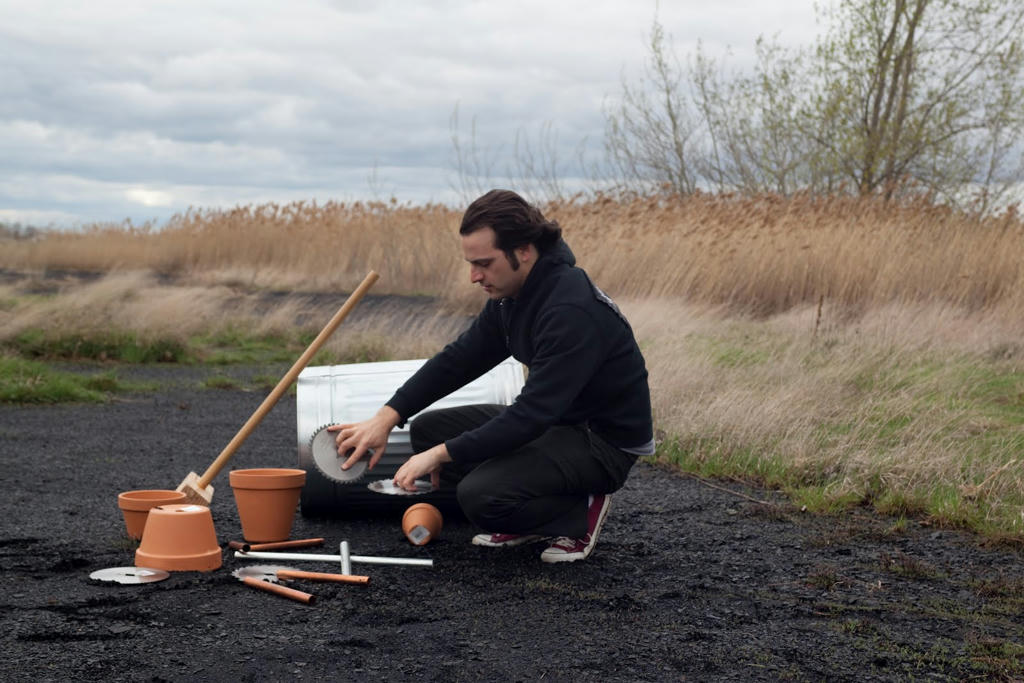 Program:
Trafford book piece
Lang anvil chorus
Cage composed improvisation for snare drum
Xenakis rebonds a
Cage child of tree
Lang unchained melody
Trafford book piece

Ellery Trafford (percussion) is from Atlanta, GA but currently living to New York City. He is committed to bringing contemporary music to atypical locations such as bars, shopping malls and public parks. Ellery also favors dramatic works and performance art in order to foster his love of shouting obscenities in concert halls. He hold degrees from Georgia State University & Bowling Green State University and his biggest musical influences are John Cage and Iannis Xenakis. Aside from BOAC, Mr. Trafford has attended the So Percussion Summer Institute and performed at the Third Practice Electroacoustic Music Festival and the SPARK Electronic Arts Festival.

Invent Room Pop 16

August 17, 2012
9:30PM - - -
Price: FREE

This is the 16th installment of Invent Room Pop. Six musicians are invited to play in duos and trios determined at random, with names drawn out of a hat. Featuring projections by Paige Adair.

Featuring special out-of-town guest, Derek Poteat.

Stephen Fenton (radios)
Mikhail Ally (bass clarinet)
Derek Poteat (bass)
Brandi Turner (guitar)
Brandon McDaniel (double bass)
Lisa Kinne (drums)

Richard Kamerman, Travis Johnson, David Kirby

August 20, 2012
9:00PM - - -
Price: 5

At Beep Beep Gallery
696 Charles Allen
Atl, GA 30308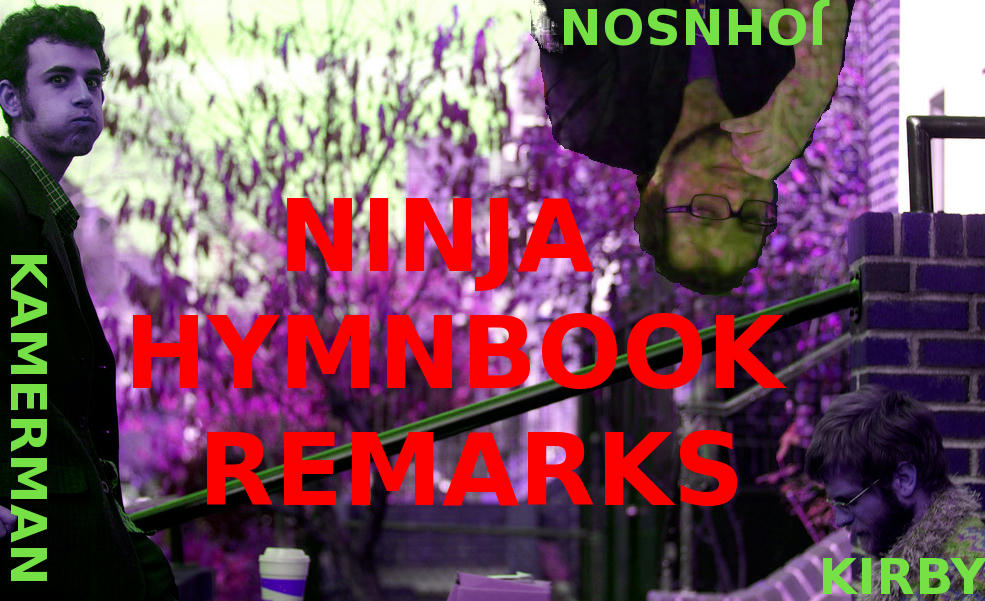 Richard Kamerman

RICHARD KAMERMAN prefers small sounds to large sounds but that doesn't mean they are always performed as quiet sounds. He also likes accidental sounds and collecting his instruments from people's trash on the street. He has no time for cigar breaks.


Travis Johnson

TRAVIS JOHNSON, director/curator of Ilse, plays improvised electroacoustic music using using radios, electromagnetic coils, speaker cones, found objects, electronic circuits, balloons and - occasionally - string instruments.
He has played with Bryan Eubanks, David Kirby, Wade Matthews, Hal McGee, Tatsuya Nakatani, Jamison Williams and many others.
While collaborative improvisation is his main interest, he sometimes enjoys composing at the computer.
In addition to his releases on Ilse, he has had recorded works published by labels including Obsolete Units, Avant Archive (with Bob Blaize & Jeph Jerman) and Control Valve.


David Kirby

DAVID KIRBY is an Atlanta-based digital composer making a transition to analog improvisation using cassette tapes. He operates the Homophoni web label, with a focus on electroacoustic music.


Tyler Keen

TYLER KEEN, better known as power electronics artist Violent Pink, will present a rare set of his idiosyncratic electric guitar improvisation.

Writers Exchange

August 21, 2012
8:00PM - 11:00PM
Price: free

This event occurs in the Warhorse Cafe at The Goat Farm, 1200 Foster Street, Atlanta 30318. From Howell Mill Road, take Huff Road west (away from downtown Atlanta), then take the first left, which is Foster Street. Entrances to the Goat Farm are on the right, after the driveway for the Howard School. Come share your literary output aloud for 10 minutes and get feedback for 5 minutes. Lost? Call 678-642-0612 or 404-578-4430.

Jason Lescalleet, Justin Waters, Kyle Sherill

August 24, 2012
9:00PM - - -
Price: 5

At Beep Beep Gallery
696 Charles Allen Drive
ATL, GA 30080

Jason Lescalleet

As with numerous artists operating in the more studious and intensely personal reaches of the avant-garde landscape, Jason Lescalleet has been crafting intricate and obtuse yet stunningly compelling sound art for well over a decade. But in recent years, his profile has risen considerably, thanks in part to his superb collaborative albums with ex-Shadow Ring member Graham Lambkin as well as a beautifully realized live prescience both solo and in collaboration.
- Tiny Mix Tapes


Justin Waters

Justin Waters is a man of independent tastes. He produces music as Mugu Guymen, releases music as Sounds from the Pocket, and tour manages Acid Mother's Temple when they come to the USSA.
- Swarm Bots

This is his first show back in Atlanta.


Kyle Sherill

plays in Red Sea, Polish Nails & Shaquelle O'Neal Slam Dunk Fest.

Chamber Cartel 8

August 30, 2012
8:30PM - - -
Price: Donations

At The Theatre at the Horizon School
1900 Dekalb Ave.
Atl, GA 30307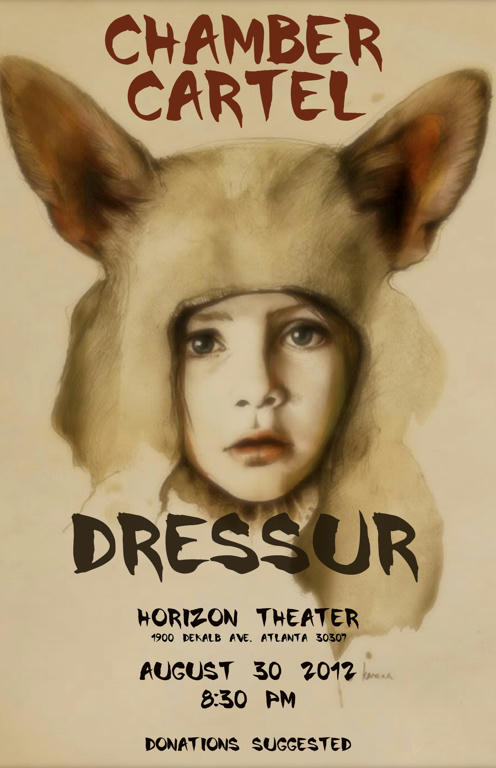 German-Argentine composer Mauricio Kagel is one of the most intriguing composers of the 20th century. Many of his diverse works contain undercurrents of surrealism and anarchism in an effort to shed light on—and often confront—the musical tradition. His film Ludwig Van refashions Beethoven scores as furniture; his chamber work Der Schall employs cash registers and household appliances as its main instruments; and in his opera Staatstheater, members of the chorus perform overlapping solos, soloists sing in a chorus, and non-dancers present a ballet.

The half-hour percussion trio Dressur (1977) is rooted in Kagel's concern for how audio recordings have altered the tradition of audience experience. "In the 19th century people still enjoyed music with their eyes as well, with all their senses," Kagel has expressed. "Only with the increasing dominance of the mechanical reproduction of music, through broadcast and records, was this reduced to the purely acoustical dimension. What I want is to bring the audience back to an enjoyment of music with all senses. That's why my music is a direct, exaggerated protest against the mechanical reproduction of music."

Like many of the other works in Kagel's "instrumental theater" idiom, Dressur therefore combines the visual element with the auditory, the theatrical with the musical. Using over 50 instruments and non-instruments, Kagel creates sound out of theater (such as when a percussionist slams a chair on the ground several times), and theater out of sound (such as when castanets mimic the sound of a typewriter). The percussionist is a particularly fitting conduit for the visual-aural convergence: even in the most traditional works, his or her striking a variety of instruments, often while clearly visible behind several seated performers, seems to possess an inherent theatricality.

Interestingly, Dressur has become some - what of a YouTube hit lately, with a handful of videotaped performances (many by Yale's own performers) totaling several thousand hits. If technological advances in the 20th century resulted in audiences listening without seeing, those in the 21st may help bring us "back to an enjoyment of music with all senses." —Jacob Cooper

2012 XWA: Writers Exchange

August 31, 2012
10:00PM - 12:00AM
Price: free



This event occurs at The Seen Gallery, 415 Church Street, Decatur, Georgia, 30030.

The third eXperimental Writer Asylum (XWA) opens with a meeting of Eyedrum's regular literary forum, Writers Exchange. Writers of all stripes may share aloud fruits of their lonely toil. This late-night event will especially welcome readings of smutty poetry, so the event is for adults only. Readings: ten minutes. Discussion: five minutes.

The 2012 eXperimental Writer Asylum takes place in conjunction with the surrounding and simultaneous Decatur Book Festival.