Tinnitusstimulus, Burak

July 6, 2013
9:00PM - - -
Price: 7

At Eyedrum Downtown
At Fuse Arts Center
115 MLK Jr. Dr.
ATL, 30303
between Pryor and Peachtree St.

Tinnitusstimulus


Harsh noise from Philly


Burak
Arid tones and industrialized psychedelic rhythms

Scraped Face
Solo sounds of Curtis from Suffer Bomb Damage and Psych Out on WREK

Divine Circles/Lunar Creature, Fenton, HopiTorvald

July 13, 2013
9:00PM - - -
Price: 3

Eyedrum Downtown
@Fuse Arts Center
115 MLK Jr. Dr.
ATL, 30303
between Pryor and Peachtree St.
>>GPS address is: 95 Martin Luther King Drive SW, Atlanta, GA 30303<<
-----------------------------------------------------------------

Divine Circles/Lunar Creature

Asheville, NC headliners and married couple Divine Circles (Meghan Mulhearn) and Lunar Creature (David James Lynch) team up for a set of impressive violin and vocal experiments intertwined with powerful bass and guitar expressions. Mulhearn is known for pushing the boundaries of the violin, and exploring its potential as an instrument beyond composition. Her pieces use effects and electronics, to create loops from beats on the body of the instrument and from hypnotic plucking and strumming of the strings; she also uses the violin body as a vocal resonator to create unique sounds that are both human and otherworldly. She has contributed tracks to the recordings and performed live with countless distinguished artists in a myriad of genres outside of her own dedicated projects. Following her recent split cassette release with fellow Asheville-ian Villages on the Hooker Vision imprint, Divine Circles will be promoting her debut solo LP while on this tour, and we're lucky enough to be one of the tour dates! Mulhearn has performed with such acts as U.S.Christmas, Judas Horse, Enoch, and Meghanz, and has opened for acts including Neurosis, Baroness and Yob.





Divine Circles/Lunar Creature on Soundcloud
Great article on them here:


Link to Interview with them in the MountainXpress out of Asheville,NC


Hopi Torvald




Field recordings and synths collide in a rich fanfare of psychedelic ritualized music. Emotionally resonate and intellectually stimulating.



Hopi Torvald on Vimeo
--


Stephen Fenton


Contact microphone on refrigerators, shortwave radio scans, etc. Stephen Fenton explores sound at the root level - magnifying everyday objects and making them hyperreal.


Tantrum


Tantrum is a curious concoction of experimental electronics and soaring vocals bonded to a wicked pop sensibility.
Go check her bandcamp page out

Writers Exchange

July 16, 2013
8:00PM - 11:00PM
Price: free

This event occurs in the Warhorse Cafe at The Goat Farm Arts Center, 1200 Foster Street, Atlanta 30318. From Howell Mill Road, take Huff Road west (away from downtown Atlanta), then take the first left, which is Foster Street. Entrances to the Goat Farm are on the right, after the driveway for the Howard School.

Come share your literary output aloud for 10 minutes and get feedback for 5 minutes. Lost? Call 678-642-0612 or 404-578-4430.

Invent Room Pop 27

July 19, 2013
9:00PM - - -
Price: Free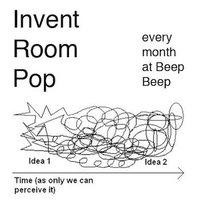 This is the 27th installment of Invent Room Pop. Six musicians are invited to play in duos and trios determined at random, with names drawn out of a hat. Featuring projections by Paige Adair.

Amy O'Dell (keyboards)
Eric Fontaine (sax)
Stuart Gerber (percussion)
Daniel Moorad (vocals)
Klimchak (percussion)
Chelsea Dunn (cello)

Insect Factory, Public Speaking, AbsenceofOcean, K

July 21, 2013
9:00PM - - -
Price: 7

At Eyedrum Downtown
At Fuse Arts Center
115 MLK Jr. Dr.
ATL, 30303
between Pryor and Peachtree St.


Insect Factory


Washington DC's Jeff Barsky offers up...an incredibly full and rich sounding platter that delivers on every level. Barsky has been a key figure in the DC experimental/DIY scene for the last few years, and is also a member of kraut-influenced DC combo the Plums. In his solo guise as Insect Factory, Barsky traverses the worlds of guitar improvisation and subtle sound manipulation...What separates Insect Factory from other projects in the ambient and/or quieter realms of guitar improvisation are the remarkable displays of patience and impeccable timing...Barsky balances light and dark, tension and resolution in his pieces, but never in obvious ways. Instead, his music surrounds and envelops in a gauzy, cloudy warmth while still retaining an interest in shaking things up. The record's title is apt too – Barsky's music alludes to static transmissions, garbled communication via invisible airwaves, alien landscapes, and dying technologies, while still retaining an interest in melody and traditional beauty. The juxtaposition of these ideas and approaches lends the record a complexity that goes deep beyond its shiny surfaces.


Public Speaking


"A voice magnificent and morose, lost in a world of single being in performance." [Deli Magazine] Public Speaking is the music of Brooklyn solo artist Jason Anthony Harris. Utilizing found objects, radio, tape recorder, and vocoder, he pores over pedals to loop, warp and augment these sources. He sings on his knees, in a semicircle of these devices and percussive clutter. The result is a soulful and rhythmically dense experimental music. His performances are highly improvisational, with an emphasis on immediacy and site-specific actions.

Public Speaking's live experiments with radio noise, guitar pedals, and loop manipulation have provided new methods for delivering songs of warmth, vitriol, and desperation. The electronic capturing and mangling of acoustic sounds is an obsession for Public Speaking. Pieces of metal, wood, plastic, and other detritus are stricken to the pulses of polyrhythmic, textural compositions. A microphone is pummeled against the floor in place of a bass drum and slashed across speakers to create reprocessed digital sweeps. One performance found him beating and scraping a wooden chair across the stage to create a bed of dissonant clatter to croon over. The influences of noise, minimalism, musique concréte, ambient, kosmische musik, IDM and R&B have helped to evolve his work, creating percussive, layered and electronic pieces - sometimes completely improvised before an audience.


Absence of Ocean


Absence of Ocean is a shoegaze band from Atlanta, that incorporates both post-rock and electronic elements to create lush soundscapes within hypnotic songs.
Absence of Ocean is curretly working on their debut album out 2013.


KEEn


The mostly-analog duo of Tyler Keen and Robert Hayes Kee. A mix of found sounds, feedback, cd skips and field recordings.

Jack Callahan, Ben Kudler, Rat Mass

July 23, 2013
9:00PM - - -
Price: 7

At Wonderroot
982 Memorial Dr SE
Atlanta, 30316


Jack Callahan


A member of Sunburned Hand of the Man, "Jack Callahan is a percussive sound-explorer who currently calls Amherst, MA home...
These two sides show Callahan, who recorded these pieces in a single afternoon spent in his basement, treating his floor tom and cymbal like something other than a floor tom and cymbal. A suitable theoretical and material sound comparison is the recent work of trumpeter Nate Wooley, who explores the outer regions of possibility on his instrument without playing any conventional notes. Callahan's tom-cymbal-random utensil techniques are displayed throughout "Klangfarben," creating complicated sounds that jump from blissful harmonic drones to primal nightmare screech attacks to the flurrying of an angry animal attempting to claw and gnaw its way out of a box.

...Callahan shows a mature amount of restraint and technique, avoiding the random clicks and taps that characterize most free percussion, from out-jazz to electroacoustic improv and composition. He seems to be more interested in creating dense moods and slow building atmosphereric sounds rather than chaotic blasts of aleatoric madness.
- Foxy Digitalis


Ben Kudler


Luminous in Nummer is the solo project of Ben Kudler. The project combines electro-acoustic improvisation, DJing, synthesizer music, and drone to create compositions that have a solid footing in the Noise/Jammer underground of the last half decade, DJ culture, and European electronic music in the Editions Mego vein. Kudler has performed with Chris Cooper of Fat Worm of Error in a duo, as well as shared bills with John Wiese, Emeralds, Nautical Almanac and a wide array of American underground electronic and electro-acoustic experimental musicians.

http://freemusicarchive.org/music/Luminous_in_Nummer/


Rat Mass


"After years of playing together in a wide-ranging assortment of Atlanta bands, musicians Mitchell Sosebee (drums) and Ryan Taylor (guitars, electronics) converge their creativity to the core with their new mano-a-mano venture Rat Mass. The duo's five track, instrumental EP1 is a compelling wallop of torrential percussion, inexorable bass annihilation, jabs of electric guitar and pervasive electrical sonic accents, all improvised live in the studio. At times it borders on metal, but most metal bands I've heard can't muster this sort of prolonged intensity, usually because the singer opens his mouth and starts croaking some comical demonic nonsense."
- Stomp and Stammer


Balder-


Balder- is the project of Joseph Jones.

Currency, Suffer Bomb Damage, Steve Marquette

July 29, 2013
9:00PM - - -
Price: 3



Steve Marquette Quintet:
A group capable of producing moments of frightening power and striking sensitivity, the Steve Marquette Quintet (formed 2012) features the talents of New Orleans musicians Jeff Albert (trombone), Brad Walker (saxophone), Jesse Morrow (bass), Steve Marquette (guitar) and Marcello Benetti (drums). Though primarily showcasing Marquette's compositions, their democratic nature provide a vehicle for all the musicians to express their unique voices and conceptions. Drawing upon the leaders eclectic spirit, the quintet brings together elements of free jazz, collective improvisation, noise/rock, and other strains of the jazz tradition. Their debut recording, 'I Knew It Then' (2013), also marks the first release of Two Cities records - Marquette's record label dedicated to documenting Chicago and New Orleans improvising musicians.



Steve Marquette Website

Currency:
Currency imagines a trash can rattling through a chamber orchestra that is backing up a collaborative Fela Kuti/Steve Reich performance. A big band bringing together musicians from across the Atlanta scene, Currency will be performing its first show this evening.


Suffer Bomb Damage:
Pulsing acid washes over over amped distorted bubbling oozy bottom stew.