regular gallery hours

July 1, 2005
12:00PM - 5:00PM


Gadjama, The Interview, Lisa Dewey

July 1, 2005
9:00PM - - -
Price: $6

Gadjama Dentbert formed in late 2004.  The band is comprised of Matt Ebert (bass), Allan Ray (guitar), and brothers Matt (drums) and Zac Denton (keyboard, guitar, vocals).  The band draws on various genres of popular, listenable music as well as unpopular, listenable music, and semi-listenable un-music.  Rock, jazz, country, funk, and pure improvisation are all fair game, resulting oftentimes in fusion----sometimes intended, and sometimes not.  The sound is like James Brown smoking a wet cigarette at a Bluegrass festival or the cast of the "Golden Girls" playing modal jazz in a german discotheque.  The tunes are primarily instrumental, that is to say, vocal-less.  (Godjama is pronounced like "god-yahma".)

Lisa Dewey has more instruments than anyone. Her house, also home to Kitchen Whore Records(CA) is like a museum to sound devices- a piano, rescued lap steel guitar with original early 1900s amp, a full blown recording studio, cats, bells, whistles. Jangly pop ethereal folk punk – adjectives used to describe her work, and there's an arsenal of it. Also, DIY, Harley riding, industrial, innovative, open minded, sexy and loud. With a degree in Music from San Jose State, she's been producing and recording for over 15 years with some of the 80s most influential artists including members of the Cocteau Twins, the Bangles, and Wall of Voodoo. She's currently working her second book and EP, to be released on ATL locals Fifth Planet Press. If we're lucky, the 12 string will be on the road with her- but we'll see.

regular gallery hours

July 2, 2005
12:00PM - 5:00PM


independence in the face of homogeneity

July 2, 2005
9:00PM - - -

Hildegard (Asheville, NC) and a sampling of artists on Atlanta's Old Gold Record label - Bon Vivants and maybe Zandosis 9PM

monthly show on WREK 91.1 FM

July 3, 2005
7:00PM - 9:00PM


On the first Sunday of every month, at 7 p.m., Eyedrum does a show on WREK that features nuggets from Eyedrum's archive of live performances.



Remember that, after the show airs, you can always listen to this and any recent Sunday Special via WREK's 7-day archive if you forget to tune in (direct links to Sunday Special streams: lo-fi or hi-fi).

But wait, there's more! We now have a podcast
available, for those of you who have discovered that. You can also just download the whole show (right click on "download") although be forewarned that the file is over 50 MB in size.

---

This month is our first music show in a while, and will probably feature the following...

Dennis Palmer w/ Erik Hinds
Audrey Chin & Tatsuya Nakatani
DP3, Stull
Bent Frequency
W.S. Burns, Weird Weeds
Daniel Clay
The Everybody Fields
Black Blacks
Sugar Kane
The List Exists

excerpts from Mix Up (May Improv @ the Contemporary) and June Open Improv
if time permits...

The Peppermints, Deerhunter

July 5, 2005
9:00PM - - -
Price: $6


THE PEPPERMINTS have brutalized many a town, blown out many a speaker, blackened many an eye, and blistered many an eardrum. What began as an idea (pure, dirty, and loud) became an ideal for these self-proclaimed kings and queens of experimental barfy trash-rock. The Animal Collective, having befriended the group years ago and being thoroughly impressed with their sound and live show, asked them to record this record for their Paw Tracks imprint. Often compared to groups like Melt Banana, Joan Jett, The Fall, and The Soft Boys, but ultimately flummoxing even the most erudite and articulate critic, THE PEPPERMINTS now unleash their second full-length JESÜS CHRYST and await the rapture. Ex-members of T Tauri.

Check out the video "Rabid Frogs" here.

DEERHUNTER play catchy and infectious avant-punk noise which features a total dance edge which is not cliché. Utilizing influences such as early 80's sonic youth, chrome, pylon, the fall and others, deer hunter creates a sound which is not derivative, and is in fact unique to deer hunter. Shake that booty and pick up Deer Hunter's debut LP on STICKFIGURE RECORDS.

BROUGHT TO YOU BY:
Tight Bros Network


regular gallery hours

July 6, 2005
12:00PM - 5:00PM


Writing Past the Edge, a Word & Praxis event

July 6, 2005
8:00PM - - -

Michael Mejia will read from and discuss his new novel FORGEFULNESS.

"Like archeological discoveries that recast the present, Michael Mejia's astonishing novel Forgetfulness reconstructs what art does best. Imagine music-and fiction-as a portrait of how the world works, instead of as entertainment or any of its other uses, and you'll get an intimation of his achievement." --Steve Tomasula , author of Vas: An Opera in Flatland
Book Description
The first part of Forgetfulness is a fictional monograph on the life of the Austrian modernist composer Anton von Webern (1883-1945).The collage-work monograph unfolds in a Webernian sequence of events and silences combining quotes from Webern, his friends and associates, and various historical and literary figures with short scenes, monologues, dialogues, newspaper articles, and theater and film scripts. The result is a lyrical panorama of early twentieth century Vienna.
The second part of the book takes place in Vienna on May 1st, 1986, shortly before the election of Kurt Waldheim as President of the Austrian Republic and shortly after the Chernobyl disaster. The three simultaneous, intertwining monologues of an archivist, a retired opera singer, and the author of the monograph, revisit the themes and events of the first part, commenting on postwar conceptions, analyses, and revisions of the period during which Webern lived, while continuously haunted by the specters of Waldheim and Chernobyl, the persistence of crimes that are immanent, unpaid for, or only dimly, disingenuously recalled. "

open improv: thing/anti-thing

July 7, 2005
9:00PM - - -
Price: free/contribution

Thing and/or Anti-Thing
or
The Halo of the Real Which Become Tentacles Reaching
â•round the Corner, Could That Something, Be Mack the Knife


O thing! how we love you! Not THE Thing, like in the comix, but just the thing, generally,
like that thing over there.
Oh! We really need you thing, whatever you are, wherever you come from.
Sometimes we hit you and sound happens.
Sometimes we stroke you and sound happens.
Sometimes we blow on you and sound happens.

Sometimes sparks fly in our brain-thing, and we bark, imagine dogs together.

But oh! anti-thing! Where could you be -- in our brain-thing -- or not!?
where then? in-between maybe, in the getting-ready maybe,
in getting ready to get to the thing, to blow, scratch, stroke, bang, finger, tongue it, as you improv us.
Oh! Maybe it (anti-it?) is there (anti-there?) before we (anti-we?) are.
Oh! Nothing but things! and their shadows!
Oh! I become afraid of things and their anti-'s!
Oh, anti-! I fear we can't go home to Kansas again!
O, we live in the vast space between thing and anti-,
a vast but brief dash between one goal post and the next!
Oh, let's just blow and stroke there!

O! Like this old chestnut anti-thing!

"Music is prophecy. Its styles and economic organization are ahead of the

rest of society because it explores, much faster than material reality can,

the entire range of possibilities in a given code. It makes audible the new

world that will gradually become visible, that will impose itself and

regulate the order of things; it is not only the image of things, but the

transcending of the everyday, the herald of the future."
--Jacques Attali / NOISE


regular gallery hours

July 8, 2005
12:00PM - 5:00PM


regular gallery hours

July 9, 2005
12:00PM - 5:00PM


2nd Annual Juke Joint a Go Go

July 9, 2005
9:00PM - - -
Price: $12

The Dames Aflame reprise last year's sold-out Juke Joint a GoGo with brand new acts plus some Dames Aflame classics. This year's show includes many special guests from far and near! New York's incredible Wau Wau Sisters are stoppin' by for a spell! Big Mike's Dirty Diddlers get the jank hoppin' and DJ Jonny Ray spins the low-down for late-night phonography. Laffo the Clown will be on hand as guest MC to keep things moving and skakin'!

Refreshments include hot nuts, cold chicken and home-made hooch!

www.damesaflame.com

www.wauwausisters.com




*rental - eyedrum member cards not accepted for this event, thank you*

Le Flange du Mal / EzeeTiger / Drylungs

July 10, 2005
8:00PM - - -
Price: $3


Le Flange du Mal is Jason Stamberger (Crack:We Are Rock), Chris Rolls (Ziegenbock Kopf and Kimosciotic Records), Chris Clones (Subarachnoid Space) and Liz Albee (who's played with Cecil Taylor, Anthony Braxton, Murder Murder and about every awesome person in the San Francisco Bay Area). The line-up is synth, mutated drums, mutated trumpet, vocals and food. But every show is different. It definitely fits in better with DYS than with the laptop crowd.


San Francisco has spawned a ton of brainy music freaks...my favorite new comic geniuses: Ezeetiger. The one-man band is an experience all fans of Lightning Bolt/Friends Forever/25 Suaves should jump on ASAP; it fits nicely in that clan of noisy, misbehaved, feedback-rich rock. Live, Tiger (AKA Anthony Petrovic) creates songs like no other musician I've witnessed. Surrounded by more equipment than most fully populated bands...playing a riff on his guitar, looping the sound, setting up a bass line and looping that, pushing some other buttons and adding a layer of delayed noise, looping his vocals, and then playing drums live and singing over the whole cacophony to punch out a fully formed song.

Brought to you by TIGHT BROS NETWORK


regular gallery hours

July 13, 2005
12:00PM - 5:00PM


Elliott Smith Tribute

July 13, 2005
7:30PM - - -
Price: $5.00

*ROSE PARADE*
ELLIOTT SMITH TRIBUTE/FAN FILM PREMIERE

WEDNESDAY, JULY 13
EYEDRUM ART AND MUSIC GALLERY
7 PM, $5

Special Live Music Performances by Documentary Participants
AYE!ROBOTICS, CANNONWILL, HOTEL, TRAPPER'S CABIN, and SNOWDEN.

"Rose Parade" is a music video tribute to Elliott Smith. The video was shot to accompany the documentary: "Rose Parade: An Atlanta Fan Documentary for Elliott Smith." These two films will comprise Atlanta's representation in "Future Butterflies, an international fan documentary currently being made by Elliott Smith lovers from around the world.

Atlanta local Karla Jean Davis wrote and directed the video and first-time film exposer William Whittenburg III was the cinematographer. This is also the small screen debut of local model/actress Morgan Underwood. The music video attempts to capture both the musician and the song in a sort of pop narrative.

The documentary was directed by Karla Davis and shot by Jason Thurmond, local 24-P DP extrordinare, and includes interviews with local Atlanta-area fans and 88.5 WRAS, as well as an interview with Double D Records founder Dave Dickerson from Nashville, TN, responsible for the recent Elliott tribute CD release entitled: "A Fond Farewell."


"Smart & Sexy!" Films

http://www.karlajeandavis.com

regular gallery hours

July 15, 2005
12:00PM - 5:00PM


48 hr film kickoff party

July 15, 2005
5:00PM - 7:00PM


The 48 Hour Film Project rolls into town a little later this year. It's a film making contest where teams are assembled to make a short film from start to finish in 48 hours. What's the catch? The teams are given a genre, a prop, a line of dialogue and character that must appear in their films, but the elements are only revealed to them Friday evening at the kick off event at Eyedrum. That's when the madness begins. Come join in the fun by seeing the results July 19-21 at the Landmark Midtown Art Cinemas.





Susan Alcorn/Johnny Minotaur

July 15, 2005
9:00PM - - -
Price: 6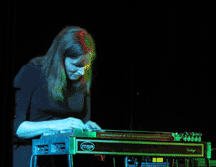 Susan Alcorn is a Houston-based composer and musician who has received international recognition as an innovator of the pedal steel guitar, an instrument whose sound is commonly associated with country and western music. Alcorn has absorbed the technique of C&W pedal steel playing and refined it to a virtuosic level. Her original music reveals the influence of free jazz, avant-garde classical music, Indian ragas, Indigenous traditions, and other musics of the world. The Manchester Guardian describes her music as "beautiful, glassy and liquid, however far she strays from pulse and conventional harmony."

Recent performances include the Leipzig JazzTage in Germany as a part of the Chris Cutler Project, critically acclaimed performances at the London Musicians Collective's Festival of Experimental Music, and performances at the High Zero Festival in Baltimore, Birmingham (AL) Improv Festival, and the No Idea Festival in Austin, Texas. Improvisational collaborations include those with composer Pauline Oliveros, the late bassist Peter Kowald, Joe Giardullo and Joe McPhee, LaDonna Smith, Tatsuya Nakatani and Audrey Chen, as well as concerts and recordings with avant-garde guitarist Eugene Chadbourne.

Her solo recordings Uma (Loveletter)and Curandera (Fleece Records) are available in the US and Europe.

---

"Susan A is a great player who has mastered and redefined an unlikely instrument. With an exquisite touch she invoked it's history, extended its emotional and ethereal strengths and explored its microtonal possibilities—drawing it out of the contexts that traditionally render it invisible, or generic, and into its own mature discourse—reminding improvisers that 'free'
includes the right to be romantic, melodic and four to the bar."
Chris Cutler, The Wire (UK)

"From the relatively unadorned sound of pedal steel and amplifier, Susan Alcorn brings forth music that is as full of emotional honesty as it is of melodic and harmonic exploration and surprise. She possesses a virtuosic technique that is always at the service of the musical moment and its
possibilities for expression and communication."
Kevin McNeil Brown, Dusted Features

"Alcorn's pedal steel tones, stretch, float, and dance in the air, and on the ears, expressing something that's worlds beyond words, yet able to communicate on the deepest level."
Pete Gershon, Signal to Noise

"Her radical deep listening & approach to the steel guitar . . . is a revelation."
Ed Baxter, London Musicians Collective

* * * * * * * * * * * * *
OPENING FOR SUSAN ALCORN are Scott Burland and John Lowther who will make up the next episode of Johnny Minotaur.

This is not Johnny Minotaur, we don't know for sure who this minotaur is, but someone called him Larry;


regular gallery hours

July 16, 2005
12:00PM - 5:00PM


GFE / Black Love

July 16, 2005
9:00PM - - -
Price: $5.00

Euphonic Productions
presents:
GFE
Black Love

9pm, Sat July 16
$5 at the door
Eyedrum


GFE:





Ana Balka - violin & guitar
Jeff Bradley - double bass
Scott Burland - pedal steel, keyboards, electronics
Rob Cheatham - saxophones, keyboards
Bob Hulihan - electronics, guitar, theremin, etc.
Milt Jones - percussion, etc.

Black Love:

Brian Cook and Rich Hudson founded BLACKLOVE over a few pints of cold cerveza negra the stormy summer of 2001. In a sweaty sea of Georgia humidity, lugging equipment up metal fire escape stairs to Brian's flat or past gun toting billygoat Baptists to Rich's farm, they began their experiments. Their evolving sound includes: vocs, keys, guit, bass, shakers, woodchucks, empty H2O bottles and samples. Songs range from a minimalist quiet passage with feedback served over harmonic trance bass and a loop of infidel philosophy to an upbeat Olympic anthem-like tune with horns, bass, and cattle sounds to the watery trip-folk of "Space Ship" with an actual UFO roaring to life at its conclusion. A spectator is unlikely to hear two songs that sound the same at a BLove show. BLove does their own thang irreverent of half-hyped music trends. Their sound encourages normal elimination in the adventurous music fan while causing massive gaseous explosions from those who prefer their music predictable as a McDonald's menu. BLove doesn't ROCK in the conventional sense. But BLove may make ya feel a little funny in the pants at inappropriate times like a leg humpin' dog.

To find out more about Black Love, click
here.




Unoccupied Minds - Documentary

July 17, 2005
6:30PM - - -
Price: $4

6:30 PM - for discussion, presentation and a chance to view the artwork.
8PM - film starts.

Art and Films from Palestinian Refugee Camp Tour U.S.

An exhibition entitled "Unoccupied Minds" featuring the artwork and corresponding audio interviews of twenty-three children living within the Balata Refugee Camp will be touring the East Coast of the United States throughout the months of July and August. The exhibit, along with a selection of films produced by the Balata Film Collective, is brought by Abigail Fletcher and Chip Malloy, who will speak about their experiences in Balata.

The Balata Refugee Camp is one of the most hard-hit communities in Palestine's West Bank. Refugees from the 1948 expulsion, the over 30,000 residents crammed into a single square kilometer live in a heavily militarized zone where tear gas, gunshots, and military searches are a part of everyday life. Despite being the largest refugee camp in the West Bank, Balata receives very limited outside support. Visitors are rare and links abroad are practically non-existent.

The Balata Film Collective was initiated to enable young Palestinians from Balata to break their isolation, challenge their oppression, and represent their lives to the world. The films, "Women in Death Castles", "Elections Furore", "Hunted Everywhere", and "Akoub the Challenge" are shot, edited, and conceptualized by young Palestinians. "Unoccupied Minds" consists of artwork and the corresponding audio interviews of twenty three children living within the area surrounding Balata/Nablus in February and March of 2005.

For more information about the Balata Film Collective, visit;
www.balatacamp.net/website/balata.htm

Atlanta Palestine Solidarity; www.atlanta4palestine.org

regular gallery hours

July 20, 2005
12:00PM - 5:00PM


LANGUAGE HARM - form(s)

July 20, 2005
8:00PM - - -
Price: $4

forms?
what could that mean? will it be a whole night full of villanelles? haiku? sonnets? limericks? will eveyone chose there own form or make up new ones? stay tuned for updates.


pedestrian deposit and oscillating innards

July 21, 2005
8:00PM - - -
Price: $6

404 noise presents

PEDESTRIAN DEPOSIT
OSCILLATING INNARDS
travis vs. graham moore
moribund

Pedestrian Deposit exists as an 'abrasive electronics' unit in California's Central San Joaquin Valley -- an area devoid of most culture. Recordings are difficult to classify; one might be a meticulously crafted work, full of rising peaks, heavily layered breakdown sections, and dynamic editing; others might be pure wall-of-noise in the old school 'industrial-noise' tradition (usually the long-playing cassettes could fall under this header). All work retains subtle, fetishistic undertones and a feeling of deja vu, or repetition -- 'did I just hear this?'

http://www.monorailtrespassing.com/


and


Oscillating Innards--more harsh noise from california

http://www.iheartnoise.com/innards/












regular gallery hours

July 22, 2005
12:00PM - 5:00PM


regular gallery hours

July 23, 2005
12:00PM - 5:00PM


regular gallery hours

July 27, 2005
12:00PM - 5:00PM


modern day urban barbarians/Black Blacks

July 27, 2005
9:00PM - - -
Price: $5

modern day barbarians:
www.mdub.com . I'll send out a package this week
all the best, Devin

"More radical ambivalence from the fertile crescent of
Williamsburg, MDUB?s distorted bass and pounding drums
make for noisy, riff-heavy blues. Vocals are spit,
form trumps sentiment, the harmonies are bound by one
or two measures?songs thud toward the edge and
abruptly fall off."
- The Village Voice

"two piece MDUB are spazz and groove technicians"
- The Village Voice

"most of the time,when a band comes along sounding a
mess like these Barbarians do, we turn up our noses.
But not just anyone can do fucked-up with the right
combination of spirit and determination, and we think
this Duo-at times coming off like a cross between Beat
Happening and Vertical Slit-may know something it
isn't telling us"
- Time Out New York

regular gallery hours

July 29, 2005
12:00PM - 5:00PM


Jeff Arnal / nu-south subterraneans

July 29, 2005
9:00PM - - -
Price: 5


Jeff Arnal frequently performs and collaborates with a wide range of
musicians and choreographers in the U.S. and Europe. He studied music
at Bennington College with Milford Graves receiving an MFA in 2000. A
native of Georgia, Arnal moved to Baltimore, MD in 1991 to attend the
Peabody Conservatory, and later study composition with Stuart Saunders
Smith. He has received grants and fellowships from Meet the Composer
and Art Omi International. Recent performances include deSingel, German
Nordwestradio, Music at the Anthology, Roulette and Vision
Collaboration Festival. He can be heard on a number of independent
record labels including Generate, Cadence Jazz, Leo, and Oaksmus. He is
a co-artistic director of the Improvised and Otherwise Festival and
curates On the way Out, a monthly new music series in Brooklyn, NY.

Current projects include ongoing work with choreographers Estelle
Woodward and Alison Robinson; Rara Avis with Gordon Beeferman and Seth
Misterka; duet with Dietrich Eichmann; duet with Michael Evans; Tranist
with Seth Misterka, Reuben Radding and Nate Wooley; and Tripwire with
John Hughes and Lars Scherzberg.

"Percussionist Jeff Arnal's balletic sense of time and imaginative
deployment of colour have combined into a highly original concept."
- Philip Clark, The Wire.

www.generaterecords.net/JeffArnal.html


...............
Nu South Subterraneans, established in 2000 by Roger Ruzow is a collective of Atlanta musicians performing improvised and Nu compositional music. The ensemble has evolved several times over the past five years as Nu South Subs move forward into trying to emit the greatest (best) form of communication between entities in the universe. N.S.S. features the original compositions of Ruzow, Crompton, and Leslie, creating jazz influenced bop, swing, folk, orchestral music with free improvisation.

- Teacher/Performer/Composer Roger Ruzow lives in Atlanta, Georgia. A founding member of the free jazz ensemble, Gold Sparkle Band he first began playing the trumpet at age 8. In addition to his (now quite infrequent) tenure in Gold Sparkle Band, he composes music and performs trumpet in Atlanta and the continental U.S.. Born in Miami, Fla., Ruzow left the bent sunshine state when he was 18 to pursue a degree in music production at Appalachian State University in Boone, N.C.. After completion of his degree, Ruzow moved to Atlanta in 1993 where he Charles Waters, Andrew Barker, Andrew Burnes and Rob Mallard founded Gold Sparkle Band. In Atlanta Ruzow concentrated on re-discovering the trumpet, trying to make a living teaching trumpet, performing trumpet, and heating and/or serving foodstuffs in many different fine southern dining establishments. In 2000 A.D. R.R. began teaching elementary school general music in Metro Atlanta, a fantastic career which after the acquisition of full Georgia music teacher certification in 2004 (earned at Georgia State Univ.) he does with a bit more security.

-Keith Leslie is a multi-instrumentalist, dividing time between drums
and piano. Interest in music led him to academic pursuits at Florida
State University, there instilling a love for melody and harmony in
jazz music while at the same time spawning contempt toward those very same aesthetics, a conflict of interest that still presides. Moving to Atlanta, GA in 1998, he found himself dividing time between straight-a-head gigs and performing with artists exploring improvised music and original works; currently he is still dividing time.

-Jeff Crompton is an Atlanta native. He teaches music in the Fulton County school system and has been playing music in the city since the 1980s. Jeff was a member of the semi-legendary free jazz trio the Bazooka Ants, has led his own band, and has played and recorded with pianist/composer Michael J. Smith. In addition to his work with the Nu South Subterraneans, he plays with the straight-ahead jazz band Standard Deviation, the Chilly Willy Blues Band, and the unclassifiable duo Robocromp.

Ben Gettys- Born in Dallas, TX in 1948, Ben started playing electric bass during high school in St. Louis, MO. He played in several R&B bands until moving to Atlanta, GA in 1967. During the late 60s and early 70s, Ben played everything from power trio rock and roll to country and western. Taking up the upright bass in the early 80s and moving to the jazz realm, he played with the big band, The Modernairs, for 10 years and the avant-garde trio, the Bazooka Ants, with Jeff Crompton. In the mid-90s, Ben started playing in blues bands, most notably with Sean Costello, Bill Sheffield, Delta Moon, Eddie Tigner, and The Chilly Willy Band. Ben met Scott and Janna in the mid 80s and has been in Standard Deviation almost 20 years.





Roger Ruzow Press Quotes:

"….though,it is the playing of trumpeter Ruzow, potentially the most interesting brass stylist to come from Georgia since trombonist J.C. Higginbotham in the 1930s." Ken Waxman (JazzWeekly.com)


"….Ruzow growls and whinnies, but has a fat broad sound when he wants, and the musicianship is high all around."-Gary Giddins (Village Voice)



"Roger Ruzow has a wonderfully dirty tone on trumpet that alternately brings to mind Cootie Williams and Lester Bowie." -Rob Cambre (Where Y'at)


"Throughout the disc, (Gold Sparkle Band's Fugues and Flowers) the contrast of horns makes Waters' sax sound elegant, and Ruzow's trumpet sound crass. It's the kind of crass that draws out the human essence. It makes you realize that there's a whole spectrum here. That it's not all about sounding pretty or interesting, or having fancy names. It's about culling up what lies within."-Celeste Sunderland (All about Jazz)

Jeff Crompton Press Quotes:

"All you have to hear is one of Mr. Crompton's free-floating alto solos to recognize a distinct talent, one whose piercing lyricism takes its cues from the bumblebee-flight patterns piloted by Ornette Coleman". - Steve Dollar, (Atlanta Journal Constitution)

If "This Jazz Century" had a star, it was Jeff Crompton, an Atlanta native who played two saxophones and a smattering of clarinet. Though Crompton had the unenviable task of, for example, playing a Miles Davis tune on the sax, he managed to honor the past masters while communicating in a voice of his own. - Nick Marino, (Atlanta Journal Constitution)





regular gallery hours

July 30, 2005
12:00PM - 5:00PM


The Deluxe Vaudeville Orchestra

July 30, 2005
9:00PM - - -
Price: $10

The DeLuxe Vaudeville Orchestra makes a rare Atlanta appearance
you won't want to miss. Described as having "one foot in the 30's and
one foot on Mars," the DVO will hold forth with their highly eclectic
mix of music, juggling and "specialty acts." And, who knows, maybe even a special guest or two.

You'll laugh... you'll cry (well, no you won't)...
you'll dance if you wanna.
Join The DeLuxe Vaudeville Orchestra for an evening of great fun at this, their first appearance at Eyedrum.

www.deluxevaudeville.com