Philippe Petit, Xambuca, Nows

June 4, 2014
9:00PM - - -
Price: 5

Philippe Petit





I am interested in soundtracks; even if I create original music I'd rather be introduced as a "musical travel agent" than a composer.

Since the early 2000s I have been performing the world, playing festivals all over Europe, Canada, USA, Mexico, Australia & Asia... Feeling lucky to release on several international labels such as Aagoo, Southern UK, Monotype, Alrealon Musique, Beta Lactam Ring, Sub Rosa, HomeNormal, Important, HelloSquare, Public Eyesore, Utech, Staubgold, etc... (see the section "Friends/Collaborators" above in the Menu bar for a detailed list + links).

To compose musics I use various instruments or devices, though most notably an Electric Psalterion + Hackbrett Cymbalum + Caterpillar Drum Guitars built by Yuri Landman (see right picture above) + turntables as well as a computer and synths to build up electronic layers, process acoustic and field recordings. On top of those, I like to move various glasses, pieces of wood, stones, or percussive objects, as well as taking advantage of vinyl material to fondle released sounds.

Dealing with Electroacoustics, because I'm relying on electricity/amplification to produce, manipulate, work on sound-material, but trying my best to explore various genres and make sure that each of my albums differs from the previous one, trying to avoid routine and surprise my listeners.

A journalist for various magazines/radios since 1983, as well as a musical activist, I have celebrated 30 years of activism, sharing musical passions...
I am aso the man behind the cult labels Pandemonium Rdz. and BiP_HOp.

***********************************************

XAMBUCA





X A M B U C A is an ongoing multimedia collective which has had help from several trusted authoritites; namely Chandra Shukla, Jason Scott Furr, RK Faulhaber, Lux Vibratus (Chrome), Elisa Faires, Larry Thrasher, Todd Mellors (Saifir), M.S. Waldron (irr. app. ext.) , Sijal Nasralla (Dunums), David Linton, Enrique Ugalde (Soriah), Andy Loebs (Balloon Animal Farm), Derek Poteat, Meghan Mulhearn (Divine Circles), David James Lynch (Reach for the Stars), Joe Moresi (Subtle Body), Kimathi Moore along with the video and audio expertise of Jason Scott Furr and the visuals of Megan McKissack. The crew has been seen if not heard sonically feeding the beast known as X A M B U C A.

X A M B U C A is not limited to any particular style or category of music and would like to establish that it not be limited to the confines of musical categorization…experimental you say? Well we've experimented and know the possibility of most usable sonic results. So has the rest of mankind now that we together embark upon the footprints of human unoriginality.



As the name implies, X A M B U C A, is a non-sensical arrangement of letters spelling out what most often confuse to be the Italian liqueur made from elderberries known as sambuca. In actuality, the name lacks any direct definition whatsoever, the similar spelling only a mere coincidence. Cause it's never what you think it will be, but it might and we'd like you to start thinking it's whatever you want it to be…even if it's horrible.
This being indicative of the chance operational, improvisational, free-for-all element of approaching art with a naivete free from distinction, categorization, organization, limitation and imitation while also struggling with the confines of these simultaneously as we would be naive also to ignore that these phenomenon exist wherever humans are possible.

X A M B U C A strives to be just as much visually compelling as it is sonically. Moving aesthetics are as equal a prority when it comes to X A M B U C A's presentations. Our performance rider is simple: No darkness, no video, then no music (no show).

Chandra Shukla of XAMBUCA previously played in/performed/recorded with Squim, Scribble Seven (Nurse With Wound),Genesis P-Orridge: Psychic TV / Splinter Test/ Thee Majesty, Hans-Joachim Roedelius, Qluster, Tipsy, Vaccuum Tree Head, Thrasher Qawwal, Bachir Attar, Scarab, Qaballah Steppers, DiViD, Thomas Dimuzio, Saifir, Flak Bond, Larry Thrasher, RK Faulhaber, Matt Waldron (irr. app.ext.), Costa Cross, Poo Poo Shoe, Naut Humon's ISO Orchestra, Esperik Glare, Cardinal Pecci, Paw of Zing, David Linton, and many others.

Life Drawing

June 8, 2014
2:00PM - 4:00PM
Price: $3-$5 sliding scale

At 115 MLK Jr. Drive, Suite 225
Come draw the human figure in a contemplative, calm atmosphere. good natural light!

Clay Rendering (Wolf Eyes), Twins, Lussuria, DA

June 10, 2014
9:00PM - - -
Price: 7

At Eyedrum
88 Forsyth St.
Atlanta, 30303


Clay Rendering
(Wolf Eyes, Hair Police)
Clay Rendering conduct two sludgy, gothic metal invocations for Hospital Productions. Operating at a remote distance from Wolf Eyes, they forge blackened metal riffs and toiling drum machine steeped in towering synths on 'Natures Cinfusion', building a fortress of warding evil around Tara's witchy rasp. B-side, 'Vengeance Candle' edges Tara's vocals slightly forward against slow waves of crashing, reversed cymbals and snares and sticky electro-goth signatures, while banking clouds of claw-handed guitar rise up like a slow-motion dust-storm behind her to a climax of wheezing, rustic accordion that comes from nowhere. Awesome stuff, and sounds quite excellent on vinyl thanks to a Russell Haswell mastering job.
Lussuria
Reflecting the ritualistic appeal of late '70s and early '80s Italian industrial � la Cicciolina Holocaust, Sermonizer or MB, crossed with the epic claustrophobia of early material from the Cure and the decadent, voyeuristic compulsion of Pasolini flicks so enamoured by Coil, the enigmatic Lussuria ("Lust" in Italian) has conceived nothing short of a dark ambient masterpiece for our times. It's a De Quincey or De Sade-like meditation on a perceived American condition that percolates far beyond its borders, matching the militant oppression of Vatican Shadow with martial pomp of opener 'Keys To Unlock Paradise (Roman Showers)' and the cold-sweating tension of 'Queen Of Swords Reversed', while ambient interzones such as 'Viper Room Vigil' and 'Mondo Narcotico' relieve the suppression effectively as a loosened tourniquet. In his role as the Dark Interpreter, Lussuria acts as informant from the netherworld relaying the eschatological drone vision of 'Under' and the backmasked Bacchanalia of 'Coiled Serpent Shedding' to fanged ears on the other side, culminating with two furtive dispatches in the coruscating half-light of 'Nicotine Incense Trepan Redux', and the uncannily poignant video-diary entry set to numbed pads and raging black metal noise inferno that closes 'American Babylon'. So many attempt this sound, yet it's putative pleasures remain just out of grasp to most. Not so with Lussuria.
Dual Action
Killer debut of blunt noise/techno from the New York scene stalwart known as K.P. (of VIRILE GAMES). For fans of Preserved Instincts, Miles Whittaker, Powell, Vatican Shadow or Prostitutes. As Hospital Productions put it: " Dual Action combines the eerie atmospheric sound collage of crowded chinatown streets with the deafening silence of a new apartment and the hard industrial beats of subways and freeways. A dynamic, physical autonomism. Body complete." Check 'Body Automatic' for stygian industrial techno in the vein of VS or Alberich, and 'Oil On Asphalt' for resonant subbass shockwaves and decaying atmospheres, or the ductile electronics of 'Automotive Sex Club' and 'Body Complete' for stoic meditations on monotone analogue machine music.
Twins
TWINS is the paranoid outsider-pop project of Atlanta-based producer Matt Weiner. Having spent the better part of a decade reveling in a mutant murk that intersects seductive synth-pop with Featureless Ghost and grotesque industrial-dance grooves in his own right as TWINS on LPs issued by Ruralfaune and Clan Destine, Weiner has more than proved his sincerely sinister and auspiciously artful finesse of synth-based music. Operating from his home studio, arrayed with various tools of the trade, Weiner culls his subtle scourges of sound with an unending sense of bold exploration, processing tracks of rhythmic, aural catharsis.
Anticipation
The latest project of DKA co-operator Chris Daresta (Roman Photos, Gold Painted Nails, African Grays).

Synaesthesia II

June 14, 2014
8:00PM - - -
Price: 10

At the Goat Farm
1200 Foster St.
Atlanta, 30318




Synaesthesia II is a musical composition that will be performed by an orchestra of 25 guitarists on June 14th, 2014 at the Goat Farm in Goodson Yard. The guitarists, dubbed the Color-Tone Drone Orchestra, will be evenly separated into groups of five, and each group will be conducted by one of five globes of colored light. As a globe displays a color, each player in the group will strum a note indicated by the corresponding color-coded fret on his or her guitar. Each light will be programmed to represent one of five layers of the musical composition.

Using this system of colorizing notes, prior knowledge of the composition is not required, and the group can effectively perform the piece with minimal practice, much like using traditional sheet music. However, unlike sheet music, the light cues are visible to the audience, which encourages spectators themselves to draw links between the sounds they hear and the colors they see.


Opening sets from Currency and Duet for Theremin & Lap Steel

Writers Exchange

June 17, 2014
8:00PM - 11:00PM
Price: free

This event occurs in the Warhorse Cafe at The Goat Farm Arts Center, 1200 Foster Street, Atlanta 30318. From Howell Mill Road, take Huff Road west (away from downtown Atlanta), then take the first left, which is Foster Street. Entrances to the Goat Farm are on the right, after the driveway for the Howard School.

Come share your literary output aloud for 10 minutes and get feedback for 5 minutes. Lost? Call 678-642-0612 or 404-578-4430.

Invent Room Pop 38

June 20, 2014
10:00PM - - -
Price: Free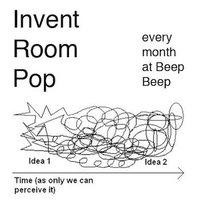 This is the 38th installment of Invent Room Pop. Six musicians are invited to play in duos and trios determined at random, with names drawn out of a hat.

Kevin Dunn - guitar
Blake Helton - drums
Stan Woodard - guitar
Hiron Roy - saxophone
Claire Belcher - violin
Alessandra Hoshor - synthesizer

9/50 Welcome to Eyedrum's New Space

June 21, 2014
10:00PM - 1:00AM
Price: FREE

Welcome, visitors to the 9/50 Southeast Arts Presenters' Summit. After all the visual arts presenting, discussion, and looking, come! Let loose and dance as our guest at Eyedrum's new space at 88 Forsyth Street, SW. We'll have a DJ, thanks to the "Menace IV Society" collective, refreshments, and dancing!

Life Drawing

June 22, 2014
2:00PM - 4:00PM
Price: $3-$5 sliding donation scale

Come. Bring your pencil and draw the figure!

Typo - LIve Coding

June 29, 2014
1:00PM - 2:00PM
Price: FREE

Learn techniques for turning computer code into music and video, LIVE.