Zack Kouns, Easily Suede

June 1, 2013
9:00PM - - -
Price: 7

At the Fuse Arts Center
115 MLK Jr. Dr.
Ste. 225
Atlanta, GA 30303

Also featuring Four Hands, Magicicada, & Frank Hurrycane




Zack Kouns
Zack Kouns is from some small town in the US. He plays music with voice, tenor and alto saxophone, clarinet, trumpet, temple blocks, chinese opera gong, tape manipulation, violin, banjo. It's weird shit, some dark neofolky gothic shit, some totally fucked up noise, some angular no-wavey shit, some Leadbellyesque blues and Woody Guthrie folk, some beautiful piano ballads, and plenty of free jazz all through it. He exists in a realm somewhere near Jandek, I suppose – completely outside of everything, and basically impossible to compare to everything.
- Alps

Easily Suede
Atlanta's Easily Suede is Adam Babar, a musician by trade, perhaps a painter by art. His compositions are more like musical brush strokes meant to conjure moods and make feelings tangible. Easily Suede shows how the right combination of sounds can be so powerfully alluring. A song like "Stories" feels frenetic, nervous and scatological — and yet it's also jazzy, controlled, and disarming with its soothing circular rhythms. A song like "She's Savage" is dark, sexy and harmonious. The samples and snap-transitions are prettily and inventively arranged. Easily Suede is a painter with a number of brushes. The longest song on this eight-track split EP (with Blithe Field) is "Movie Night" — which begins with a slow and rising organ synth buzzing with deep solemnity. Warped noises join. A crackle enters, sounding halfway between record-player hiss and the muffled din of underwater movement. A light percussion. An electronic blip. A staccato rhythm. Snare sound. Easily Suede creates layers upon layers, none feeling cluttered or messily arranged. They're intricate and nuanced. This was a fantastic listen. Highly recommended. Download the album at bandcamp. — David D. Robbins Jr.

thingNY and Chamber Cartel, Patriots and Dressur

June 6, 2013
9:00PM - - -
Price: Donations

At the Fuse Arts Center
115 MLK Jr. Dr.
Ste. 225
Atlanta, GA 30303




thingNY
Jeffrey Young and Paul Pinto, members of theatrical new music collective thingNY, are going on a seventeen-city "Election Tour for a Stranger America" with their absurdly titled work, Jeff Young and Paul Pinto, Patriots, Run for Public Office on a Platform of Swift and Righteous Immigration Reform, Lots of Jobs, and a Healthy Environment: An Opera by Paul Pinto and Jeffrey Young. Created in 2011 as a parody of contemporary politics and politicians, the half-hour piece focuses on issues of immigration and national identity. New York-based musicians Jeffrey Young and Paul Pinto collaboratively wrote the text, music, and staging, scoring the piece for their own voices, violin, percussion, a turntable, and lots of cardboard boxes. In …Patriots…, instrumental music alternates with sung and spoken words, zany and humorous topical quips alternate with personal, pointed critiques of the political zeitgeist, fully notated sections merge into structured musical and textual improvisations, and tonal harmonies mix with less traditional musical effects.

Chamber Cartel
A band of musicians dedicated to finding the strange, imaginative, beautiful, and awesome in contemporary music.

The half-hour percussion trio Dressur (1977) is rooted in Kagel's concern for how audio recordings have altered the tradition of audience experience. "In the 19th century people still enjoyed music with their eyes as well, with all their senses," Kagel has expressed. "Only with the increasing dominance of the mechanical reproduction of music, through broadcast and records, was this reduced to the purely acoustical dimension. What I want is to bring the audience back to an enjoyment of music with all senses. That's why my music is a direct, exaggerated protest against the mechanical reproduction of music."

Cello Summit! Jari Piper & Diana Obscura

June 15, 2013
9:00PM - - -
Price: 7


At the Fuse Arts Center
115 MLK Jr. Dr.
Ste. 225
Atlanta, GA 30303 C4 Space:


Alaskan-born, Montréal-based cellist Jari Juhani Piper is as comfortable performing in the concert hall as well as bars, cafes, or just the metro. Faithful to his classical training, his eclectic musical taste has brought him a wide variety of genres and styles, and so as a result the bulk of his programmes consist of 20th and 21st century music.  A firm believer in the importance of new music, Jari has premiered numerous compositions from young artists, and strives to make modern music more universally accessible to the public through performance.


Jari has performed across Alaska, Greece, Canada, and the contiguous United States.  He made his solo debut in 2011, performing Haydn's Cello Concerto No. 1 with the University of Manitoba Symphony Orchestra.  He is a founding member of Pizzicelli, an all-cello ensemble dedicated to arranging and performing music from outside the classical world.   His current professional associations include the ME|2 String Orchestra in Vermont, the McGill Symphony,  and as a gigging cellist in Alaska.  He gives regular recitals in Montréal, where he is pursuing a Master's in Performance with Yegor Dyachkov. He has broadened his education through a number of master classes with noted touring professionals such as Colin Carr, Hans Jensen, Matt Haimovitz, and David Harrington.   He currently holds a Bachelors in Music Performance from the University of Manitoba.  

Jari Piper sounds

Youtube Promo


Jari Piper website



---


Diana Obscura creates spare, powerful, evocative songs for cello and voice, influenced by early and avant classical music.

dianaobscura.com

Writers Exchange

June 18, 2013
8:00PM - 11:00PM
Price: free

This event occurs in the Warhorse Cafe at The Goat Farm Arts Center, 1200 Foster Street, Atlanta 30318. From Howell Mill Road, take Huff Road west (away from downtown Atlanta), then take the first left, which is Foster Street. Entrances to the Goat Farm are on the right, after the driveway for the Howard School.

Come share your literary output aloud for 10 minutes and get feedback for 5 minutes. Lost? Call 678-642-0612 or 404-578-4430.

Silk/Slag, In Sonitus Lux CD release, Killick

June 20, 2013
9:30PM - - -
Price: $7


At the Fuse Arts Center
115 MLK Jr. Dr.
Ste. 225
Atlanta, GA C4 Space:


Silk/Slag is Ami Dang and ZT Christensen, who play sitar, bass, and electronics and exude vocal feelings. Silk/Slag's sound is a shifting pocket of floating houses, coastal drift, and dark sands.

silkslag.tumblr.com
soundcloud.com/silk-slag





In Sonitus Lux is E. Seron Brannen on Hangdrum with a revolving roster of guest improvisors. This show feature Frank Schulz of Duet for Theremin and Lap Steel.

They will be celebrating the release of the Brannen/Lieske CD featuring the late Craig Lieske.

In Sonitus Lux




Killick Erik Hinds (born 1972) of Athens, Georgia is active as a composer, performer, and promoter of a wide range of music. He plays quartertone electric guitar, as well as Big Red harp guitar and the H'arpeggione, an 18-stringed upright acoustic instrument with sympathetic strings, both built by Fred Carlson. Equally influenced by improvisational music and "composed" sounds, Killick's style blends primitive folk, heavy metal, and sacred musics from around the world.

Killick's website

Invent Room Pop 26

June 21, 2013
9:00PM - - -
Price: Free

At Beep Beep Gallery
969 Charles Allen Drive
Atlanta, GA 30308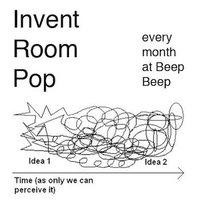 This is the 26th installment of Invent Room Pop. Six musicians are invited to play in duos and trios determined at random, with names drawn out of a hat. Featuring projections by Paige Adair.

Sean Conlon (guitar)
Mitch Sosebee (drums)
John Hannah (synth)
Stephen Fenton (radios and electronics)
Michika McClinton (guitar)
Olivia Keiffer (percussion)

Nymph, Space Trucks, Axenic Autotype, Feast of Vio

June 23, 2013
9:00PM - - -
Price: 7

At Eyedrum Downtown
At Fuse Arts Center
115 MLK Jr. Dr.
ATL, 30303
between Pryor and Peachtree St.


Nymph

NYMPH is a Brooklyn-based seven-piece that has been active in the New York psych, noise and jazz scenes for seven years. The outfit's expansive approach confounds thumbnail genre ascription, and yet does not depend on confusion or combinatorics for its impact; rather, the fluid and multifarious membership enjoyed by the former duo-plus-band of Matty McDermott and Eri Shoji has expanded, edified and enlightened NYMPH's approach to texture, composition and execution. Truly, the band's sound represents a seamless and exuberant amalgamation of heavy psych, free-jazz, modern minimalist composition, kosmische kraut, and visionary desert blues.


Space Trucks

The Late B.P. Helium's (of Montreal) Afrobeat/Krautrock group


Axenic Autotype

Improvisational electronics.


Feast of Violet

Solo output of Allen from Lotus Plaza

Im/Permanence

June 28, 2013
6:00PM - 10:00PM
Price: FREE (Why not renew membership?)



This event occurs at Eyedrum Downtown, now in the FUSE Arts Center, 115 MLK Jr Dr, Ste 225, Atlanta, 30303.

Gallery opening, literary magazine launch, and musical performances

The opening will feature:
Faun & a Pan Flute
Duet for Theremin and Lapsteel
Living Space Trio

Im/Permanence is a concrete human challenge, but it is also a conceptual, social and personal component of what it means to be a living organism, by definition continuously both in flux and in stasis. Eyedrum's Im/Permanence program of events offers artists opportunities to engage in conversation about the symbols, artistic and linguistic, that illuminate this conflict. How do we talk about it with ourselves and with others? Is it possible to connect with and convey experiences of permanence and impermanence directly, without communicative symbols? Is death actually a grin reaper, and are we just too nervous to notice? In what ways do change and intransience bind us to time and/or free us from it? How do we engage, resist, disclose, discount, accept, recoil from the im/permanence that defines and dominates nearly every aspect of our reality?