First Thursday Open Improv

June 4, 2009
9:00PM - - -
Price: free

Dancing ...on thin ice/in mid air/on top of the world



---

Eyedrum's long-running Open Improv night occurs on the first Thursday of every month -- our monthly gathering for instrumentalists and improvisers of all stripes. Bring your instrument! Hosted by the indefatigable Robert Cheatham.

WPBA 30, Atlanta's PBS station, did a bit about Eyedrum's Improv Night a couple years ago for their "This Is Atlanta" show. Click for their description and the video itself (Windows Media, 2m40s).


regular gallery hours

June 5, 2009
3:00PM - 8:00PM
Price: free


The Seventh Ring of Saturn, Mog Rocket , The Lost

June 5, 2009
8:30PM - - -
Price: $6


"The Seventh Ring of Saturn is an intergalactic, subterranean psychoactive experience whose music segues from edgy cacophony rooted in Miles Davis through intense, hard-driving rock 'n' roll rhythms and transcendental vocals like a cryptic spirit at haunt in the darkened recesses of the Fillmore West."
-- Skip Williamson

--------------------------



Mog Rocket is a progressive rock band based in Atlanta, GA. Intertwining heavy riffs and dark overtones with softer melodic interludes, this trio provides a vast and dynamic canvas to paint its sinister vision. Drawing influence from their predecessors of the early 1970's, Mog Rocket fuses classic sounds with near algebraic compositions in a style that is entirely their own. Their shows provide a mixture of well-orchestrated rock and crunching improvisation.

Mog Rocket myspace

--------------------------



The Lost

Ben and Will Martin slice through the established sonic galaxies with an intellectual, creative prowess.


regular gallery hours

June 6, 2009
1:00PM - 6:00PM
Price: free


Gather Atlanta

June 6, 2009
6:00PM - 8:00PM
Price: Free.

Gather Atlanta is an annual networking event presented by MINT, BurnAway, WonderRoot, and ThoughtMarker, which seeks to unite and promote Atlanta's emerging galleries, alternative art spaces, and young creative collectives.

Amalgamated Cliff Divers w/Calendar

June 6, 2009
9:30PM - - -
Price: $7


Amalgamated Cliff Divers
Started in 1983 by bringing together individuals from different bands for an evening of improvised music, at the legendary/infamous Atlanta club 688. After a hiatus of over 20 years, activity resumed in 2006. This will be the third public performance since reactivation.

Players include:
Robert Cheatham - sax
David McKinney - keys
Max Koshewa - bass
Robert Schmid - drums
Ken Schenck - guitar
Rich Helinger - guitar
Mary Alexander - drums
Doug Hughes - keys
David Dean - Tbone & keys
Kevin "Burning Artist" - guitar synth


Calendar
An Atlanta based quartet playing original songs. The band is Robert Schmid, John Moore, Bernie Griner and Jimmy Gough. Former members of Atlanta favorites: Swimming Pool Q's, the Basics, Fuse, Glaze and others.



regular gallery hours

June 7, 2009
1:00PM - 6:00PM
Price: free


Evolver Atlanta presents Daniel Pinchbeck

June 8, 2009
8:00PM - - -
Price: $7-$10



EvolverFest continues with a lecture by best-selling author and Evolver.net co-founder Daniel Pinchbeck titled "What Comes Next? Preparing for Transformation." The night kicks off with an intimate talk from Daniel, exploring the transformative potentials of this pivotal time. Then, stick around for a panel discussion featuring Reality Sandwich/Evolver Community Director Jonathan Phillips, sacred geometrician and researcher Randall Carlson, and Daniel Pinchbeck, moderated by the Disinformation Podcasts crew.

$10 admission. $3 discount with EvolverFest wristband.

http://www.evolver.net/evolverfestatl

Please note that the main EvolverFest festival is located elsewhere on Sunday. This Monday night event is just the Daniel Pinchbeck appearance



Thomas Helton/ Killick solos & duo

June 10, 2009
9:00PM - - -
Price: $6

For 15 years Thomas Helton has laid down basslines for jazz ensembles in Houston and around the US. Thomas was inspired by the sounds of John Zorn and Peter Kowald to venture outside mainstream musical bounds. This journey began with the Rosta Jazz Avengers, a Houston-based quartet all about free improvisation and sonic exploration.




For more info and to listen to some of his music (including a duet with Charles Gayle), check out his website: Thomas Helton

+++++++++++++++++++

Athens creative music fixture Killick opens with a solo H'arpeggione set, followed by a duo with T. Helton.

Killick myspace


regular gallery hours

June 12, 2009
3:00PM - 8:00PM
Price: free


Moira Scar, Omelet, Go Go Ghost

June 12, 2009
9:00PM - - -

Moira Scar
in their own words: "we are the reed between cleaved monstrosity, for our bodies and minds are the medium for the transdemonic polydimensional energies of Moira Scar) What we are about is the live performances, in our monster-hide costumes, we are two beings who come together under the possession of Moira Scar, Roxy and LuLu of The Floating Corpses becoming Saphoid and Pelvis: instrument use includes, but not limited to, guitar, drums, t-sax, analog synth, organy keyboard, trombone, vox, sampler....We play our all original songs with passion and pizazz, the audience enraptured, the spell is cast."
so, basically, some crazy fucked up rock and roll racket with awesome costumes!!!!!!


In like manner, Atlanta's Omelet stir up some messed up jams indeed, tight funky jams accented by unlikely squiggles and cryptic lyrics that celebrate the mundane and the absurd. awesome indeed.

Also appearing, Go Go Ghost, supplying the seriously deconstructed dark ambient tunage for the night.

all in all, a colorful wonderful show sure to put a smile on your depressed ass.

come have fun. it's a party, yo.

regular gallery hours

June 13, 2009
1:00PM - 6:00PM
Price: free


Small Gallery opening - Sean McCormick

June 13, 2009
6:00PM - 8:00PM
Price: free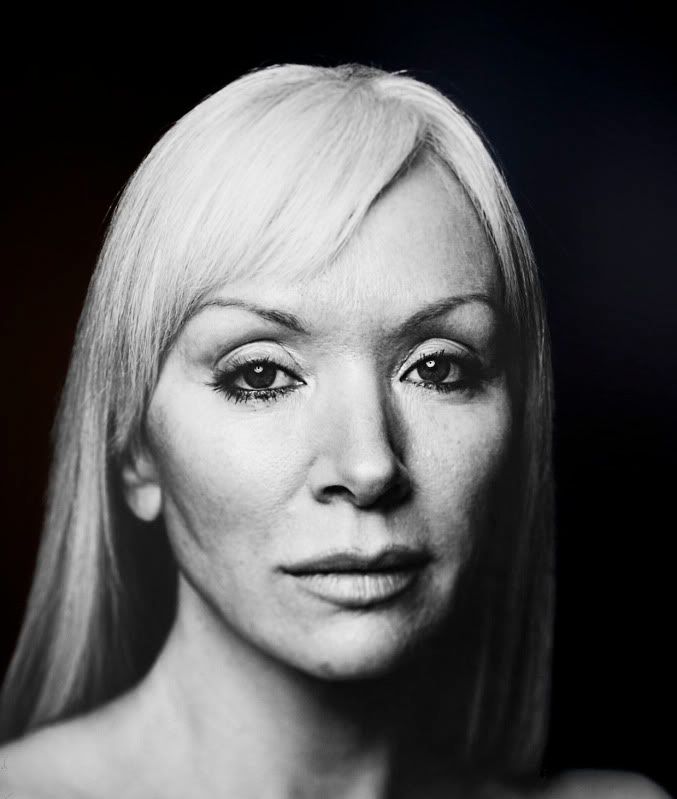 Sean McCormick Photographs

appearing in our small gallery

Opening Sat June 13th

through Sat July 11th

seanjmccormickphotography.com


Near Death Experience Series 2009

The subjects of this series have temporarily died and come back to life. These survivors of death have had what are known as "Near Death Experiences (NDE)," a term coined by psychologist Dr. Raymond Moody in the 1970's. During a NDE people have strange and incredible experiences they have trouble putting into words. They later recall feelings of awe and peace that remain with them throughout their lives. These experiences are remembered to be very real -- as something that actually happened -- not a dream or cloudy memory.

MORE


Dan Melchoir und Das Menace w/Gentlemen Jesse

June 13, 2009
8:00PM - - -
Price: $7


regular gallery hours

June 14, 2009
1:00PM - 6:00PM
Price: free


regular gallery hours

June 19, 2009
3:00PM - 8:00PM
Price: free


imPROMptu sweetheart retro dance party

June 19, 2009
9:30PM - 1:00AM
Price: $5

FRIDAY, JUNE 19th, 2009
EYEDRUM MUSIC + ART GALLERY

last minute promenade!

Fellas, pin a rose on your best sweetheart and let the warm summer air do what it do...or come solo and dance your face off anyway.

yo, dude, i heard someone spiked the punch...better get tuh swiggin' that cologne 'for ya get home and yer mama busts you!

***MUSICAL DEE-LITES FROM***

Molotov Pipedream
The Twinklers (a bradley bailey aural concoction)
Dust Bunnies

mmmhmmm oh yes, we gon' be dancin' all night

Remember, this is eyedrum. and this ain't high school. not your grandpappy's prom...everyone is welcome and for the love of fun, pull out the stops and come dressed in all the crazy shit you couldnt get away with in high school.

last minute but whatever come on what the hell else better are you gonna do tomorrow night? and you know this, man.

regular gallery hours

June 20, 2009
1:00PM - 6:00PM
Price: free

See the Sean McCormick show in our small gallery.

Come back in the evening for the Tom Ferguson opening!


Tom Ferguson Opening receptions in Galleries 1 & 2

June 20, 2009
7:00PM - 11:00PM
Price: free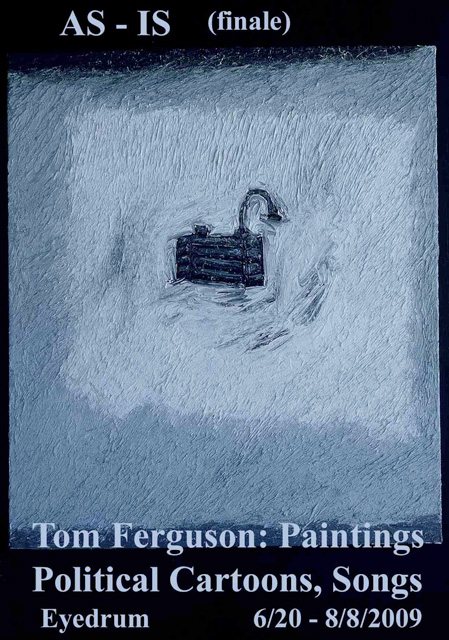 Tom Ferguson Retrospective.

Till August 1

regular gallery hours

June 21, 2009
1:00PM - 6:00PM
Price: free


Fancie (CANCELED DUE TO UNFORSEEN EVENTS)

June 21, 2009
8:30PM - - -

THIS SHOW HAS BEEN CANCELED DUE TO UNFORSEEN EVENTS.

SORRY. DO COME BACK FOR THE METAL SHOW ON FRIDAY!!!



New Orleans artists' talk

June 24, 2009
7:00PM - 9:00PM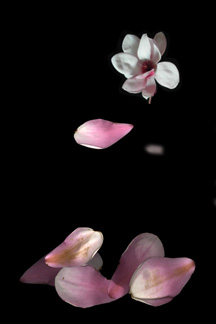 (This lecture is in association with an opening
at Opal Gallery. Thanks go to Constance Lewis.)

The VESTIGES Project:  Land Marks 
Courtney Egan, Jan Gilbert, Debra Howell, & Michel Varisco 
 
June 25- August 6, 2009

OPENING RECEPTION:  June 25th, 7-9p 
The Opal Gallery
Atlanta, Georgia

LECTURE: Wednesday, June 24th, 7-9p at Eyedrum


Musings about the vestigial landscape and cultures of New Orleans began long before Katrina.
The VESTIGES Project, a New Orleans-based and inspired artist/writer collaborative, is celebrating its 25-year anniversary year and traveling artworks by four native Orleanians working in photography and video to Atlanta's Opal Gallery.  The exhibition LAND MARKS is the first part of a pair of offerings presented by VESTIGES and Opal on this year's calendar of Atlanta Celebrates Photography.  The latter portion will be a series of public art installations around town to coincide with ACP's October festivities focusing on photography across the city. 

The VESTIGES Project cofounder and curator of Land Marks, artist Jan Gilbert, notes
"In the past the group has investigated sites that are unknown, overlooked or historically camouflaged, in order to question traditional and commonly accepted ideas of the spectacular.  Here, we have an intimate knowledge of each other's artworks and often share aesthetic inquiries, yet there is an absence of formalized or intentional collaboration."  

While the Katrina flood experience certainly has impacted these artists, their works on view straddle pre and post Katrina experiences in ways that appear prescient.  Frequent VESTIGES collaborator, Andrei Codrescu, who made the introduction of the VESTIGES longstanding efforts to Opal's Constance Lewis just after Katrina, wrote in an email  "Dear Jan: mazel'tov on getting back in your house! VESTIGES is 25? Amazingly prophetic. Did you have any idea that our vestigial burg would become the biggest vestige-display territory in the U.S.? Artist's intuition & life, inevitably."  

Participating Artists: 

COURTNEY EGAN 
"My artwork is concerned with what happens when different rates of change collide. I employ techniques of film-style "special effects," but to ends other than those of traditional narrative cinema. I focus on poetic possibilities in time-based media, an approach counter to the mainstream. 

John Berger wrote that traditional, mainstream narratives are always battles that end in victory and defeat; but poems, as an alternative literary form, "cross the battlefields, tending the wounded, listening to the wild monologues of the triumphant or the fearful," promising that "what has been experienced cannot disappear as if it has never been." My most recent work reflects on moments and witness experiences. The importance of witnessing is deeply felt, a result of living in post-Katrina New Orleans."   
Courtney Egan 


 
DEBRA HOWELL 
Another VESTIGES cofounder (along with Kristen Struebing-Beazley). Through her series of photo-based narrative landscapes and waterscapes such as The River, Howell presents us with almost postcard perfection images that draw us into her ever so slightly surreal locations. Howell refers to her constructed digital photographs as "elaborate meditations on beauty, reality and control that explore the eternal question 'is Life about the Journey or the Destination?'" 
In Land Marks, with her compact installation Photovella!, visitors are invited to participate in the ongoing development of the art as they are asked to write their own short illustrated novellas using the photos provided of people (the "who"), passages (the "how") and places (the "where") as inspiration.  

 
JAN GILBERT 
Gilbert, who often explores through mixed media the boundaries of  books in her artist books, sees her work French Landscape/Dump as a "flattened accordion book."  The regularly-spaced serial seams suggest how these pages might have undulated in real 3-d space as the landscape does throughout the image. Yet, as the trailing dump emerges at the lower border, it's as if she is calling into question via the form, "Who is it flattening this book or destroying this earth?"
 
 
MICHEL VARISCO 
"Even in it's beat up glory, I watch nature heal itself and witness it heal humans, despite our relentless assault on its and our own survival" 
Shifting Landscapes is a series of photographs by New Orleans native, Michel Varisco that focuses on the Louisiana wetlands-swamps, marshes and barrier islands.  Varisco looks beyond the obvious in order to document the subtle, intimate qualities of the wetlands --smoke that rises from the water, delicate patterns of light, verdant shifts from season to season. The series is a study of the land that both nurtures and absorbs back into itself, a place that protects and challenges other places by its sheer existence and a place of spectacular beauty and constant change.



* This exhibition coincides with an artists' conversation between participating Vestiges artists: Courtney Egan, Debra Howell, Jan Gilbert, Michel Varisco. With an introduction by Atlanta based artist and curator Andy Ditzler.
Eyedrum
Suite 8
290 MLK Jr. Dr. SE
Atl, GA 30312 USA 
(downtown, near the Mattress Factory)
tel. 404.522.0655


For information please contact:
The Opal Gallery
484 B-2
Atlanta, GA 30307
opalgallery@gmail.com
tel. 678.717.8890


www.theopalgallery.com
www.eyedrum.org
www.thevestigesproject.org 


WonderRoot Casting Auditions

June 25, 2009
7:00PM - - -


regular gallery hours

June 26, 2009
3:00PM - 8:00PM
Price: free


Bone Awl, Volahn, Offerings

June 26, 2009
9:00PM - - -
Price: $8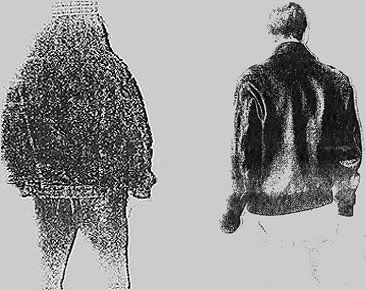 "For the uninitiated, Bone Awl are the duo of He Who Gnashes Teeth and He Who Crushes Teeth, just guitar and drums, but the two are a whirling dervish of harsh negative energy, not so much blasting and buzzing black metal style, as pounding and pulsing, a blown out D-beat style garage thrash pummel. Every track takes a single black riff, and pounds it into the ground, the guitar a swirling cloud of dark energy, the drums some sort of harnessed chaos, hewing closer to the abject blown out pound of the Brainbombs than perhaps any of their more metal forebears. No real blast beats to be found, instead the sound is a blackened punk rock, crusty and crumbling, on the verge of total collapse, barreling hellward with unstoppable momentum."

-Aquarius Records

www.myspace.com/metaboneawl


---


Touring with Bone Awl...Volahn!

"Volahn is the next progression where your physical existence ends and you are a entity of pure kaos. Transcendence of flesh to stars, Black Twilight manifest where art is greater than the artist. 4 years of pushing mind and flesh. The incomprehensible kosmic truth. Covers adorned in Mayan Blood through Black Twilight bloodletting Kaos ritual."

"Sick hun-xib (thats 'one-man' in Mayan) Black Metal from the dank murk and depression of Long Beach, California about to have a vinyl/cd release on Klaxon Records"

-kicktokill.blogspot.com

Volahn website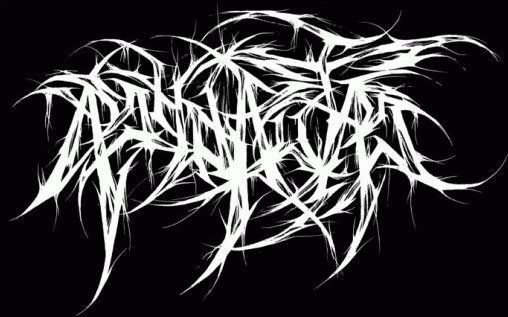 Also on the bill, members of Volahn branch off like dismissed body parts to render the soundspectrum intolerable with the nasty racket that is ... Ashdautas!




Local noise perpetrators Offerings open with a shriek-ladened set of dark miserable racket, fueled by grim sequenced oscillations and swallowed razor blades.


regular gallery hours

June 27, 2009
1:00AM - 6:00AM


Kevin 'KalimbaMan' Spears

June 27, 2009
8:00PM - - -
Price: $7

Kevin Spears, aka "KalimbaMan," returns for another eye-opening musical presentation using the unusual African musical instrument called kalimba, along with an array of experimental electronics.

Creator of a funky mix of world music, jazz and rock, Spears has performed nationally with such artists as Victor Wooten, Col. Bruce Hampton, Vinx, Grant Green Jr., Rick Walker, and Bill Summers.

www.myspace.com/kevinspears




Spears' recordings include a 2008 DVD, "Kevin Spears Live @ Electro-Music Festival," and two CDs, "Natural Elements" and "Ancient Sounds of Kalimba." To see this unique artist take one instrument and create the sounds of a five-piece band live on stage is to see a creator hand-in-hand with his destiny.

Children 12 and under get in free!


regular gallery hours

June 28, 2009
1:00PM - 6:00PM
Price: free


hold for priscilla/wonderroot

June 28, 2009
1:00PM - 4:00PM
Price: free


Ribbons, Scaffolds, ReComPas

June 30, 2009
9:00PM - - -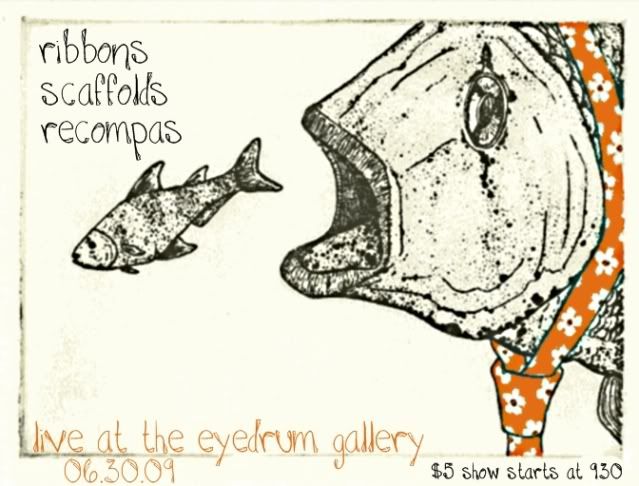 "Ribbons are a duo of Brooklyn transplants from California who come forth with one of the most promising rock debuts I've heard in a long while. Consisting of vocalist/guitarist/bassist Jenny Logan and drummer/backing vocalist Sam Roudman, they deliver the raw, stripped intensity of early Factory Records stalwarts like the Durutti Column and Joy Division while harnessing the propulsion, angularity, and energy of a group like Josef K. Though this sound has most certainly been reexamined by plenty of bands, it's refreshing to hear Logan's distinctly female take on what has always been a male-dominated style, both vocally and instrumentally. Roudman ends up being the secret weapon, though, keeping things interesting with his wild, propulsive, Keith Moon-meets-Stephen Morris style, while his roots playing in metal bands definitely shine through in his double-time bass drum attacks and odd, wailing vocal harmonies. Over the course of 35 minutes, the group play through variations on a theme, keeping the intensity high and the tension taut throughout. These two are worth keeping an eye on -- definitely recommended!" -IQ,

Scaffolds is the ambient alter-ego of Atlanta's own Nigredo, the same type of compressed energy present, but channeled through washes, ambiance, drones and subtle melodies. space ship incantations as heard from a casually passing satellite. so so nice.

ReComPas creates little black holes left behind from their brand of oscillator based electro-squiggle. one never knows just what to expect when this band is on the bill, but be prepared to bare witness to some form of galactic emanations, whether lunar or solar. droney, melodic, blippy, bleepy, roving and really really awesome.

do come out for this lovely little show!