Collapss & Chamber Cartel

April 2, 2014
8:00PM - - -
Price: 7

Collapss
Collapss (Collective for Happy Sounds) is a group of musicians and composers from Greensboro, NC interested in the collaborative potential of new music with other art forms and media and its presentation in nontraditional spaces. They have performed the music of Philip Glass, Tom Johnson, John Cage and Steve Reich.
Chamber Cartel
Chamber Cartel is an adventurous band of musicians seeking to propagate the avant-garde, experimental and New Music in and around the South east. At this concert, they will perform a graphic score, Notes for 8X6 or Why is 14.28 better than 14$, composed by the Cartel's own Caleb Herron.

Tatyana Fazlalizadeh Wheat Pasting

April 4, 2014
1:00PM - 3:00PM
Price: FREE

Tatyana Fazlalizadeh brings her project "Stop Telling Women to Smile" to Atlanta. GSU departments of art, communications, and English are hosting a visit by this increasingly visible artist. Join her and GSU students as they plaster the walls and storefronts at 88 Forsyth St, SW, in South Downtown, the site of Eyedrum's future home.

On Wednesday, April 2, she will present a lecture at GSU; 100 Auburn Ave., 120 Conference Room; 5:30-7 p.m.


Honor Diaries: Culture Is No Excuse for Abuse

April 10, 2014
7:00PM - 10:00PM
Price: FREE

At Agnes Scott College - Film Room, G-4, Buttrick Hall, next to McCain Library

Eyedrum is pleased to present a documentary film, Honor diaries is the film to break the silence on "honor violence" against women and girls. Honor Diaries is more than a movie, it is a movement to save women and girls from human rights abuses--around the world and here in America.
-------
Honor Diaries features nine courageous womenís rights advocates with connections to Muslim-majority societies who are engaged in a dialogue about gender inequality.

These women, who have witnessed firsthand the hardships women endure, are profiled in their efforts to effect change, both in their communities and beyond.

The film gives a platform to exclusively female voices and seeks to expose the paralyzing political correctness that prevents many from identifying, understanding and addressing this international human rights disaster. Freedom of movement, the right to education, forced marriage, and female genital mutilation are some of the systematic abuses explored in depth.

Spurred by the Arab Spring, women who were once silent are starting to speak out about gender inequality and are bringing visibility to a long history of oppression. This project draws together leading womenís rights activists and provides a platform where their voices can be heard and serves as inspiration to motivate others to speak out.

John Wiese/Steve Jansen

April 10, 2014
9:00PM - 12:00AM
Price: $5



In the late 1990s, Wiese moved from St. Louis, Missouri to the West Coast to study graphic design at the California Institute of the Arts, and soon became a notable contributor to Bastard Noise.

His ongoing projects include LHD and Sissy Spacek, with plenty of freelance work with many artists as diverse as GX Jupitter-Larsen, Sunn O))), Wolf Eyes, Merzbow, Evan Parker, Smegma, Kevin Drumm, Yellow Swans, Cattle Decapitation, No Age, C. Spencer Yeh (Burning Star Core) and Kommissar Hjuler und Frau.

Wiese toured extensively, covering Europe, Scandinavia and Australia as a member of Sunn O))). He toured the UK as part of the Free Noise tour (a tentet including Evan Parker, C. Spencer Yeh, Yellow Swans, etc.). He also toured the United States alongside Wolf Eyes and recently performed in the 52nd Venice Biennale with artist Nico Vascellari.


******************************************

steve jansen

Originally from Phoenix, Arizona, Steve Jansen is a Texas-based experimentalist whose musical pursuits focus on alto saxophone, tape-manipulation, extended guitar loops, and contact mic-aided soundscapes.

Jansen has played with improvisors from around the world, including: Ingebrigt Haker Flaten, Tim Daisy, Parham Daghighi, James Fella, Chris Cogburn, Damon Smith, Sandy Ewen, and Whoopi Pupi. He has shared the stage with such musical luminaries as Frank Rosaly, Dave Rempis, Retox, Christina Carter, Richard Ramirez, and The Home of Easy Credit. Heís also toured throughout the American west and southwest, adding sounds to folk and punk acts ranging from Whitman and Stellaluna to JJCnV and Nicole Kidman.

Jansen has traveled extensively throughout Africa, Latin America, Europe and across the USA to unearth sound. These recordings and found sounds from around the world play a significant role in his unique sonic constructions. He is currently a member of various live and recorded projects that range from left-of-field free jazz and harsh noise to no-wave and funeral doom. Projects include: Green eater, Plumbing, Posture, Holy Ghost Trio, Randall Cunningham Dance Company, Wingnut, Probably, Mom Jeans, Kid Rock Paper Scissors and Friendship Cemetery.

Apart from performing, Jansen is an award-winning, long-form investigative journalist as well as a visual artist and radio DJ. He has published a feature story and recorded reviews in Signal To Noise and runs the label Thatís Cool Records. His recorded output is comprised of releases on Gilgongo, Subjazz, and onewordlong, and his music has been featured on WFMU (NYC), KTRU (Houston), and the Tabs Out cassette podcast.





Y'allywood Film Festival - Pop-Up Screening #2

April 11, 2014
7:00PM - 11:00AM
Price: $5 - pay more if you like!

Y'allywood, the South's answer to that place in California, brings the latest shorts to the screen. Entrants are vying for inclusion in the first Y'allywood Film Festival that will hit the big screen this coming fall.

Doors at 7, Show at 8.

Life Drawing

April 13, 2014
2:00PM - 4:00PM
Price: $3-$10 donation, sliding scale

Eyedrum provides a model on 2nd and 4th Sundays, 2-4 p.m. for drawing the figure in a quiet gallery with lots of natural light.

Writers Exchange

April 15, 2014
8:00PM - 11:00PM
Price: free

This event occurs in the Warhorse Cafe at The Goat Farm Arts Center, 1200 Foster Street, Atlanta 30318. From Howell Mill Road, take Huff Road west (away from downtown Atlanta), then take the first left, which is Foster Street. Entrances to the Goat Farm are on the right, after the driveway for the Howard School.

Come share your literary output aloud for 10 minutes and get feedback for 5 minutes. Lost? Call 678-642-0612 or 404-578-4430.

Invent Room Pop 36

April 18, 2014
10:00PM - - -
Price: Free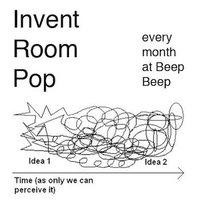 This is the 36th installment of Invent Room Pop. Six musicians are invited to play in duos and trios determined at random, with names drawn out of a hat.

This is the 3-year anniversary. So we're featuring all new people.


Grace Bellury - keyboards
Majid Ariam - reeds
Ben Davis - sax
Mike Morgan - bass
Lee Gunselman - keyboards
Meghan Zedlav - found objects / electronics

Nosferatu Live

April 19, 2014
9:00PM - - -
Price: 5



Kyle Eyre Clyd will be playing a live soundtrack to a new edit of F.W. Mernau's 1922 classic.

Spooky and mysterious noise, tones, found sounds and performance voodoo from New Orleans. AKA Penny Royale + former co runner of amazing Brooklyn showspace Port D'Or. For this tour she will be performing a score to her re-edited version of F.W. Murnau's vampire classic 'Nosferatu.' A small synth, wind organ, & reel to reel delay will be used to synthesize a vocal choir of the undead.

https://www.youtube.com/watch?v=l9XCQMJs3KM
https://soundcloud.com/worksamples/sun-rises-on-a-prescient-sky

Through One Another (closing)

April 20, 2014
1:00PM - 6:00PM
Price: Free

Closing of the show with artists talks.

Life Drawing

April 27, 2014
2:00PM - 4:00AM
Price: $3-$10 donation, sliding scale

Eyedrum provides a model on 2nd and 4th Sundays, 2-4 p.m. for drawing the figure in a quiet gallery with lots of natural light.

Eyedrum Periodically Publication Party, Issue 4: D

April 27, 2014
7:00PM - 10:00PM
Price: FREE

Join us for a celebration of the launch of Eyedrum Periodically's 4th Issue: Drones. We'll present music, readings, and multi-media works at this publication party, 7-10 p.m.