Small Gallery show ends

March 1, 2008
1:00PM - 6:00PM


regular gallery hours

March 1, 2008
1:00PM - 6:00PM
Price: free


Grant Park School Auction

March 1, 2008
5:30PM - 9:00PM



Grant Park Cooperative Preschool hosts its 9th Live/Silent Auction and Art Show to support its operating budget which includes teacher salaries, supplies, and improvements to the school. This event enables our young children to continue to grow in a creative and nurturing environment. GPCP strives to have a strong image of the child and believes that children are competent human beings who come into this world full of ideas, thoughts, and curiosity. All proceeds from this event allow GPCP to provide innovative education to the children of our community.

click here for more info


NO REGULAR GALLERY HOURS today

March 2, 2008
12:00PM - - -

Please join us Saturday, March 8th, for Draw-off in Gallery 1 and W. Gerome Temple in Gallery 2

Brazilian percussion workshop

March 4, 2008
7:00PM - - -

Workshop in Brazilian percussion




presented by Fruet e os Cozinheiros
featuring special guest percussionist João Marcelo Selhane

In advance of their March 7 concert showcase at Eyedrum, Marcelo Fruet, his band Os Cozinheiros and guest percussionist João Marcelo Selhane present a workshop in Brazilian music and percussion, taking place Tuesday, March 4 at 7:00 PM.

Percussion is a crucial aspect of Brazilian music, and this workshop is designed to introduce both musicians and non-musicians to the various rhythms and instruments of Brazilian music. Fruet and his band will also perform some of their own music demonstrating these elements.

Initially a singer, guitarist and ukelele player, João Marcelo Selhane migrated to percussion, and quickly gained renown in the samba realms of the Rio Grande do Sul state. He studied with percussion experts Fernando do Ó and Marcos Suzano, and has played in dozens of groups, as well as recording for such CD projects as Caranaval de Porto Alegre and Só se For Samba.

Marcelo Fruet is a composer and musician from the south of Brazil. Over his ten-year career, he has produced and performed on many recordings as well as composing soundtracks and songs for short films. His first solo CD, "O Som do Fim ou Tanto Faz," was featured as the soundtrack to the Brazilian TV show Big Brother Brazil 7, and is one of the few independent releases to gain national exposure on Brazilian TV.

Fruet e os Cozinheiros appear through the sponsorship of the Ministry of Culture, Brazilian Government, and the Department of Latin American and Caribbean Studeis, Emory University.

art installation

March 5, 2008
8:00PM - - -


art installation

March 6, 2008
9:00AM - 7:00PM


open improv

March 6, 2008
9:00PM - - -
Price: free


NO GALLERY HOURS today

March 7, 2008
12:00PM - - -

Please join us Saturday, March 8th, for Draw-off in Gallery 1 and W. Gerome Temple in Gallery 2

Brazil/Atlanta

March 7, 2008
9:00PM - - -
Price: $5

Fruet e os Cozinheiros
plus Andy Ditzler




Music starts at 9:00 PM

Fruet e os Cozinheiros appear through the sponsorship of the Ministry of Culture, Brazilian Government, and the Department of Latin American and Caribbean Studies, Emory University..

Fruet e os Cozinheiros was formed in 2005 by the Brazilian composer, songwriter, vocalist and producer Marcelo Fruet. They come from Porto Alegre in the temperate south of Brazil, near Argentina and Uruguay. In Fruet's music, rock mixes with elements of tango and milonga. The lyrics and music are reminiscent of samba and classic MPB, but with a flavor distinct from that of Rio and tropical Brazil.

Even by Brazilian standards, os Cozinheiros are well-traveled musically: they've all played in groups ranging from hardcore, punk, and indie rock to samba, MPB, traditional Brazilian styles, jazz, reggae, electronica, even a Black Sabbath tribute band. For their U.S. shows, special guest percussionist João Marcelo Selhane brings a more typically Brazilian element to the music. Different regional rhythms and musical structures from many cultures provide alternative strategies for national and regional identity in the globalized world.

The band plays their first U.S. show here in Atlanta, before heading to Austin for their showcase at the 2008 South By Southwest festival. Joining them on the Eyedrum stage is Atlanta musician Andy Ditzler, whose own songs have been highly influenced by Brazilian music.

Fruet e os Cozinheiros
formed 2005, Porto Alegre, Brazil
Marcelo Fruet, songwriter, guitar, vocals
Leonardo Brawl, bass
André Lucciano, drums
Nicola Spolidoro, guitar
João Marcelo Selhane, percussion



| | | |
| --- | --- | --- |
| art installation | | March 7, 2008 |

The Draw Off in Gallery 1

March 8, 2008
12:00PM - 12:00AM
Price: free



Update: this event has taken place and the results are now available for viewing on Eyedrum's front gallery walls during regular gallery hours and evening performance events through Saturday April 19th.

Organized by Susannah Darrow

The Draw Off
March 8 : Noon to midnight
Competition has always been an intrinsic part of the art world. Whether it is between Brunelleschi and Ghiberti battling for the commission for the doors of the Florence Cathedral Baptistery or Picasso and Braque duking it out to see who could "father" the cubist movement first, the element of contest has created some of the greatest artistic works of our time.
Heeding this competitive tradition, eleven Atlanta artists will simultaneously create new works on the walls of Eyedrum during a twelve hour period. The artists will work side by side using mediums only restricted by that which can be attached to the wall. Combining elements of fine art and performance will create a spontaneous and collaborative climate for the artists to work within. The collaborative element will be between both the artists sharing a work environment and the audience that will be watching and experiencing the drawing process.

Participating artists:

Maxwell Sebastian

Mandie Turner Mitchell

TindelMichi

George and Silas Long

Jesse Cregar and Sarah Emerson

Lydia Walls

Leuwam Tesfai and Meghan McNeer

Mario Schambon

Closing Day : April 19


special gallery hours today

March 8, 2008
12:00PM - 12:00AM
Price: free

We're foregoing our regular Saturday 1-6PM gallery hours in order to bring you a special art event in Gallery 1. The Draw Off will run from noon till midnight & is free & open to the public.

Then starting at 6PM there will be an opening reception for Gareth Morris Jones in the Small Gallery and at 7PM a reception for
W. Gerome Temple in Gallery 2.

Small Gallery opening: Gareth Morris Jones

March 8, 2008
6:00PM - 8:00PM
Price: free



In Eyedrum's Small Gallery:
Gareth Morris Jones

Jyu-nen-kan

Travel and immersion in foreign cultures have been informing Gareth Morris Jones` practice for more than 15 years and have instilled in him a recognition of the need for cultural awareness and self-understanding.

After a decade living in Japan Gareth is moving back to his native Wales, UK and his month in Atlanta is quite literally a stop-over en route. It seems appropriate that his show at Eyedrum should present a selection of works that cover these last 10 years.

Found objects such as maps, toys and candy molds are often the point of departure for framed and unframed works on paper, wall-mounted cast-paper reliefs and free standing mixed media constructions. At times laced with humour they draw on a visual language that grows from interests in landscape, science, the body, folk imagery and contemporary popular culture.

Concurrent to his exhibition at Eyedrum Gareth will be Visiting Artist at G.S.U. This summer he will be Artist in Residence at Bundanon, New South Wales, Australia and in spring 2009 will exhibit at Ceredigion Museum, Aberystwyth, Wales, UK.

Through March 29



Opening reception: W. Gerome Temple

March 8, 2008
7:00PM - 11:00PM
Price: free

In Gallery 2:
W. Gerome Temple

W. Gerome Temple, a Savannah-based pen and ink illustrator and painter, debuts 'Nouveau Antiquity: Fine Art Illustrations and Oil Enamel Paintings'. This exhibit features Temple's bold oil enamel paintings and a cross section of new works from each of his five illustrations genres; 'Air & Atmosphere Club', 'Antiquity & Technology', 'Circus', 'Fictional Entomologies & Botanicals' and 'Biomechanicals & Abstracts'. Temple's work, on the whole, displays a meticulous attention to detail and craftsmanship. With painstaking care, he places each stroke of the pen to create dynamic, whimsical and otherworldly scenes of fancy. With each stoke of the brush he creates compositions filled with tension and a simple complexity. To view a sampling of his work before the opening of 'Nouveau Antiquities' visit Temple's website at www.gerometemple.com.

A special appearance of Temple's giant carnival puppets, an extension of his circus theme, will be on display throughout the exhibition.


Gerome with Bigwig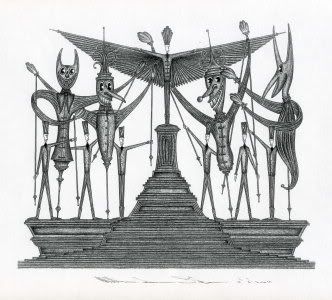 Giant puppet troup with Guff the clown




Hanging circus troop with flourish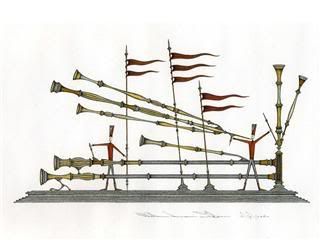 Phonomagnadynometer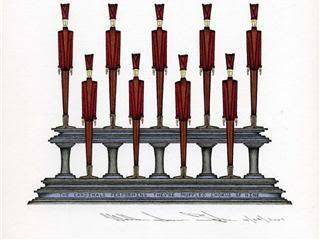 The Cardinals




Drop number 2


| | | |
| --- | --- | --- |
| Public Art Bike Tour postponed | | March 8, 2008 |
Attention**

The Public Art Bike Tour planned for Saturday, March 8th 2008 will not take place due to weather concerns. The rain date - 3/22/08 will not be used because it is a holiday weekend.

The Public Art Bike Tour will take place as a free guided tour of public art in Atlanta during the first weekend in April (4/5 or 4/6).

Please visit our blog for the latest news about the Atlanta Percent for Art Coalition
http://atlantapercentforart.blogspot.com/
http://atlpercentforart.info/

Thank you, and we apologize for the delay. I want everyone to have fun and be comfortable on the ride, so the event will now take place in April. I hope you'll join us then.

Alyson Laura



regular gallery hours

March 9, 2008
1:00PM - 6:00PM
Price: free


White Mice / DJ Scotch Egg / The Whangs

March 9, 2008
8:00PM - - -

come get your face bent.....



if you haven't seen it before, then you've seen nothing like it. ear scrubbing racket from rhode island...load records at that...wall of madness sonic debauchary gritty damn goodness.
giant mice being naughty with the grim sounds they impart, blistering heart of darkness turntablism, nasty rock and roll mayham...


Reserved

March 10, 2008
10:00AM - 12:00PM


The Boxcutter Cabaret

March 10, 2008
9:00PM - - -
Price: $5



An evening of sundry Puppet shows presented by a ragtag association of cardboard wigglers, horn tooters, and paper mache chuckers. Plus! Sweet music from our collected brass and string ensembles to tickle your ears and pick up your bones. And! Feast your eyes on the bell-strapped "Leo the Human Xylophone!" shaking his way deep into the heart of America.

And, if the shows aren't enough, don't miss the traveling Cheap Art Gallery and Store. Jam packed with original prints, posters, paintings, subversive booklets and zines. All prices negotiable and all art impermanent!

a TOUR DE FORCE featuring:

MODERN TIMES THEATER:
puppet shows for the street, the school, the barn, the pasture and the subway. The shows convey a general dissatisfaction with post-modern convenience and promote a return to old-timey difficulty.

R.P.M. PUPPET CONSPIRACY:
stinky garbage men with trashy ideas that are designed to expose and tear down this apocalyptic vision of global capitalism's disposable planet.

the DOLLY WAGGLERS:
offer up a new low in lowbrow puppet entertainment,
the crankiest crankyshows, and cantastorias painted on the dirty sheets of America


Featured puppet shows include:

Divine Destruction and the Four Nutria of the Pre-Apocalypse - RPM
"There can be no valid system of Biblical prophesy without belief in the Rapture,"
-Tim LaHaye, author of the Left Behind series
Prophesy Study Bible (p. 1285).
According to a Gallop Poll, 46% of Americans identify as Born Again or as Evangelists. And a Newsweek Poll said 71% of evangelicals believe the world will end with a battle between Jesus and the Anti-Christ. Watch and laugh until you cry as voracious fanatics get behind the wheel and LightBulbs devour the world in a drunken Apocalyptic spectacle that has as its hangover the 2nd Coming of Christ and his 1,000 year Reign… Riding atop their Four Nutria of the Apocalypse, the LightBulbs illuminate a scenario almost too sinister to comprehend.
"After the last tree is felled, Christ will come back."
– James Watt, former Int. Sec. under Reagan.

The Story of the Tiny Mouse and the Tiny Cat - RPM
In this short show a tiny mouse is confronted with the familiar dilemma of the powerful withholding the basic necessities from the powerless. What can a mouse do when a cat won't allow him to eat? Or bargain? With a twisted ending find out what options a little mouse has when he is backed into a corner by a not-so-tiny cat.

The Wonderful and Gruesome Drama of Punch and Judy - MTT
Punch and Judy are hungry but the fridge is empty! Where the hell does food come from, anyway? Puppetry's favorite jerk and his loudmouth wife lead us into the bowels of the constipated American food nightmare. Complete with swinging rolling pins and flying apples, as well as the dramatic slaughter of the USDA, the milk inspector and a Bio-Tech Nazi. A morality play for paper mache wads featuring a manifesto for free stomachs.



Art Committee meeting

March 11, 2008
7:00PM - 9:00PM


Sightings, Tree Creature,Liverhearts

March 12, 2008
9:00PM - - -
Price: $7

Sightings (Load Records)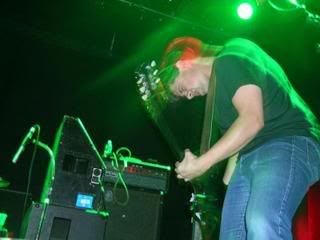 Bass, drum and guitars meshed together with a synthetic twine envisioned in future think tanks. Literally the sound of human progress darkened with a profound fidelity so loud the dark matter of the universe quivers in a deadly orgasm. Guitar, bass and drums reconfigured for a new purpose.

"Sightings may action-paint their canvases with viscous, theatrical brushstrokes, but it's the countless, cunningly placed scrapes and flecks that make Through the Panama vibrate with meaning and real menace." - Pitchforkmedia.com in their latest sightings rave

Liverhearts


Atlanta's own The Liverhearts play a fresh, angular, and punchy brand of punk fueled art rock. Their live sets prove both loud and energetic, showcasing what has made them a beloved part of the local underground rock scene since the early 2000's.

Tree Creature (Sleepaway Recordings)


Like a warm synthy blanket wrapped around your eardrums, local drone/ambient/psychedelic duo tree creature emblazen the sonic spectrum with a rainbow of textured tones and ringing harmonies.




Tap Water Mind Control Pain Tribe w/ Video Bean

March 13, 2008
8:00PM - - -
Price: $8


regular gallery hours

March 14, 2008
3:00PM - 8:00PM
Price: free


Persona Non Grata

March 14, 2008
9:00PM - - -
Price: $7

AUTISTIC MOTHER - Frick and frack play a wack snack attak!!

RAJIO - From the rotting underbelly of beard culture comes.....

VIRGINIA TONIC - A lovely woman with a penchant for strange sounds

THE TENTH LETTER AKA J. JOHNSON - I said Hip Hop you don't stop rockin to the bang bang boogie

regular gallery hours

March 15, 2008
1:00PM - 6:00PM
Price: free


private

March 15, 2008
9:00PM - - -


regular gallery hours

March 16, 2008
1:00PM - 6:00PM
Price: free


Rogert Ruzow Presents: Democracy and Justice

March 16, 2008
8:00PM - - -
Price: $5

Atlanta 4th Ward Ensemble will perform on March 16 at the Eyedrum Art-Music Gallery. This evening's performance influence is entitled:

"Democracy and Justice in the New South: an Improvisational Interpretation."

(no, we're um serious...sort of)

Atlanta 4th Ward Ensemble started in 2007 to facilitate collaboration of improvisational music and improvisation in other artistic disciplines (film, dance, dramatic arts, visual arts). The ensemble is comprised of several of Atlanta's great jazz, funk, rock musicians/improvisers and composers. The group performs improvised music or compositions where improvisation is a feature of the piece.

Members for the March 16th 2008 performance will include:
Kinah Boto - percussion
Ben Davis - reeds
Ben Gettys - bass
Chris Case - keyboard
Jeff Crompton - reeds
Bill Nittler - reeds
Roger Ruzow - trumpet


Ezra Furman,One Hand Loves the Other,Bangers

March 19, 2008
9:00PM - - -
Price: $7

Ezra Furman and the Harpoons(Minty Fresh Records)
Both frightening and brilliant, Ezra Furman and co. provide a rock and roll concoction equally influenced by pop, punk, and blues...good stuff...and it's getting strong comparisons to the Violent Femmes and even Johnathan Richman and you know, that's pretty rad. Strong honest off kilter songs, hooks and all...

One Hand Loves the Other

Locals who always come through in a big way with thier awesome little pop ditties...smatterings of live instrumentation and well textured electronics with bunches of great singing and all that....great band...check em out.


the Bangers

locals the Bangers open with an aggressive set of punchy rock...a new band in the scene, the music hinting at a certain familiarity with tried and true indie rock but freshing it up in a big way...great catchy fun and danceable...so so nice.




Times New Viking /Psych Horseshit /Naked on the...

March 20, 2008
9:00PM - - -
Price: $10

NAKED ON THE VAGUE (SILTBREEZE RECORDS)




Naked On The Vague is a two-piece girl-boyact. Hop plays eerie bass and Cliche plays frantic keyboards, with ping-pong vocals, minimal percussion clatter, and an anonymous drum machine to keep pace. N.O.T.V create a monotonous stern melancholy…oh it is so good and creepy. On Siltbreeze, the label that graced the world with Harry Pussy, The Dead C, early Sebedoh 7 inches, and the like....

PSYCHEDELIC HORSESHIT (SILTBREEZE RECORDS)




Rickety Skeletal pop music, equal parts melodic and hazy...these guys rock it raw (the drummer often uses a cardboard box for a kick drum) and are so damn good at it. Intense and sincere music.
Awesome.

TIMES NEW VIKING (MATADOR RECORDS)




"That DIY spirit is key to Times New Viking, but there's a different sort of reclamation going on here. Yes, the instruments sound like off-brand department store toys, the speaker cones are blown-out, and the recording equipment is rudimentary. They're noisy enough to put off even fans of the 90s "lo-fi" generation. But every chord, every note, every yelped vocal, every grizzled and treble-tearing tone is one of sheer exuberance-- they may act aloof, but TNV get off on the privilege of just making a sound."- Pitchforkmedia.com

GOLD PAINTED NAILS

Crashing drum machines, warbly synth lines and grueling bass colide in tight little aural packages all emitted from the large guitar cabinets of Gold Painted Nails. Throbbing and repetitious, nasty yet flavorful. so so good.

regular gallery hours

March 21, 2008
3:00PM - 8:00PM
Price: free


Film Love: George Kuchar in person

March 21, 2008
8:00PM - - -
Price: $10

Frequent Small Meals and Emory University present
A Zest for Life: Classic early films by the Kuchars
GEORGE KUCHAR IN PERSON!!



George Kuchar in Hold Me While I'm Naked

"[Kuchar's films] were my first inspiration...the pivotal films of my youth, bigger influences than Warhol, Kenneth Anger, even THE WIZARD OF OZ." – John Waters

"one of the great artists in the history of the moving image" - Gene Youngblood

The American film director George Kuchar is one of the legends of independent filmmaking. Beginning as a teenager in the 1950s with his twin brother Mike, Kuchar directed movies which upended Hollywood melodramas into small-scale epics, noted for their creative low-budget effects, over-the-top plots, eye-poppingly lusty performances by their cast of friends, and titles like "Sins of the Fleshapoids," "Pagan Rhapsody" and "Corruption of the Damned." Kuchar's classic film "Hold Me While I'm Naked" is beloved by several generations of fans and filmmakers, and was voted one of the 100 best films of the 20th century by the critics of the Village Voice.

At Eyedrum, George Kuchar hosts an evening called "A Zest for Life: Classic early films by the Kuchars."

The stuff of legend, George and Mike Kuchar's early films influenced generations of filmmakers, starting with Andy Warhol and John Waters. This screening showcases pristine new restorations of the Kuchar's earliest 8mm films, along with the classic "Hold Me While I'm Naked" and gems from the later film works. And the evening starts with "I, an Actress" - a vintage directing lesson from George.

FILMS:



I, An Actress (1977, 9 minutes)
George gives a frenetic, gender-bending acting lesson to his class. "This film...was to be a screen-test for a girl in the class. By the time all the heavy equipment was set up the class was just about over; all we had was ten minutes...I had to get into the act to speed things up so, in a way, this film gives an insight into my directing techniques while under pressure." - G.K.



Hold Me While I'm Naked (1965, 15 minutes)
One of the 100 Best Films of the 20th Century - Village Voice Critics' Poll
Often referred to as Kuchar's masterpiece, Hold Me While I'm Naked is one of the all-time classics of DIY cinema. George plays the lead role, as a director with a penchant for casting beautiful actresses in nude scenes that require multiple takes. When his latest star walks out, panic, sexual frustration and hilarity ensue.

Anita Needs Me (1963, 16 minutes)
"All the horrors and guilt of the human mind exposed! It reaches deep into the workings of a woman's cravings. Your emotions will be squeezed." - G.K.



I Was a Teenage Rumpot (1960, 10 minutes)
"With the birth of I WAS A TEENAGE RUMPOT, George and Mike Kuchar stumbled upon something big: their names were Arline, Edie, and Harry. Sensing the tremendous physical potential embedded in this trio's glands, plans were immediately drawn up to star them in two new films: THE FLESH IS PLENTIFUL and BUTTERBALL 8. Arline and Harry's divorce shattered all future films and Arline went on a drunken binge which ended with her head being shaved by a French woman on grounds of 'husband-stealing.' A documentary about people like you and me, people with a zest for life." - G.K.

Sylvia's Promise (circa 1962, 9 minutes)
"Love comes in all sizes. But the bonds of love extract a terrible price to be paid in flesh. A vow weighs heavily on the heart. Sylvia makes a promise but can she keep it?" - G.K.

Eclipse of the Sun Virgin (1967, 15 minutes)
Knocturne (1968, 9 minutes)
Few directors were ever this hysterically funny while also being so psychologically complex. Both Eclipse and Knocturne show all of Kuchar's many gifts as writer and director: not only the lurid melodrama, camp, and outrageous transgressions (from torrid sex to doggie-doo), but also his visual sense, completely unique style of music soundtrack, and - especially apparent in these beautiful 16mm prints - gorgeous use of color.



The Mongreloid (1978, 10 minutes)
George at home with his dog Bocko. "A man, his dog, and the regions they inhabited, each leaving his own distinctive mark on the landscape. Not even time can wash the residue of what they left behind." - G.K.

Also check out George Kuchar in person at Emory University on Thursday, March 20!
Plus Tuesday March 18: a lecture on Kuchar's work by film scholar Gene Youngblood - featuring rare examples from Youngblood's private collection!

"A Zest for Life" is part of The Worlds of George Kuchar, a three-night event co-sponsored by the following Emory University organizations: the Hightower Fund; the Race & Difference Initiative of the Strategic Plan; the Studies in Sexualities Initiative; the Office of LGBT Life; the Heilbrun Music and Media Library; the Institute of Liberal Arts; and the departments of Film Studies, Art History, and American Studies.

The Worlds of George Kuchar is a Film Love event, programmed and hosted by Andy Ditzler for Frequent Small Meals. The Film Love series provides access to rare but important films, and promotes awareness of the rich history of experimental and avant-garde film. Film Love was voted Best Film Series in Atlanta by the critics of Creative Loafing in 2006.

regular gallery hours

March 22, 2008
1:00PM - 6:00PM
Price: free


regular gallery hours

March 23, 2008
1:00PM - 6:00PM
Price: free


To-Night Golden Curls, Teeth Collection + Plasmic

March 25, 2008
9:00PM - - -
Price: 6$

To-Night Golden Curls, Teeth Collection + Plasmic Formations.... amazing mind melting teeth grinding free noise

To-Night Golden Curls is a performance art duo based out of Dayton, OH. They are focused on the more theatric possibilities emerging from the experimental music scene of the midwest.
They are interested with engaging audience's to experience a performance through non-conventional approaches outside of the rock aesthetic.
To-Night Golden Curls sees the potential within the noise and avant-garde atmosphere to aspire to a more narrative and storytelling end.

After a three year history of playing dramatic improvised sets throughout the midwest, they''ve refocused that experience into a more premeditated and repeatable form

Opening up: Atlanta's own Eiliyas....naughty grim textures emerging like a drug-addled pheonix from a fistfull of pedals and various mysterious sonic devices. It's loud and it's good.


you love freedom, right? if you hate freedom, stay home on this night.

Branch/Riordan Duo, bryan fielden trio

March 26, 2008
9:00PM - - -
Price: $5

Improvising duo from Chicago featuring Jaimie Branch on trumpet and Marc Riordan on percussion.
Slow, introspective melodies > into bursts of high density free jazz.

myspace page




+ local percussionist (from San Agustin) Bryan Fielden: Ben Davis - Reeds, Robby Handley - Bass and of course Bryan Fielden - drums.

Steve Mackay & Radon Collctv / Tenth to th Moon...

March 27, 2008
9:00PM - - -
Price: $8



Radon Collective

Legendary saxophonist Steve Mackay of both past and present incarnations of Iggy Pop's The Stooges joins up with the free-form Radon Collective.

"As interesting an underground career Mackay has lead, what's he's doing now with the Radon Ensemble is the most mindblowing. They exude a future blowing energy such fringe-genre music can readily use...Tripping and metascoping sax jowl action..."
-from Bull Tounge by Thurston Moore and Byron Coley

"I'm so glad they brought him aboard. Steve's a great guy and 'hoots and honks' like a motherfucker!"
-Mike Watt on the Stooges reunion line-up




-------------------------

Also, TENTH TO THE MOON
Tenth myspace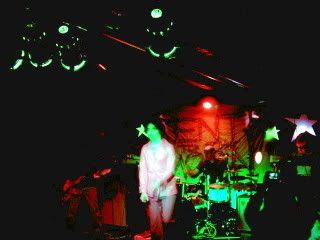 --------------------

Also, Feeding Fingers



regular gallery hours

March 28, 2008
3:00PM - 8:00PM
Price: free


Shaking Ray Levis, GoodNoise/BadNs, ThereminLapStl

March 28, 2008
9:00PM - - -
Price: $7

Shaking Ray Levis Quartet (Amanda Cagle, Dennis Palmer, Bob Stagner, Davey Williams)(Chattanooga)






THE SHAKING RAY LEVIS (founded in 1986) is an ongoing collaboration of musicians with a common interest in improvisation. The project was conceived and led by the Chattanooga-based team of DENNIS PALMER and BOB STAGNER. They use synthesizers (analog & digital), MoogerFoogers, samplers, vocals and percussion to achieve their Ole' Timey Avant-Garde sound.

They are the first American group to have recorded for INCUS RECORDS, the record label of British guitarist DEREK BAILEY. Additionally, they have performed and recorded with REVEREND HOWARD FINSTER, MIN TANAKA, DAVID GREENBERGER, FRED FRITH, AMY DENIO, JOHN ZORN, BORBETOMAGUS, TOM CORA, STEVE BERESFORD, J.D. PARRAN, FRANK PAHL, LADONNA SMITH, DAVEY WILLIAMS, GINO ROBAIR, ROGER TURNER, EUGENE CHADBOURNE, TONY OXLEY and Derek Bailey, as well as with many other critically acclaimed artists.

http://www.shakingray.com/
http://www.myspace.com/theshakingraylevis



Good Noise, Bad Noise (UK)




Good Noise Bad Noise are a loose collective of improvising musicians, sound artists and video artists based in South Cumbria and Sheffield, UK. They play a mixture of electroacoustic music and drone based free improvisation mixing processed field recordings on laptops with live violin and live visuals.

The group was started by Shaun Blezard & John Hall as a laptop duo as a break from their respective solo projects (Shaun with Clutter & John with The Cardboard Lung with the current line up also featuring Neil Woodall on Violin and Dan Gibson supplying live visuals.

http://www.myspace.com/goodnoisebadnoise

http://www.earthmp.com/



Duet for Theremin and Lap Steel (Atlanta)





Duet for Theremin and Lap Steel is Scott Burland (theremin) and Frank Schultz (lap steel). Scott and
Frank have been long time friends, but have only recently come together to combine the sounds of
these two non fixed pitch instruments.
Their name describes the instrumentation in exactly the way it does not give you the full spectrum of what sonic sundries they impart, open with rich textures, swooning collages, and hypnotic pulses, like a warm bath in the aural abyss. In addition, their approach is sure to irritate the purists,
as they both have taken many liberties with the traditional style of their respective instruments.
All performances are improvised.

http://duetonline.net

http://www.myspace.com/duetforthereminandlapsteel


regular gallery hours

March 29, 2008
1:00PM - 6:00PM
Price: free


Imagine Wesley fundraiser

March 29, 2008
7:00PM - 12:00AM
Price: admission free / dinner $15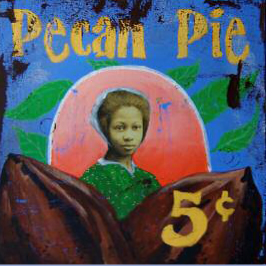 Imagine Wesley International Academy
www.imaginewesley.org

Admission is free.
Dinner tickets $15 at the door.

Presale tickets for $10. Contact Diane Hilleary at dianehilleary@yahoo.com to purchase presale tickets.

Live jazz and samba.
Silent and live auction with art, gift certificates, vacations, summer camps, classes and much more!


| | | |
| --- | --- | --- |
| Small Gallery show ends | | March 29, 2008 |

regular gallery hours

March 30, 2008
1:00PM - 6:00PM
Price: free


Ross Feller, experimental sax

March 30, 2008
8:00PM - - -
Price: 7

Over the past twenty years composer/saxophonist Ross Feller has developed a musical vocabulary that features raw, ecstatic layers of material that seethe with refined, virtuosic gestures. John von Rhein (Chicago Tribune) characterizes Feller's work as "an elaborate show." Mary Lee Roberts, former Technical Director of Princeton University's electronic music studios found Feller's work to exhibit "a finely defined and personal musical style." Composer Brian Ferneyhough has remarked that, "it is not the tired inherited rhetoric of the Postmodern that fuels (Feller's) music,
but a lively and irreverent sense of the positive power of 'structural plurality'
– a constantly re-enunciated and celebrated 'rigorous informality.'"

Feller studied composition at the American Conservatory of Music in Chicago, and
at the University of Illinois. His compositions have been finalists in the Gaudeamus
Foundation International Composer's Competition, and the ASCAP Young Composer's Competition. He has received grants and awards from ASCAP, the Illinois Arts Council, Atlantic Center for the Arts, Ragdale Foundation, and several European cultural and arts organizations. His compositions have been performed throughout the USA
and Europe at major venues including: Symphony Space, Roulette, Park West (Chicago),
Preston Bradley Hall, Chicago Public Library, Cleveland Public Theatre, Playhouse
Square Center (Cleveland), Krannert Center for the Performing Arts (Urbana), De
Ijsbreker (Amsterdam), and Plateau (Brussels).

As a saxophonist Feller has performed with George Lewis, Roscoe Mitchell, Leroy
Jenkins, Greg Bendian, Chris Cochrane, David Mott, LaDonna Smith, Malcolm Goldstein and many others. Kyle Gann (Village Voice) has described Feller's playing as "beautifully sensitive saxophone improvisation." Feller co-founded Dot Dot Dot and Walleye, two ensembles that mixed improvisation with highly structured materials. With choreographer Kora Radella he co-founded Double-Edge Dance a collaborative dance and music company that has received critical acclaim in the U.S. and Europe.

all art music film literature special


| | | | | | | |
| --- | --- | --- | --- | --- | --- | --- |
| Sun | Mon | Tue | Wed | Thur | Fri | Sat |
| | | | | | | 1 |
| 2 | 3 | 4 | 5 | 6 | 7 | 8 |
| 9 | 10 | 11 | 12 | 13 | 14 | 15 |
| 16 | 17 | 18 | 19 | 20 | 21 | 22 |
| 23 | 24 | 25 | 26 | 27 | 28 | 29 |
| 30 | 31 | | | | | |