First Thuriday Open Improv: Nonsense & Noise

October 4, 2012
9:00PM - 12:00AM
Price: Free

Eyedrum Open Improv travels freely in the [October] 4th dimension, so this month the worm hole is dropping us on the First Thursday.
We'll once again be hosted by the Last Exit Studios of Railroad Earth - 1467 Oxford Rd. NE


For this session the freely assembled ensembles will be orchestrating chaotic tunes of ridiculous randomness in the melodically dissonant key of "NONSENSE AND NOISE"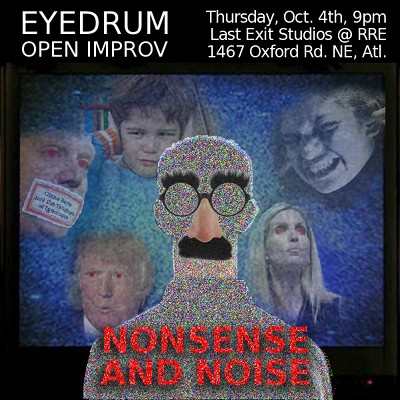 Questions? Contact Aaron at 404.315.0406


Clang Quartet, Kevin Green / Davey Williams

October 13, 2012
10:00PM - 11:00PM
Price: Free

Eyedrum on the Atlanta BeltLine (the bridge under Virginia Avenue at Monroe Drive)

Clang Quartet - This percussionist from North Carolina literally beats a Passion Play of virtuosic Christian noise on an assortment of homemade instruments and implements.

Davey Williams & Kevin Green Duo

DAVEY WILLIAMS-- various objects on an elecrtic guitar as well as a
pick! Davey is an American free improvisation and avant-garde music
guitarist. In addition to his solo work, he has been noted for his
membership in Curlew and his collaborations with LaDonna Smith.

KEVIN GREEN-- drums, percussion, amplified objects, acoustic kazoo and
a processed ELECTRIC kazoo !!

- Conundrum

Suffer Bomb Damage:
Suffer Bomb Damage is a trio featuring the proprietor of +..., an
ex-member of Shock Cinema and the mastermind of fuguguffu

Writers Exchange

October 16, 2012
8:00PM - 11:00PM
Price: free

This event occurs in the Warhorse Cafe at The Goat Farm Arts Center, 1200 Foster Street, Atlanta 30318. From Howell Mill Road, take Huff Road west (away from downtown Atlanta), then take the first left, which is Foster Street. Entrances to the Goat Farm are on the right, after the driveway for the Howard School.

Come share your literary output aloud for 10 minutes and get feedback for 5 minutes. Lost? Call 678-642-0612 or 404-578-4430.

Invent Room Pop 18

October 20, 2012
9:00PM - - -
Price: FREE

Note: This is the 3rd Saturday this month. Moved to avoid a scheduling conflict (We'll all be at Swans).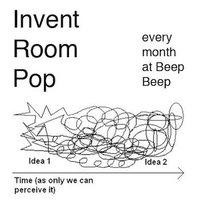 This is the 18th installment of Invent Room Pop. Six musicians are invited to play in duos and trios determined at random, with names drawn out of a hat. Featuring projections by Paige Adair.

Maddie Davis (vibraphone)
Chris White (electronics)
Tony Gordon (bass)
Missy Lumina (accordion)
Lloyd Wingard (guitar)
Casey Hood (guitar)

Cactus Truck guests Rin Larping and Robby Kee

October 22, 2012
8:00PM - 10:00PM
Price: $5-$10

At Railroad Earth / Last Exit Recording Studio
1467 Oxford Rd. NE, Atlanta, Georgia 30307




CACTUS TRUCK
Noise/Impro Trio
JOHN DIKEMAN saxophones
JASPER STADHOUDERS guitar and bass
ONNO GOVAERT drums
Cactus Truck creates startlingly intense music, not merely in terms of volume or velocity but through complete physical/psychological surrender. One can find hints of delta blues, early free jazz, Japanese noise, and no wave in the music. Cactus Truck is based in Amsterdam and they've collaborated frequently with members of The Ex, includingTerrie Ex, Andy Moor, Arnold de Boer (ZEA) and Colin McLean, as well as Ab Baars, Han Bennink, Dave Rempis, Jeb Bishop, Peter Jacquemyn, Teun Verbruggen, Gerri Jaeger (Knalpot) and Jon Rune Strøm. Their first official album entitled Brand New For China! was released in March 2012 on Public Eyesore Records (www.publiceyesore.com).
This tour is produced in collaboration with Public Eyesore, Stichting dOeK and Cactus Truck with help from NFPK (Nederlands Fonds voor de Podiumkunsten).
http://www.cactustruck.com
http://soundcloud.com/cactus-truck-2/sets/cactus-truck/s-TP12h

RIN LARPING
http://soundcloud.com/rin_larping

ROBBY KEE

Home of Easy Credit, Helton / Bragg, Clibber Jones

October 25, 2012
9:00PM - - -
Price: 7

Home of Easy Credit

Queens-based The Home of Easy Credit challenges the boundaries of free-improvised music, jazz, folk, and pop music with an iconoclastic approach that defies all those who seek to classify music by genre. Two musicians who met in New York in 2008 and were married one year later, Danish multi-instrumentalist Louise Dam Eckardt Jensen and bassist Tom Blancarte have teamed up musically as The Home of Easy Credit, releasing their self-titled debut album on Northern Spy in 2012. Taking their name from a department store sign in a dilapidated section of downtown Houston, Texas which they photographed while on tour there, the duo seeks to hold up a mirror to contemporary musical tastes to create a dark, beautiful and thrilling sound world that reflects upon the decline of contemporary civilization.
Recently gaining notoriety for her improvised solo performances, Jensen uses a broad range of colors, drawn from a long lineage of Scandinavian artists including Jan Garbarek, Arve Henriksen and Björk but blended with saxophone sounds as diverse as Lee Konitz or Mats Gustafsson. An experienced veteran of the New York DIY music scene, Blancarte, who plays electronic futuristic jazz with the Peter Evans Quintet, hyperactive prog banjo/guitar shred with Seabrook Power Plant and provides hellish bass insanity to tubist Dan Peck's improvised doom metal outfit The Gate, utilizes every trick in his book to underpin his wife's apocalyptic musical narratives. The year 2012 promises to be an exciting year for the duo, as they plan an epic tour of North America in the fall and two tours of Europe in the spring and summer.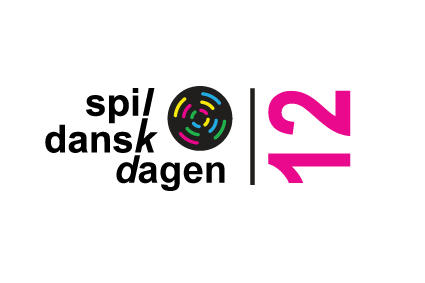 Koda has provided financial support for this concert.