art
ExLucis Juried Photography Show Opening Reception
6:00PM - 9:00PM
Price: FREE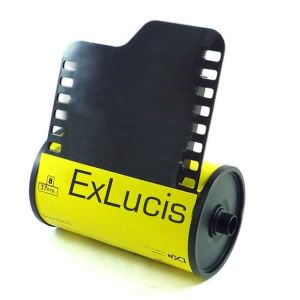 The ExLucis Juried Photography Show features graduate and advanced undergraduate work from the students at Georgia State University juried by Stuart Horodner, Artistic Director at the Atlanta Contemporary Art Center.

ExLucis is the chartered student photography group in the Ernest G. Welch School of Art and Design at Georgia State University. It acts as an advocate for the photography program within the greater Art Student Union of the School and organizes activities to further involve students in professionalism of the arts. ExLucis activities include exhibitions of student work within the city of Atlanta, guest artist workshops and lectures on campus, community and program fundraising events, and field trips to museums and conferences outside the city. Some recent ExLucis projects include the Bi-annual Exhibition and Silent Benefit Auction for Project Impact, attending regional and national conferences, visiting artist talks and workshops, and much more.

through Sunday May 23rd


art
Regular Gallery Hours
3:00PM - 8:00PM
Price: FREE

ExLucis photography show in the main gallery, Visual Poetry show in the small gallery.

art
Clark Vreeland Ashes to Ashes Opening Reception
6:00PM - 9:00PM
Price: FREE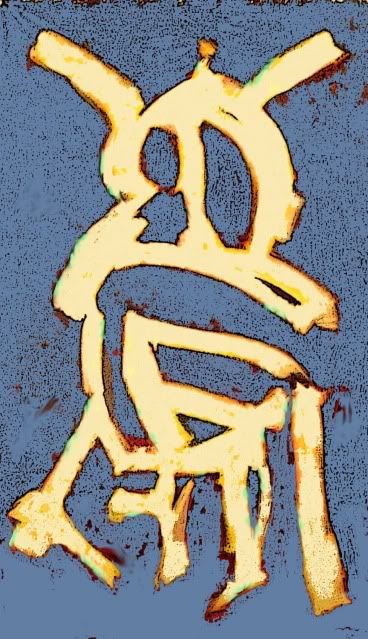 Clark Vreeland's work is intentionally flat, leaving paint as the only distinguishable feature on its surface. Any perceived depth is accidental and in the mind. The paint serves no illusion and no reference, except to itself. The one exception is the symbolic language that has developed throughout the work. Vreeland roots these symbols in the observation of different types of energy.

Vreeland's work involves a neurotic process that has continued throughout his life. Starting with drawings, then paintings, he repetitively assigns meaning to symbols that evolve by studying their movement and repetitive appearance. The forms and significance that the symbols take on is a naturally occurring process of distilling order from "intention." The drawings on paper, in particular, create a personal cuneiform that is sorting and ordering chaos.

The process is even further defined by the singular elements depicted. Vreeland arrived at a gestural picture language, which are the large symbols. Each one is accompanied by a short paragraph describing its concept or meaning. The drawings are the drafts for the large symbol paintings. And as the symbol is realized in the work, the symbol and it's meaning are edited with much more intent.

In another series of two-inch-thick polystyrene paintings, Vreeland ventures into the world of urban cultural icons. These pieces are informed by the external, and they reference a slightly urban aesthetic as Vreeland submits to cultural osmosis and an awareness of the "public." But even with environmental influences, the process of ordering energy is still derivative of his previous methods.

Multimedia artist Clark Vreeland has been active in the Atlanta arts scene since the mid-1970s. He is now working and exhibiting in Atlanta and New Orleans. His oil, acrylic, and electronic works reflect observations about how we order our visual world. He is also one of the founding members of Atlanta-based nonprofits Public Domain, Inc., and RailRoad Earth, Inc.

music
Strotter Inst. + guests!
9:00PM - - -
Price: $7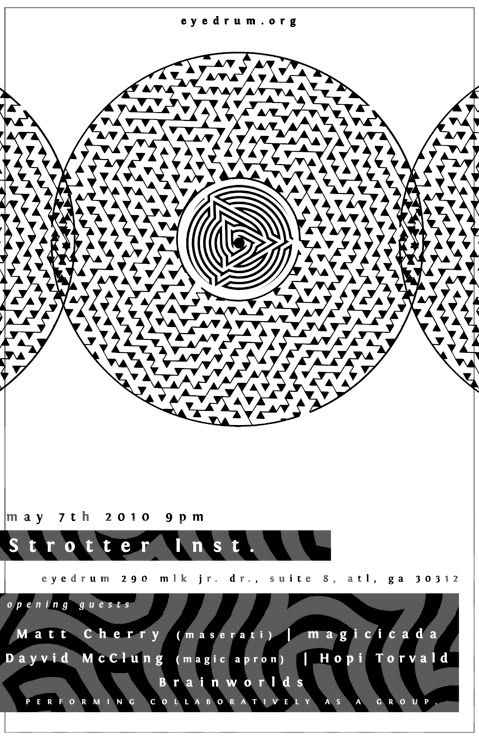 watch/listen to some Strotter Inst. here:


http://www.hinterzimmer-records.com/extras.html
listen some more here:
strotter on myspace

brainworlds, matt cherry (maserati), magicicada, dayvid lee mcClung ( magic apron ) & hopi torvald open the show with a group collaboration.

maserati - http://www.myspace.com/maseratirocks

magic apron - http://www.myspace.com/thesoulraydio

magicicada - http://magicicada.com

hopi torvald - listen to one track here http://soundcloud.com/squidskid

brainworlds -http://www.myspace.com/brainworlds


What Other People Say About Strotter Inst.

"The sound may be simple and subtle, but it's also intense and overwhelming, like Jeck spinning Skullflower, or Marclay armed with only some Mingus bass solo dubplates, or a Tiermes / Bastien soundclash. So dark and mysterious and totally pure and primal sounding. This is SOUND as much as it is music. This is the turntable as musical instrument. This is rhythm and rhythms, this is machine music, but a machine freed from its shackles, a new instrument, born, loosed, unleashed. Amazing." -Aquarius Records (from a review on Monstranz, aQ record of the week, May 12, 2006)

"Using five old utilitarian Lenco turntables from Europe, he transmogrifies the doldrums of the factory into a beautiful butterly mirror image, reshaping their bourgie stodginess into exotic sqeaks and creaks. Similar to the sound poetry power in the raw and infatile repitition of words, the 7" is so full of vitality, it fairly jumps off the spindle itself." -Signal To Noise (from review of "Anna/annA" 7 inch)

What You Might Like to Know:

Strotter Inst. is the musician and artist Christoph Hess (born 1968, Solothurn)

Strotter Inst. creates dense, rhythmic structures through the use of five modified Lenco-turntables and various manipulated (cut and/or taped) records. The music ranges from a low-fi rumble changing into concrete clicks and scrapes, followed by epic drones and multi-layered broken beats to fall back into tricky bass-meditations. Hardly using sounds from LP's the main source of sound are the prepared pick-ups (i.e. sewing needles or strings instead of the diamond or the extended use of rubber bands). The treatment involves the unclean nature of the sounds as part of the music.

The anacronistic machineries have dual roles as objects and as instruments. The first live impact is as installations, then the sounds start to grab the listeners' attention. The auditive level surpasses the visual one. Therefore, the optical comprehension of how the sound is generated plays an important role. In spite or probably because of the analogue creation the structures produce a contemporary and accurate atmosphere in space and time. The set is adapted for each rooms conditions and depends upon the uncertain behavior of the machines. So each live appearance becomes an acoustic original.

Strotter Inst. prefers to play in the middle of the audience. The installation is set up especially for each room. Strotter Inst. has released records through Everest Records (Switzerland), Public Guilt (US), Hinterzimmerr-Records (Switzerland), and 1000+1 Tilt Records (Greece). He has played shows in China, Russia, Bolivia, Poland, Germany, Italy, Hungary, Slovenia, Austria, France, and Switzerland. This tour will mark his first ever shows in the US.






all art music film literature special


| | | | | | | |
| --- | --- | --- | --- | --- | --- | --- |
| Sun | Mon | Tue | Wed | Thur | Fri | Sat |
| | | | | | | 1 |
| 2 | 3 | 4 | 5 | 6 | 7 | 8 |
| 9 | 10 | 11 | 12 | 13 | 14 | 15 |
| 16 | 17 | 18 | 19 | 20 | 21 | 22 |
| 23 | 24 | 25 | 26 | 27 | 28 | 29 |
| 30 | 31 | | | | | |