art
regular gallery hours
1:00PM - 6:00PM
Price: free


art
Stewart Haddock Small Gallery opening
6:00PM - 8:00PM
Price: free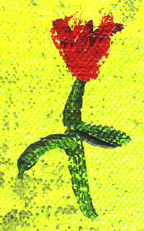 MULTIMEDIA 'A PAINTED FLOWER A DAY'

At the dawn of 2007, as part of a personal project to get over his social anxiety, Atlanta computer programmer and artist Stewart Haddock came up with an idea: For one year, he would hand out one painted flower a day – to friends, friends of friends, and complete strangers. It would force him, Mr. Haddock reasoned, to approach people he would not normally approach and hold a conversation with them.

The simple resolution turned into a yearlong art project and social experiment that transcends media formats. Now complete, "A Painted Flower a Day" opens at Atlanta's Eyedrum, in the small gallery, on February 9, 2008 at 6 p.m.

To be on display:

- blog entries from the 365-day project, including responses from recipients who were inspired, nonplussed, or frightened by Mr. Haddock
- two canvases of painted flowers, and scissors, so attendees can cut out a flower for themselves
- actual recipients of Mr. Haddock's flowers throughout the year, as well as the flowers they received




music
the Spores, Strezo, The Kiwis, Resident Patients
9:00PM - - -
Price: $7



The Spores

They made their mark with their eccentric electro-pop and mind-twisting live shows that included a cast of puppets that wouldn't be out of place in a Meet the Feebles remake. Now, THE SPORES are back with Doom Pop, an album that harnesses years of professional experiences and the energy that, until now, could only be experienced at one of their performances.

THE SPORES burst on the scene in early 2005, captivating both music fans and Los Angeles-based peers alike. THE SPORES 's single "(Don't) Kill Yourself" received heavy airplay from LA's Indie 103.1 and KROQ stations, and they built a reputation as a "band's band." This should come as no surprise as Molly McGuire's (lead vocals, bass, keys) rock pedigree includes session work for Frank Black, Peaches, and Queens Of The Stone Age, and Greg "Stunbunny" Biribauer (guitars, loops, keys) has engineered for bands like At the Drive-In, Queens of the Stone Age, Archers Of Loaf, Sublime and many more. Now with the help of DJ and respected remix artist, Chris "Cpen" Penny in the studio, and Eric Micheal Pearson on drums, THE SPORES are prepared to spread their infectious sound even further.




Strezo

Atlanta pop perpetuators Strezo will make you smile with their interesting blend of ambient soundscapes, experimental noise, and some bastard concoction that may be equal parts flamenco, afro-beat, traditional latin, jazz, space age bachelor pad, klezmer, electronica, romantic and modern era classical, '80s pop and lots
of others things.
The vocals are strong and the instrumentation unique, utilizing everything from keyboards, drums and guitar to tiny percussion and incidental soundscapes...great, indeed.

Resident Patients

"This electronic four piece (E.W. Harris, T. M. Griffin, IDW, and Dr. K Lapointe) hailing from Athens, GA, is not what you might expect. Utilizing a somewhat odd assortment of "equipment", Resident Patient creates an interesting brand of electropop, the like of which you may have never heard."



the Kiwis

"Universal Minds beneath Artificial Skies.
The Kiwis of the South Pacific begin as an art rock duo in the halls of Dunwoody High School in 1997. With the initial idea to create music that can be appreciated across the spectrum of different musical styles, The Kiwis have consistantly reinvented themselves over the past 9 years to stay on the cutting edge of obscure music and operate below the radar. The Kiwis draw inspiration from 60's psychedelia and Doo Wop as well as Punk, Folk, and Eastern music. They are also commited to DIY production so merchandise is handmade, good quality and low cost. To keep shows extra special for their fans they try to only play small independent venues that offer a unique and creative atmosphere to showcase their music in. We also make our own music videos, artwork, and web pages."


all art music film literature special


| | | | | | | |
| --- | --- | --- | --- | --- | --- | --- |
| Sun | Mon | Tue | Wed | Thur | Fri | Sat |
| | | | | | 1 | 2 |
| 3 | 4 | 5 | 6 | 7 | 8 | 9 |
| 10 | 11 | 12 | 13 | 14 | 15 | 16 |
| 17 | 18 | 19 | 20 | 21 | 22 | 23 |
| 24 | 25 | 26 | 27 | 28 | 29 | |